All About Reporting Fraudulent Checks
Even in today's digital society where electronic money transfers are prevalent, consumers and businesses may still prefer the supposed security of physical checks. 
However, over 500,000 Americans fall prey to fraudulent check scams every year, with the average victim losing $1,200.
This article will show you how to protect yourself from fraudulent check scams, and the process of reporting fraudulent check scams to government agencies, consumer advocacy groups, and your Human Resources department.  
What Are Fraudulent Checks?
Fraudulent checks have been created with the purpose of stealing money. Depending on the value intended to be accessed with the check, the fraudulent check issuer may be liable for a misdemeanor or a felony according to US federal law.
Fake checks come in many forms. The table below outlines what you need to know about different types of fraudulent checks.
Types of Fraudulent Checks
Details
Altered Checks

Sensitive parts of its original information such as name, code, or signature have been erased and replaced with another.

Forged Checks

Some or all of its necessary details have been craftily written by someone who isn't the owner and without the owner's authorization.

It is important to report to your manager or a co-worker to HR if you discover that they have issued or received forged checks.                                                                 

Counterfeit Checks

Drafted from stolen information and the details of a victim.

Paperhanging Checks

Issued from closed accounts, newly opened or already established accounts without any funds in them to withdraw from the bank. 

Kiting Checks

Checks from an empty or insufficient account used to draw on another empty or insufficient account, owned by a single individual.

Anyone, including your boss, can be guilty of this. 

Money Order Fraud Checks

Swapped in place of a money order. 

Theft Checks

Stolen from the owner or connected to an impersonated bank account.

Float Checks

A fake post-dated check from an account without funds, that has been used to make payments to another party, taking advantage of the time wait, to dupe them.  
How to Spot Fraudulent Checks
The table below outlines a few ways to spot a fraudulent check. A fake check will most likely have problems with:
Logo

A faint, distorted, or absent bank logo is a tell-tale sign.

Edges

If it's all smooth and without any perforations, then be wary.

Appended Signature

Funny actions around a signature like ink marks or blurry squiggles may hint at suspicion.

Paper

Fake checks may be abnormally smooth when you touch them.

MICR line

This is a 9-digit code at the bottom of the check that tells the issuing bank, its location, and the specific issuing branch. You can verify the authenticity of this code with the

federal authority.

Serial Number

Most fraudulent checks are issued from newly opened accounts. You can tell if an account is newly opened if the serial number is less than 400 and 1500, for private account holders and businesses, respectively.
How to Protect Yourself From Fake Checks
You can follow these simple precautions to not let a scammer take advantage of you. When you receive a suspicious check, be sure to:
Examine It:

An outrageous or unusual amount, omissions and inconsistencies in details or a business name that looks too good to be real are tell-tale signs of fraudulent checks.

Ask Questions

: Why me? What for? These are the questions you should ask yourself or talk to a financial expert about. Whenever you end up with a check that you cannot remember anticipating, do not accept it as it can be fraudulent.

Never Attempt to Cash It:

the scammer may be trying to take advantage of verification delays in the banking system to get you to spend a bad check. When eventually found to be fraudulent, the money will be charged against your account and could lead to increased debt on your account plus overdraft fees.

Report:

there are government agencies, consumer advocacy groups, departments within your workplace where you can report a case of fraudulent checks. 
Where Can I Report Fraudulent Checks?
If you believe you've been scammed, report it immediately to any of the following agencies: 
Government Agencies

The Federal Trade Commission 

The Federal Trade Commission is the umbrella body for all trade activities in the US.

All forms of trade fraud experienced can be reported here. All you have to do is specify if it is from a fellow employee, a manager, a business partner, or a stranger.

You can file your complaint here.

The FBI

You can submit a

complaint form

to your

local

 

FBI offices.

US Postal Service (USPS)

The United States Postal Services registers and investigates all complaints of fraudulent checks that have been perpetrated by mail.

You can submit your complaints to its fraud investigation desk.

Consumer Financial Protection Bureau (CFPB)

The CFPB is a government agency in charge of all consumer complaints against bank operations. If you believe a bank is responsible for making you fall victim to a fraudulent check by way of improper scrutiny or a late discovery, you can complain to the

CFPB

.

State Consumer Protection Offices

You can also contact your

state consumer protection office

to file your complaint.

Consumer Advocacy Groups

The Internet Crime Complaint Center (iC3)

The

IC3

is an initiative of the FBI and the National White Collar Crime Center that specifically deals with all types of corporate fraud committed on the internet. This is recommended if you are a victim of an online fraudulent check scam. 

The Better Business Bureau (BBB)

The

BBB

is an NGO committed to improving trust in American and Canadian businesses. 

Human Resources

HR

Report

any fraudulent checks found in your workplace to HR immediately.  
Report Complaints to HR Anonymously With DoNotPay
Let DoNotPay - the world's first robot lawyer - handle your grievances at work, from complaining about your boss to reporting harassment. All you need to do is:
1. Sign up at DoNotPay and search for the Anonymous HR Complaint product.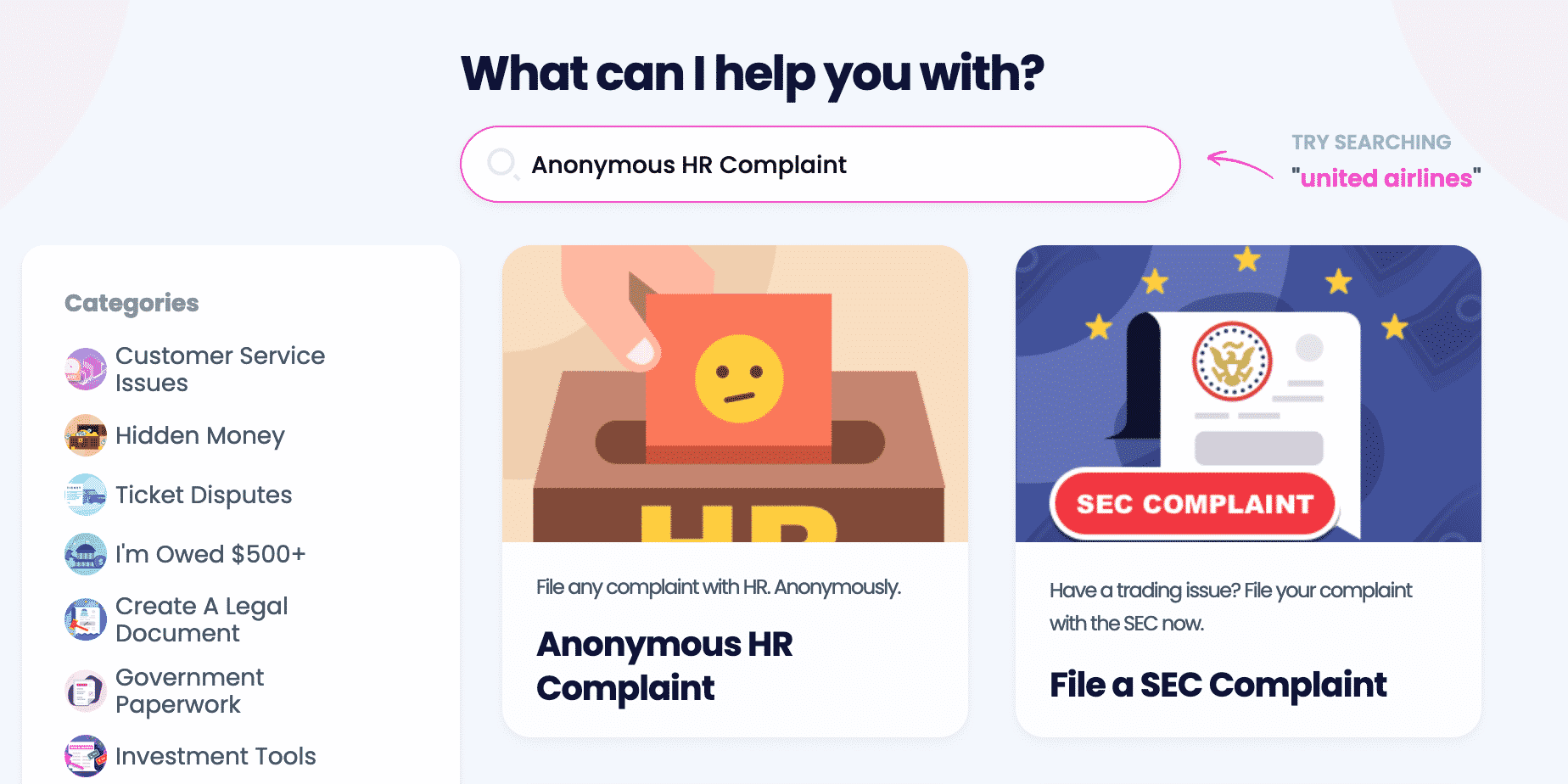 2. Fill in your employer's name and HR department's mailing address.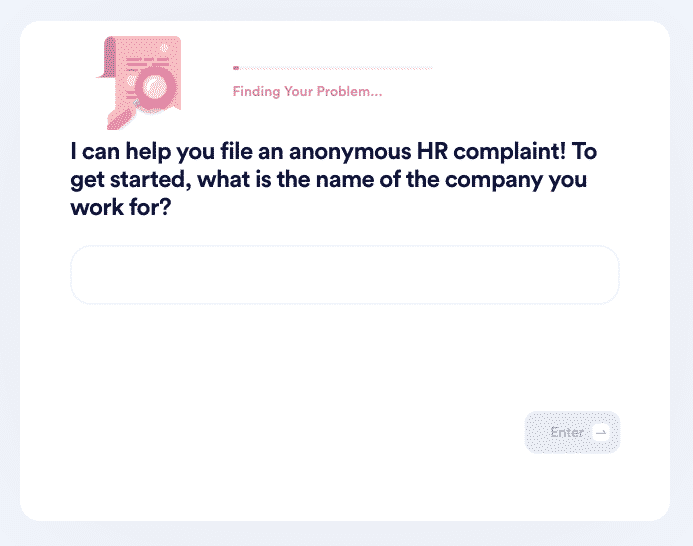 3. Explain clearly the issues that you are experiencing and how you want them resolved.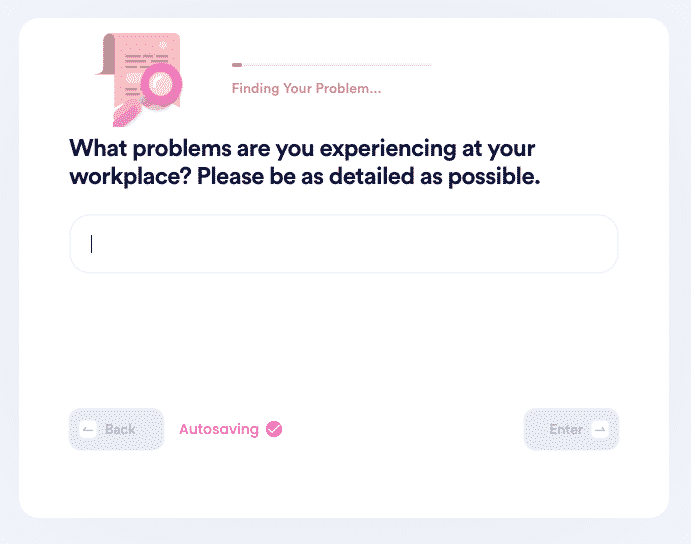 That's it! DoNotPay will mail your complaints to HR without revealing your identity!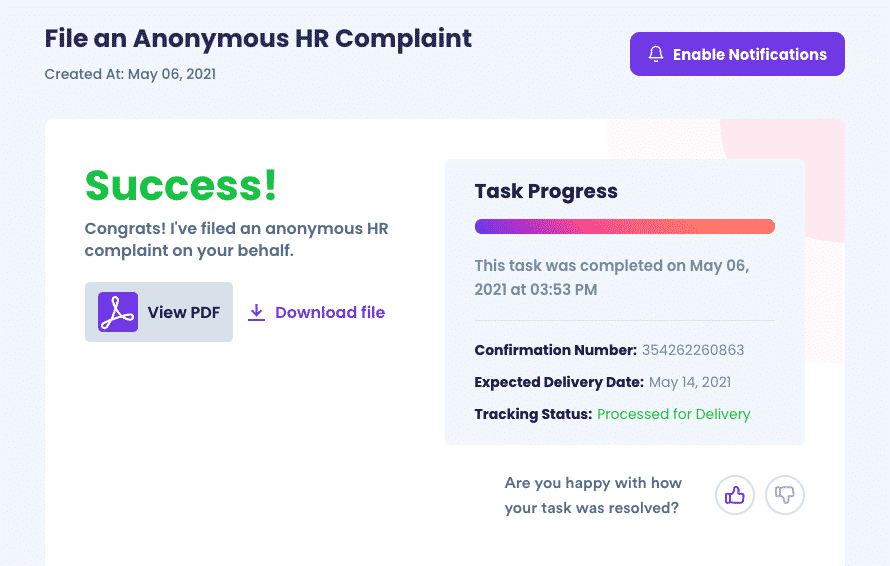 DoNotPay Does More
DoNotPay can help you save both time and money. Aside from helping you report fraudulent checks, DoNotPay can help you: