Find Out When and How To Report Your Neighbour From Hell
''It never rains on your neighbors without you getting your feet wet''—this Chinese proverb applies to all annoying activities your neighbors practice at their homes. You don't need to suffer through it all—instead, find out when to report your neighbor. DoNotPay has your solution and can create a demand letter to warn the nearby residents before taking further action.
What Are Some Reasons To Report Your Neighbors?
A neighbor can annoy you in so many ways that a thesis can probably be written about this topic. Check out the table below to see the most common reasons to report your neighbor:
| | |
| --- | --- |
| Problem | Examples |
| Noise | |
| Pets | |
| Illegal activities | |
| Other situations | |
Some of these examples may seem silly, but having to put up with any of the annoying activities for a long period is stressful. You don't need to tolerate the behavior and should always stand up for yourself.
How To Complain About a Neighbor
You should always try talking to your neighbor first and resolving the issue peacefully. When both parties are reasonable, you can usually find a compromise and keep on living in harmony. If this does not work, you may need to try alternative methods, such as:
Contacting their landlord
Talking to other neighbors
Calling the police
Why You Should Contact Their Landlord
When dealing with neighbors who are tenants, the best option is to contact the landlord whenever the individuals living in your neighborhood misbehave. The apartment owner won't tolerate improper behavior from their tenants because it affects the landlord's reputation as well.
Sometimes, the actions of the tenants can cause damage to the property itself, so you can be sure that the landlord will handle your obnoxious neighbors properly.
Why You Should Complain to Other Neighbors
If the problematic neighbors are being noisy or have any other bad habit that affects your peace, chances are other nearby residents share your opinion. You should talk to a few other people living in your vicinity and see if they agree about taking action against the perpetrators.
All of you together stand a better chance of getting justice. You can call for a neighborhood meeting and address the issue in person. The individuals causing problems will not be comfortable and might agree to change their habits.
When and How To Complain to the Police About Your Neighbors
You should turn to the police for help only when you've tried everything else, and nothing worked. Involving law enforcement in your matters is not to be taken lightly and is typically reserved for more serious forms of harassment.
Once you decide this is the way to go, you will need to:
Document the harassment and collect evidence before turning to the cops
Call the police, visit your local police department, or go online
There is one more step you can take before the law enforcement officers show up at your neighbor's door— can help you create a demand letter!
DoNotPay Can Send a Demand Letter to Your Neighbors in a Flash
Composing a demand letter is a formal way of addressing the problems you are having with your neighbors. DoNotPay will list all of the consequences of the actions in this letter, including the amount of potential compensation. Seeing this warning could easily make your neighbors change their ways.
You only need to follow these simple steps:
in a web browser you prefer
Tell us what the problem is—noise, harassment, or pet behavior, for example
Provide us with more details regarding the issue with your neighbors
Once you are done answering the questions, DoNotPay will mail the demand letter to your neighbor in your stead.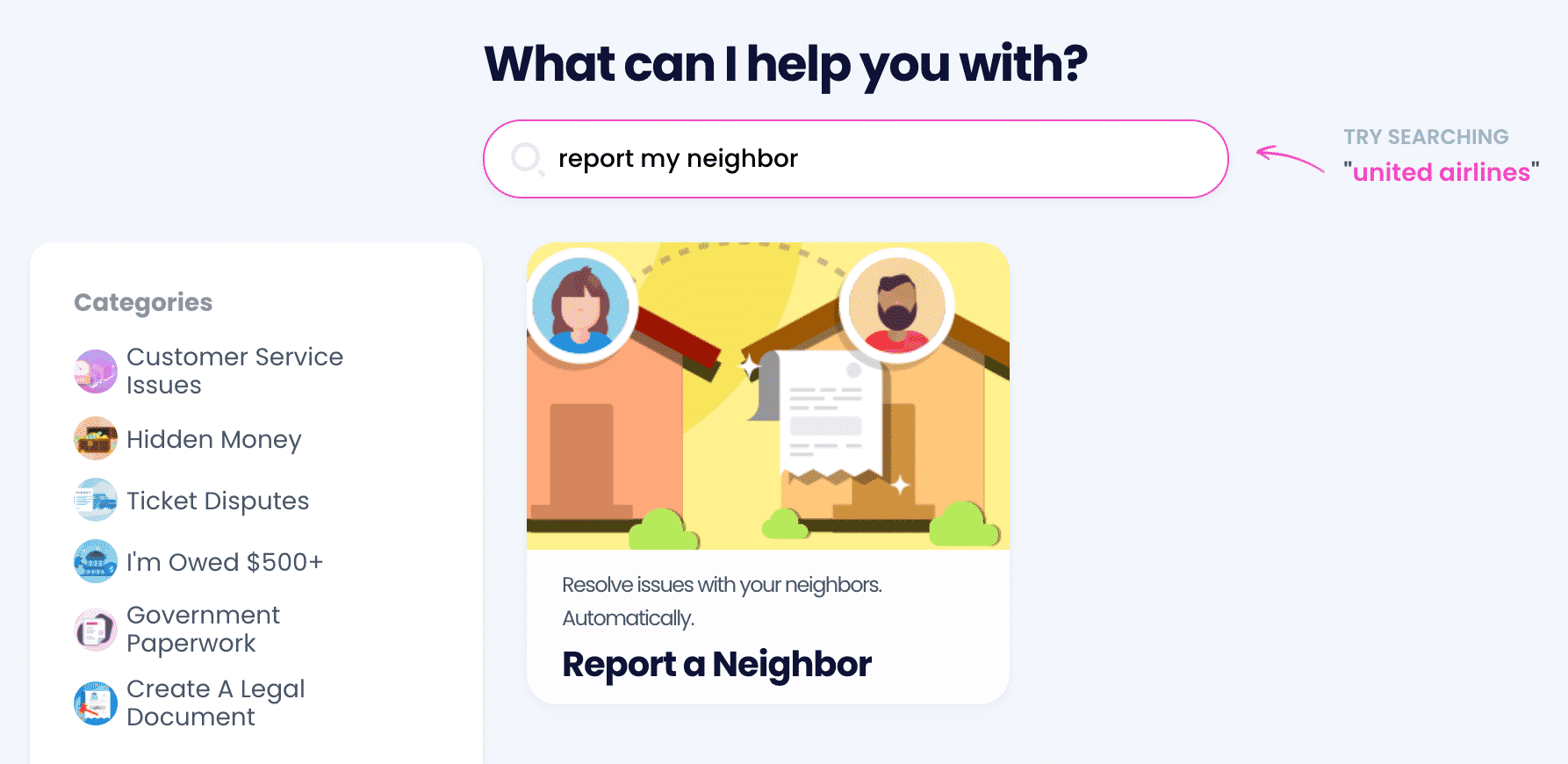 Useful Guides on Handling Bad Neighbors
If you visit DoNotPay's Learning Center, you will be able to find guides on what to do in numerous situations when your neighbor is bothering you. Use our app to learn how to:
Explore DoNotPay's Products and Save Both Time and Money
Are you sick and tired of spending ages on the phone with customer support trying to get more info about how to return a faulty product and get a refund? Maybe you'd like to cancel memberships you don't use but can't find that unsubscribe button anywhere? DoNotPay can help you sort out all of these issues in a jiffy!
Contest parking tickets, claim your car warranty and insurance, schedule a meeting with the DMV, and handle your other problems through the same app on your tablet or smartphone.
Getting access to public records or drawing up various legal documents with DoNotPay is child's play.
That's Not All!
The first thing you'll notice when you open DoNotPay is that you can use our app for almost anything.
Do you wish to enter raffles or sweepstakes? Are you interested in applying for paid clinical trials and earning some cash? Would you like to send mail without going to the post office? You're in the right place!
We will help you feel safe while browsing the Internet by assisting you in blocking and reporting spam emails, suspicious text messages, and pesky robocalls.