Report Trash on the Street In 6 Steps
Although littering has gotten a little better in the last decade, research shows that in 2 year, as much as 51 billion pieces of litter are tossed onto roads, broken down to about 6,729 items per mile of roadway. To help keep the city clean and safe, you'll need to contact your city to report trash on the street. 
Following your report, the city will take care of the problem.
You can also report city repairs, such as a streetlight being out and traffic light reporting. The city should also be contacted for violations like misuse of handicap parking and graffiti.
While you can take on any of these tasks by yourself, DoNotPay can make it so much easier for you. Our City Repairs product gets your complaints delivered to the city just in time to keep everyone in the area safe.
Why Should I Report Trash on the Street?
Trash causes a lot more problems than you think. Not only can it lead to a foul odor that sticks around the neighborhood, making it less enjoyable and devaluing local homes, but it can also cause:
| | |
| --- | --- |
| Pest infestations | i.e., roaches, flies, rats, etc. |
| Pollution | i.e., land, garbage, air |
| Health decline | Research shows that piles of litter can lead to fires, resulting in respiratory issues and contributing to acidic rain conditions. |
| Dirty environment | Dirty conditions that make it hard to enjoy the neighborhood (i.e., walking, running, biking, etc.) |
How to Report Trash on the Street to Your City
When you notice trash on the streets of your city, don't stress over it — contact city officials. They'll take care of it as soon as they can. No one wants to see litter pile up around their homes, and most of us don't have the time to put into cleaning up after other people.
So, how do you report a claim to the city? The process varies from city to city but often includes one or more of the following:
Contacting the city by phone
Contacting the city via email
File a claim on the city website
Before taking on the task, it's important that you note here the time it will take to find all the contact information you will need to proceed with any of these steps. You may be able to find what you need at your city's website, but doing it yourself isn't your only option. DoNotPay can take over if you decide you don't want to proceed independently.
Other Issues You May Want to Report to the City
Blocked storm drain
Sidewalk issues
Missing street signs
Fallen or damaged trees
Rat sightings and other concerns
Report Trash on the Street With DoNotPay
A lot can go into filing a claim with your local government to take care of trash on the street or fixing important repairs. Instead of spending hours filling out forms by yourself, let DoNotPay do it for you. Our process will:
Get your trash claim in right away to ensure the litter is cleaned up asap.
Allow you to skip the hassle of reporting trash on the streets yourself by relying on DoNotPay to do it all for you.
Report the trash on the street on your behalf — getting you the results you seek from your city repair request.
Steps to Take On DoNotPay's City Repairs Products
1. Go to the City Repairs product on DoNotPay.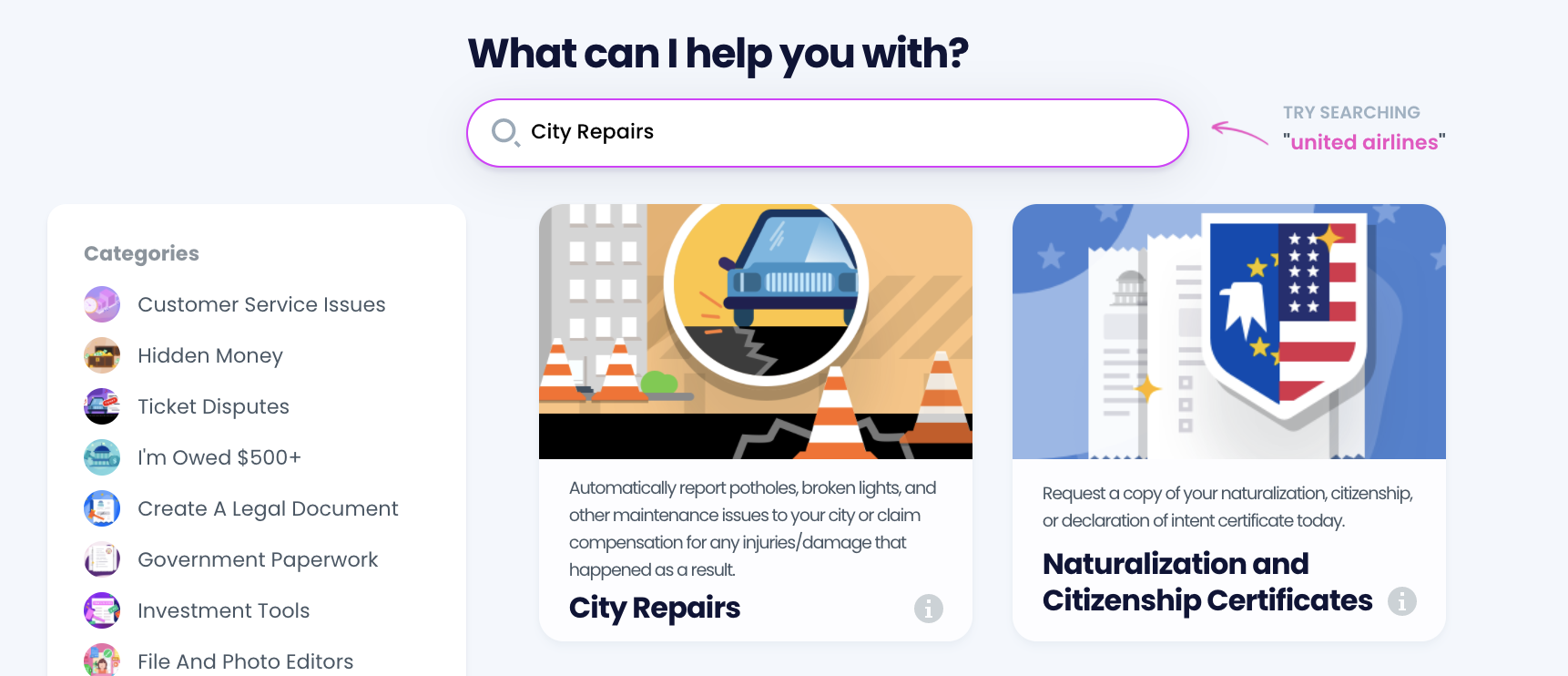 2. Choose one of the following options:
Report a maintenance issue to the city
Sue the city for compensation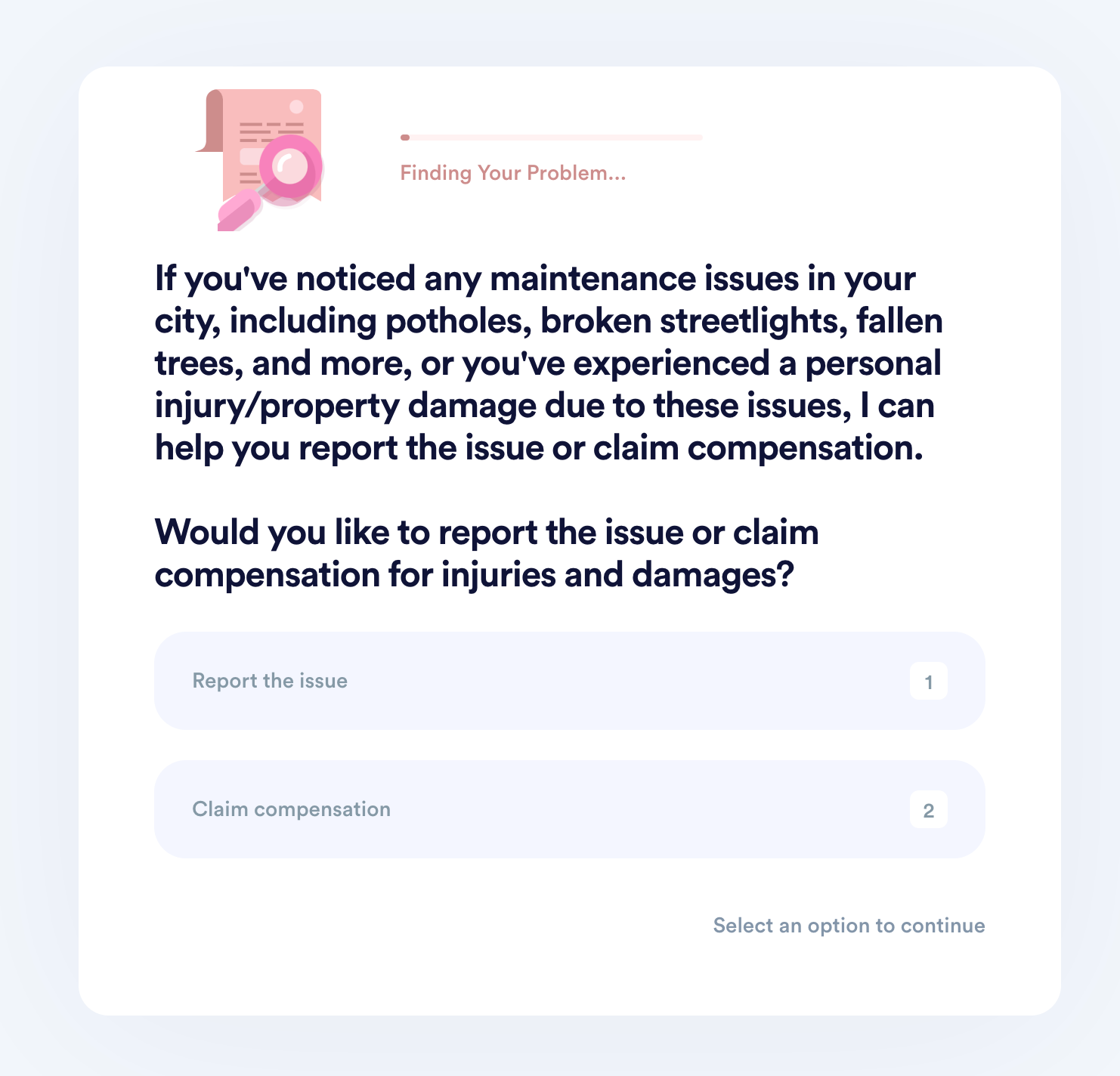 3. If you want to report an issue, choose which problem you would like to report (pothole, broken lights, etc.) and tell us more about when you first noticed the issue.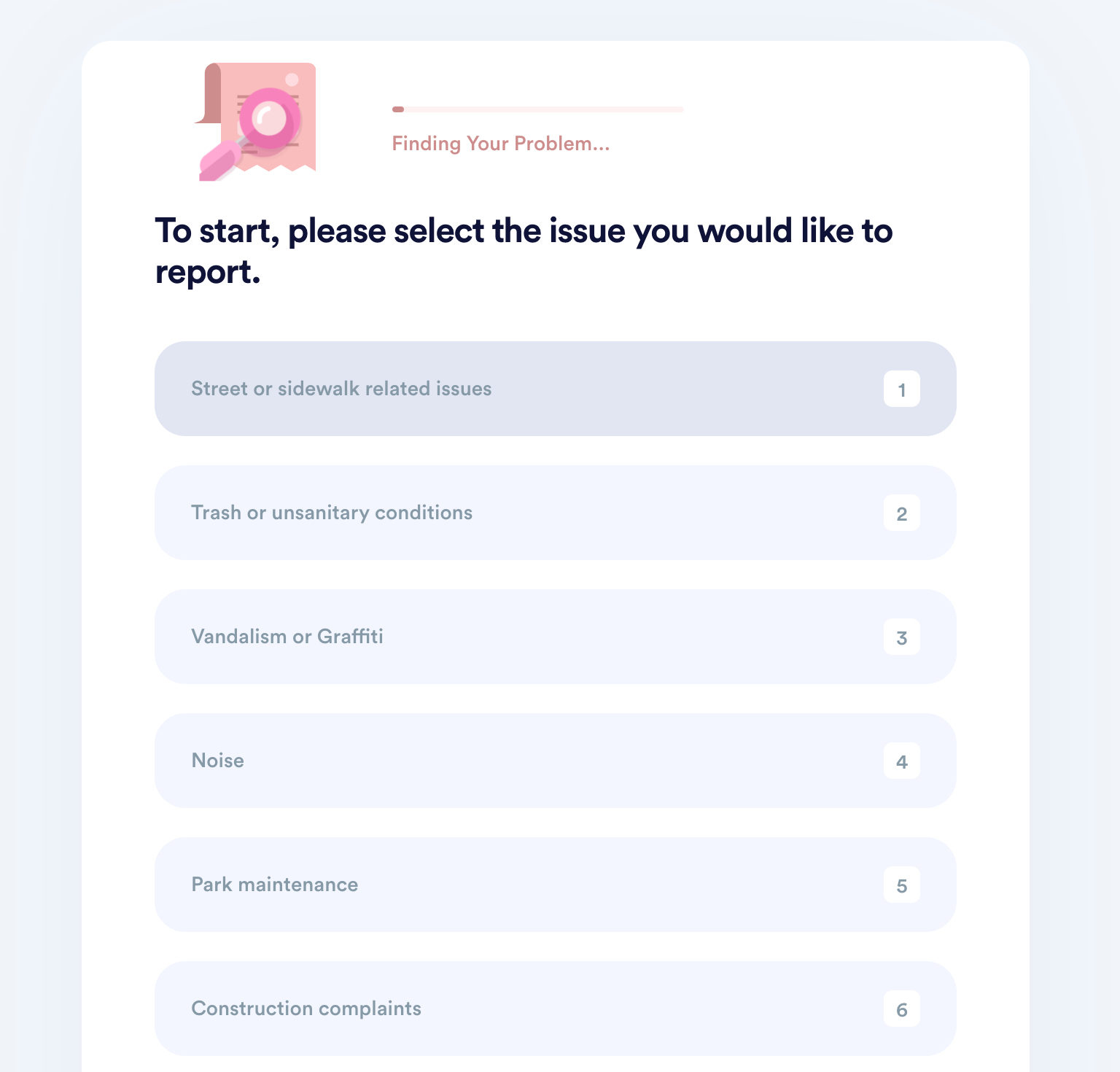 4. If you want to request compensation, tell us whether you 1) suffered a personal injury, or 2) suffered from property damage. Then tell us more about the incident date, where it took place, and any expenses you have already paid. Include the names of witnesses if applicable.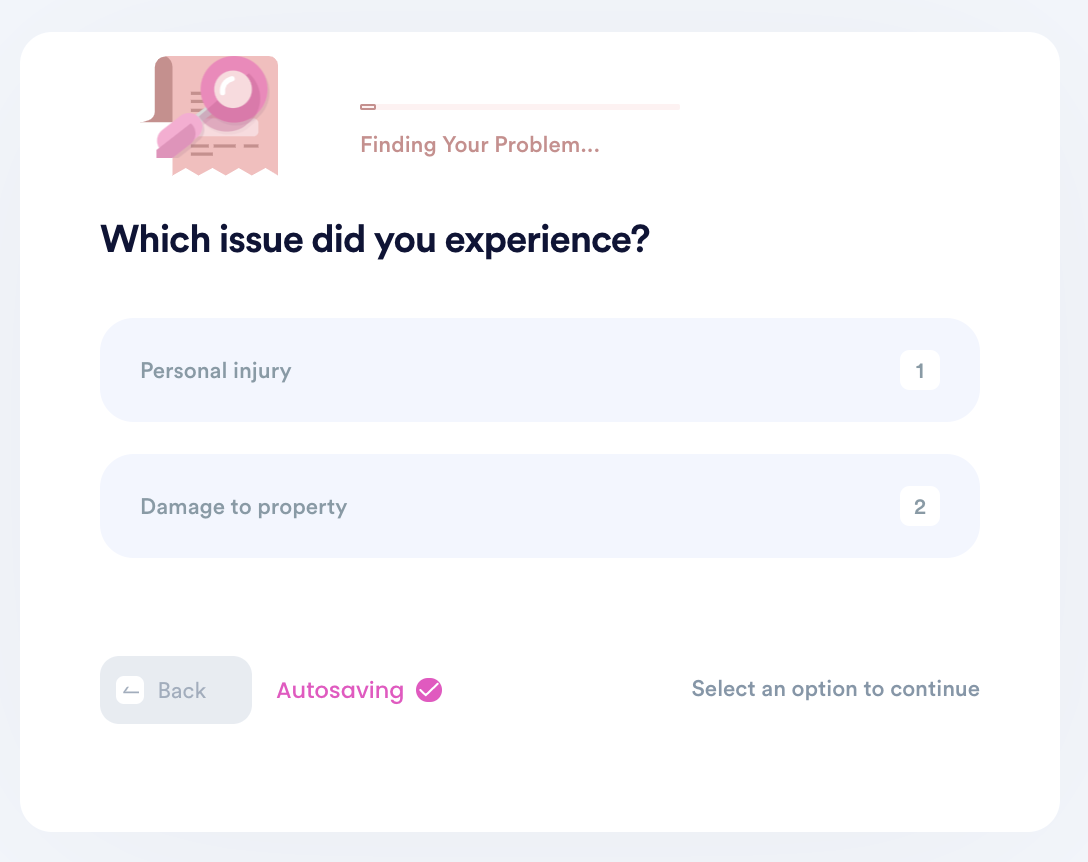 5. Upload supporting documents and other evidence files.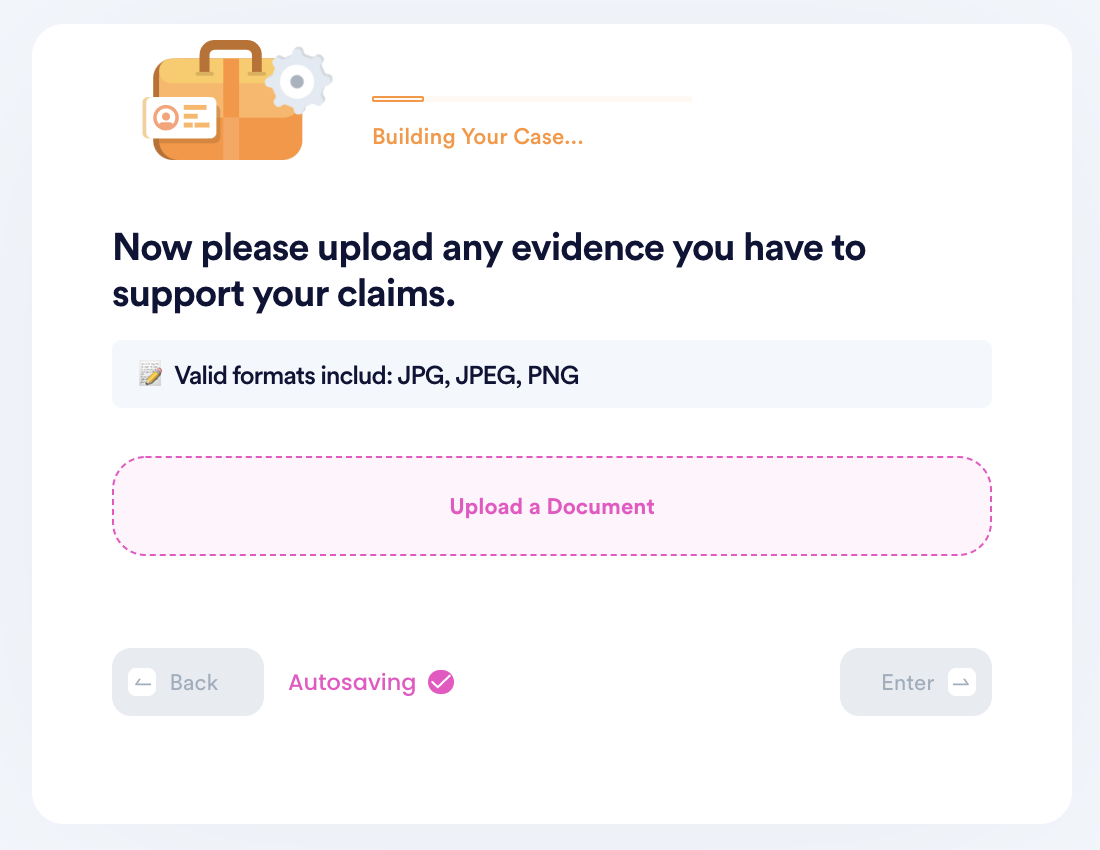 6. Enter the amount you want to be compensated in damages and verify your e-signature.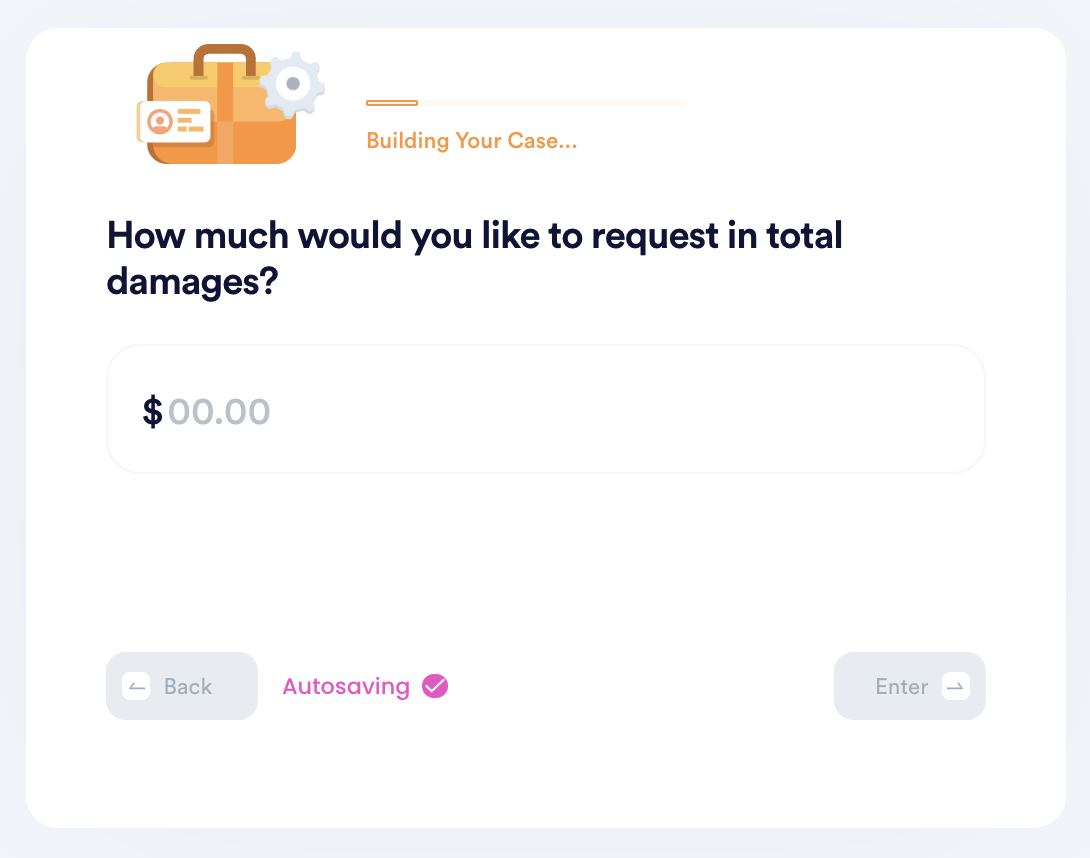 Report More Than City Repairs With DoNotPay
The great benefit of working with DoNotPay on city repairs and reporting trash on the street is that our platform can do so much more for you. While you're waiting on a response from the city about your recent complaints, let DoNotPay help with everything from getting cashback from gift cards and upgrading your hotel with the best accommodations to fighting identity theft and increasing your credit card limit.
There's nothing more important than time — whether it's with family and friends or just more time spent doing the things you enjoy most. DoNotPay's mission is to save you as much time as possible by doing all the long and tedious work, so you don't have to!