Step-By-Step Guide To Reporting A Landlord In Texas
Having to is never a tenant's first choice, yet there are times when it becomes unavoidable. Although many landlords prove difficult to negotiate with, some basic knowledge and tools like DoNotPay can make it easy to report a landlord in Texas. From lawsuits and legal obligations to learning when to contact the authorities, here's what you need to know before starting a dispute with a landlord in Texas.
Why You Might Want to Report Your Landlord in Texas
Deciding to is not something to be taken lightly, as you will often invite retaliatory actions if you are not on sound footing. Before you report a Texas landlord, consider this checklist:
Is your landlord harassing or threatening you?
Is your landlord dangerous?
Is your landlord failing to meet legal obligations?
Have any components of the lease been broken?
Has she/he failed to respond to an inquiry?
Do you have a case for withholding rent?
Most importantly, you need to determine if a landlord is simply being unhelpful or actually engaging in targeted harassment. If you think your landlord is dangerous and has been harassing you, your first call might have to be to law enforcement. As long as it's an appropriate call to the police, you will then have a written record of an appeal to law enforcement based on harassment or threatening behavior.
It's also important to know the landlord requirements for the state of Texas as well as any applicable local county and/or town ordinances. For example, a working heating system is a legal obligation, and if a landlord ignores requests to have your heat repaired, you will have legal grounds to report your landlord. It's also important to note any parts of the lease you think may have been violated by the landlord, as this will only add to your case if you have to write a demand letter or file a complaint with authorities.
How to Report a Texas Landlord
There are a few ways you can go about reporting a Texas landlord you believe to be violating the law or the lease agreement. Here's a guide to getting started:
Consult the lease and read it carefully
Read through the Texas tenants' rights handbook
Contact the local tenants' council (if applicable)
Look through the best resources for landlord complaints in Texas
Consider hiring a lawyer
File complaint with appropriate authorities
One thing you want to avoid is filing a complaint against a landlord while you are actually in violation of the lease. If you are currently violating the lease (e.g. with a pet), make sure it is not an ongoing situation. Also, note that you cannot simply withhold rent even if you think it's for a good reason; in Texas, withholding rent is unlawful if the situation "does not materially affect your physical health or safety."
To report your landlord, you can do the following:
| | |
| --- | --- |
| File a Complaint | You can file a complaint with the Texas Workforce Commission for violations of the Fair Housing Act or the Department of Housing and Urban Development (HUD). You can also look for local housing enforcement agencies based on your location. |
| Report Active Danger | But if the situation is dangerous or illegal, or if a clear violation continues unabated, you might have to take the next step. You can also call the local sheriff's office in extreme cases and the civil courts are at your disposal as well. In Texas, you can sue a landlord for up to $20,000 in small claims court. |
Using DoNotPay to Solve Your Landlord Issue
Instead of reporting a landlord in Texas on your own, DoNotPay can simplify the entire process with four straightforward steps:
1. Search for and open the Landlord Protection product on DoNotPay.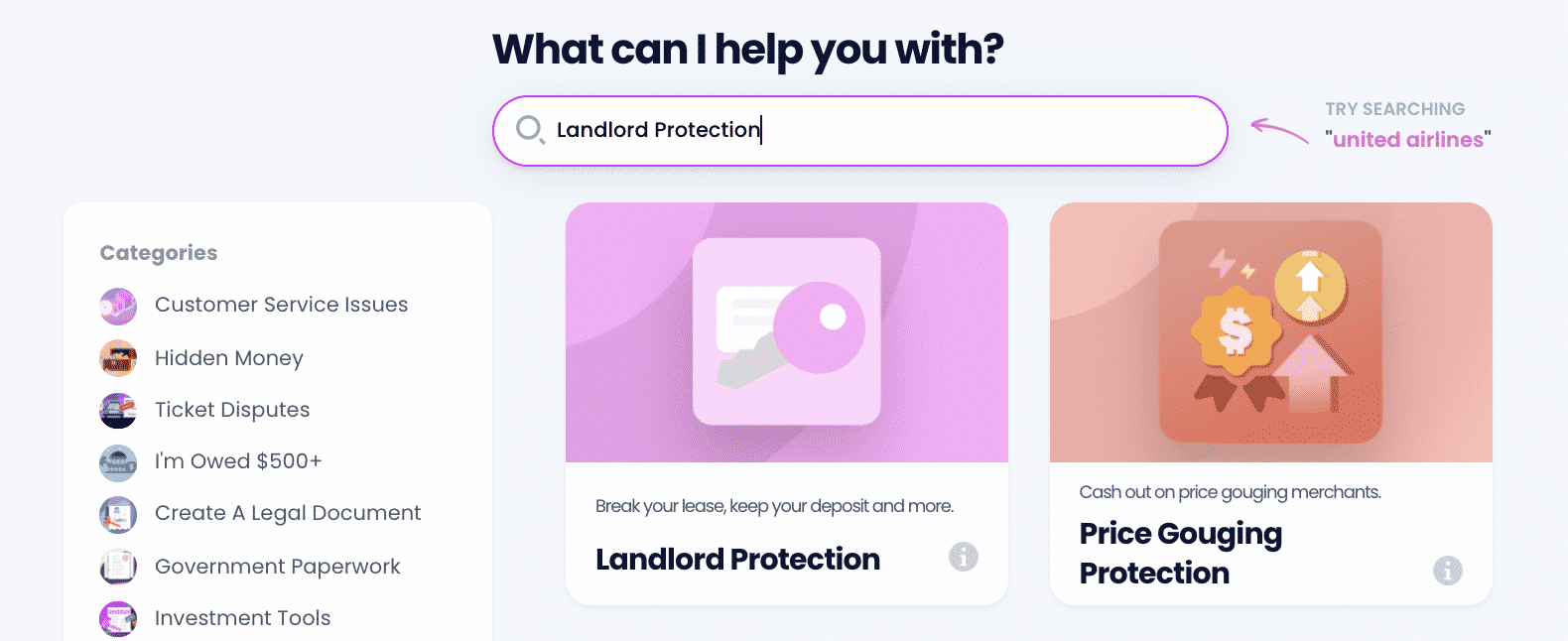 2. Select which issue applies to you.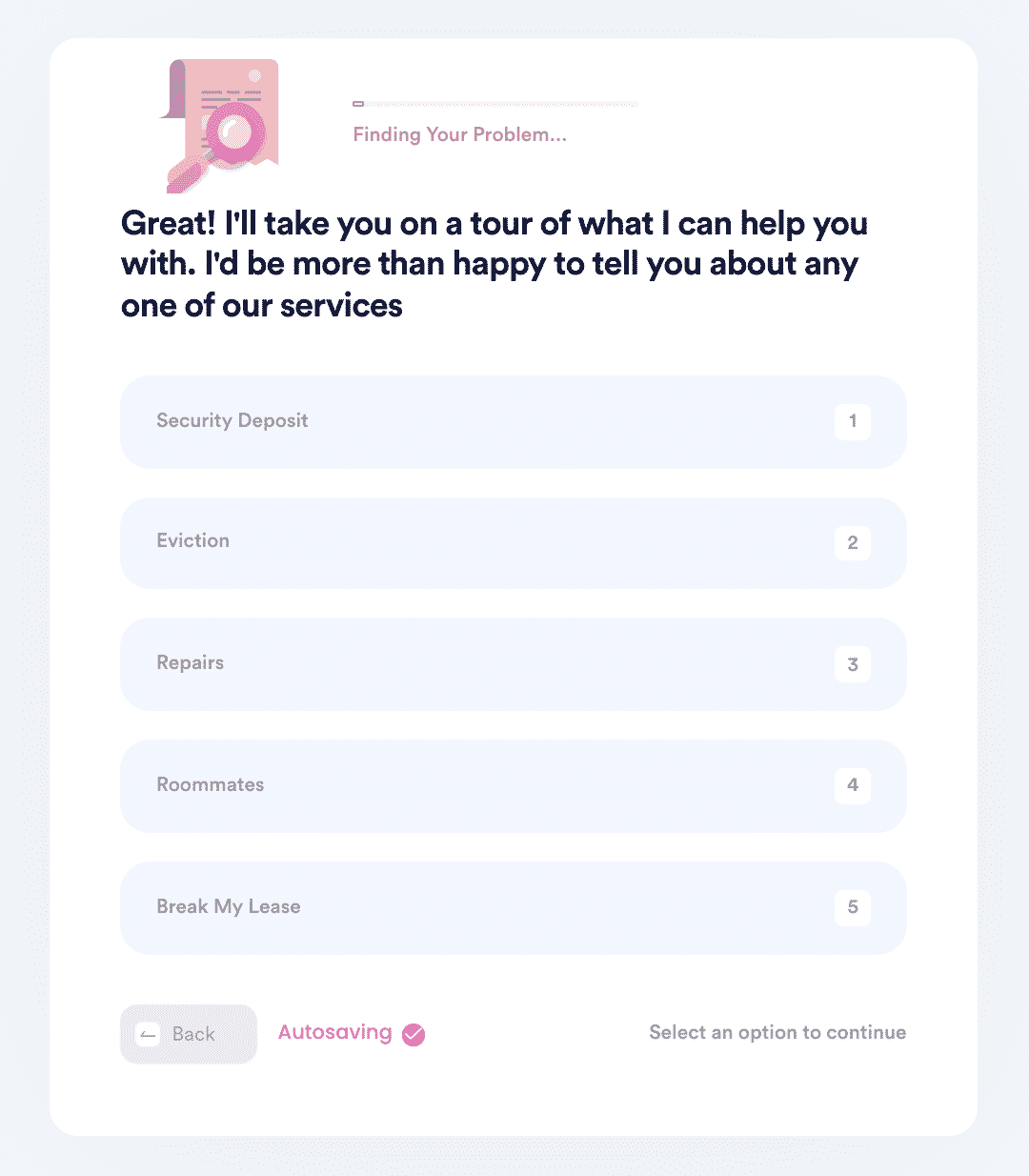 3. Answer a simple set of questions so our chatbot can collect the necessary information to create your demand letter.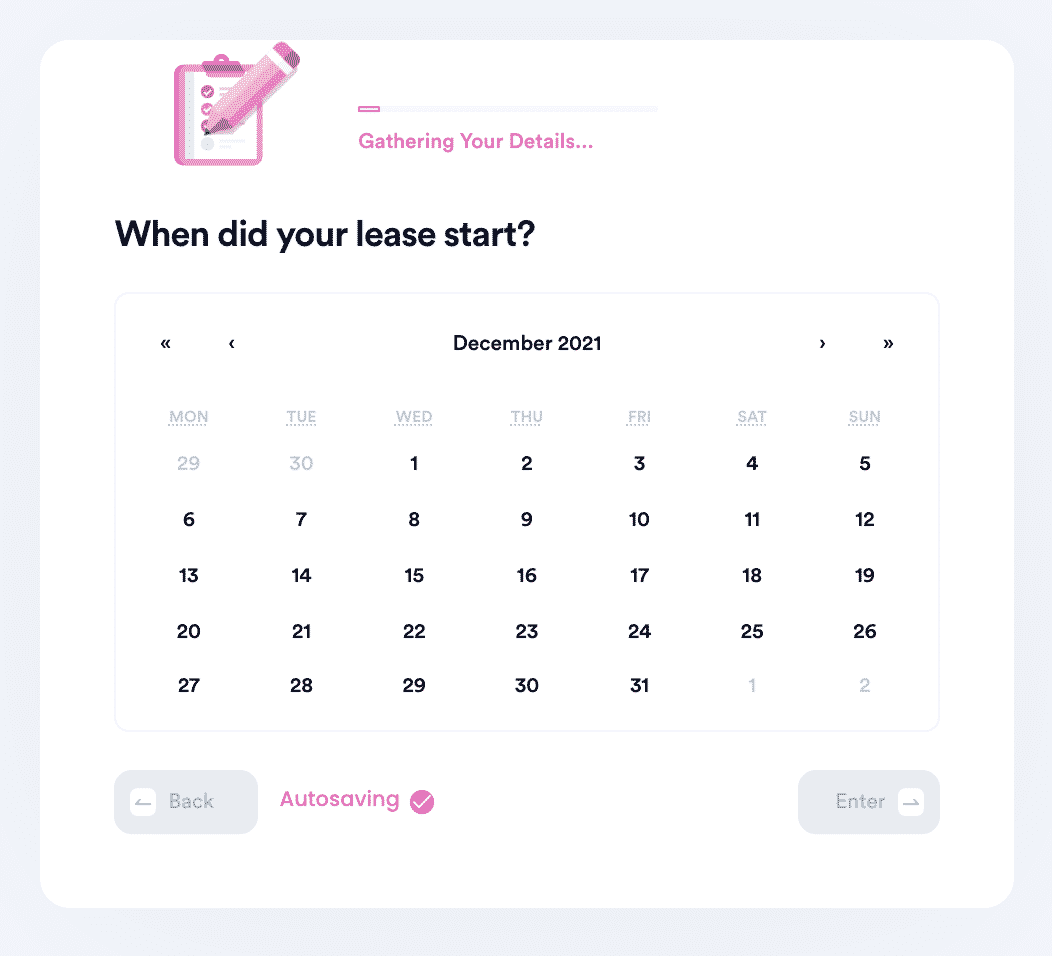 4. Choose whether you want DoNotPay to send the demand letter to your landlord or roommate on your behalf. If you already tried sending a demand letter and it didn't work, we can help you start the small claims court process.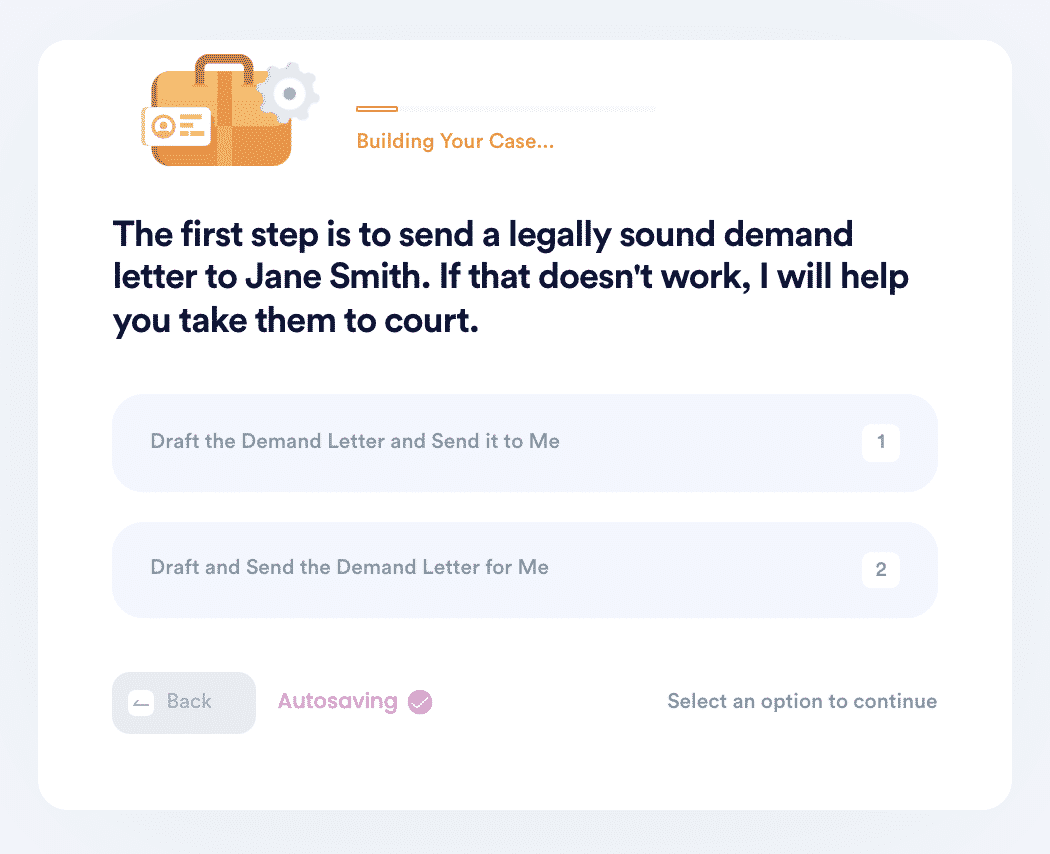 After submission, DoNotPay will take your information and make the best case the evidence allows, giving you confidence that you will get results.
The Upside of Letting DoNotPay Deal with Your Landlord
One of the reasons that landlords tend to have leverage is that few renters have the time to do the research and then go through the appropriate channels. Taking time out to study up on landlord laws in Texas might also disrupt your life in other ways, potentially making the situation even worse. Ultimately, going it alone with your landlord will only take time and give you less of a chance for success.
While you could hire a lawyer to look into the matter, this can also be time-consuming on its own and possibly very expensive. Although most law firms are not set up to quickly handle landlord disputes, is designed with busy lifestyles in mind, allowing you the assurance that you can get results quickly without having to overpay on legal fees. When dealing with a landlord, DoNotPay is the only service you need.
Other Landlord Protection Services Offered by DoNotPay
As the ideal legal assistant for the modern world, DoNotPay can easily help in a variety of ways when it comes to landlord disputes, including:
Security deposit time periods

Filing any complaint against a landlord
What Else Can DoNotPay Do for You?
From solving pesky problems to locating hidden consumer perks, DoNotPay has a wealth of resources that can be placed at your disposal. You can find incredible hotel upgrades, finally cancel that timeshare you've been trying to ditch, renew your car registration, and tap into all kinds of other services, as well. With so many different ways to assist, DoNotPay is the ultimate tool that can help with just about any problem.