Report Drug Use at Workplace
Employers and employees are both susceptible to the economic and health costs associated with problematic substance use in the workplace. According to the National Clearinghouse for Alcohol and Drug Information (NCADI), companies in the United States lose $100 billion a year due to alcohol and drug misuse by employees.
If you suspect your coworker or manager is using drugs in the workplace, remember that every employee is legally entitled to work in a safe environment and you shouldn't have to deal with uncomfortable situations. This article will help you learn what problematic substance use is, why you should report it, and how to do it safely and anonymously through .
What Is Problematic Substance Use?
Problematic substance use may occur with a variety of legal and illegal substances. The table below outlines examples of addictive substances and their effects in the workplace:
Category
Examples
Effects

Cannabis

Marijuana, hashish

Impaired memory

Impaired coordination

Depressants

Alcohol, sleeping medications, sedatives, tranquilizers

Inattention

Depression

Impaired balance

Drowsiness

Impaired judgment

Hallucinogens

LSD, PCP, mescaline

Inattention

Illusions

Disorientation

Nicotine

Cigarettes, snuff, chewing tobacco

Initial stimulant followed by depressant effects

Stimulants

Cocaine, amphetamines

Elevated mood

Overactivity

Anxiety

Rapid heartbeat

Opiates

Morphine, heroin, oxycodone, oxycontin

Loss of interest

"Nodding"
Why Should You Report Substance Abuse in the Workplace?
Substance abuse in the workplace can lead to negative consequences for both employees and employers. The list below summarizes five major impacts of substance abuse in the workplace.
Employee health. Employees with problematic substance use tend to neglect their health needs. This can lead to increased use of sick time, tardiness, and absenteeism. Equally, employers may see a higher health benefits usage.
Productivity. Employees who abuse substances tend to be physically and mentally impaired on the job. This can result in reduced output, work quality, and customer satisfaction.
Decision making. Employees who abuse substances often make poor decisions and have a distorted perception of their ability. This can lead to reduced innovation, creativity, and competitiveness.
Morale. The presence of employees with problematic substance use can strain relationships between coworkers. This can result in high turnover rates, reduced teamwork, and low morale.
Security. Employees with substance abuse often have financial difficulties and may be engaged in illegal activities such as theft.
How to Report Substance Abuse in the Workplace
Reporting drug use at work can be tricky because you may not want to be seen as a whistleblower, especially when the employee in question seems to be having a hard time.
However, you need to realize that your colleague's problematic substance use will have an impact on your work and the organization as a whole. Here is a guideline on how to report your colleague or manager for drug abuse:
Collect evidence.

Having sufficient proof will ensure the case is convincing. Create a list of the person's drug use you witnessed and include the date, time, and location.

Review company policies. Most companies uphold a drug and alcohol-free policy. You should use internal reporting channels for filing a suspected drug abuse complaint before resorting to external channels.
Call your company's anonymous hotline. Many companies offer employees the chance to report issues, ranging from drug use to harassment complaints. If you need to report drug abuse at work and prefer to remain anonymous, you can try this method.
How to Investigate a Report of Drug Abuse in the Workplace?
If you are an HR personnel looking to investigate a report of drug or alcohol use in the workplace, you may suggest conducting the following tests. Keep in mind that tests should follow the guidelines for federal drug testing, your company's policies, and local laws.
| | |
| --- | --- |
| Drug Test | Details |
| Urine | Urinalysis is the most common drug test. It shows the presence of drugs retained by the body. This test detects drugs such as cocaine, alcohol, opiates, and cannabis. This test has a shorter detection window (10 days). |
| Hair Follicle | This test can tell you if an employee has used drugs in the last 90 days. It can detect cocaine, marijuana, opiates, and methamphetamine. |
| Blood | This test is highly accurate. It has a very short detection window ranging from minutes to hours. |
| Saliva | This test is recommended if an employee refuses to submit a urine sample for analysis. It has a detection window of 21 hours. |
| Breath | This is used to check for alcohol use in the workplace and can detect the level of alcohol present in the employee's blood. |
How to File an Anonymous HR Complaint With DoNotPay
DoNotPay is your trusty legal assistant! Our new product, Anonymous HR Complaints, lets you file a complaint against a co-worker or your boss without exposing your identity. This protects you from retaliation and prevents awkward situations at work. Filing is easy and only takes 3 steps:
1. Open the Anonymous HR Complaint product on .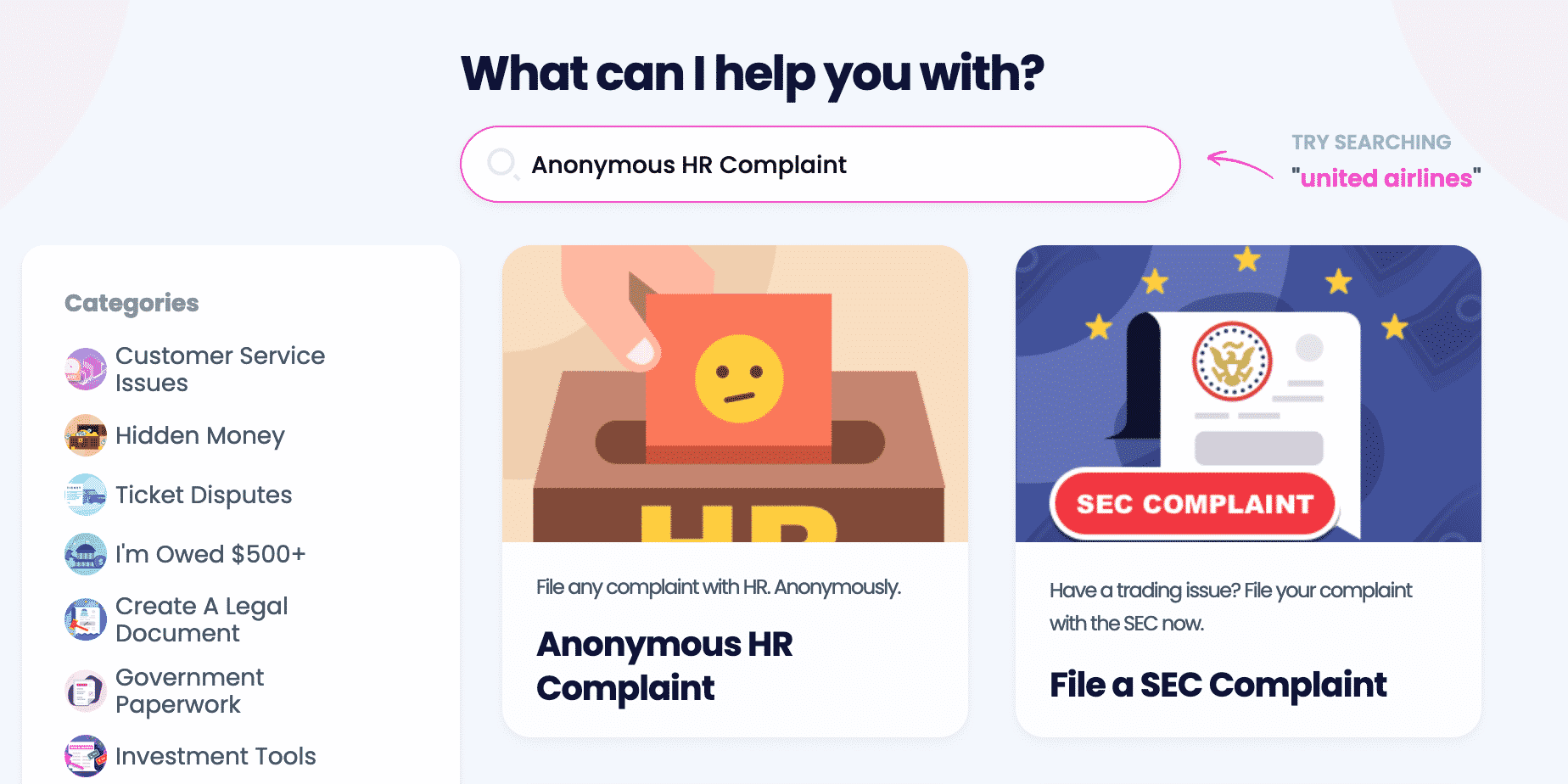 2. Enter your employer's name and your HR department's mailing address.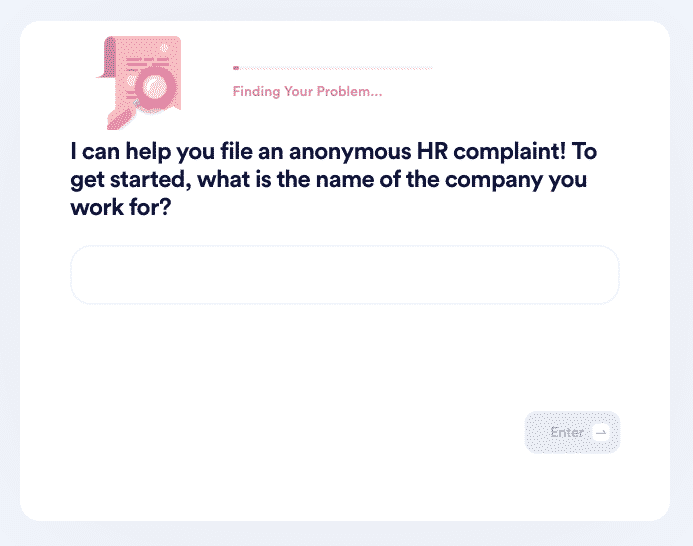 3. Describe the issues you're experiencing and how you want them to be addressed.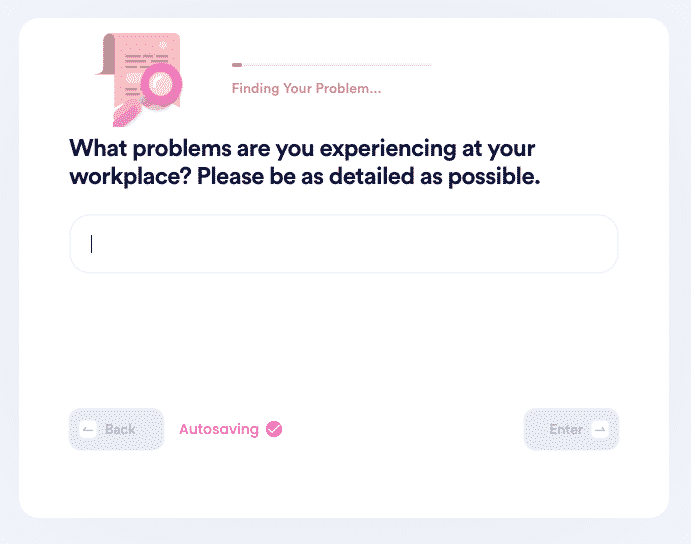 Your work is done! DoNotPay will mail the complaint anonymously, so no need to worry about getting your identity exposed.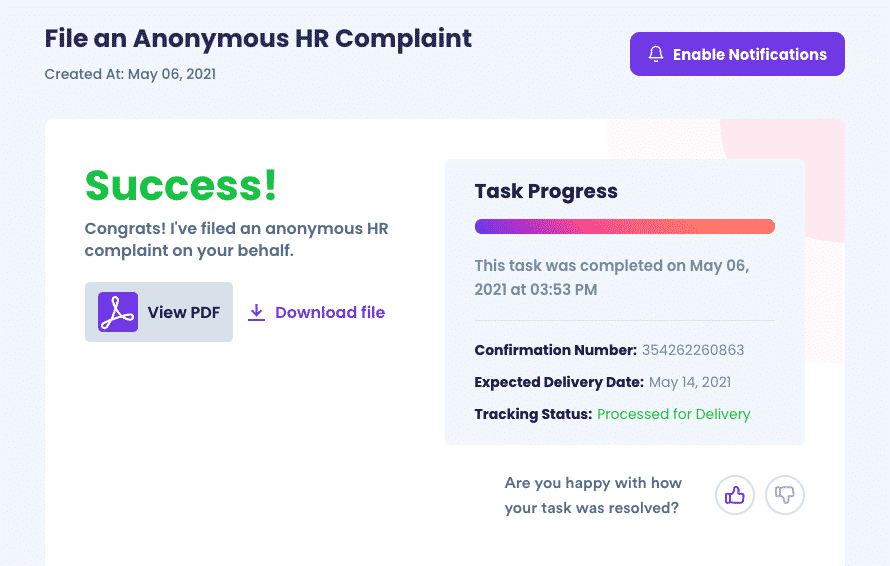 What Else Can DoNotPay Do?
DoNotPay does not stop at just HR complaints. In addition to helping you report drug abuse in the workplace, DoNotPay can also help with other day-to-day matters such as: