Need to Report Animal Cruelty in Texas? DoNotPay Can Help You File a Report!
Did you witness someone being cruel to animals? Sometimes, it doesn't need to be a violent act. It might be that you have a friend who hoards cats and dogs. You know that there's no way a person can take care of 20 pets and keep them healthy, or maybe, you know someone in a domestic violence situation, and you worry the abuser hurts the animals too.
When you need to report a case of animal cruelty in Texas, you might not know who to call or if you should call. If you suspect animal abuse, you need to report it. It's possible to report animal abuse by yourself, but it can take time. DoNotPay can help you act quickly.
Is Animal Cruelty a Crime in Texas?
In Texas, animal cruelty is considered a felony. The abuser faces up to 10 years in prison and a fine of up to $10,000. When the animal abuser is a child, they must attend counseling. Animal neglect isn't considered animal cruelty until the third instance. However, it is considered a misdemeanor.
What Is Considered Animal Cruelty in Texas?
Before you report animal cruelty in Texas, you want to know that it is cruelty. Here are some things that are considered animal cruelty in Texas:
Striking or kicking
Shooting
Killing
Harming the animal in a painful manner
Dogfighting
Neglect
Lack of food and water
Lack of shelter from the elements
Lack of needed medical attention
How to Report Animal Cruelty to an Animal Shelter in Texas
Throughout Texas, there are many local animal shelters, and you need to report the abuse that you witnessed to the one in your area. Here are a few in the state of Texas that you might call:
Location
Address
Phone
City of Temple Animal Services Department
20 Mama Dog Circle, Temple, TX 76504
(254) 298-5732
City of Sant Antonio Animal Care Services
4710 TX-151, San Antonio, TX 78227
(210) 207-4738
Frisco Animal Control
7200 Stonebrook Pkwy, Frisco

TX 75034

(972) 292-5303
Fort Worth Animal Care and Control Shelter
4900 Martin Street, 351 Hillshire Dr, Fort Worth

TX 76119

(817) 392-1234
Katy Animal Control
25839 I-10, Katy

TX 77494

(281) 391-4740
San Marcos Animal Control
750 River Rd, San Marcos, TX 78666
(512) 805-2655
Report Animal Cruelty to Interest Groups/NGOs
After you report the animal cruelty you witnessed to your local animal shelter, you can notify other groups that protect animals on a national level. These groups can provide support to your local animal control department in Texas. Here are a few to consider contacting:
How to Report Animal Cruelty in Texas by Yourself
You can report animal cruelty in Texas on your own, but you might find that it takes too much time. Start by locating the closest animal shelter or animal control department from where you witnessed the cruelty. Contact the shelter by phone or in-person to find out how to proceed.
Solve the Challenges of Filing the Report of Animal Cruelty in Texas With the Help of DoNotPay
When you need to file a report of animal cruelty in Texas, you know how important time is to the animal. You must act quickly and not waste time tracking down the right department or deciding on what to say. While you can do it by yourself, DoNotPay can make it easier.
Here's how you can use DoNotPay to report animal cruelty:
1. Search "Report Animal Cruelty" on DoNotPay, and select the associated tool.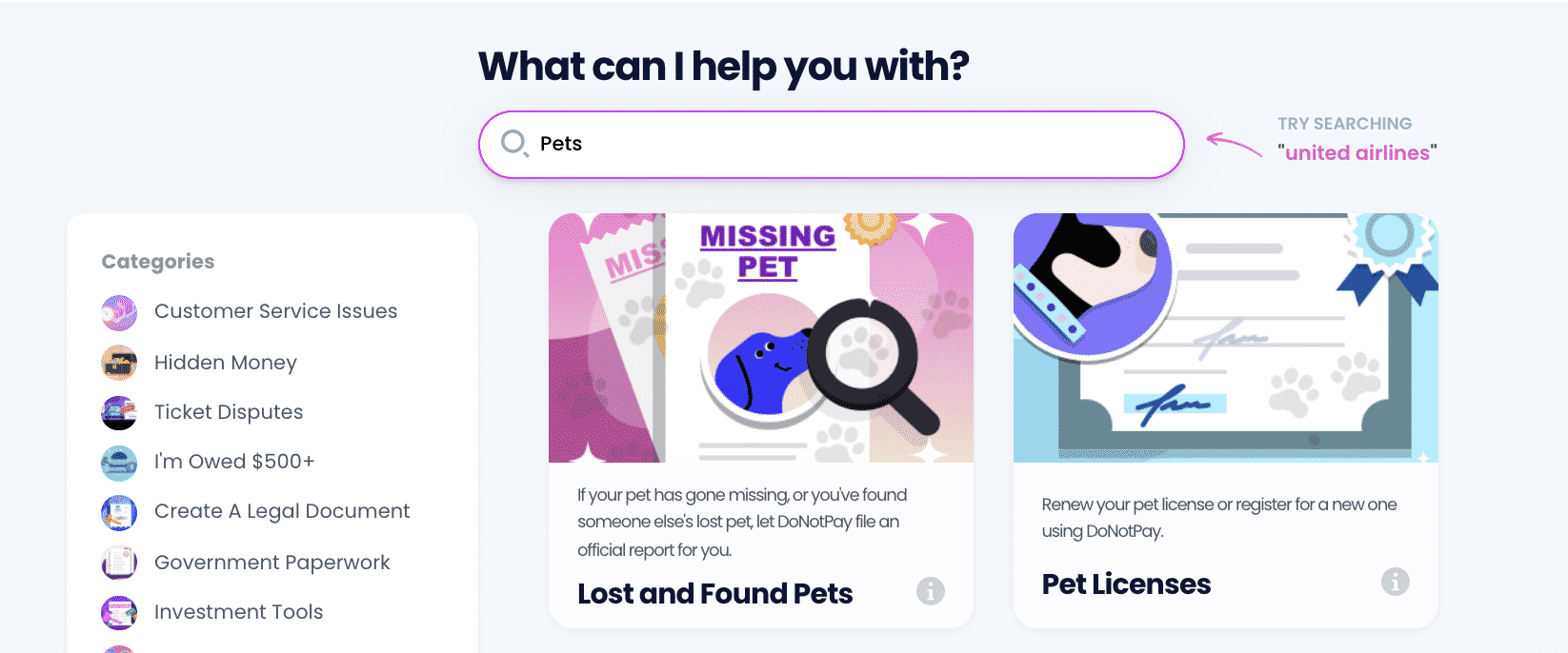 2. Then following the prompts, report the time, location, and exact detail to the best of your knowledge of the situation that has led you to believe there is animal cruelty afoot.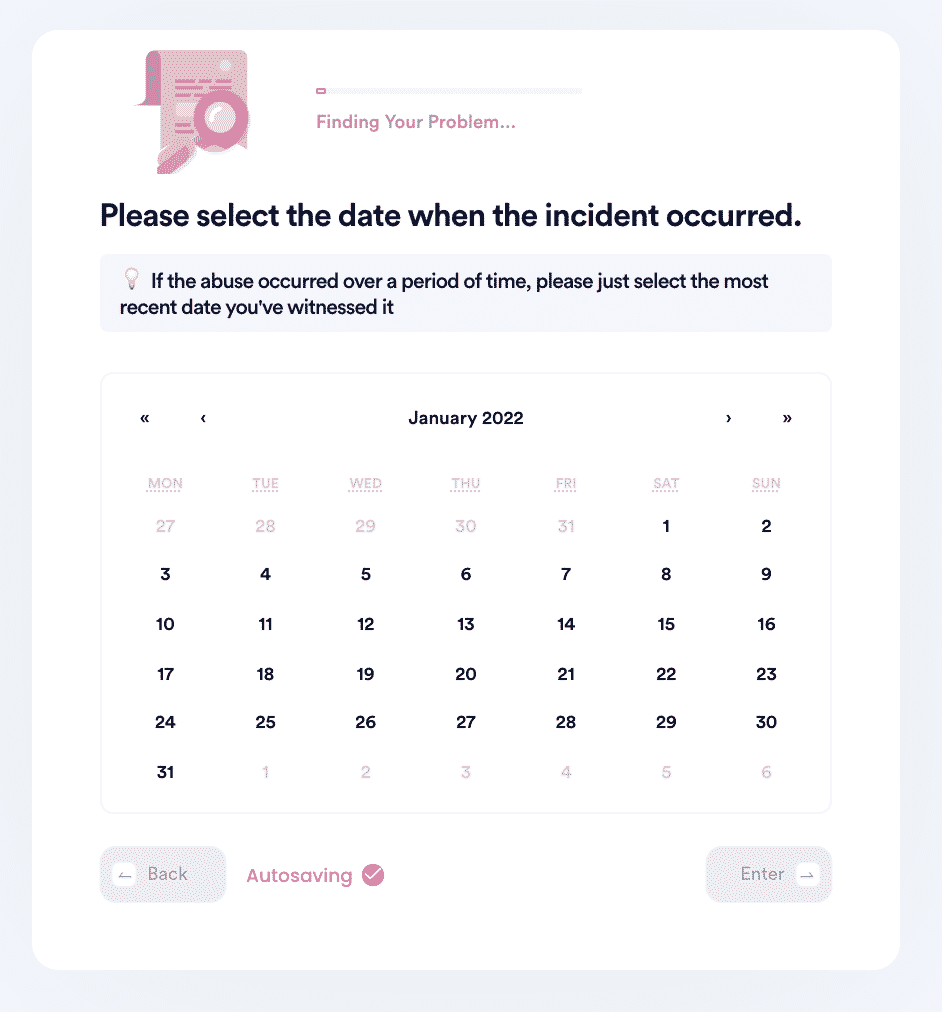 3. Upload an image to build your case and include your contact information for the authorities to get back to you about your report.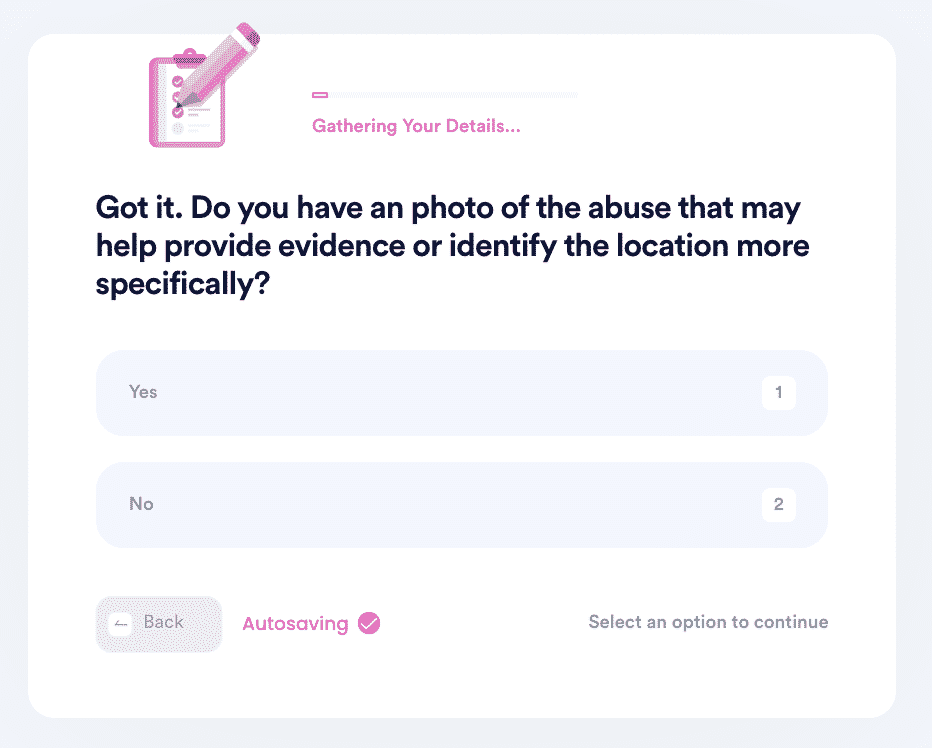 And that's it. DoNotPay will file the report on your behalf, getting animals out of harm's way.
​​Why Use DoNotPay to Solve the Challenges of Filing the Report of Animal Cruelty in Texas
As an animal lover, you know that you need to report animal abuse in Texas that you witnessed, but why use DoNotPay? There are three main reasons that you should use the app:
It's easy
It's fast
It's successful
DoNotPay Works Across All Companies/Entities/Groups With the Click of a Button
After reporting the animal cruelty that you witnessed in Texas, it's possible that you might have friends and family who want to know how you did it. The DoNotPay app can help people in a variety of locations report animal cruelty. Here are a few to consider:
Report animal abuse in Texas
More DoNotPay Products for Your Pets
DoNotPay offers a variety of services for pet owners and animal lovers to keep all animals safe and healthy. Check out these options.
Report Animal Cruelty
Lost and Found Pets
Pet Custody Agreement
Pet Licenses
What Else Can DoNotPay Do?
DoNotPay is ready to help you with a variety of tasks. Check out these options:
Report animal cruelty in Texas with DoNotPay today.