Need to Report Animal Abuse in San Diego? DoNotPay Can Help
There is a decent chance you have either had a pet or have had some experience with animals. They are all around us, but the sad truth is that some people don't treat animals very well. Unfortunately, some animals end up in situations where they end up abused. The only way to stop this is to report animal abuse to the proper authorities. If you need to report animal abuse in San Diego, you have come to the right place.
There are many forms that animal abuse can take, such as hoarding, dog fighting, violence, and neglect. Sometimes, something happens and an animal ends up in an abusive or negligent situation without the owner intending for it to happen. Regardless of how it occurred, if you witness animal abuse/cruelty, you need to report it.
If you are unsure how to report a case of animal abuse or don't want to deal with it for any reason, DoNotPay can help.
Is it a Crime to Commit Animal Abuse in San Diego?
The Humane Society defines animal abuse as any behavior that harms an animal. To further clarify, some examples of animal abuse are not providing needed substances like food and water, not getting an animal proper vet care, or not socializing your animal. In addition, actions like torturing, killing, and maiming are considered animal abuse.
In California, there is a statute defining animal cruelty. Anyone who intentionally and maliciously maims, tortures, mutilates, kills, or wounds a living animal is subject to:
Imprisonment in the state prison or a fine of no more than $20,000
Both imprisonment in the state prison and the fine
Imprisonment in a county jail for no longer than a year or a fine of no more than $20,000
Both imprisonment in county jail and the fine
How to Report Animal Abuse By Yourself
You can report animal abuse to the San Diego Humane Society. Here are the contact details.
San Diego Humane Society
Website
https://www.sdhumane.org/services/humane-law-enforcement/
Address
5433 Gaines St, San Diego, CA 92110, United States
Phone Number
+1 619-299-7012
There are three ways to make a report.
Submit an online form.
Fill out this form online.
Make sure to be as specific as possible.
Leave contact information for further questions.
Make sure to hit submit when you are done.
Print and submit a form to the office.
Print out this PDF.
Fill it out with as much information as you can.
Take it to the San Diego Humane Society.
Call in a report.
Dial the phone number and press 1.
Call the office and explain what you have witnessed in as much detail as possible.
Leave contact information in case the officer needs to ask more questions.
You can avoid the potentially time-consuming process of filing a report by letting DoNotPay do it for you. You give us information about what you witnessed, and we worry about the report.
How You Can Use DoNotPay to File an Animal Abuse Report in San Diego
Rather than dealing with filing a report and using up your precious time, let DoNotPay step in and do it for you.
Here's how to use DoNotPay to report animal cruelty:
1. Search "Report Animal Abuse" on DoNotPay, and select the associated tool.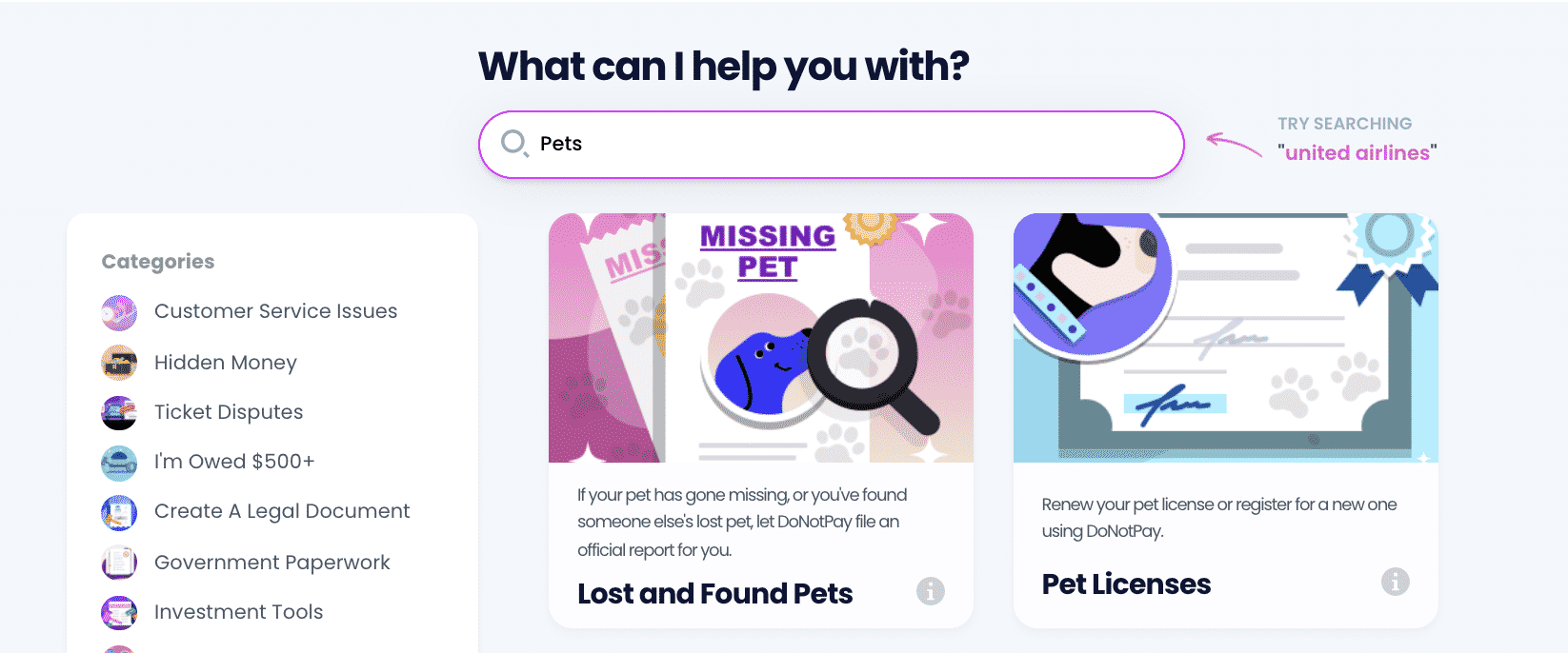 2. Then following the prompts, report the time, location, and exact detail to the best of your knowledge of the situation that has led you to believe there is animal cruelty afoot.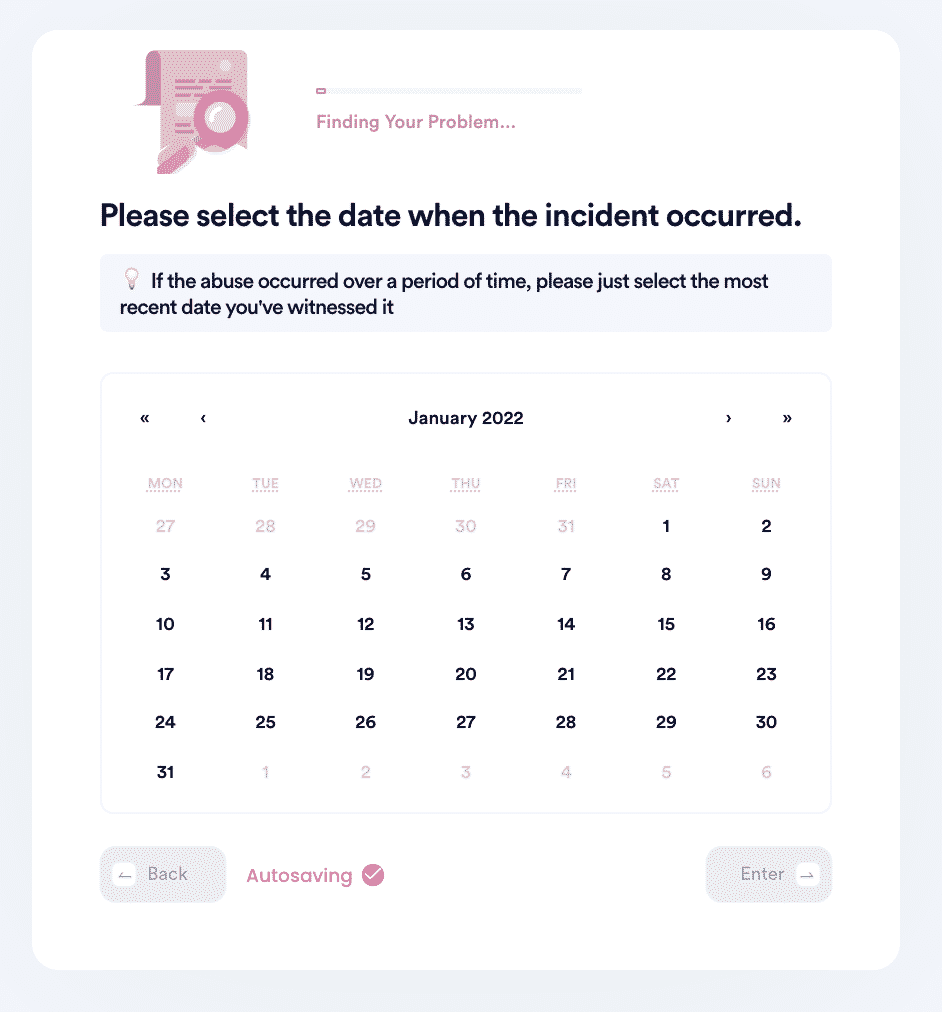 3. Upload an image to build your case and include your contact information for the authorities to get back to you about your report.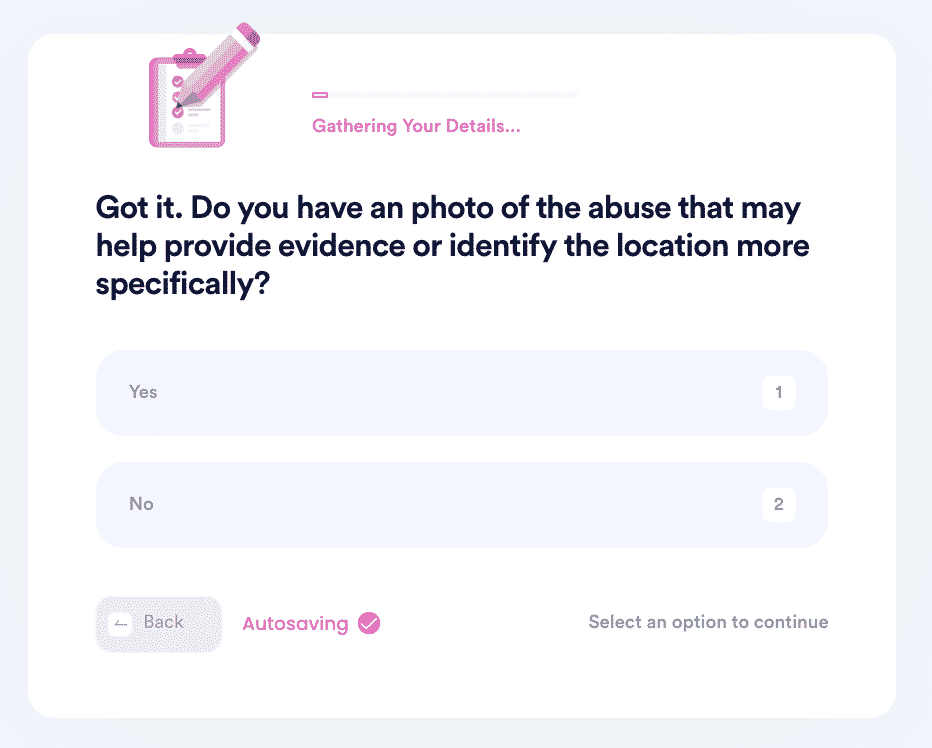 And that's all! DoNotPay will file a report for you, helping you get animals out of harm's way.
Why You Should Use DoNotPay to File Your San Diego Animal Abuse Report
Using DoNotPay to file your San Diego animal abuse report makes sense for many reasons.
It's simple: All you have to do is give us information, and we file the report on your behalf.
It's successful: You can rest assured that your San Diego animal abuse report will get filed.
It's fast: You only spend a short bit of time entering information.
DoNotPay Works Across All States With the Click of a Button
In addition to helping you report animal abuse in San Diego, we can also help you report animal abuse in other states such as Texas, New York City, Los Angeles, and more.
DoNotPay Can Help With Many Tasks
Filing animal abuse reports is just one of many things DoNotPay can help you with. Here are other examples of ways we can assist you.
Conclusion
Animals are a part of most people's lives, whether they have them for pets or just interact with them from time to time. It's fairly easy to make an animal your pet, but that, unfortunately, means that not everyone treats animals the way they should. Some people are very abusive to their pets, and the best way to help is to report any instances of animal abuse you witness.
If you aren't comfortable filing an animal abuse report for whatever reason, DoNotPay is here to help. Give us information about what you witnessed, and we will file a report for you.
Contact us today to see how we can help you with filing abuse reports and discover everything else we can do for you.