How to Report Animal Abuse in Pennsylvania Successfully
Animals are a wonderful addition to a family. They bring joy, humor, help with depression and loneliness, and are often service animals helping those that are differently-abled. Unfortunately, animals are sometimes subjected to abuse at the hands of humans.
When you see animal abuse, it's important to report it right away as it could mean the difference between life and death for that animal. However, it can be hard to know where to begin to report the incident to the proper authorities. Let DoNotPay help you report animal abuse in Pennsylvania as well as other states across the US. 
Is Animal Abuse a Crime?
Yes, animal abuse is a crime. Fortunately, there are laws at state and federal levels that protect animals from abuse. The vast majority of animal protection legislation is adopted at the state level, according to the Animal Legal Defense Fund, and there are some federal laws that offer protection as well.
The PACT (Preventing Animal Cruelty and Torture) Act was signed into law in 2019. The law states that some of the most egregious forms of animal cruelty—specifically crushing, burning, drowning, suffocating, impaling or sexual exploitation—in or affecting interstate commerce or within the territorial jurisdiction of the United States a federal crime.
Animal Abuse Regulations in Pennsylvania
What constitutes animal abuse may vary from state to state. Here are some general examples of animal cruelty:
Inflicting harm such as kicking, burning, stabbing, beating, or shooting an animal
Injuring or killing an animal
Neglect (this includes depriving an animal of food, shelter, water, and the needed medical treatment)
How to Report Animal Abuse in Pennsylvania
The Pennsylvania Society for the Prevention of Cruelty to Animals (PSPCA) is committed to stopping animal cruelty for the state of Pennsylvania. They also offer low-cost veterinary care to those that are in need.
Listed below are the agencies for the PSPCA for reporting animal abuse.
Agency
Address
Phone Number
Philadelphia Headquarters
350 E. Erie Avenue

Philadelphia, PA 19134

(215) 426-6300
Central PA Center in Danville
1467 Bloom Rd

Danville, PA 17821

(570) 275-0340
Lancaster Center
848 S. Prince Street

Lancaster, PA 17603

(717) 917-6979
Wildlife animal abuse should be reported to The Pennsylvania Game Commission at 717-787-4250.
How to Report Animal Abuse In Pennsylvania On Your Own
Once you have determined to whom you need to report the incident of animal abuse, you should present the following to the investigating officer:
what you witnessed
place and time you observed the abuse
who was involved (if known)
a description of the party
a description of the animal being abused
any images or proof you have will help strengthen the case against the abuser
Reporting the abuse can be time-consuming and may require a fair amount of effort on your part.
Next Steps for Reporting Animal Abuse in Pennsylvania if You Can't Do It Yourself
Here's how you can use DoNotPay to report animal cruelty:
1. Search "Report Animal Abuse" on DoNotPay, and select the associated tool.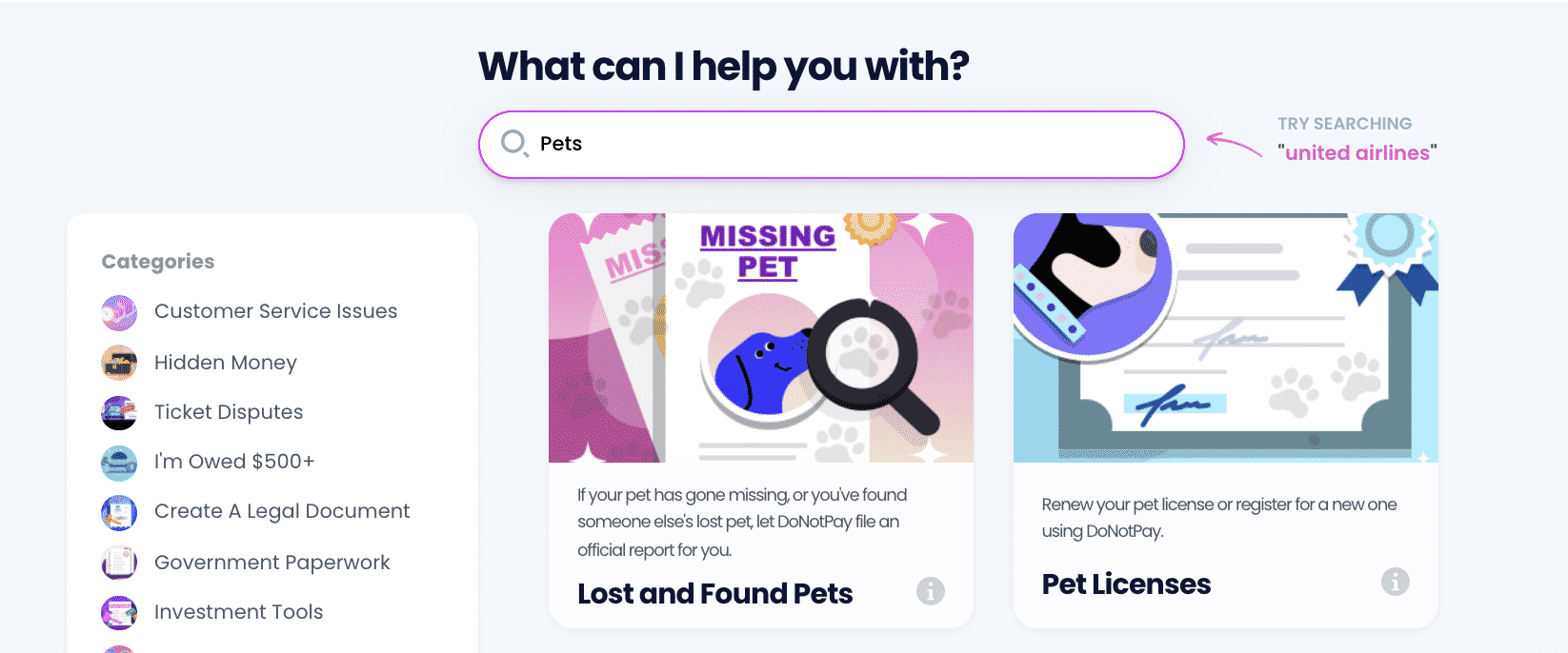 2. Then following the prompts, report the time, location, and exact detail to the best of your knowledge of the situation that has led you to believe there is animal cruelty afoot.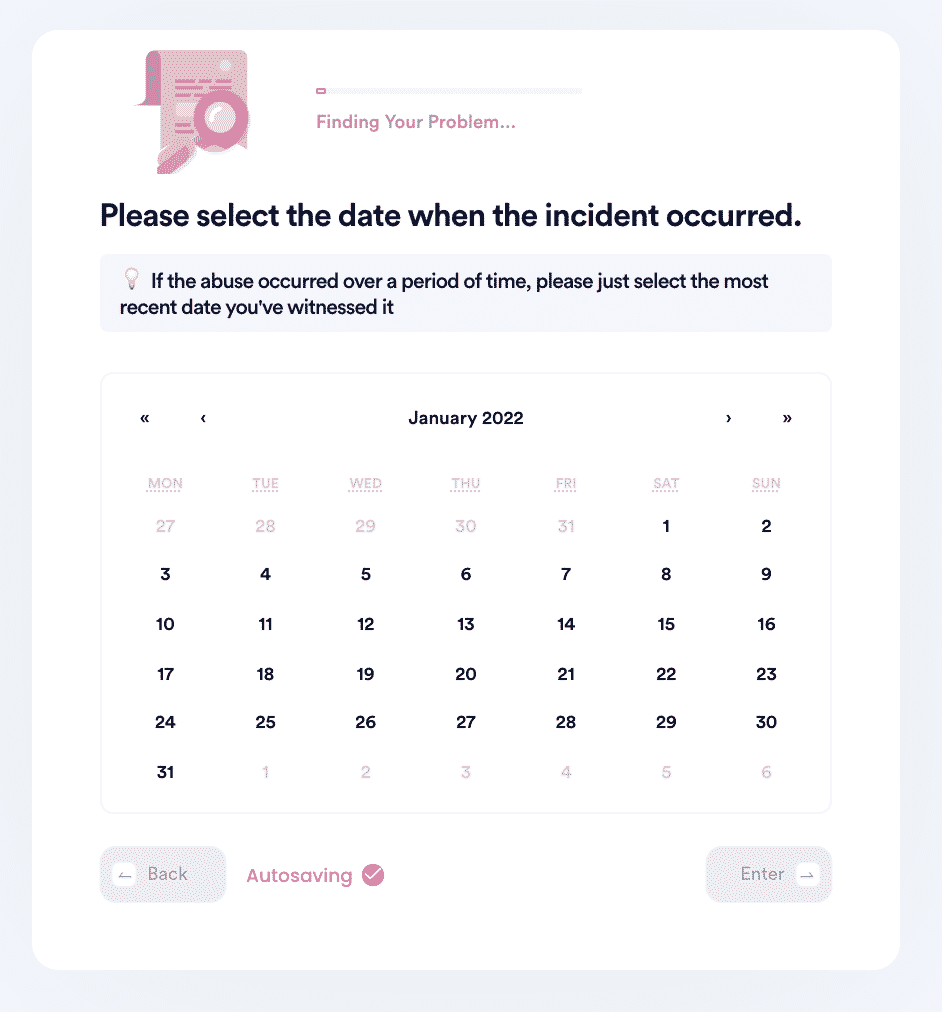 3. Upload an image to build your case and include your contact information for the authorities to get back to you about your report.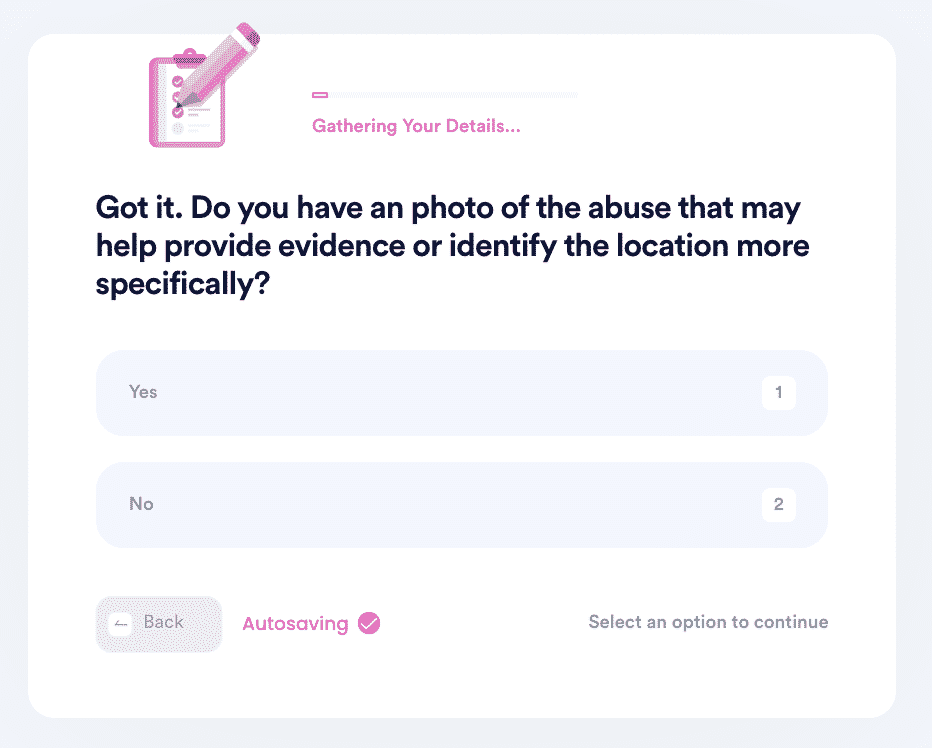 And that's it! DoNotPay will file the report on your behalf, getting animals out of harm's way.
Why Use DoNotPay to Report Animal Abuse in Pennsylvania
DoNotPay is:
Fast—You don't have to spend hours trying to report the abuse.
Easy—You don't have to struggle to fill out tedious forms or keep track of all the steps involved in reporting abuse.
Successful—You can rest assured knowing we'll make the best case for you.
DoNotPay Works Across Many States With the Click of a Button
DoNotPay is useful not only if you live in Pennsylvania, but it's also in other states and cities such as Los Angeles, New York City, Texas, and more.
In addition to reporting incidents of animal cruelty, DoNotPay can help with:
Pet Custody Agreement
Lost and Found Pets
Pet Licenses
What Else Can DoNotPay Do?
DoNotPay doesn't just work with pet-related problems, we can help you with other legal issues as well, including:
Animals help us in so many ways. They help us work, play, and give us comfort in times of need. They shouldn't be subject to neglect or abuse.
It's everyone's responsibility to speak up if they witness animals being abused. Sign up with DoNotPay so you can easily report abuse and help animals stay safe and happy.