How to Easily Report Animal Abuse in Ohio
Animals bring joy, happiness, and a sense of purpose to their owners. Service animals can help us be able to live more independently if we need help with everyday tasks. Unfortunately, animals can sometimes fall into the hands of irresponsible or abusive owners.
We are naturally compelled to want to help when we see a helpless creature being abused. However, it can be hard to know where to begin to report the incident to the proper authorities. Let DoNotPay help you  as well as other states across the US. 
Is Animal Abuse a Crime?
Fortunately, there are state and local laws that prevent animal cruelty. Some of these laws can result in heavy fines and even jail time. There are also federal laws that criminalize animal abuse at the federal level. 
According to the Animal Legal Defense Fund, the PACT (Preventing Animal Cruelty and Torture) Act was signed into law in 2019. The law says that some of the most egregious forms of animal cruelty—specifically crushing, burning, drowning, suffocating, impaling or sexual exploitation — in or affecting interstate commerce or within the territorial jurisdiction of the United States a federal crime.
Animal Abuse Legislation in Ohio
Some states have specific criteria that constitute . However, some general examples of animal cruelty are:
inflicting harm, injuring, or killing an animal
kicking, burning, stabbing, beating, or shooting an animal
neglect, such as depriving an animal of water, shelter, food, and necessary medical treatment
In particular, Ohio has a new law in the books called Goddard's law. The bill is named after Cleveland's long-time weatherman Dick Goddard, who lobbied for tougher animal mistreatment penalties. The new legislation makes harming a companion animal or pet a felony.
How to Report Animal Abuse in Ohio
The Ohio SPCA is a statewide organization that is committed to preventing animal cruelty for the state of Ohio. Some cities and counties offer a humane society or animal protection league.
However, some counties rely on the local sheriff's department to investigate. The Ohio SPCA will then assist the sheriff's office in their investigation if needed. Listed below are a few of the agencies for reporting animal abuse in Ohio.
Agency
Address
Phone Number
Humane Society of Allen County (HSAC) - Ohio SPCA
3606 Elida Rd

Lima, OH 45807

(419) 991-1775
Humane Society of Ashland County
PO Box 114

Ashland, OH 44805

(419) 281-4722
Clark County SPCA
21 Walter St

Springfield, OH 45506

(937) 925-6602
Wildlife animal abuse should be reported to the Department of Natural Resources at (614) 265-6565.
How to Report Animal Abuse in Ohio on Your Own
Once you have located the agency to contact for your area, there are a few pieces of information that would be helpful to the investigating officer, such as:
time and place of the abuse
what you witnessed
who was involved, if known
a description of the party as well as the animal being abused, and
any images or proof you have will help the investigating officer build their case.
As you can see, reporting the abuse is no small effort and can be quite challenging.
Next Steps for Reporting Animal Abuse in Ohio if You Can't Do It Yourself
With the help of DoNotPay, you can get the process started of easily and effectively. 
Here's how you can use DoNotPay to report animal cruelty:
1. Search "Report Animal Abuse" on DoNotPay, and select the associated tool.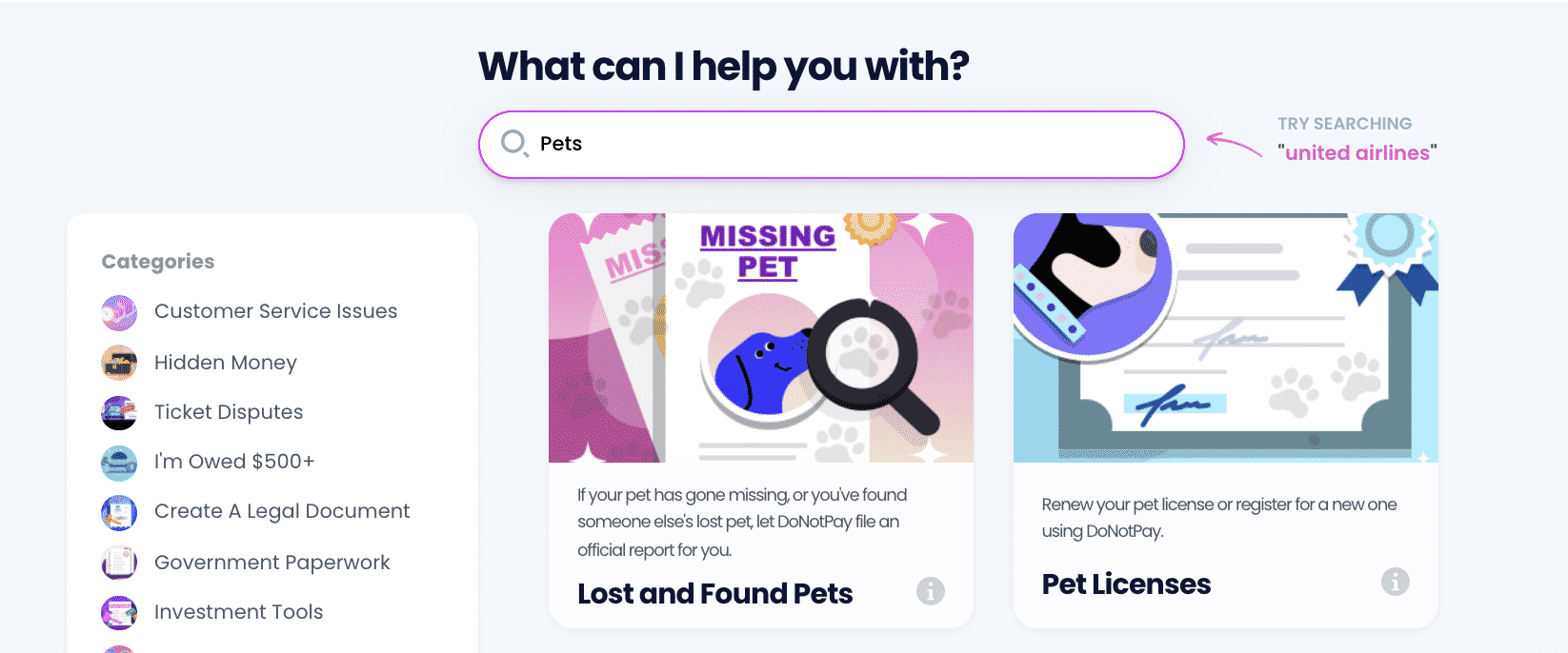 2. Then following the prompts, report the time, location, and exact detail to the best of your knowledge of the situation that has led you to believe there is animal cruelty afoot.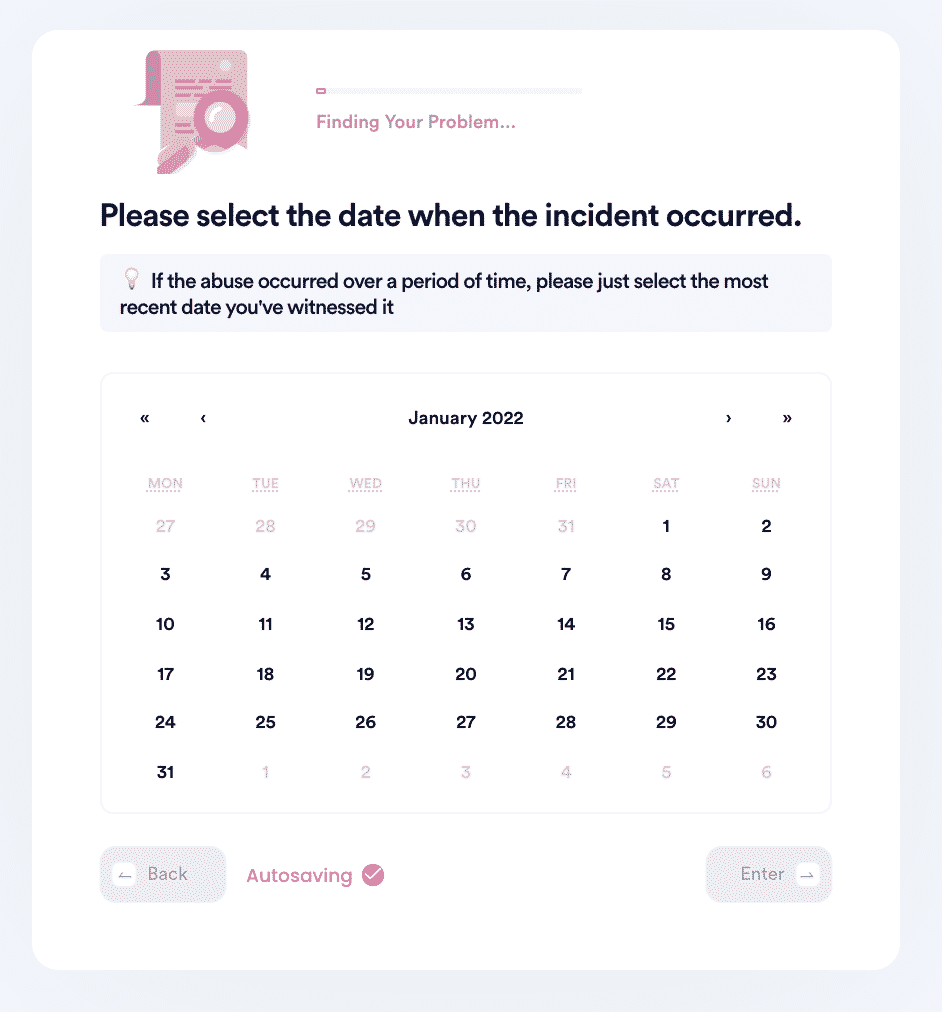 3. Upload an image to build your case and include your contact information for the authorities to get back to you about your report.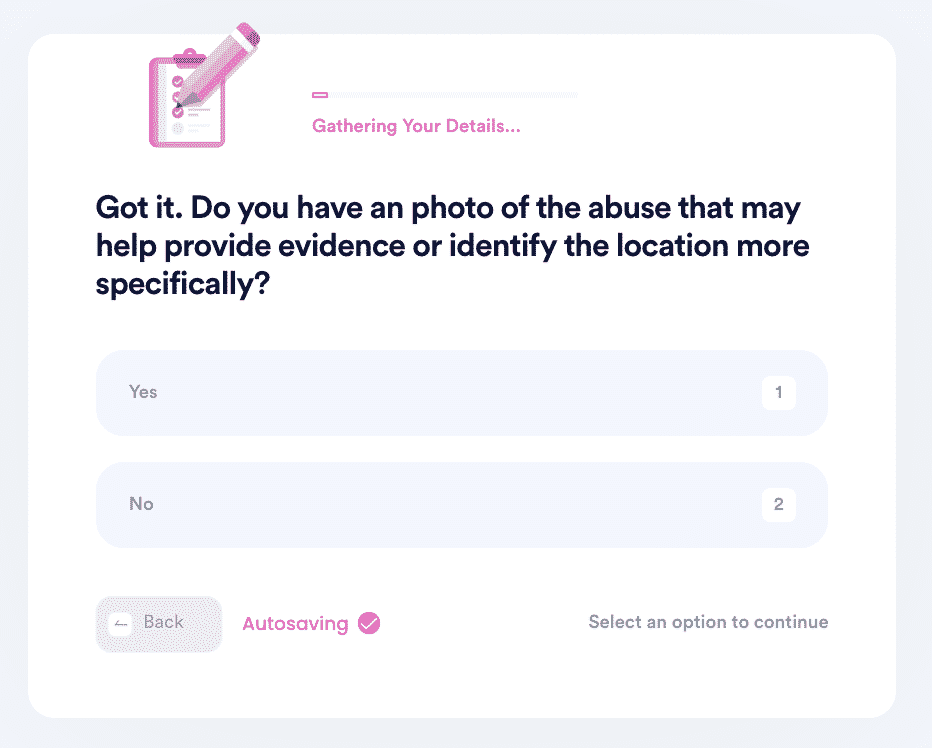 And that's it! DoNotPay will file the report on your behalf, getting animals out of harm's way.
DoNotPay Works Across All States and Groups With the Click of a Button
Whether you live in Ohio or elsewhere in the US, we can help with animal abuse cases in Los Angeles, New York City, Texas, and more.
In addition to reporting animal abuse in Ohio, DoNotPay can also help with:
Pet Custody Agreement
Lost and Found Pets
Pet Licenses
What Else Can DoNotPay Do?
DoNotPay doesn't just work with pet-related problems, we can also assist with other personal legal issues such as: 
Animals need us to be their voice. No animal should ever feel unloved or neglected for any reason. That's why it's everyone's responsibility to speak up when they witness abuse.
Let DoNotPay help you report abuse in an easy and fast way with just a few clicks.