How to Report Animal Abuse in New Jersey Easily With DoNotPay
Sometimes, it's hard to recognize animal abuse. For example, you might have a friend with a home filled with 20 or more pets. You know this is a hoarder situation, and your friend can't possibly provide the best care for that many animals, but it's also abuse.
It's essential that you reach out to the proper authorities and report animal abuse in NJ to protect the life and well-being of the animal. But if you find it difficult to report animal abuse on your own, DoNotPay can assist you in getting the animal help right away.
Is Animal Abuse a Crime in New Jersey?
Animal abuse and cruelty are considered a crime in New Jersey, and the state has strict rules. If someone is convicted of animal abuse, they face a fine between $250 and $1,000 and up to six months in jail for the offense.
What Is Considered Animal Abuse in New Jersey?
While you might be concerned by what you witnessed, you might be unsure if it's actually considered animal abuse in New Jersey. You want to be sure before you file a report. Here's a look at some things that are considered abuse in NJ:
Violence against an animal
Kicking, maiming, hitting, and more
Dogfighting
Leaving a pet outside in harsh weather conditions for longer than 30 minutes
Failing to provide adequate shelter for an outdoor pet
Neglect, such as failing to provide clean water, medical care, or adequate food
How to Report Animal Abuse to an Animal Shelter in New Jersey
To report animal abuse in New Jersey, you'll need to find your local animal shelter. There are many shelters throughout the state. Here are a few:
| | | |
| --- | --- | --- |
| Shelter | Address | Phone Number |
| Bloomfield Animal Shelter | 61 Bukowski Pl, Bloomfield, NJ 07003 | (973) 748-0194 |
| Liberty Humane Society | 235 Jersey City Blvd, Jersey City, NJ 07305 | (201) 547-4147 |
| Wayne Animal Shelter | 201 Pompton Plains Crossroad, Wayne, NJ 07470 | (973) 492-5151 |
| Secaucus Animal Shelter | 525 Meadowlands Pkwy, Secaucus, NJ 07094 | (201) 348-3213 |
| Passaic Animal Shelter | 13 Benson Ave, Passaic, NJ 07055 | (973) 365-5669 |
| New Jersey Human Society | 6412 Dewey Ave, West New York, NJ 07093 | (201) 758-7788 |
Report Animal Cruelty to Interest Groups/NGOs
When you witness cruelty to an animal, there's no such thing as too much help for the animal. There are national groups that can get involved and provide aid to your local animal shelter. Here are a few to contact:
How to Report Animal Abuse in New Jersey by Yourself
When you need to report animal abuse in New Jersey, you can try to do it on your own. You need to begin by locating the closest animal shelter to where you witnessed the incident. You can call or stop by their location to file the report.
Solve the Challenges of Filing the Report of Animal Abuse in New Jersey With the Help of DoNotPay
After witnessing animal abuse in New Jersey, you need to act quickly to save the animal from pain and possibly death. You can waste time trying to locate your local shelter to report animal abuse in New Jersey on your own.
There is an easier way. The DoNotPay app is ready to help you file your report right now.
Here's how you can use DoNotPay to report animal cruelty:
1. Search "Report Animal Abuse" on DoNotPay, and select the associated tool.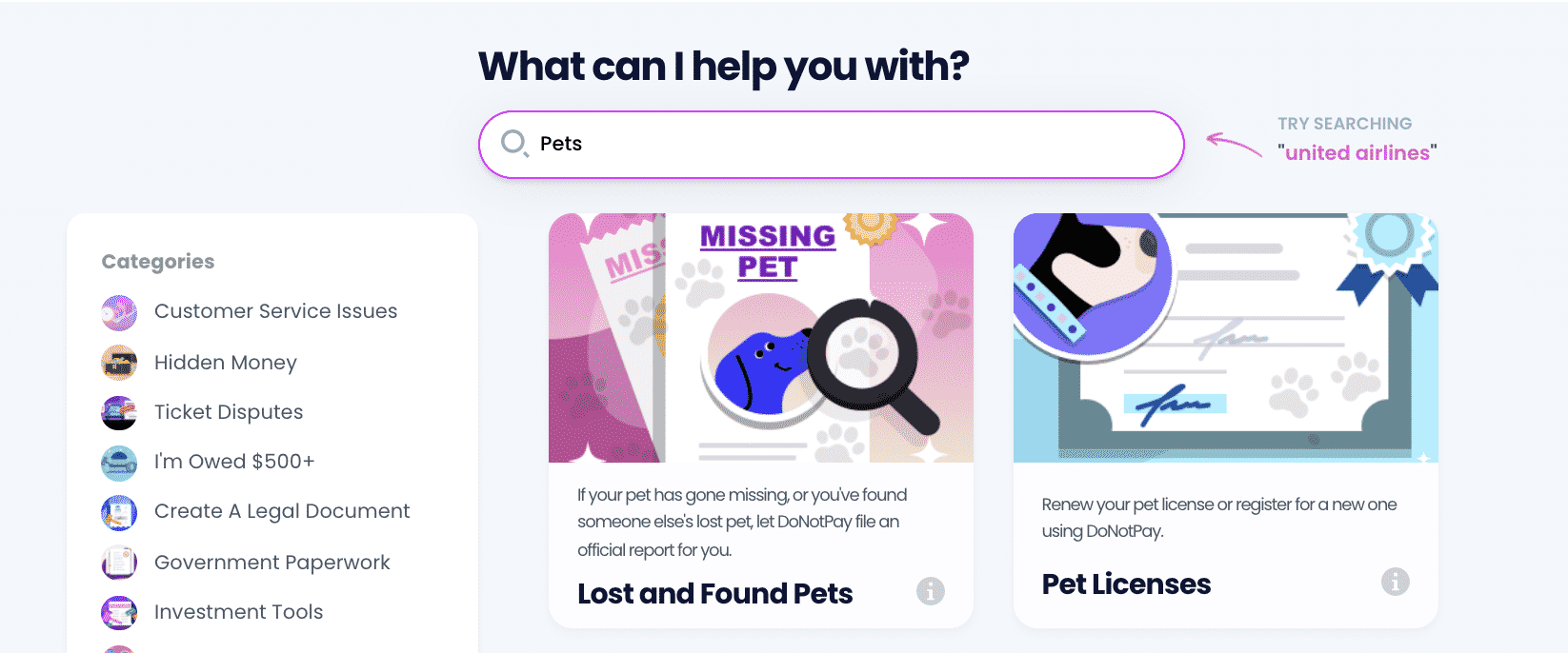 2. Then following the prompts, report the time, location, and exact detail to the best of your knowledge of the situation that has led you to believe there is animal cruelty afoot.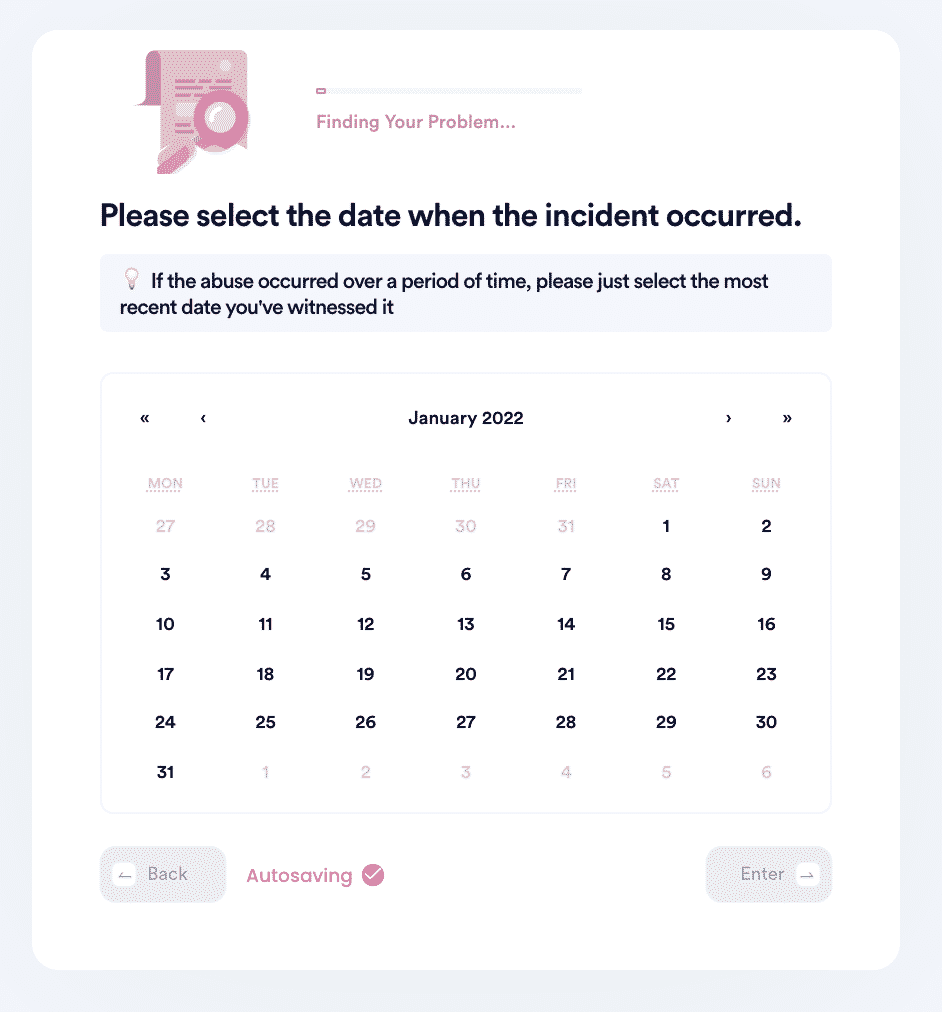 3. Upload an image to build your case and include your contact information for the authorities to get back to you about your report.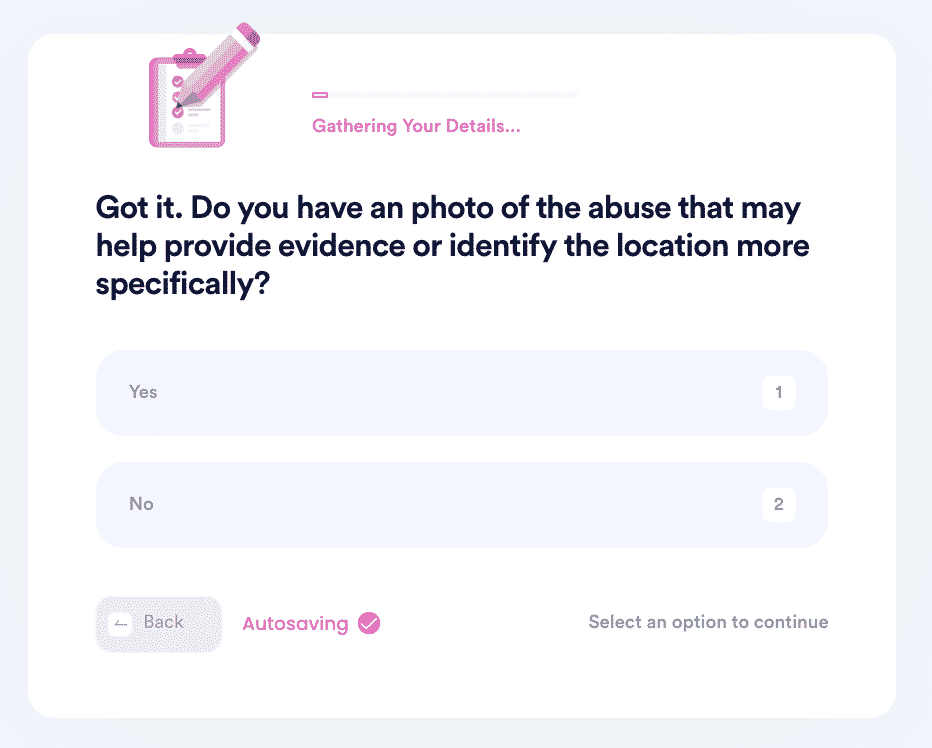 And that's it! DoNotPay will file the report on your behalf, getting animals out of harm's way.
​​Why Use DoNotPay to Solve the Challenges of Filing the Report of Animal Abuse in New Jersey
It's heartbreaking when you witness animal abuse, and you need to report it immediately. DoNotPay is the best solution because:
It's fast.
It's easy to use and navigate.
It's successful.
DoNotPay Works Across All Entities With the Click of a Button
Your success at filing a report of animal abuse in New Jersey might leave you as the person to ask for advice in a similar situation. DoNotPay offers information on a variety of subjects concerning animal abuse and locations where you might need to report it, including:
What Else Can DoNotPay Do?
DoNotPay is your key to doing things the easy way. Here are a few things to try:
Report animal abuse in NJ now with DoNotPay and save the life of an animal.