Need to Report Animal Abuse in Indiana? DoNotPay Can Help
Animals are a huge part of our world. Unfortunately, animals don't always receive the treatment they should. This means you might end up being a witness to animal abuse. If that does happen, it's essential you know what to do next. If you have a need to report animal abuse in Indiana, this guide will show you how.
Animal abuse comes in many forms like violence, negligence, hoarding, or dogfighting. In some cases, someone might not even mean to abuse their animal, but the animal still needs to be taken to a safe space. While it may be difficult to take an animal away from someone you know, it's important to put the needs of the animal first.
If you are a witness to animal abuse and don't relish the idea of reporting it, DoNotPay can help.
Is Animal Abuse a Crime in Indiana?
Animal abuse can fall under a variety of circumstances. The Humane Society defines animal abuse or animal cruelty in various ways, but they all relate to behavior that is harmful to animals. Some examples of animal abuse/cruelty include not giving an animal socialization, vet care, or the substances they need to survive, like food and water. Animal abuse/cruelty also refers to maiming, torturing, or killing animals.
There is a statute in Indiana that covers its animal cruelty laws. It includes the following:
Abandoning or neglecting vertebrate animals is a Class A misdemeanor.
Purchasing or getting an animal with the intention of using it for fighting contests is a Level 6 felony.
Knowingly or intentionally abusing a vertebrate animal is considered cruelty and a Class A misdemeanor. It can become a Level 6 felony under certain circumstances.
How to Report Animal Abuse on Your Own
There are two ways to report animal abuse in Indiana.
Contact the Local Animal Control/Shelter
The preferred method of reporting animal abuse is to let your local animal control/shelter know what has happened. Here are some animal control centers/shelters in Indiana.
| | | |
| --- | --- | --- |
| Shelter | Website | Address |
| Indianapolis Animal Care Services | Indy Animal Care Services | 2600 S Harding St, Indianapolis, IN 46221 |
| Animal Care and Control Bloomington, Indiana | Bloomington Animal Care | 3410 S. Walnut St. Bloomington, Indiana 47403 |
| Animal Shelter Hendricks County, Indiana | Hendricks Animal Shelter | 250 E Campus Blvd Danville, IN 46122 |
| Lake County Animal Control and Adoption | Lake County Sheriff | 3011 W. 93rd Avenue, Crown Point, IN 46307 |
| Porter County Animal Shelter, Indiana | PC Animal Shelter | 3355 Bertholet Blvd, Valparaiso, IN 46383 |
Contact the Local Sheriff
If you do not have a local animal control/shelter, your other option is to call your local police/sheriff. Make sure to call the non-emergency line unless the situation is actually an emergency.
It can be challenging to try to figure out the best place to report animal abuse. It can also lead to you having to be on hold on the phone before you can actually speak with someone. The good news is that DoNotPay is happy to do it on your behalf.
How to Use DoNotPay to Report Animal Abuse in Indiana
Instead of trying to determine who to contact or risking having to sit on hold, let DoNotPay file your animal abuse report for you.
Here's how you can use DoNotPay to report animal cruelty:
1. Search "Report Animal Abuse" on DoNotPay, and select the associated tool.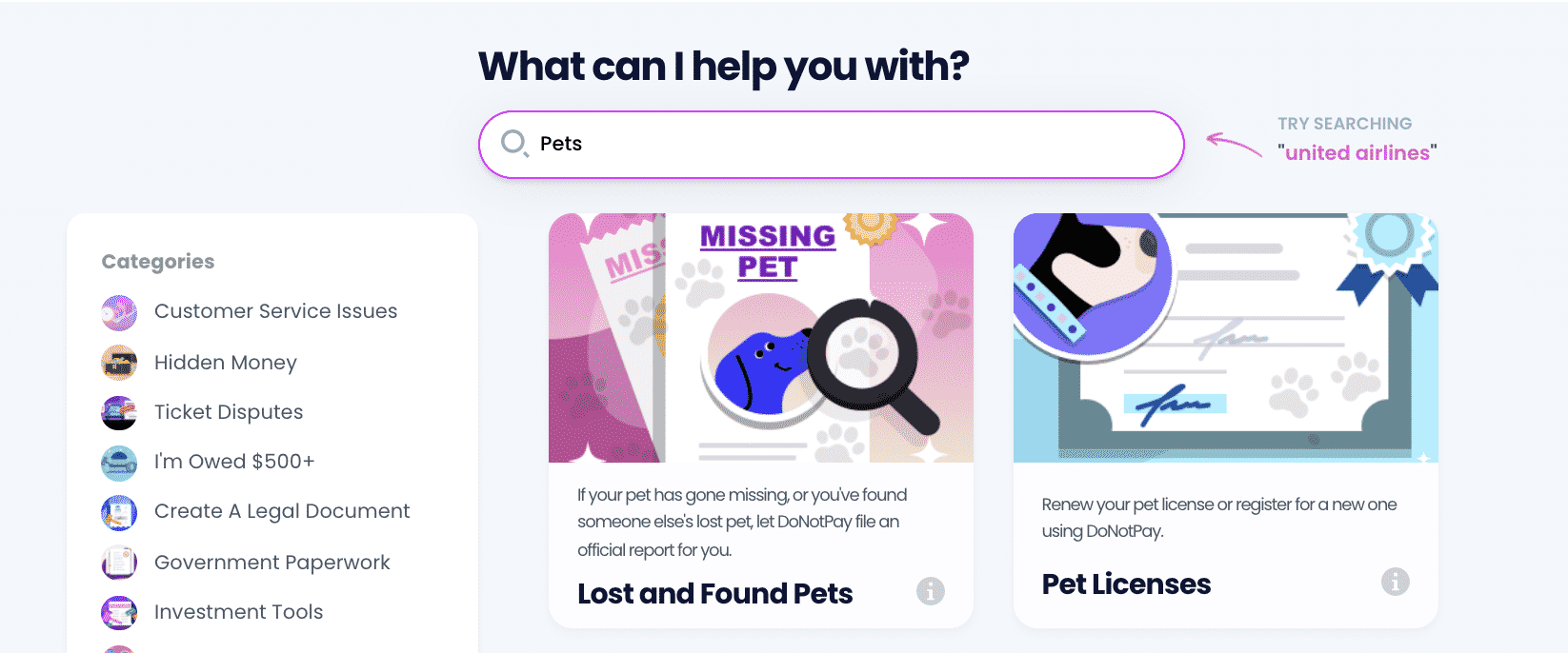 2. Then following the prompts, report the time, location, and exact detail to the best of your knowledge of the situation that has led you to believe there is animal cruelty afoot.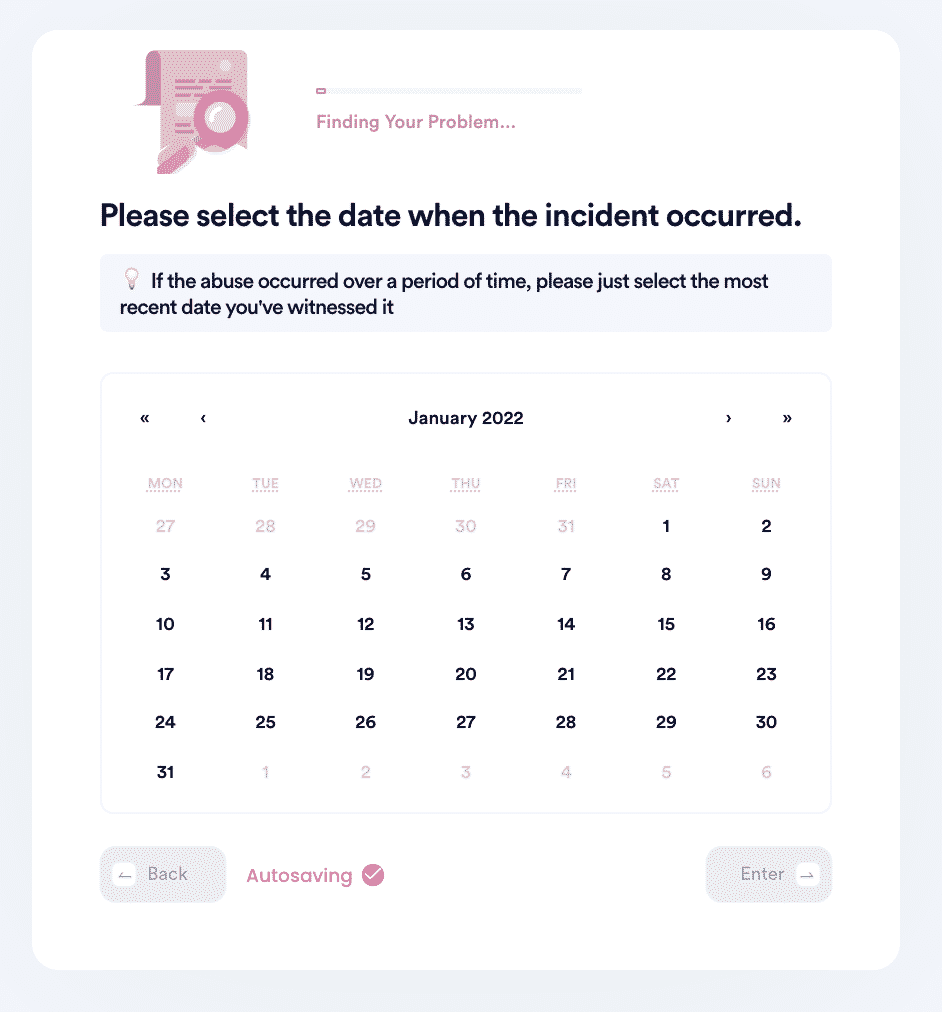 3. Upload an image to build your case and include your contact information for the authorities to get back to you about your report.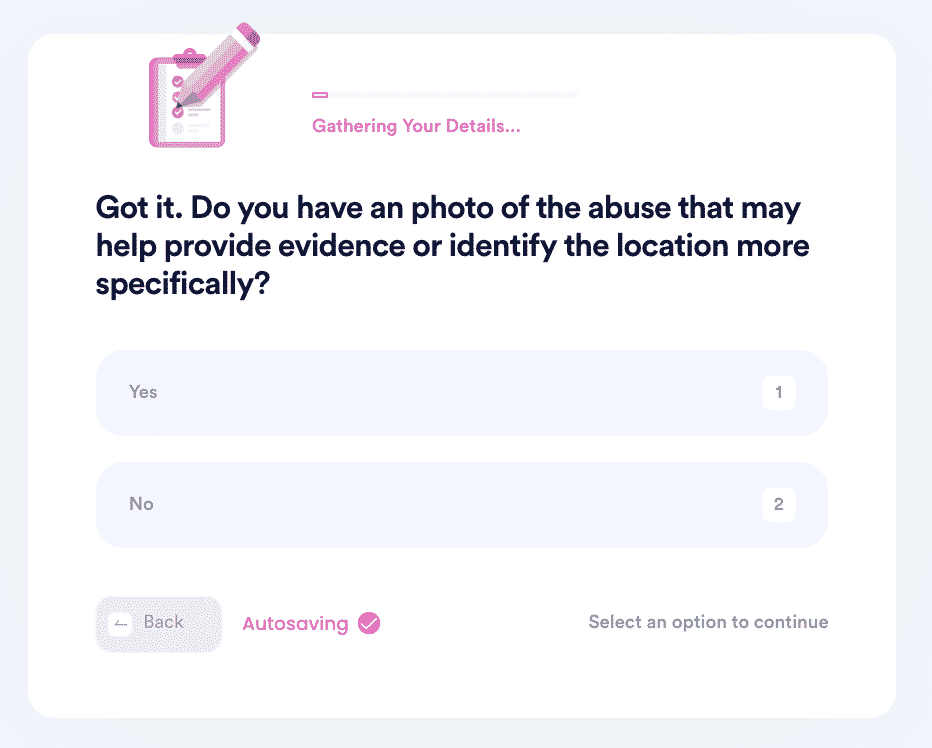 And that's all! DoNotPay will file a report on your behalf, helping you get animals out of harm's way.
Why You Should Use DoNotPay to Report Animal Abuse in Indiana
If you want to do the right thing and report instances of animal abuse, but you aren't sure where to start, DoNotPay can help. There are several reasons why you should let DoNotPay do it for you instead.
It's fast - The only time you lose is the amount of time it takes to enter information.
It's successful - You can trust that we will file an animal abuse report for you.
It's simple - You give us the info, and we do everything else.
DoNotPay Can Complete Many Tasks
With DoNotPay, you can report animal abuse across all states, and not just in Indiana. You can easily report animal abuse in New York City, Texas, and Los Angeles.
While we are happy to help you file an animal abuse report, there are many other things we can do for you. Here are a few examples.
Conclusion
Animals are often considered man's best friend, but they aren't always treated as well as they should be. Unfortunately, some people do abuse or neglect their animals. You can help by reporting any cases of animal abuse/cruelty that you witness. In Indiana, this means reaching out to your local animal control center/shelter or calling the sheriff's department.
DoNotPay is happy to help you out by filing an animal abuse report for you. Contact us today to see how we can help.