How to Report an Employer for Unfair Treatment
Unfair treatment at work comes in the form of discrimination against your gender, race, religious beliefs, age, sexual orientation, or disability. If your rights are being violated in the workplace, you can and should .
In this article, we'll walk you through the process of filing a complaint with the Department of Labor. However, take note that you won't be able to file it anonymously. This may result in repercussions like an awkward situation at the workplace or your employer becoming more hostile. So we'll also include information on how DoNotPay can help you report your boss while keeping your job.
Legal Grounds for Reporting an Employer
So how do you know if the situation you are experiencing or witnessing is a reason to submit a report to the Department of Labor? The Equal Employment Opportunity Commission (EEOC) enforces laws that protect employees from unfair treatment and harassment at work. These include:
The Americans with Disabilities Act – Employers are prohibited from discriminating against an employee due to his/her physical conditions or psychological illnesses.

The Age Discrimination in Employment Act of 1967 – It is unlawful to refuse to hire, discharge, classify, or discriminate against an employee because of an employee's age.

Title VII of the Civil Rights Act of 1964 – It is unlawful for employers to treat employees unfairly due to their race, skin color, religion, national origin, or gender. Employers are also obliged to adjust work schedules or re-assign tasks that interfere with an employee's religious practices.

The Equal Pay Act – Employers are prohibited from refusing to pay minimum wage and paying unequal compensation to men and women in the same positions.
How to Report an Employer to the Department of Labor
Regardless of whether you are an applicant, current employee, former employee, or a part-time, seasonal, and temporary employee, you can file employee complaints about an employer if you believe your employment rights have been violated.
It's important to keep in mind that a job discrimination complaint must be submitted within a specific time frame. Generally, the EEOC requires that reports be filed within 180 days of the incident. If your complaint is covered by state or local anti-discrimination laws, the time limit is increased to 300 days.
You can file your job discrimination complaint via mail, in person, or by phone. When you report an employer, it is important to include these important details:
Name, address, and telephone number of the employee who is being discriminated against.

Name, address, and telephone number of the employer.

Brief description of the events or actions that you believe are violating an employee's rights.

Dates when these events or actions occurred.
When drafting your employee complaint form against your employer, here are a few guidelines to keep in mind:
Indicate which unemployment and labor laws are being violated - this will serve as the legal grounds for your anti-discrimination complaint.

Review your employee handbook and ensure that you are following the company's HR policies and procedures. Use your best judgment if you think it is more efficient to report an employer to the Department of Labor instead of going to the HR department.

List events that took place chronologically and include key dates. Make sure to only state facts and avoid including subjective opinions or assumptions.

If you wish for action to be taken against the employer, you can mention this in the conclusion.
Drawback: Not All Employers Are Subject to EEOC Laws
Before you go to the Department of Labor, it is important to take note that not all employers are covered by the EEOC-enforced laws. Coverage varies based on the minimum number of employees, business type, and alleged violation:
| | |
| --- | --- |
| Violation: | An employer is covered by the laws enforced by EEOC if company has: |
| General discrimination | Minimum of 15 employees who worked for the employer for at least 20 calendar weeks (in this year or last) |
| Age discrimination | Minimum of 20 employees who worked for the employer for at least 20 calendar weeks (in this year or last) |
| Unequal pay | All employers are covered |
Some state and local governments offer additional protection. They may prohibit discrimination against married people, parents, or nursing mothers. Some state laws also have different time limits for filing and follow a different standard in deciding whether EEOC coverage applies.
Figuring out whether your employer is covered by EEOC can be complicated. As the complainant, this can become a sticky situation for you and may make matters worse. An alternative is to file your HR complaints anonymously using .
How To File an Anonymous HR Complaint With DoNotPay
Employees should not be treated unfairly. But how do you file an HR complaint when the respondent is your boss? The HR department won't be able to take action if they are unaware of the violation in the first place. Filing a Human Resource Report is critical to taking action and standing up for your rights.
That's where DoNotPay can help. With our new Anonymous HR Reports product, you can file a job discrimination complaint against your employer without revealing yourself. This also means you can protect yourself from retaliation and potentially awkward situations.
To file an anonymous report, all you have to do is:
1. Log in to and open Anonymous HR Reports.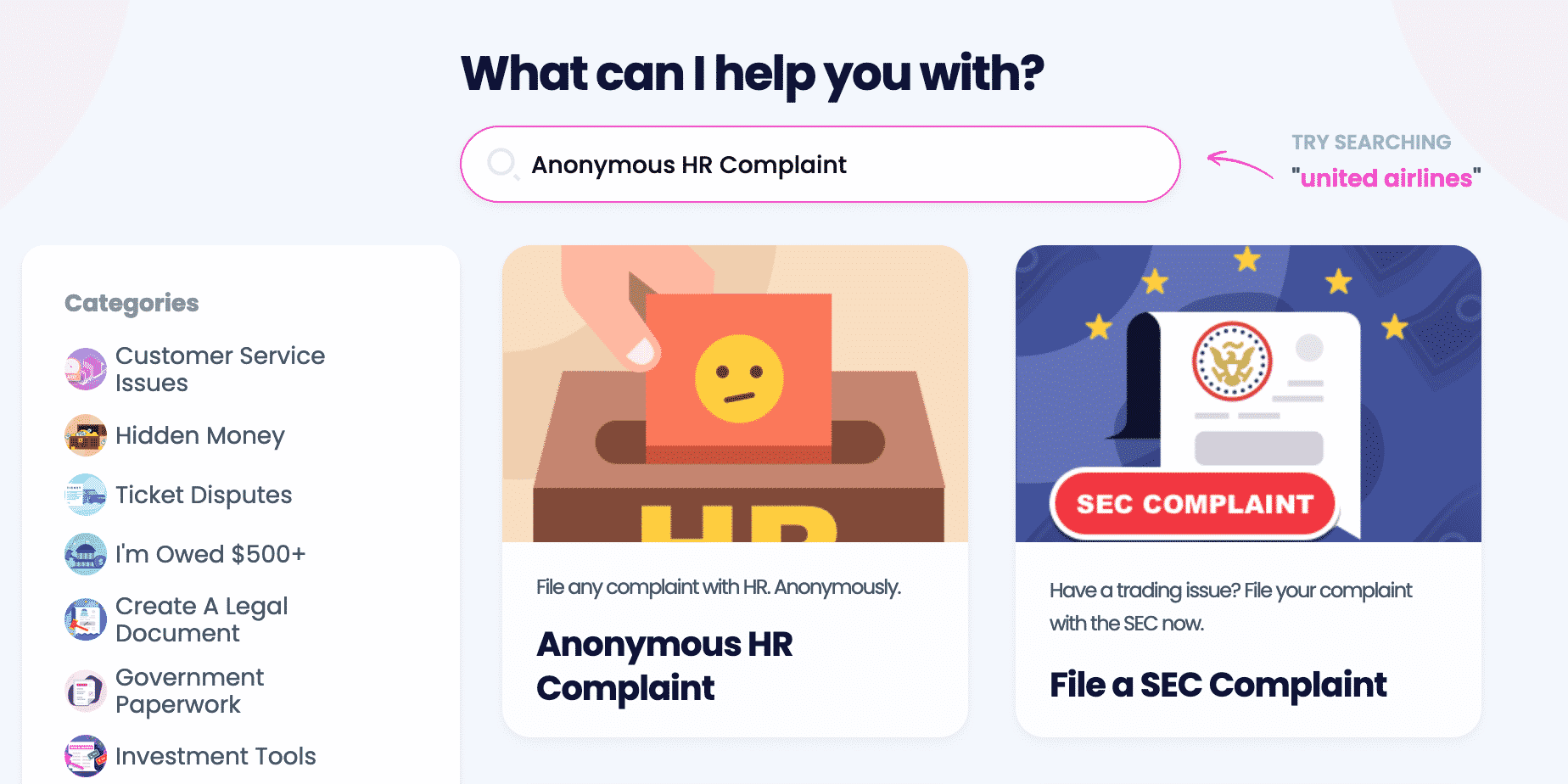 2. Enter your employer's name and HR department's mailing address.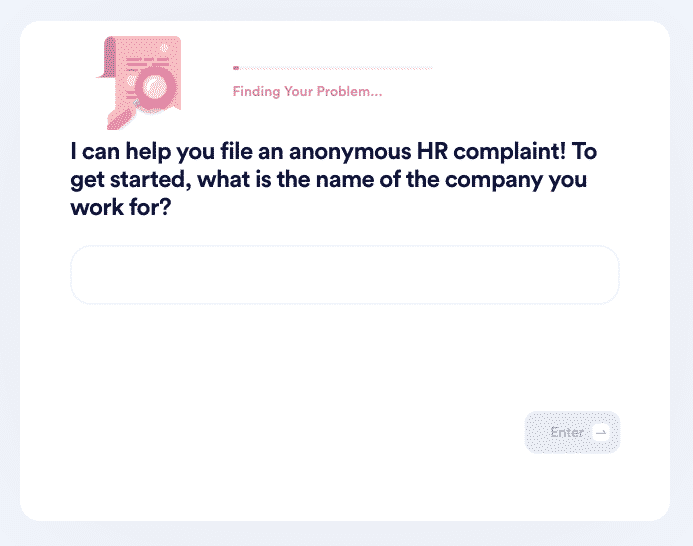 3. Explain the discrimination that you or a co-worker is experiencing and state how you would like these issues to be addressed.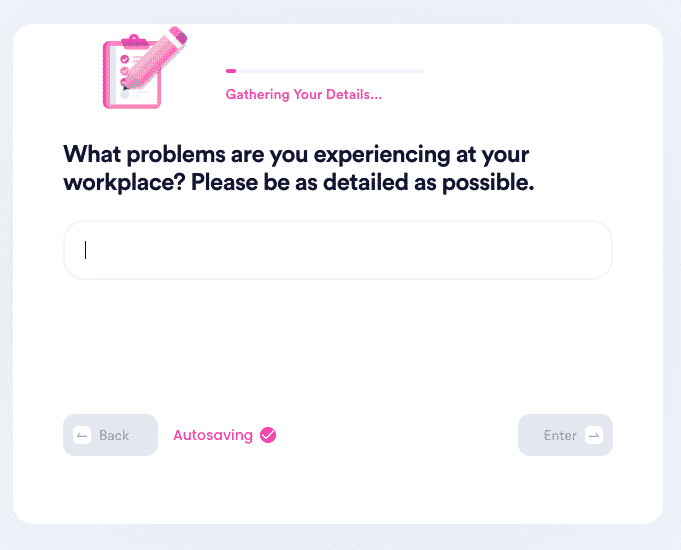 That's it! DoNotPay will automatically mail the report anonymously and won't include your personal details.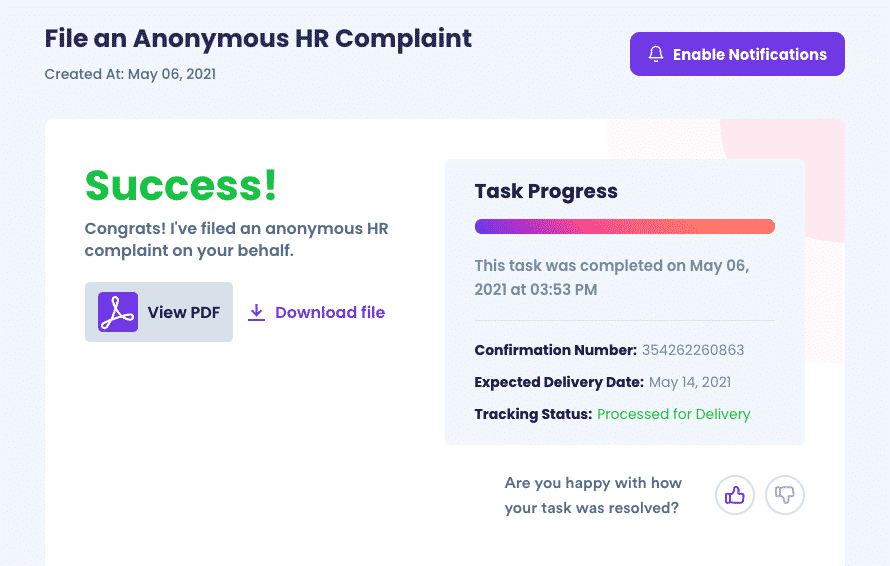 What Else Can DoNotPay Do?
Have another grievance about work? DoNotPay can also help you with:
DoNotPay offers a fast and anonymous way to report an employer for unfair treatment - but that's not all.
Tired of getting robocalls asking for your payment information? Get revenge and put an end to the spam with Robo Revenge! Have us register you on the national Do Not Call list as well!
Get help on all of your customer service issues, legal complaints, and more with !