The Scoop on a
Repayment Agreement
If you don't want to deal with creating legal documents on your own, you don't have to—DoNotPay can help you. We also have all the info you need when drawing up a repayment agreement.
What Is a Repayment Agreement, and Why Should You Make One?
A repayment agreement is a document used in circumstances when a tenant needs to repay unpaid rent to avoid eviction. These tenants normally can't afford to pay out the rent in a lump sum, so they give the money back in installments as agreed with the landlord in the repayment agreement.
If you are a tenant, you should consider negotiating a repayment agreement because it is a good way of avoiding legal action against you. Most landlords will be more open to creating a repayment agreement than going to court right away.
A well-written repayment agreement will ensure that both parties of the contract are satisfied with the end results.
What Information Should a Repayment Agreement Include?
When creating a repayment agreement, you need to include all the important information. The document must be in writing and have the following details:
Personal information of all parties—names, addresses, and phone numbers

The amount of money to pay back

Interest being charged—rates and amounts, if any

Duration of the agreement—the precise date of when the repayment starts and ends

The amount of each payment—the exact sum the tenant needs to pay for each installment

Unexpected situations and late payments—consequences and solutions

Signatures of all the parties involved—proof that the parties have read and agreed to the terms stated in the document
All parties need to have a copy of the final agreement and always know what the remaining amount of money owed is in case a dispute arises.
Are There Any Rules on the Repayment Amounts?
A landlord cannot set any repayment amount they wish—there are rules that should protect the tenant in these situations. The repayment amount is determined by the tenant's income. This sum of money plus the original rent amount must not exceed 40% of the adjusted monthly income for the household.
What Happens if the Tenant Stops the Payments?
The document should make it clear what happens in case the tenant breaches the agreement by not fulfilling their duties. You can add a termination clause that states the consequences of such actions. If the tenant does not have a proper explanation for not paying back the money, the landlord will probably need to evict them. 
Landlords also have the option of taking the case to court if the tenant causes any further problems. Since the repayment agreement's purpose is to prevent that situation, a tenant breaching the deal will leave the landlord with little choice.
If you want to make more airtight legal documents that will protect your interests, you can turn to DoNotPay for help!
Create Legal Documents in a Few Easy Steps Using DoNotPay
You don't need to waste your time and energy on creating a legal document on your own—use DoNotPay instead! Our app can help you draw up an agreement or a contract without hiring a lawyer and emptying your pockets. Here the only instructions you should follow:
Sign up for DoNotPay

in a web browser you prefer

Type in the name of the document you need in the search field

Provide us with the details specific to your case
In a few minutes, you'll have a document tailored to your needs! 
This is what sets DoNotPay apart from other generic contract templates you can find online. When dealing with legal matters, you don't want to risk having a weak contract that will not help you if any problems arise. DoNotPay's version covers all the important bits and pieces.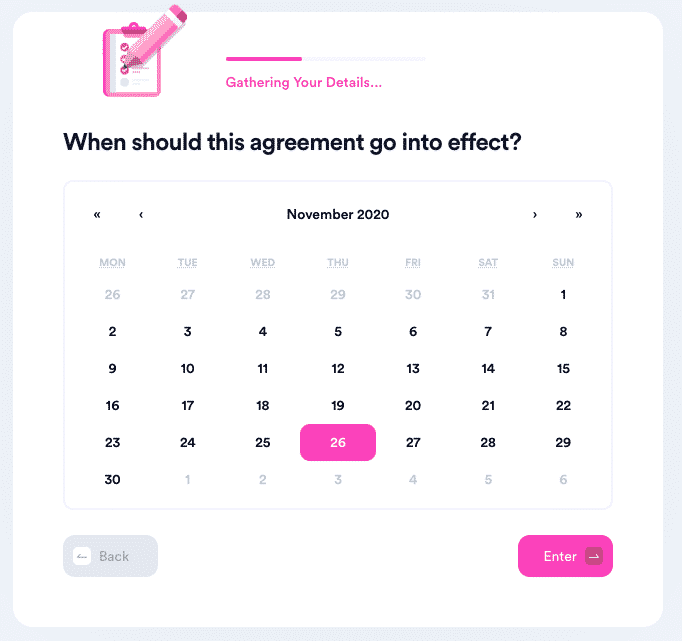 Choose a Legal Document You Want To Create With DoNotPay's Help
It doesn't matter if you are dealing with business contracts or real estate agreements—our app has the capacity to help you create the document you need.
You only need to open DoNotPay and search for the document that the situation calls for. Check out the table below for the currently available options:
Business Agreements
Other

General Business Contract

Non-Disclosure Agreement

Non-Compete Agreement

Quitclaim Deed

Intent To Purchase Real Estate

Estoppel Certificate

General Affidavit

Promissory Note
Learn About Other Legal Documents With DoNotPay
You can also open our Learning Center to gather information on other agreements and contracts. Get the scoop on the:
Explore DoNotPay's Products and Save Both Time and Money
Are you sick and tired of spending ages on the phone with customer support trying to get more info about how to return a faulty product and get a refund? Maybe you'd like to cancel memberships you don't use but can't find that unsubscribe button anywhere? DoNotPay can help you sort out all of these issues in a jiffy!
Contest parking tickets, claim your car warranty and insurance, schedule a meeting with the DMV, and handle your other problems through the same app on your tablet or smartphone. 
Getting access to public records or drawing up various legal documents with DoNotPay is child's play. 
That's Not All!
The first thing you'll notice when you open DoNotPay is that you can use our app for almost anything. 
Do you wish to enter raffles or sweepstakes? Are you interested in applying for paid clinical trials and earning some cash? Would you like to send mail without going to the post office? You're in the right place!
We will help you feel safe while browsing the Internet by assisting you in blocking and reporting spam emails, suspicious text messages, and pesky robocalls.