Renting Out a Room in Your House Agreement Made Simple
Letting a person occupy a room in your house without establishing the tenancy rules isn't a good idea. Signing a legal document that reminds the renter of their duties and shields the rights of both parties is of utmost importance for keeping the relationship fair. This is why you should opt for renting out a room in your house agreement before you let anyone reside in your home.
If you aren't acquainted with room rental agreements, we will dissect them for you and explain how to write one yourself. You will also learn the secret to getting the best ready-made personalized contracts on the market with DoNotPay's Standardized Legal Documents feature!
Room Rental Agreements in a Nutshell
A room rental agreement is a contract between the residence owner and the person who wants to rent a room in their house. It features specific tenancy-related terms and policies and lists the responsibilities of each signing entity. These contracts are also a great option for tenants who rent someone else's house or apartment but want to sublease a room to another person.
The two most common situations when you may consider signing a room rental agreement are:
You want to divide the household costs with the tenant

The tenant has their partner or guests over most of the time, and you want to cover them under the existing lease due to increased utility bills
What Elements Should a Proper Room Rental Agreement Cover?
Once you negotiate the terms with the tenant, you can start composing an agreement yourself. It's recommendable to make a written room rental agreement rather than a verbal one since they carry more weight and are simpler to prove in court. 
You can be as specific as you want while creating the contract, but the document should at least be structured according to some standard guidelines. Below is the table with some sections you shouldn't miss:
Sections

Details

Information about the signers

Legal names

Contact information

Tenancy details

Tenancy term

Start and end date of the rental agreement

Property information

Full physical address of the residence

Room description

Other premises the new tenant can use

Off-limit spaces within the property

Parking availability

Rent details

Amount

Due date

Security deposit details

Penalties for late or missed rent

Utility bills

The way utilities will be divided

Payment method

House rules

Guests

Party policy

Noise clause

Smoking and alcohol clause

Other house rules

Responsibilities

Notices

Insurance

House chores

Room maintenance and repairs

Potential damage and modifications

Other recommended clauses

Landlord's right to entry

Smoke and carbon monoxide detectors 
Does a Room Rental Agreement Need Notarization?
Just like regular residential lease contracts, room rental agreements don't need to be notarized to become enforceable. What makes them legally binding is the signatures of all parties involved. 
How Can DoNotPay Assist You With Creating Legal Documents?
Say goodbye to dozens of failed drafts and online templates—DoNotPay will make sure you get the desired agreement without breaking a sweat! We developed an amazing and affordable product that lets you generate state-specific legal documents in under five minutes. Paperwork and administrative issues remain in the past—you can make drafts from your laptop or smartphone in a few taps.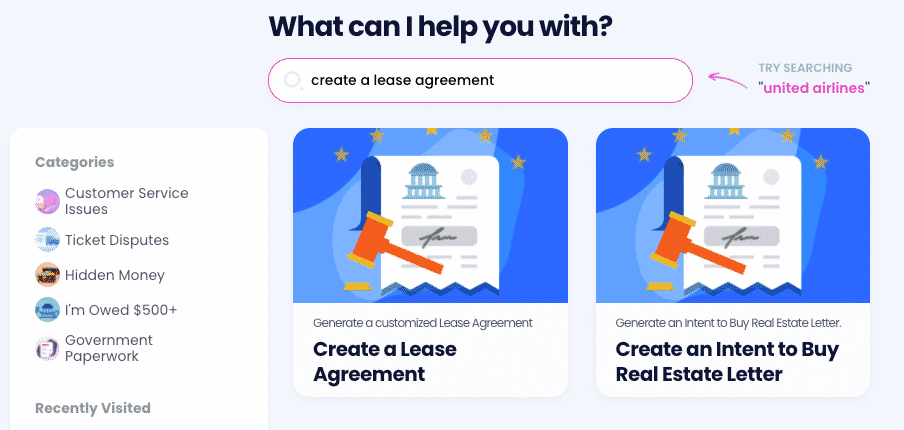 To take advantage of this service, follow the steps below:
and sign in to your account

Choose the document you want to have generated

Provide some details you want to cover in the contract
Thanks to an extensive document database, you can create an unlimited number of contracts, including:
Real estate agreements

Intent To Purchase Real Estate

Quitclaim Deed

Residential Lease Agreement

Business agreements

Miscellaneous agreements

Promissory Note

Child Care Authorization Form

General Affidavit
In our learning center, you can learn how to create room rental agreements in Texas and California, as well as many other related documents, such as:
Need a Notary's Signature? Get It Remotely With DoNotPay!
Why waste time visiting a notary and getting your documents notarized on site when you can do it from home or any other preferred place? DoNotPay provides another practical service that finds an online notary in your stead and helps you set an appointment with them without waiting!
Everything will be done digitally—via a video call—and you will obtain a notary's stamp and signature in electronic form.
Here are the steps you should follow:
and sign in to your account

Pick the

Notarize Any Document

feature

Attach the electronic version of the document

Provide us with your email address
The rest of the procedure is super easy—click on the link we send you and choose the time that fits in your schedule best!
Let DoNoPay Help You With Your Paperwork
Why waste time on bureaucracy if you can rely on DoNotPay to handle pesky tasks for you? Cancel all your subscriptions at once, find unclaimed funds in a matter of minutes, appeal parking tickets hassle-free, and discover the best way to get your documents notarized remotely. 
In case you need help paying bills or you want to earn some money by participating in paid clinical trials, DoNotPay is here to help you out! 
Fighting workplace discrimination is of utmost importance, but the entire procedure seems rather complicated. The same goes for the crime victims compensation application in most states. DoNotPay is here to change that. We will help you file a report, request compensation, and create numerous other documents, including demand letters for neighbor complaints.
Keep Your Online Safety in Check!
While internet safety should be one of your top priorities, staying anonymous while surfing the web is almost impossible. If you want to avoid giving out your number when registering for services, you should try out our Burner Phone product. 
DoNotPay can also protect your credit card info, name, and email address, all through our handy virtual credit card. Sign up for free trials without worrying about unexpected charges.
With our app, you will learn how to deal with stalkers and harassers and how to access public records the easy way. 
DoNotPay offers many other useful products that can help you prepare for government tests, have your college fees waived, and manage any annoying issue in minutes.