3 Things You Should Know About Renters' Rights in Delaware
Conflicts between renters and landlords are common in most states, including Delaware leading to legal consequences for both parties. Some renters do not understand their rights and privileges, making landlords take advantage of their situations. Such issues create a hostile living environment due to the tension between the landlords and the tenants.
Delaware renters must understand their , especially on eviction, security deposits, and lease terminations. The magistrate can rule in favor of the renter or landlord based on the issue and evidence at hand. The small claims court allows renters and landlords to have attorneys.
This is where DoNotPay comes in. Our Landlord protection product helps in addressing landlord and tenant issues professionally on your behalf. All you are required to do is follow four simple steps under the land protection product, and DoNotPay will handle your dispute on your behalf in the small claims court.
Notices Landlord Issues a Renter before Terminating The Lease Agreement 
A landlord can evict a renter in Delaware through a lawsuit. But, under the terms of , a landlord must have a justified cause to evict you from their premises. The landlord must terminate the rental agreement before evicting a tenant. The landlord can give you several notices; in fact, they must give you notice: 
| | |
| --- | --- |
| Five-Day Notice to Pay Rent | The landlord can give you a five-day notice to pay rent before proceeding with the eviction process. The renter must pay rent in full in five days or face eviction. |
| Seven-Day Notice to Remedy | The landlord can give you (renter) a seven-day period to fix the lease or rental agreement violation or face eviction. |
| Seven-Day Unconditional Quit Notice | The unconditional quit notice gives the landlord the right to terminate the tenancy within seven days. In addition, the landlord can file an eviction lawsuit against the renter in case they fail to vacate the premises after a notice. |
Reasons to Evict a Tenant in Delaware
You can evict a tenant so long as you have a legal cause. The legal cause gives you the foundation of a lawsuit in the small claims court. As per Delaware law, the legal reasons for eviction include:
failure to pay rent
rent agreement violation
Irreparable harm to another person or property
You have to give the tenant a written notice. 
Reasons to Fight a Wrongful Eviction in Delaware
Delaware laws protect renters from wrongful eviction. Tenants can give several reasons in their defense against wrongful eviction. The reasons include:
The breach of lease agreement is not sufficient to guarantee eviction
The eviction claims are false
The landlord invalidated the eviction by accepting rent
The eviction notice is unclear
The criminal charges are invalid  
Landlord-Tenant Laws in Delaware 
Delaware has stipulated various laws that protect landlords and tenants. The rules help in solving multiple conflicts that occur between landlords and tenants. Some of the regulations include the following:
Landlord Disclosures
Landlords are prompted to disclose certain information, especially any third party authorized to transact on behalf of the landlord.
Delaware Security Deposit Limit and Return
Delaware state laws control how much a landlord can charge for a security deposit for at least a one-year lease.
Small Claims Lawsuits in Delaware 
You can sue the landlord in the Justice of The Peace Court for failure to return their deposit up to $15,000.
Delaware Late Fees and Other Rent Rules 
The State law controls rent-related issues such as late fees, and the number of notices landlords must give tenants to raise the rent. The landlord must alert tenants of any rent increase 60 days before affecting the increase on month-to-month rental agreements.    
Addressing Landlord-Renter Issues in Delaware 
Landlord-Renter issues are solved in the small claims courts under the magistrate. The renter can sue the landlord if they violate renters' rights in Delaware, especially when they want to get their security deposit back from their landlord, kick out a roommate and sue the landlord for deposit. The process can involve an attorney, especially where the tenant wants justice. The renter can use DoNotPay, considering handling the court process by themselves cannot guarantee them a win in the small claims court.
Upholding Renter's Rights in Delaware Using DoNotPay 
DoNotPay provides services under its Land Protection product. DoNotPay is reliable and highly effective, considering it has a qualified legal team who will attend to your dispute against your landlord and ensure you get justice. DoNotPay services guarantee you a win in any case in the small claims court. DoNot Pay only requires you to follow simple steps on its platform, and it will handle the other processes on your behalf. The 4 steps are shown below.
1. Search for and open the Landlord Protection product on DoNotPay.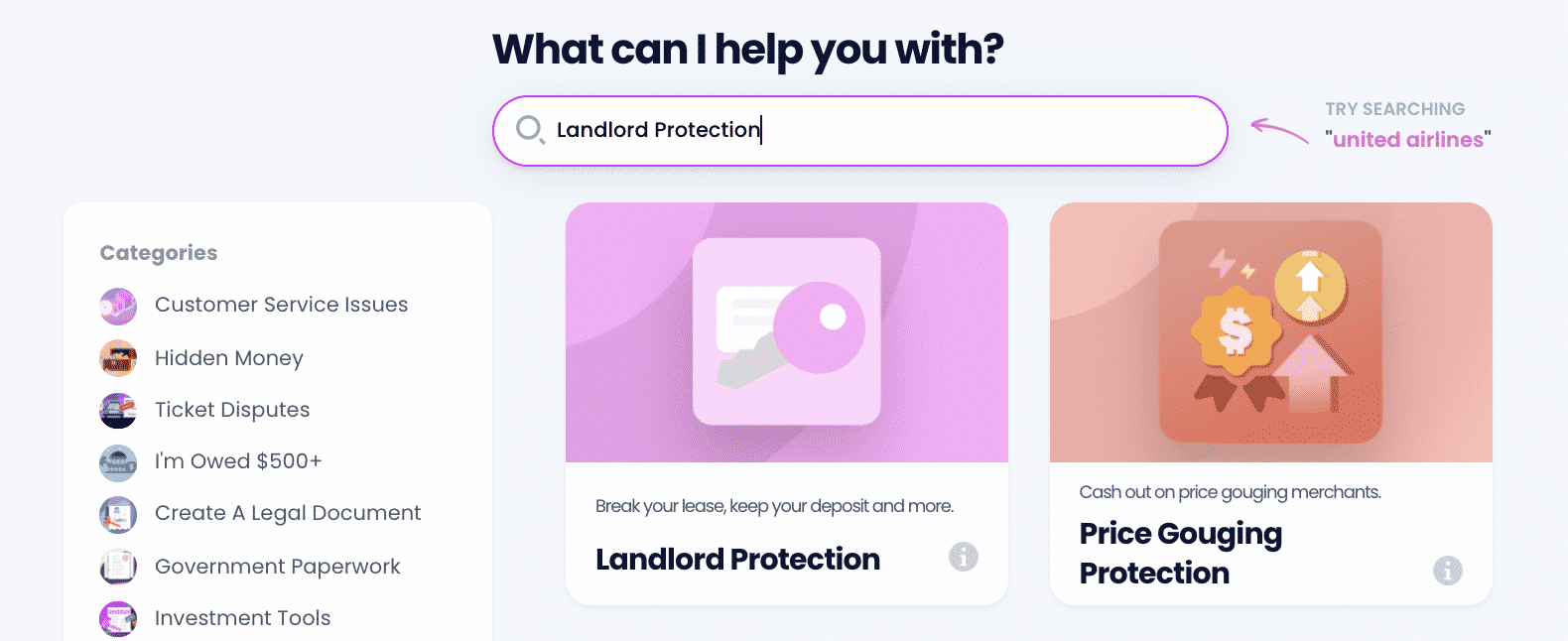 2. Select which issue applies to you.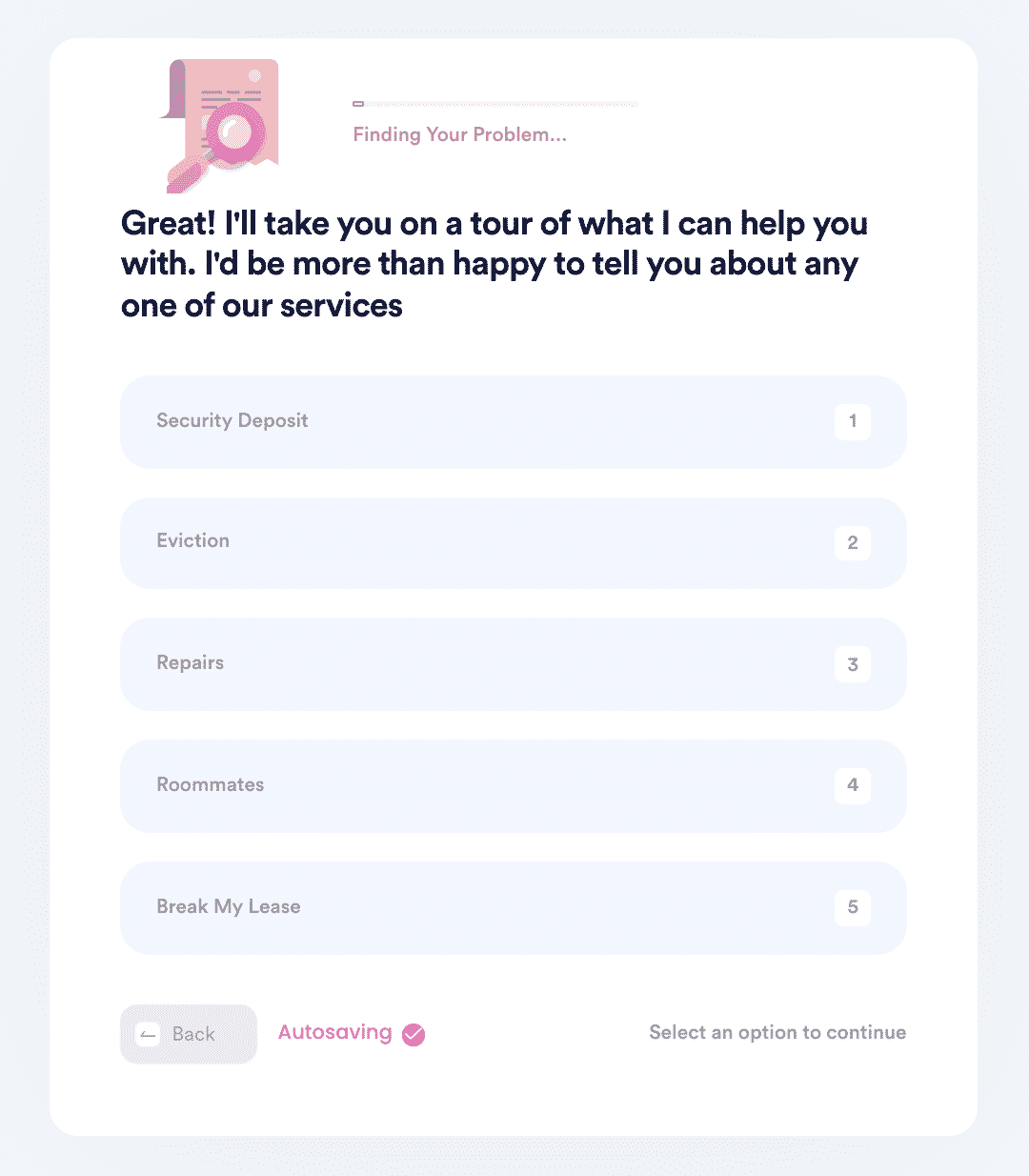 3. Answer a simple set of questions so our chatbot can collect the necessary information to create your demand letter.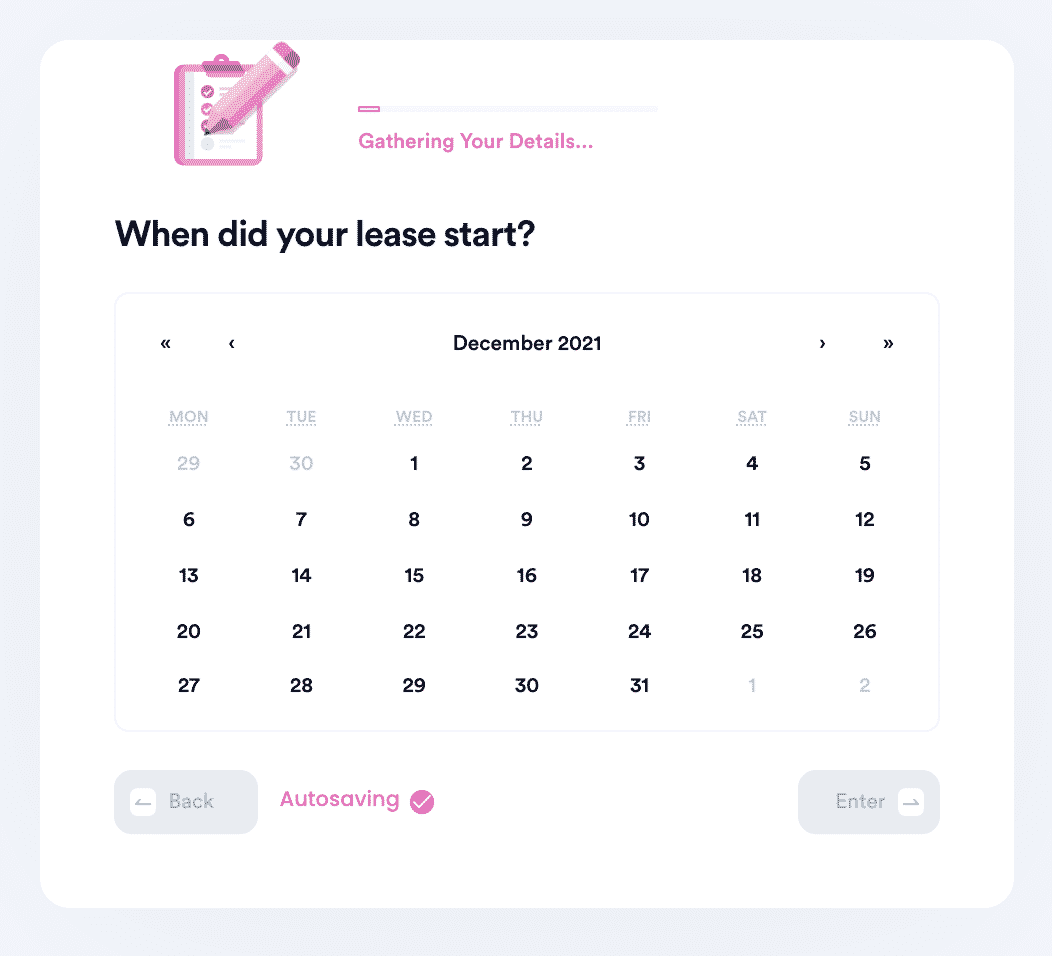 4. Choose whether you want DoNotPay to send the demand letter to your landlord or roommate on your behalf. If you already tried sending a demand letter and it didn't work, we can help you start the small claims court process.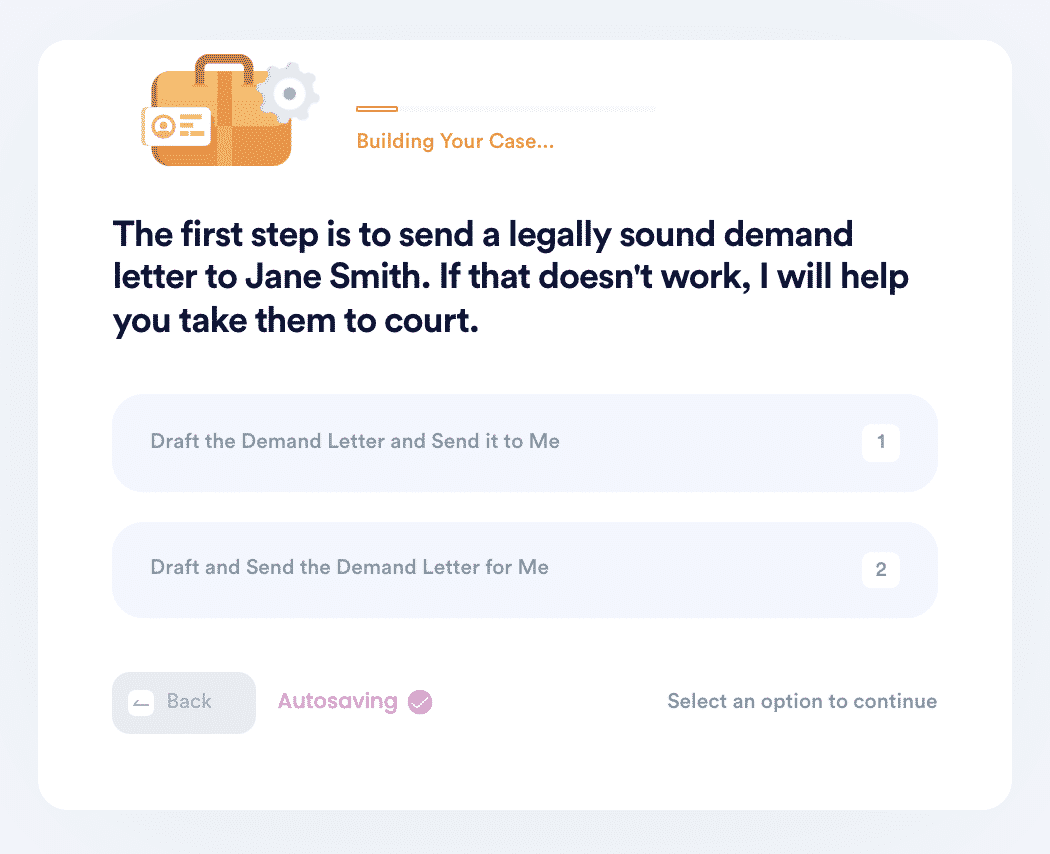 And that's it! You should hear back from your landlord directly once your demands are sent.
Why Use DoNotPay to Get Protection For Your Renters' Rights in Delaware
Unlawful eviction can affect your self-esteem and cause a lot of stress. Getting help to protect your rights is essential. DoNotPa is your best choice because we are:
Fast- You don't have to spend too much time searching the internet for legal provisions that apply to your particular situation.
Easy- You don't have to fill up tedious forms to file your complaint or counterclaim, all you need are the four steps.
Successful-Using the correct provisions of law and professional demand letter already wins half of the battle.
Along with the tenant issues we've discussed, DoNotPay can also help you know:
What Are the Other Social and services Offered By DoNotPay?
DoNotPay also offers other social and services you might be interested in. Some of them include
today and save time and money while upholding your renter's rights in Delaware!