Do Renters Have Rights to Air Conditioning?
When it comes to , some states consider it an essential service while other states do not.  DoNotPay can help you request air conditioning and other essential housing requirements.
Air conditioning is considered a luxury in many states, while for many others, like Nevada and Arizona, it is considered an essential service. Where you live will define whether it is a right or a privilege. When your air conditioning breaks down, you will need to notify your landlord of the need for repair. What happens next will be contingent on how your landlord responds to the request.
It is always in the landlord's best interest to make sure that everything is in working condition. However, when it comes to the habitability of the property, there are some things that might not qualify in the state where you live. Habitability of a property is the term for whether everything is working in such a manner that the property is functional and can be comfortably lived in.
If the property is unlivable and your landlord refuses to make repairs, that is a violation that would need to be reported. You also have options for actions that you can take to remedy the situation.
Landlord-Tenant Laws
Landlord-tenant laws differ from state to state. In all landlord-tenant laws in the United States, there is an expectation that the tenant will be able to reside in their home quietly and comfortably without undue disruption by someone with a superior legal title, such as the landlord.
Another central expectation is habitability. When you rent a place, you have the expectation that everything will work in such a manner that your needs will be met. This includes running water, heat, and appliances that function properly; in some states, that includes a . It also includes pest control, such as treating infestations of bed bugs that are there when you move in.
What Are My Rights as a Tenant?
Your responsibilities as a tenant are that you keep the property you are renting in a good state. Your rights as a tenant include the reasonable expectation that everything that you pay for will be in good working order. In turn, you agree to keep your place in a state where, when you move out, it will be easy for the landlord to rent it out to the next tenant.
This expectation continues as long as you pay the rent. Your rights will stay intact as long as you don't damage the property or break the law in any way. You must also operate in accordance with the rules set out by your lease agreement.
How Long Does My Landlord Have to Make Repairs to My Air Conditioning?
In states where air conditioning is considered an essential service, your expectations for a quick repair should be met.
This will depend on whether your state considers air conditioning to be an essential service. In those states, expectations are that a repair would be scheduled immediately. However, in states that do not recognize air conditioning as essential, your landlord may put fixing your A/C somewhere considerably lower on his to-do list.
In most states, a landlord would be required to provide repairs within 14 days of receipt of notice of the need for repair. If the repairs are not completed in that time frame, you will have two options to remedy the problem. Whichever option you choose, it is illegal for a landlord to punish you for your legal choice.
Those two options are:
Withholding Rent If Your Air Conditioner Is Not Repaired
Withholding rent is a common response by tenants frustrated with the lack of response by landlords to repair requests.

In states where it is an essential service, it is legal and acceptable for you to withhold rent until your air conditioning is repaired.

However, once your repairs are completed, you will be expected to pay what is due for your rent.

You Pay for Repairs and Deduct the Cost From Your Rent
Your second option is to repair the broken air conditioner and deduct the amount you spent on repairs from your rent. To do this, you present the rest of your rent accompanied by the receipts for the amount you are deducting. Most states will allow this, but you may want to check on your individual state's laws before taking this action.
Whichever one of these you may choose, you need to be aware that a landlord's attempt to retaliate for your actions is illegal. Your landlord should be reported to other authorities if they attempt retaliation.
How to Ask Landlord For Air Conditioning Repair
When you first notice that your air conditioning is not working, you will want to notify your landlord. Many states require that this notification be made in writing.
Your first instinct will probably be to call your landlord and let them know the air conditioning is broken. If the landlord lives on-site, knocking on his door to tell him in person is also a good instinct. Most states, however, will require maintenance requests to be made in the form of a written repair notice that outlines when the problem began and what all is wrong with the air conditioner.
How to Send a Landlord a Repair Notice on Your Own
To send a landlord a repair notice on your own, you will need to take the following steps:
First of all, familiarize yourself with your tenant rights in your state.
Get paper and pen or boot up your computer and open a word processing program.
Start by dating the letter.
Let the landlord know that you have a broken air conditioner that needs repairing.
Note the date that the problem began.
In detail, tell the landlord what is wrong with your air conditioner. Is it making strange noises? Do you smell smoke? Does it turn on at all? Did it stop blowing cold air? The more details you have, the better.
Note how the air conditioner being broken is affecting you and your family.
Politely ask the landlord to schedule the repair of your air conditioner.
Thank them in advance for their time.
Place your request in an envelope and address it. If in the form of an email, press send.
Go to the post office or drop it off at the landlord's office or home.
Go home and sweat it out until your landlord contacts you to schedule repairs or a repairman has arrived.
If the landlord does not respond to your letter, try follow-up phone calls or emails. But if the landlord has not responded within two weeks, ask if it is okay if you get it fixed on your own. Provided the landlord doesn't respond, have the unit repaired by yourself. Save all receipts. If you repair the unit yourself, the next time you pay rent, present your landlord with the receipts from the repairs and the balance due for rent.
Alternatively, you can withhold your rent until the unit is repaired. Communicate to your landlord why it is that you are withholding your rent from them.
All these steps take time, and there's no guarantee that you'll get a prompt resolution. That's why DoNotPay has built an easy, streamlined process to protect renters' rights to air conditioning.
Next Steps If You Can't Send Your Landlord a Repair Notice on Your Own
If you are having details preparing and delivering a repair notice, or are not sure how to legally do so, here are your next steps:
Consult a tenant law attorney to find out your options. Ask the attorney to contact your landlord on your behalf. This is a costly option, as attorneys are not cheap and will bill you for every single second you interact with them or that they spend trying to find your landlord.
Find out if your city has a legal aid clinic where you can go for free to hear your legal options.
Trust a third party like DoNotPay to take care of it.
Using DoNotPay to Send Your Landlord a Repair Notice
DoNotPay is here to guide you through the problem and file your disputes on your behalf. Our Landlord Protection product can help you:
Respond if your landlord is threatening to evict you.
Learn about your state's eviction laws and what protections apply in your case.
Resolve disputes regarding repairs with your landlord.
Resolve disputes with roommates by filing eviction notices or going through small claims court.
Break your lease early.
For specific help with a demand letter for air conditioning repair, you can start with the click of a button. Simply follow these steps:
1. Search for and open the Landlord Protection product on DoNotPay.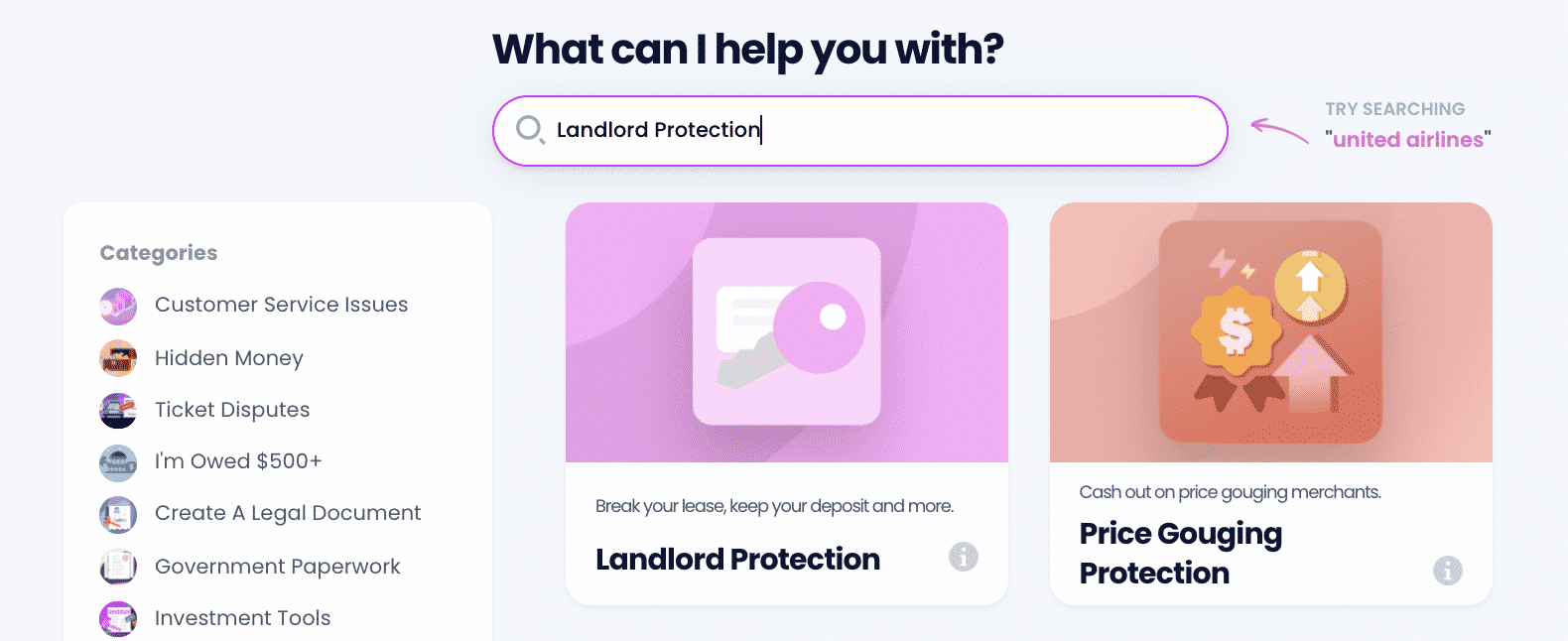 2. Select which issue applies to you.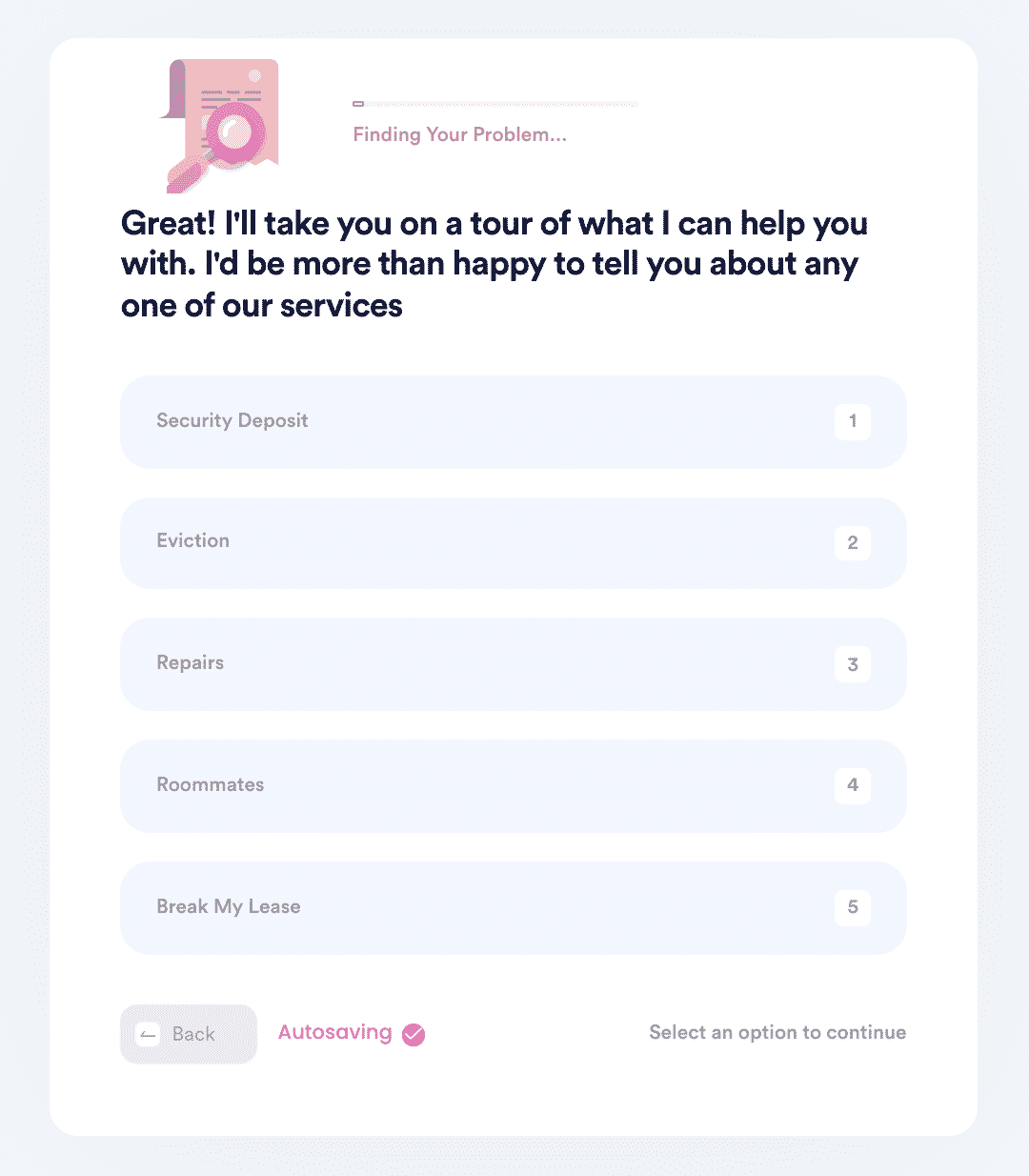 3. Answer a simple set of questions so our chatbot can collect the necessary information to create your demand letter.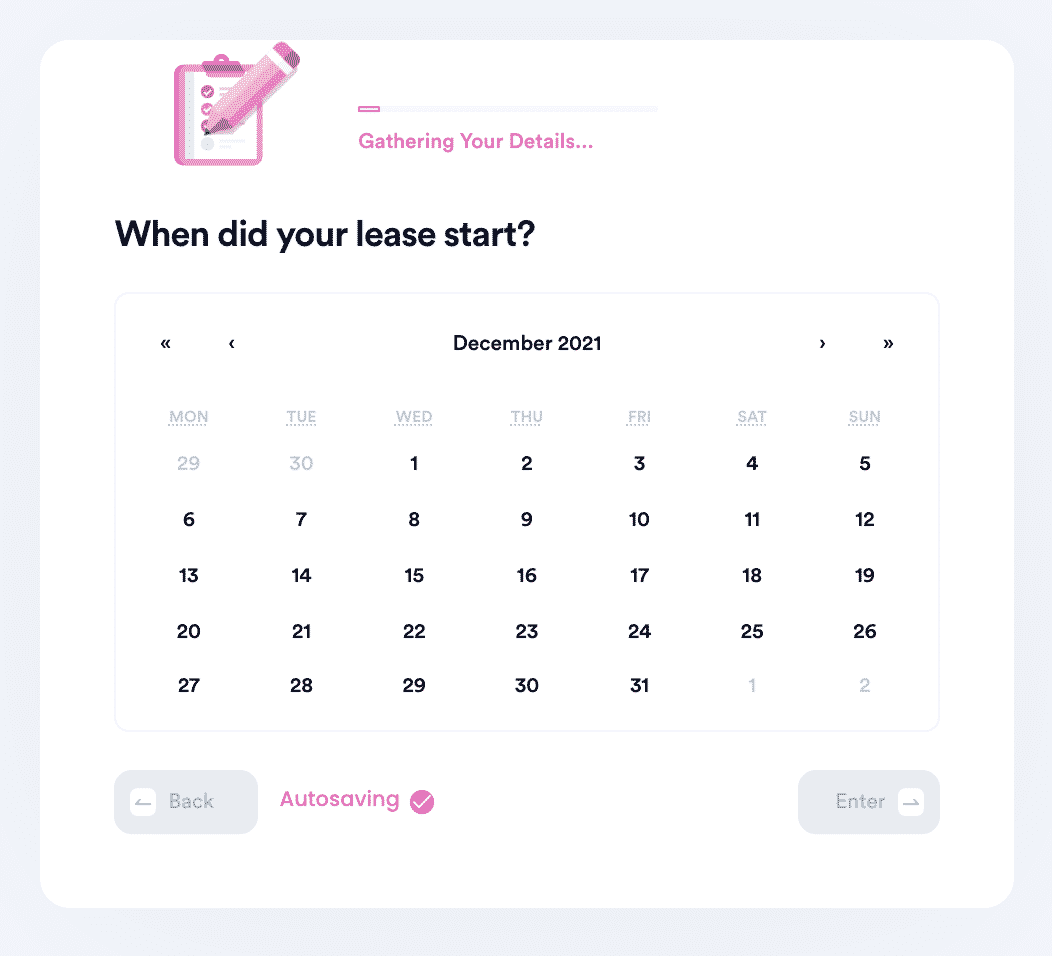 4. Choose whether you want DoNotPay to send the demand letter to your landlord or roommate on your behalf. If you already tried sending a demand letter and it didn't work, we can help you start the small claims court process.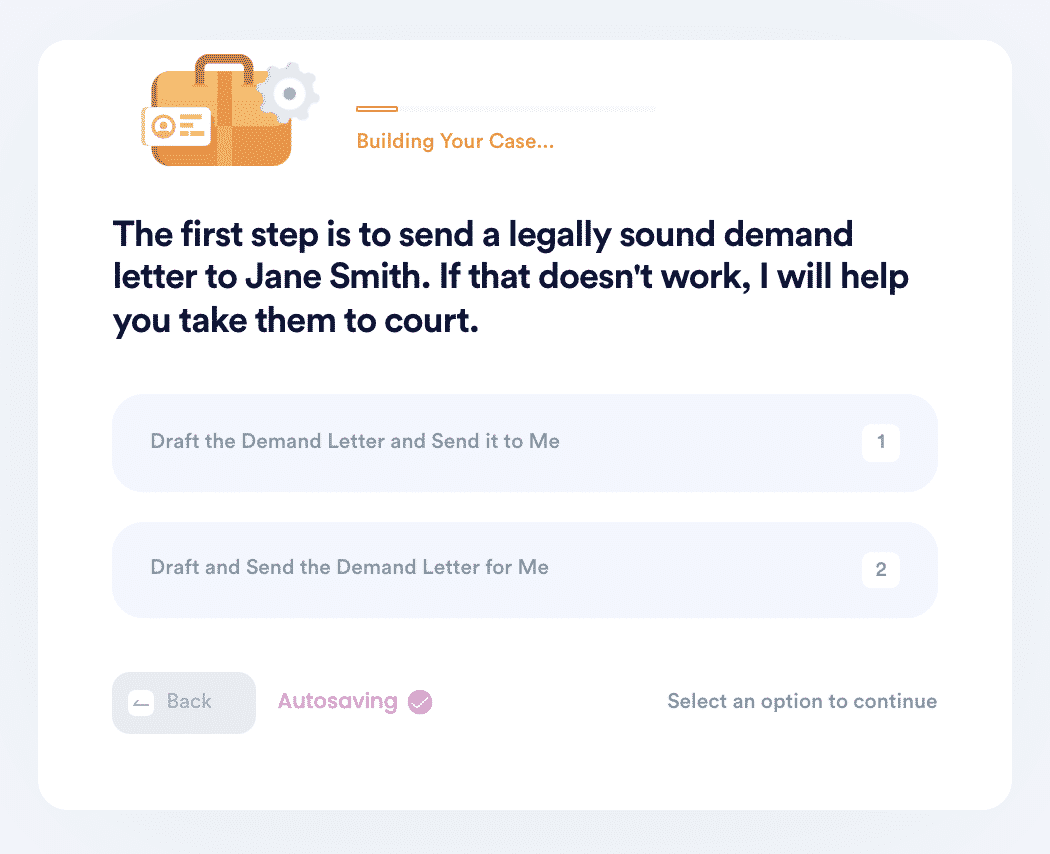 Why Use DoNotPay?
When you use DoNotPay, you know that your demand letter will be written and sent outright. Using DoNotPay to protect your renter's rights is:
Fast. With DoNotPay, you can provide a few details, and we do all the rest.
Easy. When you are having trouble writing your demand letter or don't know what to include, DoNotPay takes over and makes it easy.
Successful. With DoNotPay, you know that your repair demand letter will be worded right and sent out to your landlord. This means you have stayed within the rules of your lease agreement on requesting repairs.
DoNotPay is your go-to source for assistance when you have problems with your landlord.
Turn to DoNotPay for Assistance in All Areas
DoNotPay does far more than just help with landlord-tenant issues. DoNotPay offers assistance with problems that pop up in all areas.
For example, we can help you consolidate payday loans or repair your credit. If you need to get important documents from any government entity, such as birth certificates, divorce decrees, or marriage records, DoNotPay can help. Do you have parking tickets in a different state from the last time you were on vacation? DoNotPay can help you manage them.
Everything you do with DoNotPay is as easy to start as clicking a button.
What Else Can DoNotPay Do?
DoNotPay can also:
There is no end to the things you can do with DoNotPay. Visit us today to find out more.