Rental Agreement in South Carolina
Explained
Once you find the perfect apartment or property to rent in South Carolina, creating a written agreement with the landlord is a crucial step before you move in. People tend to believe that making a verbal deal is enough to establish the rental terms and conditions, but that's not the case. 
We will explain how rental agreements in South Carolina function. Besides elaborating on the essentials of this legal document, we will give you great tips on writing a contract in less than five minutes using DoNotPay's customizable templates!
Understanding the South Carolina Rental Agreement
A rental agreement is a legally binding document stipulating all rent-related responsibilities and duties of the landlord and tenant. By signing this contract, the landlord agrees to let the tenant use their property in exchange for a predetermined monthly sum. 
Its primary goal is to protect the interests of both entities and make the rules and conditions they agree upon clear. 
Most U.S. states have specific acts within their code of laws that regulate the landlord-tenant relationship and agreements. In South Carolina, it's the Residential Landlord and Tenancy Act or Chapter 40, Title 27 of the Code of Laws Unnoted. 
How To Distinguish a Rental Agreement From a Lease Agreement
It's a common belief that lease and rental agreements are the same. These two terms aren't synonyms, even though they have many similarities. 
A rental agreement is a short-term contract. It lasts for 30 days and can be renewed each month until the involved parties decide to terminate the agreement. People usually choose month-to-month agreements if they don't want to commit to a long rental period. This contract is flexible and enables the parties to modify the terms and conditions before the renewal.
A lease agreement regulates a fixed, usually one-year rental period. It's a perfect solution for tenants who plan to stay in the rented house or apartment for a longer time.
Can You Compose a South Carolina Rental Agreement Yourself?
Making a valid rental agreement isn't the easiest task in the world, but it is possible. All you need to do is consider the important factors that define a landlord-tenant relationship and agree upon the crucial points. The better you compose the contract, the more chance you have to achieve good cooperation with the other party and avoid misinterpretations. 
The following table shows all the recommended sections or clauses you should include in your rental agreement:
Sections
Details

General agreement info

Personal information of the signing parties

Names

Addresses

Phone numbers

Email addresses

Other contact details

Signatures

Start date of the agreement

Property

Property address

Property description

Number of bathrooms

Number of bedrooms

Available furniture

Parking

Terms and conditions

Amount

Payment date

Payment method

Security deposit

Responsibilities regarding utility bills

Repairs and maintenance of the property

Potential modification of the available premises

Potential contract modifications

Pet policy

Termination conditions
State laws propose several mandatory disclosures each rental or lease agreement should have. The South Carolina Residential Landlord and Tenancy Act states that, depending on the case, you must include the following sections in your contract:
Lead-based paint disclosure

—If the building was constructed before 1978, there's a chance that lead-based paint was used in the interior. As this substance is hazardous, the landlord needs to inform the tenant about it

Unequal deposits

—If the landlord owns more than four dwelling units and uses different criteria to determine the security deposit amount for each of them, it needs to be stated in the agreement

Access regulations

—If the landlord plans to visit the property, they need to inform the tenant at least 24 hours before the arrival
How To Create Valid Legal Documents With DoNotPay
If your attempts to compose a decent legal document fail, resort to DoNotPay. Our user-friendly app allows you to access the best customizable legal templates on the market and create your agreements with zero effort!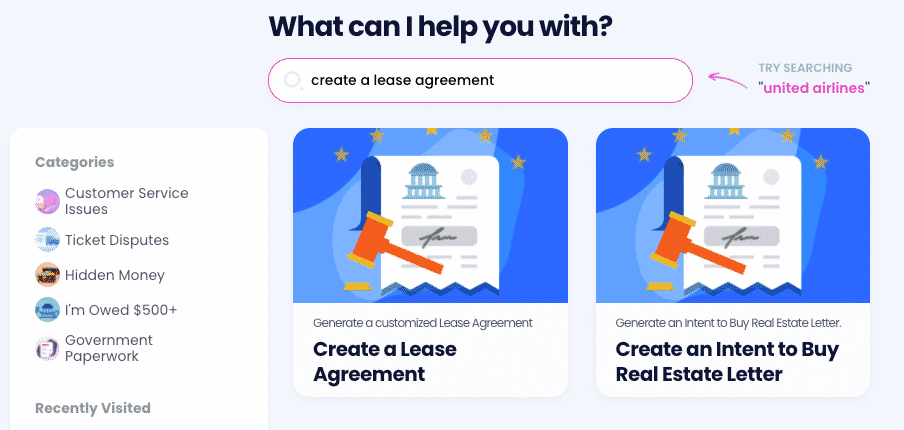 Here are the steps to follow:
Sign in to DoNotPay in any preferred

Find the desired document by using the search field

Answer several questions to help us understand what you need to include
After completing these steps, you get a personalized legal document of your choice with all the relevant information! You can make it valid by signing it or taking it to a notary, depending on the document type.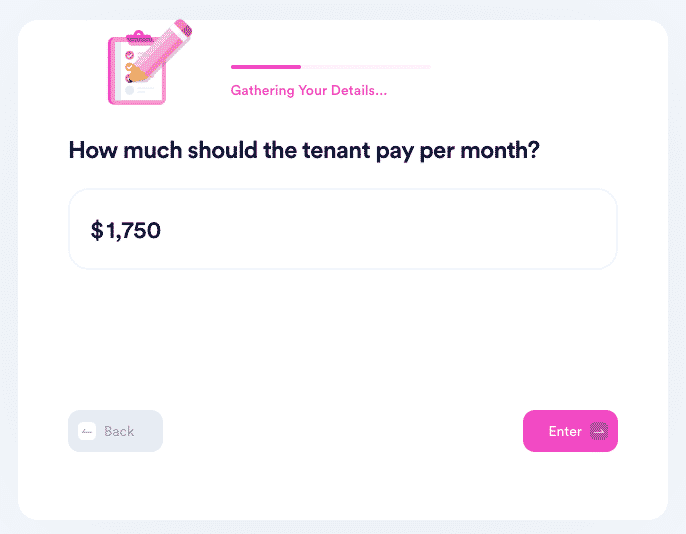 What Legal Document Templates Does DoNotPay Offer?
Our collection of templates grows every day. With DoNotPay, you can create the best:
General Business Contracts

Intent To Purchase Real Estate

Quitclaim Deeds

Estoppel Certificates

Promissory Notes

General Affidavits

Child Care Authorization Forms
The document you need isn't on the list? No worries—you can get many practical tips on numerous other agreements. Besides teaching you more about rental agreements in Oregon, Michigan, Washington State, or Montana, we provide guides to:
DoNotPay Offers a Variety of Services
DoNotPay is the ultimate virtual assistant that takes over all those annoying tasks you don't want to deal with!
Need to schedule your DMV appointment? Want to get your college fees waived? Have to draft a legal doc quickly?
We can do all that and much more!
Our app waits on the phone line with customer service of any company for you, reports robocalls, and helps you file lawsuits in small claims court. 
We can also help you deal with your parking tickets, get rid of spam emails and texts, or find and sign up for reputable clinical trials!
Keep Your Money in Check With DoNotPay
How often do you sign up for a free trial and then forget to cancel it before it expires? Unexpected charges are the worst, but you can prevent them if you use our free trial card. DoNotPay's virtual credit card is not connected to your bank account, which means that no money can be taken from it. 
We can also help you get refunds for unsatisfactory purchases or compensation from airlines for delayed or canceled flights.
In case you are struggling with warranty claims, bill payments, insurance, or tax reduction, DoNotPay can solve these issues as well. 
Our app also has the largest database of unclaimed assets in the United States, so you can find and claim your lost funds quickly.