The Ins and Outs of a Rent-To-Own Contract

What if your dream home is on the market, but you can't afford it yet? A rent-to-own contract is a legal document you definitely want to consider in that scenario.
A rent-to-own contract may be a perfect option for an aspiring homeowner, and it has many benefits for the potential property seller as well.
What Is a Rent-To-Own Agreement?
If you've ever dealt with lease agreements, you won't find rent-to-own ones difficult to grasp.
A rent-to-own agreement is a legal document between a potential home buyer and a home seller.
The biggest appeal of the contract for buyers is that they can rent a home they may want to buy one day right away. By paying rent for a specified amount of time—usually several years—they get to decide whether they want to buy a home at one point in the future.
The landlords, or the home sellers, enter into a rent-to-own contract because it brings them a steady influx of rent payments.
The price of the property can be determined upon signing the rent-to-own agreement or at a later time. Buyers are usually looking to set a specific price right away, while sellers don't want to agree upon the price beforehand as the market value can change in their favor.
How Do Rent-To-Own Contracts Differ From Lease Agreements?
Rent-to-own contracts are similar to lease agreements, but they have several important elements that the lease agreements don't include.
A typical lease agreement consists of these elements:
The names of the tenants and landlords

Property description

Rent amount

Due dates

Late fees repercussions

Grace periods

Duration of the lease
A rent-to-own contract details all the same information as the lease agreement, but it also includes the:
Purchase price

—A rent-to-own contract specifies when the price of the home is going to be set and how. The price can be agreed upon when the contract is signed between the two parties or when it expires

Option fee

—Buyers have to pay an option fee to the sellers. This fee buys them an option to purchase the property one day, and it is nonrefundable

Rent premium

—If both parties agree, a portion of the rent paid over the years can count toward the final purchase price. This gives buyers the option to accumulate credit while they are tenants, but it also allows sellers to increase the price of rent

Breach of contract terms

—A rent-to-own contract must include the details about what happens when the contract is breached and what each of the party's responsibility to another is
Rent-To-Own Home Contracts—Is Your Contract Lease-Purchase or Lease-Option?
When writing contracts, but especially when signing them, you must know what your options are.
Rent-to-own contracts can be lease-option and lease-purchase contracts, and the two differ fundamentally. If you, as a buyer, sign a lease-option contract, you have the option to buy the home one day. The same is not the case with lease-purchase contracts. If you sign a lease-purchase contract, you must buy the home before or when the term expires. 
What Do Buyers Gain by Signing a Lease-To-Own Agreement?
Both tenants and landlords can benefit from signing a rent-to-own contract.
Here are the pros and cons for the buyer:
Buyer's Advantages
Buyer's Disadvantages

Buying the home before its market value increases

Moving in right away

Getting time to save up

Price decreases

The tenant loses the option to buy if late with the rent

The option fee is nonrefundable 
Rent-To-Own Agreements—What's in It for the Seller?
Sellers have a lot to gain by entering into a rent-to-own contract. Check out what the landlords' benefits and potential drawbacks are when they sign the agreement:
Seller's Advantages
Seller's Disadvantages

Selling the property at a higher price than its market value

Getting the option fee right away

Renting property to dedicated tenants

Price of property increases

Better buyers appear while the seller is under the contract with the current one

The buyer backs away from the agreement
Pro Tips for Reviewing Rent-To-Own Lease Agreements
If you are considering signing a rent-to-own lease agreement, as a buyer, you should:
Review the contract to check whether it's a lease-option or a lease-purchase agreement

Agree with the seller what maintenance obligations will fall on you

Check how you can exercise your option to buy

Research the property and its owners as some can be scammers

Double-check the contract to see whether you agree with the terms
DoNotPay Can Generate a Number of Legal Documents for You
Legal contracts are tricky to understand for the majority of people who aren't lawyers. The problem is that most of them can't hire professional help to draft or review their documents.
DoNotPay is the best option if you need to draw up a legal document but don't want to employ the overpriced legal services. We can get you personalized contract templates for plenty of documents in no time.
Here's what you need to do:
Access DoNotPay from any

web browser

Type the document name in the search bar

Answer our chatbot's questions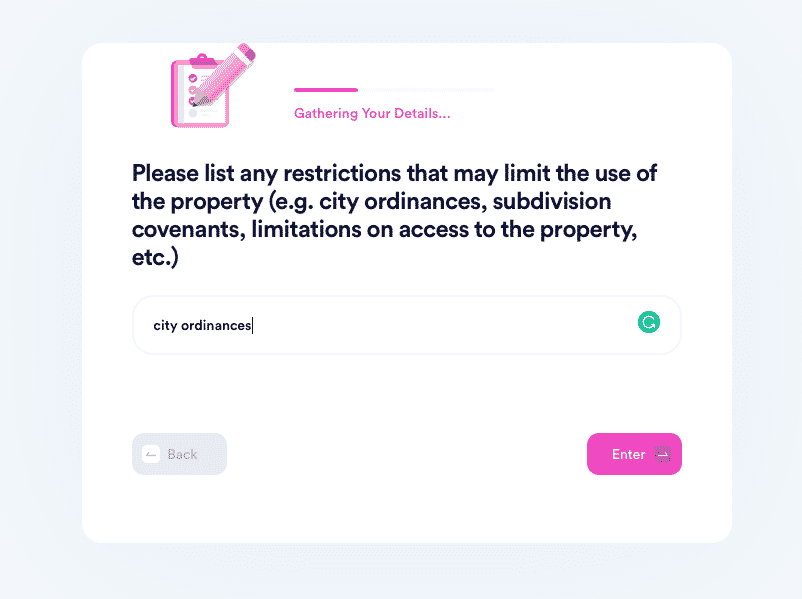 DoNotPay will have your custom-made contract ready in no time. You should then sign and notarize it to make it enforceable by law.
The types of legal contracts DoNotPay creates for you are:
Promissory Note

General Affidavit

General Business Contract

Intent to Purchase Real Estate

Child Care Authorization Form

Quitclaim Deed

Residential Lease Agreement

Estoppel Certificate
Outsmart Scammers With DoNotPay
Are you troubled every time you think about subscribing to a service because you fear your personal information will leak and your privacy will become invaded?
There's no need to fret anymore as DoNotPay has come up with a way to shield you from hackers, scammers, and identity thieves alike. 
Check out how you can use DoNotPay and browse the internet care-free:
Open DoNotPay in your web browser

Locate our

Virtual Credit Card

generator

Use the made-up card number to sign up for any

free trial

Move forward to our

Burner Phone

product

Use the temporary phone number to verify any online account

Enjoy the trial without worrying about

canceling it

—the service will do it on its own
Signing up for services with DoNotPay's hacks frees you from ever falling victim to a serious crime, such as identity theft, and liberates you from the bothersome and never-ending spam calls, texts, and emails that you never explicitly agreed to receive.
What Else Is Hot About DoNotPay?
DoNotPay does wonders in protecting your online privacy, but it can do so much more for you! 
With our assistance, you can claim compensation for canceled or delayed flights, request refunds and chargebacks for unsatisfactory purchases, file warranty claims for defective products, and even overturn unjust parking tickets!
Our app can locate unclaimed funds that exist under your name, the best clinical trials for your needs, and public records that you couldn't identify on your own.