Reno, Nevada—Divorce Made Easy
Remaining calm and composed during a divorce can be a real struggle. You've got lots of questions—what paperwork to collect, how to have it served to your spouse correctly, how to file for divorce, or how long until you get divorced.
No worries—We'll walk you through the entire process so that you can finalize your Reno (Nevada) divorce as fast as possible.
Do You Meet the Requirements for a Divorce in Reno?
To file for divorce in Reno, Washoe County, you or your spouse must have lived in Nevada for at least six weeks before submitting the appropriate papers to the court. Keep in mind that the court will ask for proof of your residency, so you might need to present one of the following:
A resident witness affidavit
An identification document, e.g., your ID or driving license
Since Nevada is a no-fault state, you can state the following grounds for divorce:
Most Common Grounds for Divorce
Additional Grounds for Divorce

Incompatibility
Irreconcilable differences

You and your spouse have lived in different households for over a year
A spouse has been declared legally insane for two years—you must present a doctor's statement in this case
Divorces in Reno, NV—Collect the Right Forms
You can start the divorce process in Nevada by filing a joint petition if you and your spouse agree on all divorce terms, including:
Pet custody
Division of liabilities and debts
Child support, custody, and visitation
As an uncontested divorce is the simplest, cheapest, and quickest way to get divorced, you might consider sitting down with your spouse and negotiating all the relevant matters.
A friendly divorce results in an out-of-court settlement that can save you lots of time, energy, and money as you can go through the whole process without hiring a lawyer.
You and your spouse need to:
Complete and sign the joint petition and decree
Have them notarized
File them with the court
All the required forms are available on the Washoe County Second Judicial District Court website.
How Long Does a Divorce in Reno Take?
Here's what happens once you file the papers for a joint petition divorce—also called an uncontested or two-signature divorce:
The judge reviews the documentation and signs the decree of divorce
The clerk files the decree of divorce
Your divorce is finalized
While the judge can make a decision in two to five weeks, the precise duration of the divorce process depends on the court's schedule and the judge's workload.
Keep in mind that Nevada laws require you to take a parenting class before filing for divorce if you have minor children. The obligatory class might delay your divorce process.
While you can get divorced in as little as ten days if you opt for an uncontested divorce, contested ones can take months or even longer.
You and your spouse should consider this aspect when fighting over certain matters. If you need help resolving problems, you could consider mediation.
Create a Divorce Settlement Agreement for a Quick and Smooth Divorce
To list all the agreed divorce matters, you should create a divorce settlement agreement. You could use one of the following options to draw up this document:
Hiring a lawyer—Attorneys can prepare all divorce forms and handle the whole divorce procedure. Keep in mind that their fees are high, and you can end up paying way more for your divorce than you planned to
Using online services—While online templates can be helpful, they're not always reliable. Some may be too generic and don't include state and local legal requirements, for example
—Our AI-powered app can generate a divorce settlement agreement based on relevant state laws and your specific needs
DoNotPay Prepares Reliable Divorce Settlement Agreements in a Flash
Have you agreed on all divorce issues with your spouse and decided to go for the fastest uncontested divorce? Not only does this option save time, but it also saves you financial resources and nerves. You won't have to go through a lengthy, pricey, and complicated divorce process.
What you should do is draw up a divorce settlement agreement stating all the resolved matters that will affect your life after the divorce.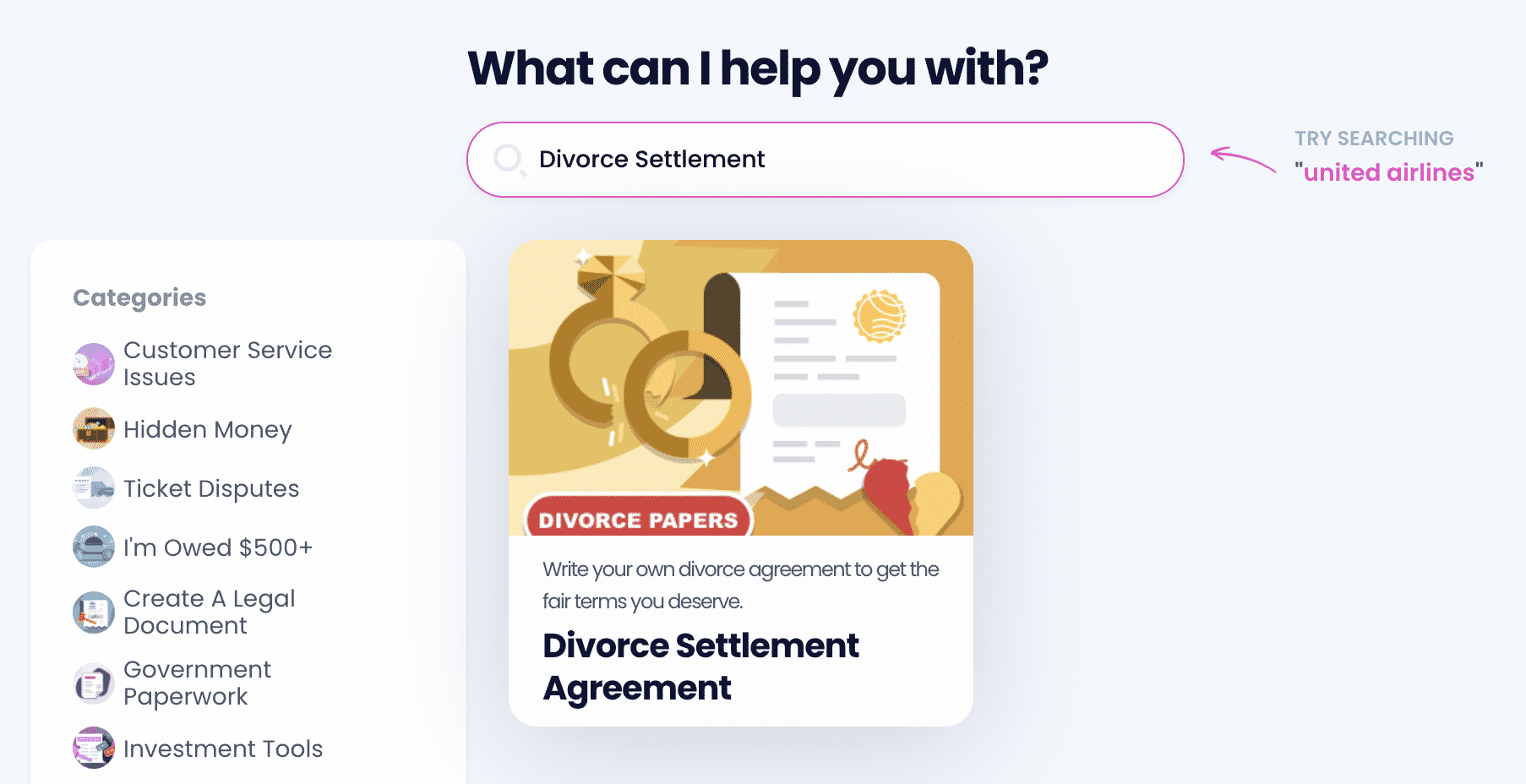 and take the following steps to get this document:
Enter Divorce Settlement Agreement in the search box
Answer our chatbot's questions regarding your marriage
Provide information about your financial situation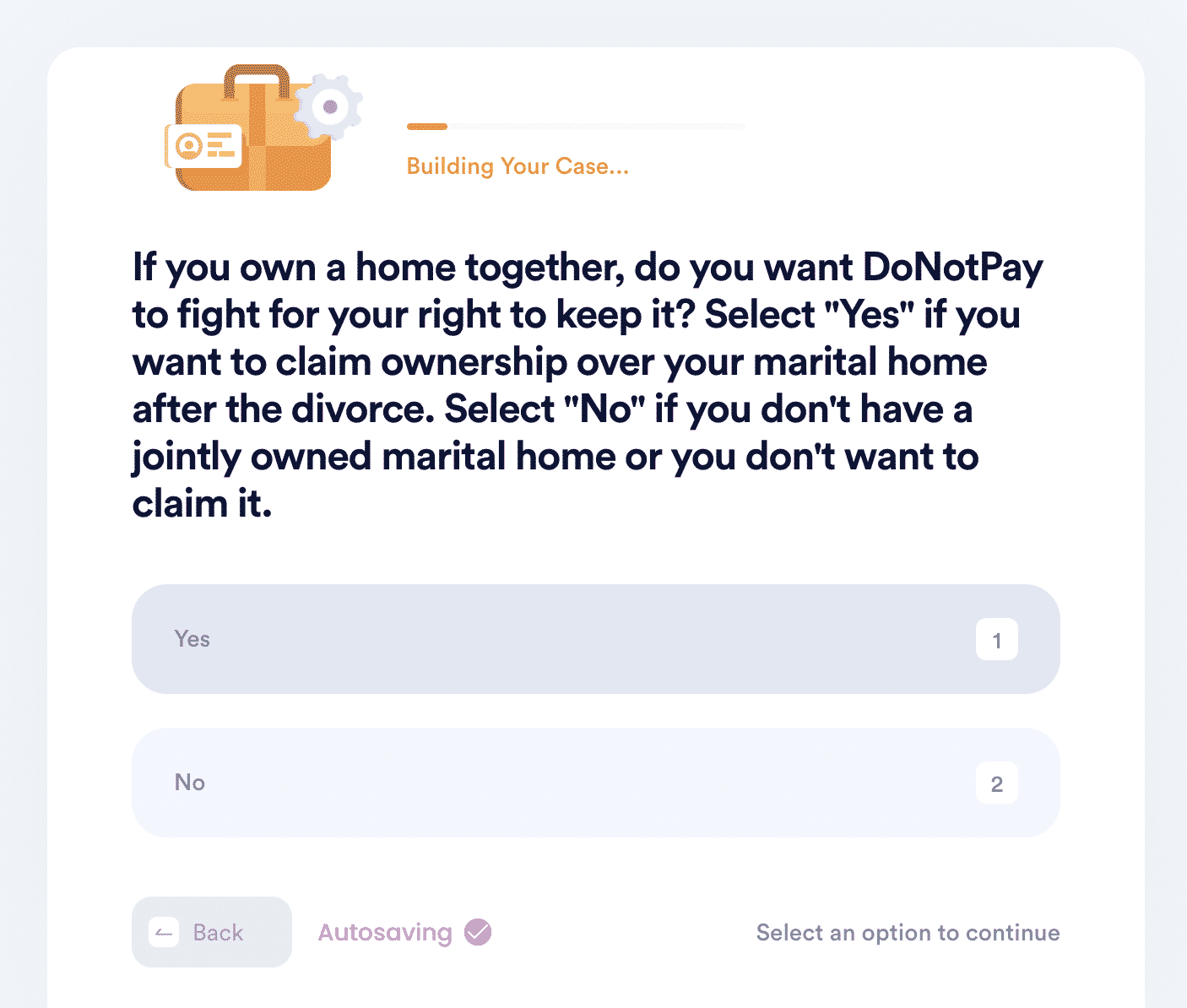 We will use your data to generate a document tailored to your wishes and needs. At the same time, DoNotPay ensures all information is in accordance with the current state laws.
Our app can also help you have the document notarized remotely!
Get Answers to Many Divorce-Related Questions
We keep publishing guides to divorce procedures in various states, counties, and cities. You should browse through our learning center to get the relevant intel about various issues and find out, for instance:
DoNotPay Helps You Tackle All Kinds of Problems From the Comfort of Your Home
Are you too busy to go to Target, Walmart, or photo studios to get your passport photos taken? DoNotPay offers you the possibility of taking them yourself and having them edited without going anywhere!
Thanks to our app, you don't need to visit the post office if you want to initiate a return. You can also skip going to a notary office because we'll help you get your documents notarized.
Here are some other tasks you can complete with ease using DoNotPay:
We Help You Get Fuss-Free Subscriptions to Any Service
Interested in a specific service or platform? Make sure to get the best out of your free trial without getting charged and ending up with an unwanted paid membership. Even if you make a mistake, DoNotPay can end your subscription in a few simple steps!
Our system allows you to generate virtual credit card numbers to prevent platforms from getting your real bank details and using them for unauthorized transactions. We also offer burner phone numbers that will help you go through any subscription or verification procedure without disclosing personal details.