What Should a Proper
Remodeling Contract Template
Contain?
When organizing renovation works, you should fortify your collaboration with the contractor by signing a remodeling agreement. Having a legal document defining all related terms and conditions ensures a smooth relationship and helps both parties understand their duties.
People usually opt for having their agreements drawn up by lawyers, but this is an expensive solution. Why not save your hard-earned money for new furniture and supplies and write the contract yourself? We offer the best tips for drafting your contracts in a few clicks without online remodeling contract templates and costly services. 
What Is a Remodeling Contract, and How Does It Protect You?
A remodeling contract is an agreement between a property owner and the contractor who performs the remodeling works. It outlines the details of the project and lists all collaboration rules and the expectations of both parties. With strictly determined work regulations, this document prevents disagreements and misunderstandings between the parties involved.
Remodeling contracts also protect the parties in case one of them doesn't comply with the proposed rules. If a dispute arises and results in a court proceeding, the signers can use this agreement as proof. 
What Elements Should a Valid Remodeling Contract Include?
Before composing a written agreement, it's advisable to meet the other party and establish the terms and rules both signing entities agree on. Besides appropriate legal terms and language, a valid remodeling contract must include specific clauses listed below:
Clauses
Details

Information about the contractor and customer

Full legal names

Physical addresses

Contact info

Signatures of the parties involved

General contract information

Remodeling project details

Property address

Description of the services provided by the contractor

Costs

Materials and supplies

Objects to be demolished

Objects to be built

Debris removal

Building permits

Names of all workers

Compensation insurance details

Remodeling project schedule

Start date of the project

End date of the project

Payment policy

The total price of the performed works

Amount of installment payments

Initial deposit details (it shouldn't exceed 10% of the total remodeling cost)

Increment payments

Payment method

Payment schedule

Safety precautions

References to applicable laws that regulate safety measures during the remodeling in a particular state

Changes

Dealing with unforeseen situations

Potential remodeling plan modifications

Termination details

Termination reasons

Notice requirements

Other recommended clauses
Ensure that your contract is concise and comprehensible. Don't use complicated expressions, and make sure your document is free from grammatical and spelling errors. Any mistake you make may cause the contract to become invalid, while unclear terms can lead to misunderstanding.
Does a
Construction Remodeling Contract
Have To Be Notarized?
A remodeling contract becomes legally binding as soon as both parties sign it. It typically doesn't require notarization unless the regulations in your state specifically say so. Before you start drafting the agreement, check whether state laws require notarization and act accordingly. 
Take Advantage of DoNotPay's Customizable Contract Templates
Inaccurate free templates and expensive lawyers aren't the only options you have. Turn to DoNotPay and get a personalized contract ready before you know it! Our modifiable contract templates are the fastest and most cost-effective solution for creating legal documents in only a few clicks.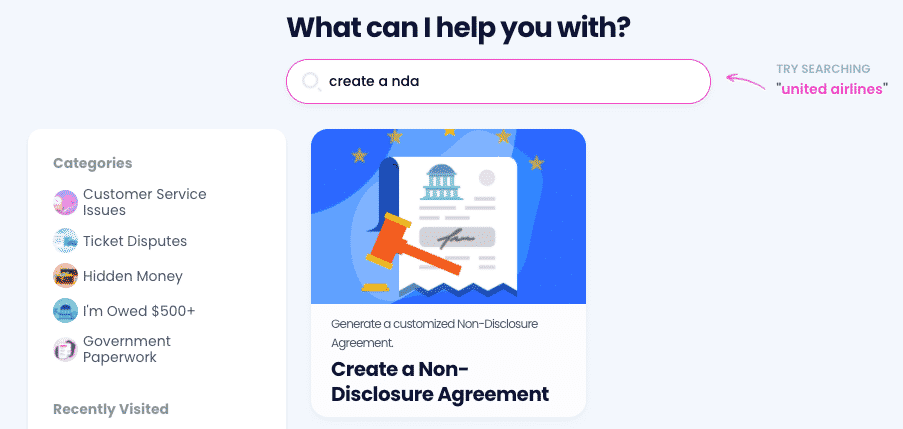 The procedure is simple. You give us the details you want to include in the document, and we create a customized contract that:
Contains the appropriate legal terms

Complies with all applicable laws in your state

Includes all necessary provisions
Here's how to use our service:
Log in to DoNotPay

using your preferred web browser

Locate the desired document by inputting the contract name in the search box

Answer a few of our chatbot's questions to help us understand the details of your document
Get the Best Tips on Drafting Legal Documents Effortlessly With DoNotPay
Our database features numerous customizable document templates at the moment, including:
Child Care Authorization Form

Quitclaim Deed

Intent To Purchase Real Estate

General Business Contract

Promissory Note

General Affidavit
We offer a vast learning base full of useful and easy-to-follow guides on creating many other legal documents. If you can't compose the desired contract using our service, learn how to do it yourself by following our practical tips! Here are some articles that may come in handy:
| | |
| --- | --- |
| Real Estate Legal Documents | Other Legal Documents |
| | |
Need Help Fighting Bureaucracy? Use DoNotPay!
As the world's first robot lawyer, DoNotPay can help you resolve a plethora of tedious administrative issues. Our app will assist you in getting justice in small claims court, getting refunds from merchants, reporting annoying spam emails and text messages, reporting copyright infringement, bypassing phone number verification, and so much more!
You can also rely on DoNotPay's help when it comes to subscriptions. If you want to sign up for a free trial, cancel a service you no longer use, and skip the phone queue when doing so, our app will provide its assistance.
Our App Saves You Time and Money
Are you unable to pay your bills? Use the world's first robot lawyer app to cover them! Do you want to appeal your traffic or parking tickets? DoNotPay will help you appeal them in the blink of an eye.
Our app can do so much more than that, though—with DoNotPay by your side, you can sign up for clinical trials, ace government tests, claim any type of warranty, schedule an appointment with the DMV, and handle any other bureaucratic task.