Remedies for Breach of Contract Explained by DoNotPay
Breaches of contract are common, so anyone involved in business affairs should be thoroughly informed about what to do in such situations. DoNotPay is here to present the remedies for breach of contract to you in a straightforward manner and help you figure out how to proceed to right the wrong. We can also draw up a breach of contract demand letter for you.
What Are the Remedies for Breach of Contract?
If a client breaks the terms of the agreement you created, you need to weigh your options carefully to assess the best course of action. The appropriate remedy for a contractual breach depends on the:
Terms of the contract
Nature of the breach
Specific circumstances of the case
Types of Remedies for Breach of Contract You Should Know About
You must understand the terms of the contract inside out to apply the correct remedy. There are several solutions for contractual breaches, including the following:
Compensatory damages
Liquidated damages
Injunction
Specific performance
Nominal damages
Rescission
Compensatory Damages
The most common legal remedy for breach of contract is compensation. The amount of money you can receive typically depends on the losses you've experienced as a result of the contractual breach.
There are two categories of compensatory damages:
Expectation damages—They directly result from the breach of contract
Consequential damages—They result from natural consequences of the breach and often comprise profits that you lost as a result of the breach
Liquidated Damages
Liquidated damages are a specific amount you agreed on with the other party as compensation for a contract breach. This type of damage provision is usually used when it is hard to calculate the correct amount of compensatory damages. Construction contracts and real estate purchase agreements mostly rely on liquidated damages.
The court might disregard liquidated damages clauses if the predetermined compensation is a lot smaller or greater than the harm the plaintiff experienced.
Injunctions
If the injunction is chosen, the court will order a party not to proceed with specific activities. There are two types of injunctions:
Temporary injunctions—Ordered while litigation is pending to stop potential damage
Permanent injunctions—Can be issued by the judge as part of their final ruling in a lawsuit
Specific Performance
Specific performance is similar to an injunction, but the difference is that the court orders the breaching party to do something. Monetary remedies are usually the first choice compared to specific performance, but there are situations where money will not compensate you adequately. This equitable remedy applies when the violating party must perform a particular activity to allow the plaintiff to benefit from the original contract.
Nominal Damages
If a breaching party cannot meet the court's demand for compensatory damages, a judge can award nominal damages as a legal remedy for the breach of contract. Even though the court recognizes that the breach of contract occurred, the financial loss is not significant enough.
In case the agreement has an attorney fee provision, the nominal damages award can allow you to seek the reimbursement of your attorney's fees from the defendant.
Rescission
Using rescission as a contractual breach remedy allows you to cancel the contract instead of seeking monetary damages. You can refuse to complete your end of the bargain, so both parties are free from any contractual obligations.
You should note that the breach of contract must be material to justify rescission.
How Can You Demand Compensation?
If you want to demand compensation for breach of contract, you have these options at your disposal:
Writing a demand letter—This option requires legal knowledge, and using an online generic demand letter template will usually not suffice
Hiring a lawyer—Attorneys are an elegant solution, but their fees are sky-high
Hiring a collection agency—Another efficient yet pricey option
Using DoNotPay—Opting for the world's first robot lawyer enables you to get an airtight legal document at an affordable price
DoNotPay Generates a Demand Letter in a Matter of Minutes
The easiest way of getting a rock-solid demand letter is with DoNotPay. Our app will study all the breach of contract elements and ensure that your legal document contains strong arguments to support your case. These are the only steps to follow:
Choose the Client Breach of Contract product
Answer the chatbot's questions about the client and the agreement you had
Add a payment deadline for the client before you take further legal actions (such as a lawsuit)
Include photos as evidence if you have any
DoNotPay will also provide you with necessary information about the affirmative defenses to breach of contract.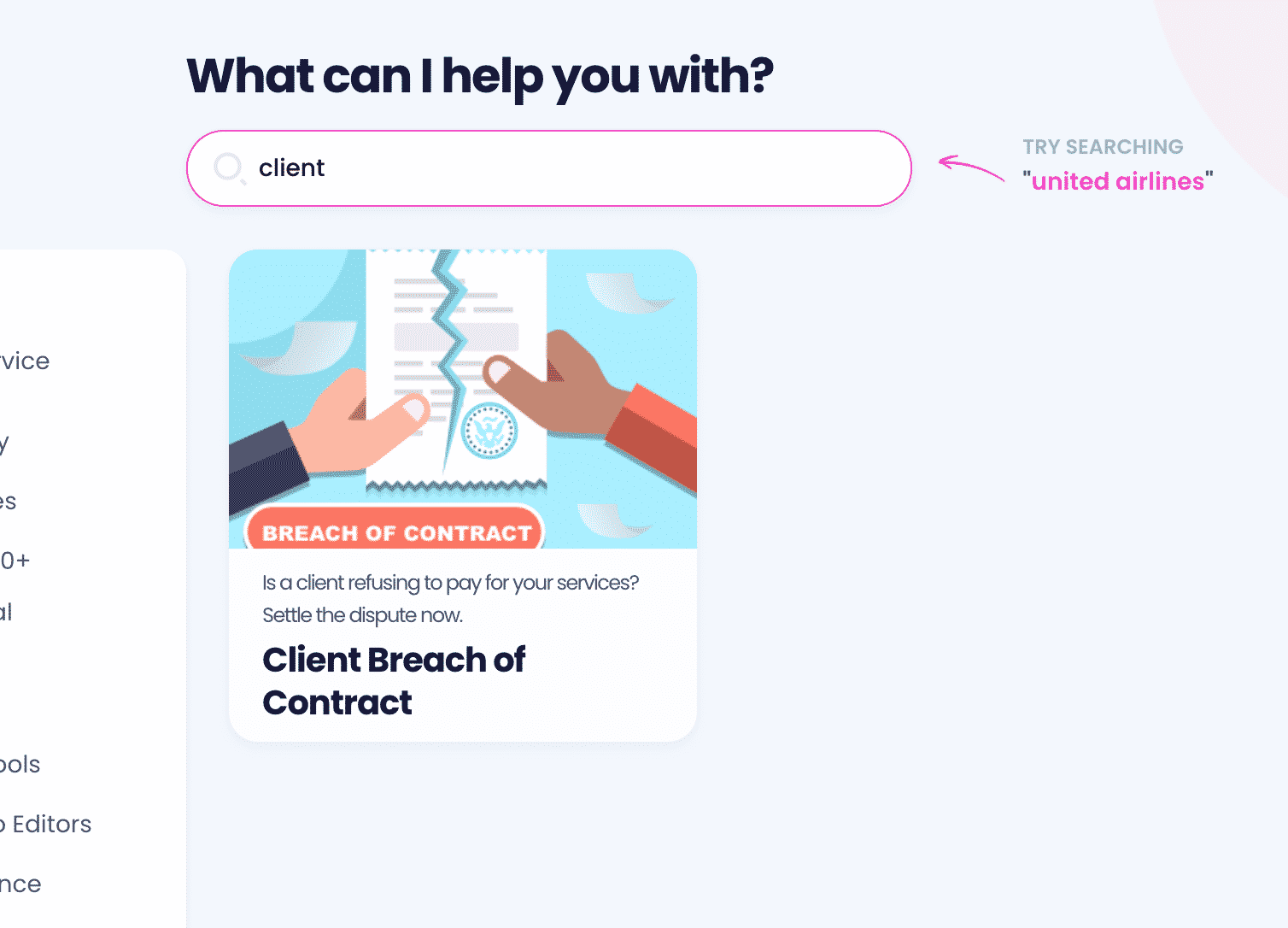 Take a look at the table below to see the state-specific rules and requirements for creating a demand letter:
Build Your Business From the Ground up With Your Reliable Pocket Assistant!
To make the running of your business less stressful, DoNotPay has created numerous handy products that can help you deal with any issue right from the start. With our assistance, you can:
Get the perfect letter requesting a loan for your business
Handle the Employer Identification Number and DMCA agent registration procedures in a few clicks
Manage Privacy Shield program self-certification to make sure your clients' privacy is protected while on your website
If you are considering completing trademark registration, DoNotPay will be your trusty companion and help you finish the whole process in no time! We can even make sure no one uses your trademark as their own by performing routine checks and sending cease and desist letters to the offenders instead of you.
Resolve Pesky Business Issues With DoNotPay
Our app boasts many other useful and easy-to-use products that will help you resolve an array of business-related problems. Whether you need help filing 83(b) election forms as effortlessly as possible or wish to communicate with your clients and business partners without heading over to the post office, we have got you covered!
DoNotPay can also help you remove bad, fake online reviews that could harm your business reputation, deal with clients who avoid paying for your services, and contest unjustified chargeback requests.
Rely on our app and stay on top of your work while we deal with business issues on your behalf!