Your Legal Protection Against
Religious Discrimination
Freedom of faith is one of the tenets on which the U.S. Constitution is based, and as a U.S. citizen or resident, you are free to follow the religion of your choice.
If you are experiencing workplace discrimination based on your religious convictions, DoNotPay is here to help. We can help you fight your case, from lodging a complaint to starting legal action to defend your religious rights.
What Is Religious Discrimination
?
Religious discrimination in the workplace occurs when your employer or co-workers treat you differently based on your religious beliefs.
Your freedom to practice the religion of your choice is guaranteed not only by the First Amendment but also by the following federal laws:
Title VII of the Civil Rights Act of 1964
The Civil Rights Act makes it illegal for employers to discriminate against you on religious grounds. This applies to:
Hiring and firing

Terms and conditions of employment, including

wage discrimination

Job assignments or segregation (assigning someone to a specific role because of a feared reaction by others)
The Civil Rights Act also protects against harassment—whether sexual, verbal, physical, or psychological—and prohibits any form of retaliation if you raise concerns about discrimination.
Code of Federal Regulations, Title 29 (Labor)
Part 1605 of the Code of Federal Regulations, Title 29 (Labor) sets out guidelines for employers on ensuring religious freedom in the workplace. They are designed to aid the implementation of the Civil Rights Act.
The guidelines include:
Guideline
Explanation

Definition of religious belief

This section clarifies a religion can be defined as a "recognized" faith such as:

Christianity

Judaism

Islam

Buddhism

Sikhism

A strongly-held and practiced set of moral or ethical beliefs as to what is right or wrong can also be interpreted as a religious belief and should not be discriminated against

Reasonable accommodation

An employer must make reasonable accommodation for the religious beliefs and practices of every employee, including:

Work schedules

Voluntary shift substitutions or swaps

Exceptions to dress rules or grooming norms

Incorporation of dietary requirements into work canteen menus

Selection practices

An employer must ensure that the company's hiring procedures do not discriminate against any religious groups. Examples of best practice include:

Scheduling of selection tests or interviews

Hiring irrespective of work availability (Saturday work ban in Judaism, or Friday lunchtime work ban in Islam)

As a general rule, if the candidate would be a good fit for a position, the company may not reject them based on unavailability to work certain hours
What Can I Do if I Feel Victimized at Work Due to My Religion?
If you feel you are being discriminated against—whether by colleagues or management—due to your religion, here are the steps you need to take:
Check your company discrimination policy

Approach HR or your supervisor

Keep a diary
Check Your Company Discrimination Policy
Your company should have a written discrimination policy as part of its general policies and procedures manual. You should go through the policy and make sure that the company states that it is opposed to religious discrimination. This gives you solid legal grounds to take the matter further.
Approach HR or Your Supervisor
The HR department has to take any allegations of discrimination seriously, so you should insist that all your meetings with them are documented correctly and filed. Your supervisor should also be involved in the discussions.
Keep a Diary
You should make a written note of every incident of religious discrimination or harassment, including:
When the incident occurred

What exactly happened

Who was involved

Whether any witnesses were present
The more detailed your diary, the more evidence you will be able to present should your grievance remain unresolved by the company.
Ideally, your company should react quickly and put a stop to the religious discrimination you are experiencing. If this is not the case, help is at hand—DoNotPay can show you how to get it!
What Help Can You Get To Fight Religious Discrimination?
The federal agency tasked with investigating and resolving cases of discrimination is the Equal Employment Opportunities Commission (EEOC).
The EEOC receives complaints from employees—known as charges of discrimination—investigates them, and can initiate legal action against a company if it is found to be in breach. The EEOC works with discrimination lawyers and can impose serious penalties if a company is found guilty of discrimination against its employees.
Your first course of action is to lodge a charge of discrimination with the EEOC—and DoNotPay can help you do this in a flash!
What Can DoNotPay Do To Help?
DoNotPay can lodge your complaint with the EEOC in a few clicks—here's what you need to do: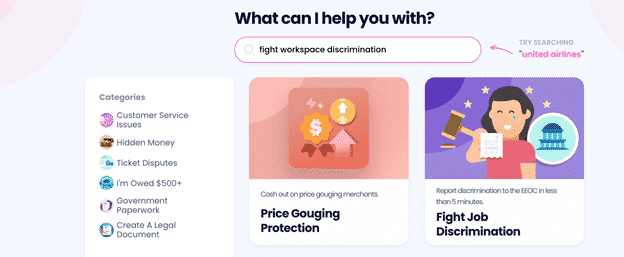 Sign up for DoNotPay

in your web browser

Check out our

Fight Workplace Discrimination

service

Follow the prompts and give us the details of your case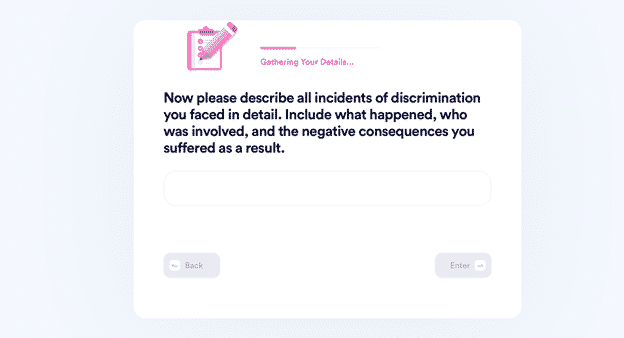 We will handle the rest by lodging your charge with the EEOC.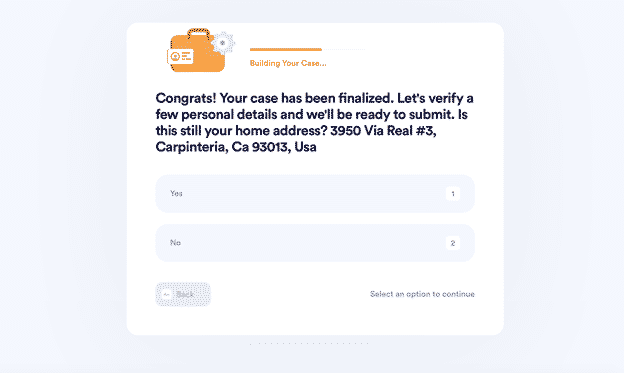 What Other Types of Discrimination Might I Experience?
Discrimination based on your religion is one of many forms of prejudicial behavior you may encounter in the workplace. Other forms can include discrimination based on:
Whatever the basis for the discrimination, DoNotPay is here to help you fight for just treatment.
Thinking About Hiring a Lawyer? Think Again!
After you report discrimination in the workplace, you can only hope everything will turn out great. We sure hope so too, but having a backup plan doesn't hurt. If the report with the EEOC backfires, getting a lawyer will be the next logical step. 
While you may understand the importance of professional legal help, you might be surprised by how much our virtual lawyer can do for you. Thanks to advanced AI technology, our app can assist you with:
By subscribing to DoNotPay, you won't have to waste hundreds of dollars on lawyers for the help you can get for a few bucks!
DoNotPay Provides Shortcuts Through Bureaucracy
Have you ever thought that corporations and government administration make everything more complicated than it should be? We feel you. That thought is the cornerstone of what DoNotPay is all about!
Our developers keep coming up with products that win against complicated bureaucracy left, right, and center. Some of the tools and services we're most proud of help our subscribers with:
And we're just getting started!