Launch a Religious Discrimination Case and Fight for Your Religious Freedom
Religious freedom is entrenched in the U.S. Constitution, but cases of religious discrimination in the workplace are rife across the country.
The Equal Employment Opportunities Commission (EEOC) received 2,404 complaints of religious discrimination at work in 2020. Since 1997, the average number of charges of religious discrimination has been 2,901 per year.
If you are experiencing religious discrimination in the workplace, DoNotPay can help—we will show you what the courts have decided in the past and how these decisions can help you launch a religious discrimination case to fight for your rights!
Religious Discrimination Court Cases
Anti-discrimination laws in the U.S. guarantee your right to practice your religion without fear of discrimination at work.
This right is entrenched in Title VII of the Civil Rights Act of 1964, which also protects from harassment—in the form of verbal, email, or cyber harassment—or retaliation.
Over many years, certain landmark religious discrimination cases have tested the Civil Rights Act and set precedents that make your position as an employee today relatively strong. The most important cases are:
EEOC v. Abercrombie and Fitch (2013)

EEOC v. AutoZone (2010)

EEOC v. Scottish Food Systems, Inc. d/b/a Kentucky Fried Chicken and Laurinburg KFC Take Home, Inc. d/b/a Kentucky Fried Chicken (2014)
EEOC v. Abercrombie and Fitch (2013)
The EEOC prosecuted a case against Abercrombie and Fitch in 2013 concerning two Muslim employees who were prohibited from wearing a hijab to work in contravention of their religious beliefs. The defendant was ordered to pay $71,000 in damages and to change its anti-discrimination policies accordingly.
EEOC v. AutoZone (2010)
AutoZone, Inc. was found guilty of discrimination for harassing a Sikh employee and refusing him permission to wear a turban to work.
EEOC v. Scottish Food Systems, Inc. d/b/a Kentucky Fried Chicken and Laurinburg KFC Take Home, Inc. d/b/a Kentucky Fried Chicken (2014)
The Kentucky Fried Chicken franchise attempted to force a female employee to wear pants to work, which violated her religious beliefs. The franchisee was found guilty and ordered to pay damages to the employee.
Many of the cases of religious discrimination that appear before U.S. courts concern dress or grooming regulations entrenched in various religions.
The EEOC has, therefore, published a set of guidelines that explain what an employer should allow to avoid a charge of religious discrimination. The guidelines are not legally binding but are based on precedents set in court over the last few years.
What Are My Rights?
As a follower of a recognized religion, or even as someone who holds strong beliefs concerning morals and ethics, you have the right to protection against:
Discriminatory hiring and firing based on religion

Unfair bias in job allocations, promotion practices, or

remuneration policies

Harassment or victimization at work based on your religious beliefs
The law also ensures that your employer should make reasonable accommodations to allow you to practice your religion. Such accommodations could include:
No work on the Sabbath for Jewish employees

Friday lunchtime freedom to attend mosque for followers of Islam

Inclusion of religious dietary requirements in staff canteens

Acceptance of prescribed clothing and grooming for certain religions
What Can I Do if My Employer Is Violating or Ignoring My Rights?
If you are experiencing any kind of discrimination due to your religion, you need to do the following:
Action

Explanation

Check your company's policies on religion

Your employer should have a written policy that confirms it aims to adhere to the laws against workplace discrimination

File an official complaint with your supervisor or the HR department

Your complaint needs to be in writing and should be logged officially by HR

Keep a diary

You should keep written notes of every incident of religious discrimination, including:

Dates and times

Employees involved

Exact details of the incident

Names of witnesses
In an ideal world, raising the issue officially would cause your employer to take action and resolve the matter.
If this doesn't happen, you may have to escalate your case—this is where !
What Can DoNotPay Do To Help?
If your attempts to resolve a case of religious discrimination with your employer are unsuccessful, you need to file a complaint—or charge of discrimination—with the EEOC.
This can be a laborious process, but DoNotPay is here to make it simple—all you have to do is: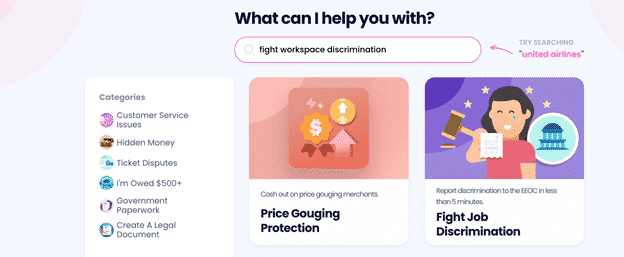 in your web browser

Open our

Fight Workplace Discrimination

product

Fill in the details of your case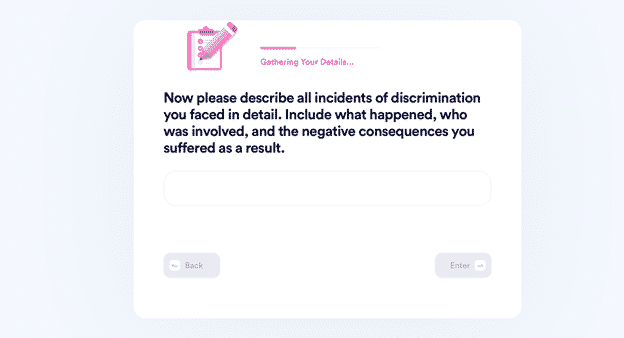 DoNotPay will file your charge with the nearest EEOC field office, which will contact you to start an investigation.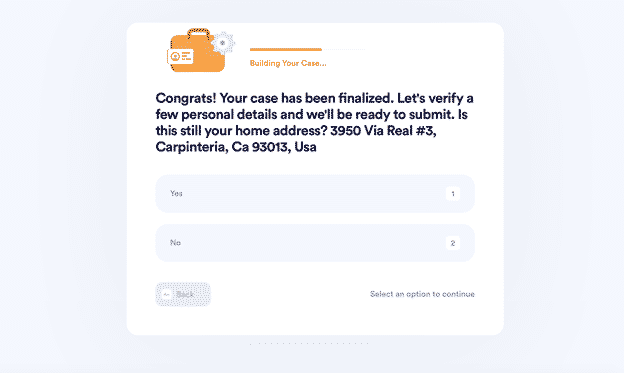 What Happens Next?
The EEOC will:
Tell your employer about your charge

Investigate your allegations

Decide to:

Dismiss your case

Suggest mediation between you and your employer

Launch a

lawsuit

against your employer

Give you written permission to contact a

discrimination lawyer

and commence legal action
Whatever the outcome, DoNotPay and the EEOC are your partners to fight for your freedom from religious discrimination.
What Other Kinds of Discrimination Should I Look Out For?
Discrimination in the workplace can also be based on:
Any form of discrimination is illegal—DoNotPay is committed to helping you fight for your rights regardless of the discrimination type!
DoNotPay—The Virtual Lawyer You Can Rely On
Discrimination at a workplace is a serious issue. Unfortunately, the problems sometimes escalate into full-blown hate crimes.
DoNotPay recognizes the importance of easy and affordable access to legal help, especially for population groups that are particularly vulnerable. For that reason, our platform keeps adding various useful tools and products that ease the burden of bureaucracy for the victims.
With your DoNotPay subscription, you can:
Our app can even help you draft various legal documents, have them notarized, and fax them to the right person—all from one place.
Concerned About Your Online Safety?
We teach our children to be careful about using the internet, but how much do we pay attention to our online safety? Scammers are getting more and more creative and flourish thanks to new technologies.
DoNotPay is a great resource for fighting irritating spam emails, dangerous texts, and annoying robocalls. If you use our virtual credit card, you won't have to worry about subscribing to free trials—even if they turn out to be a scam! Our AI bots will jump in to secure you a refund, whenever an online purchase goes wrong!