Learn the Ins and Outs of a Release Agreement
We are here to explain what a release agreement is and how it works. Putting your signature on a legal document makes it legally binding, so you should know precisely what you're agreeing to before signing it. Don't get confused—get informed!
Subscribe to DoNotPay for step-by-step guides to drafting various contracts! We streamline this demanding procedure to help you save time and money.
What Is a Release Agreement?
A release agreement—also known as a release form or waiver—is a contract signed between two parties to release one of the signers from liability. The parties usually sign the document after a specific damaging incident (financial, physical, or other).
One party releases the other from liability caused by the incident in exchange for something of value (most often money).
The parties involved are known as a:
Releasor—the party receiving the payment and releasing the other party
Releasee—the party at fault, being released from liability
When To Get a Release Agreement
Both the releasor and the releasee can propose a release agreement. The contract is primarily used:
In cases of property damage or personal injury
For the general release of claims
After motor vehicle accidents
Release agreements are beneficial to both parties because they help fix the issue efficiently. When it comes to the financial aspect, they are usually a better solution than the long and super expensive court procedures.
What Should a Release Agreement Include?
Before signing the release agreement, make sure to read it carefully and check whether the following sections are covered:
Section
What It Should Include
Names and addresses
The full names of both the releasor and the releasee with their principal addresses
Release
A clear statement that one party is releasing the other party from all claims, actions, disputes, debts, and liabilities related to the incident
Incident details
A detailed description of the incident, such as the:

Time of the incident
Location of the incident
Cause and timeline

Consideration
The exact amount that the releasee will pay to the releasor in consideration for release
No admission
The explanation that the agreement will not be construed as an admission of responsibility nor indicate that the releasor has any rights to legal action against the releasee
Final settlement
The thoroughly explained terms that both parties agree upon
Mutual understanding
The confirmation that both parties are entering the agreement voluntarily after carefully reading and reviewing the terms
Entire agreement
An understanding that this contract will supersede any other agreement, both written and verbal
Governing law
The law that the agreement abides by
Date and signatures
The signatures of both parties and the effective date of the agreement
You Can Draft Various Contracts With DoNotPay!
Drafting contracts can be time-consuming and requires extensive research. You can skip the hassle by letting DoNotPay generate numerous contracts in your place! Avoid looking for contract templates online and use our app to create an agreement in a few minutes. Here's how:
Type in the name of the agreement you want to make
Provide the relevant info about the document
DoNotPay generates the contract instantly, and you can download it or print it.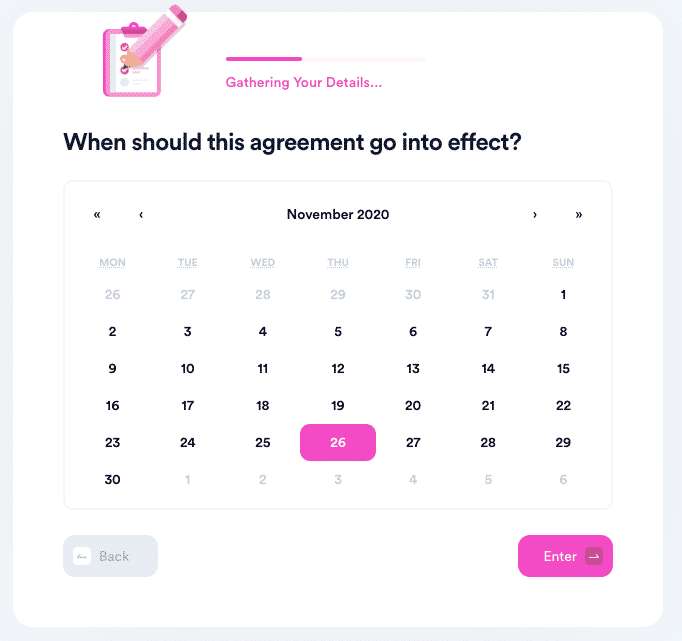 Check out the list of documents DoNotPay draws up in your stead:
Business Documents
Other Documents

General Business Contract

Promissory Note
Estoppel Certificate
General Affidavit
Intent To Purchase Real Estate
Quitclaim Deed
DoNotPay Provides Easy-to-Use Guides to Creating Various Contracts!
Besides creating contracts for you, DoNotPay can also provide various step-by-step guides to writing an abundance of legal documents yourself! With our help, you'll be able to make the following agreements effortlessly:
Do I Need To Get a Release Agreement Notarized?
Not every agreement needs to get notarized to be enforceable. A release agreement, however, should be notarized by a notary public.
The notarization process is not as dull and complicated as it used to be. You can find a remote notary with DoNotPay and book your appointment in a few minutes.
This is how to initiate the procedure:
Select the Notarize Any Document feature
Attach the documents and type in your email address
We'll send you a link with available dates by email, and you can schedule your meeting right away!
There's More DoNotPay Can Do for You
In case you're struggling to cover your bills, our hacks may help you earn or save some extra money. Use our app to sign up for paid clinical trials in your area and try your luck with free raffle tickets. We can also help you get late delivery refunds and cash back on gift cards. You may not even know that you have funds lying around—rely on DoNotPay to uncover your unclaimed money.
If you have any documents or letters you need to send, we can save you the trouble of using a fax machine or waiting in line at a post office, thanks to our nifty products—Online Fax and Mailing Service.
Fast-Track Your Tasks With DoNotPay
If you've been putting off your errands because they take too long or they are too complicated, we know what to do! From filing insurance claims, getting documents notarized, submitting item return requests, demanding late delivery refunds, and getting a child travel consent—there isn't much we can't streamline for you.
You can count on our assistance even for more serious and complex tasks, such as: