Pull in the Same Direction With a
Relationship Agreement
in Your Business
Teaming up with new partners in your business—whether formal or informal—is an exciting time. New opportunities present themselves, and there is always a honeymoon period in which your enthusiasm for the new venture can mask any potential worries you may have.
At some point, the honeymoon ends, though. Hidden doubts and annoyances may resurface, and behavior that you were prepared to overlook becomes an issue.
You can avoid these pitfalls by creating a relationship agreement, and is here to help you do it.
What Is a Relationship Agreement?
A relationship agreement in business is a contract consisting of mutually-agreed roles, duties, responsibilities, and liabilities within the business partnership.
It is a legally binding document that clarifies every aspect of the relationship between:
Partners

Co-entrepreneurs

Shareholders

Members of an LLC
It aims to manage the relationship and help the joint business grow while minimizing the risk of messy litigation if the partnership dissolves.
Do You Need a Relationship Agreement?
If you are in any kind of partnership or collaboration in your business, it makes sense to have a relationship agreement in place. Ideally, it will be signed and left in a drawer to gather dust, but it is essential to avoid expensive and potentially damaging litigation if the relationship goes wrong.
Even if the relationship flourishes, a relationship agreement is useful to define how the business should be run, including such points as:
Defining responsibilities

Solving disputes

Setting rules of conduct

Preparing for unexpected events (death of a partner or similar)
A relationship agreement can help safeguard you and your business against problems arising out of a partnership.
What Should a Relationship Agreement Include?
A relationship agreement should be comprehensive enough to cover all eventualities that may arise in a business partnership. This will depend on the nature of the partnership and the business you are in, but here are the essentials you need to include in the agreement:
Basic information

Contribution of each party

Duration of the agreement

Roles and responsibilities

Division of profits and losses

Clarification of tax policies

Resolution of disputes

Management of unforeseen events

Termination of the agreement
Basic Information
The agreement includes all the relevant personal details of each signatory, as well as the commencement date.
Contribution of Each Party
Each co-signatory brings something into the relationship, whether it is money or work input. This contribution is set out and, in the case of work put in, assigned a value to allow a direct comparison with any financial contributions.
Duration of the Agreement
The parties can agree on a limited or unlimited timeframe for the agreement, depending on the nature of the business. Bear in mind that an unlimited agreement is still governed by your rules on breaches, disputes, and termination.
Roles and Responsibilities
Going forward, the agreement clarifies what each co-signatory is expected to do to help the business grow. This is wholly dependent on the nature of the partnership and the business you are in. One partner may provide financial support and remain otherwise silent, or both may contribute equal amounts of effort.
Division of Profits and Losses
How the money—or the lack of it—is split between the partners is a matter for negotiation, but the clearer the wording of this section, the better. If one partner contributes most of the work while the other remains as a financial resource, there may be a case for apportioning a larger share of the spoils to the worker.
Clarification of Tax Policies
The agreement states that all the money put into and received from the partnership is to be handled according to the relevant tax legislation.
Resolution of Disputes
If things go wrong, the relationship agreement sets out mechanisms for formally resolving disputes. If necessary, these mechanisms should include provisions for independent arbitration.
Management of Unforeseen Events
Unforeseen events are covered in the relationship contract. For example, the death of one of the partners in the relationship is followed either by the immediate dissolution of the relationship or by provisions for the surviving partner to take over the whole of the partnership.
Termination of the Agreement
Both parties agree on how to end the agreement easily and without expensive litigation if there is no future in it.
How Can DoNotPay Help You With Legal Documents?
You can write a relationship agreement yourself by using the guidelines above, making sure both parties sign it and have it notarized to make it legally binding.
We know that not everybody knows how to write a contract, but we're also aware of how much it costs to hire a lawyer to do it for you. This is why DoNotPay is here. We have templates and legal documents that can be customized to your needs, saving you time and money.
Getting the legal document you need is easy—all you have to do is:
Navigate to DoNotPay in your

Use the search bar to find the document you are looking for

Give us the details we need

Wait while we generate your customized document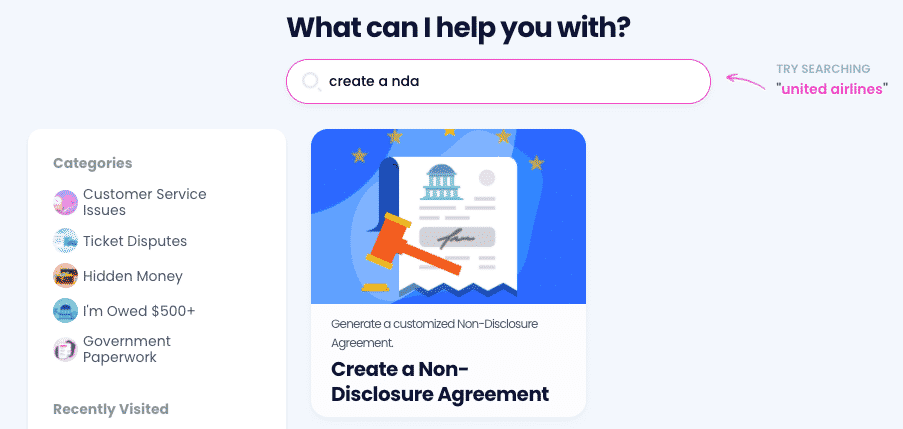 What Kind of Documents Can DoNotPay Provide?
The list is growing all the time, but here are some examples of what DoNotPay could help you with:
Business
Real Estate
Personal

Intent To Purchase Real Estate

Estoppel Certificate

Quitclaim Deed
Explore the Full Range of DoNotPay's Services
Don't let annoying bureaucracy stop you from exercising your rights or finding new opportunities. DoNotPay—the world's first robot lawyer—comes with a diverse portfolio full of practical shortcuts for:
Struggling with finances? Our app will help you manage unpaid bills, find and claim lost money in any state, or get college application fee waivers. 
Minimize Paperwork With DoNotPay
Writing letters, filing claims, sending requests—these chores are nobody's idea of fun. Thanks to DoNotPay, you can bypass these menial tasks with a few clicks in your browser. 
Our platform is full of useful tips and features for filing insurance and warranty claims, dealing with parking tickets, getting refunds and chargebacks, or writing harassment cease-and-desist letters. 
DMV offices don't have to be the place where hope goes to die. With DoNotPay, you will be able to schedule any DMV appointment without the nightmare of waiting in lines. While you're at it, you can check out our guides and practice tests for the best driving exam preparation!