Make Your Own Referral Fee Agreement
Do you direct lots of people to attractive deals? If the answer is yes, you can consider getting a referral fee for your services. 
Your knowledge and the network you have created can turn into an additional source of income or a profession. You should make a written agreement with a company you would be providing leads to.
DoNotPay can help you draft various legal documents and show you how to write contracts to safeguard your personal and business interests. 
What Is a Referral Fee?
A referral fee—also known as a finder's fee or referral income—is a flat-rate amount or percentage paid to an intermediary that found the deal and brought the interested parties together.
If you point a person's or a company's attention to the deal you are aware of, you should be compensated for that service.
Get Answers Before Setting Your Referral Fee
Here are some questions you will need to clarify for you or your clients before you agree on the referral fee:
| | |
| --- | --- |
| Question | Reason for Asking |
| Should you use a fixed or flat rate fee? | Choose if you would like to set a percentage of the deal or a flat-rate amount for your referral fee |
| Do you need to set a fee for the first job or all work? | Make sure you determine if you will charge your fee for the introduction only or all the work |
| When should you expect payment? | Stipulate if you would like to be paid at the start, middle, or end of the job. If your referral fee is high, you might need to set a payment timeline. Make sure to include a deposit to cover your operating costs |
Why Do You Need a Referral Fee Agreement?
A referral fee is a form of a reward or incentive you get for connecting a business with potential clients and business partners. Although some do not think an agreement is necessary for this kind of business arrangement, putting everything in writing could be a smart thing to do. 
All parties will have a better picture of the underway arrangement if you pinpoint all the terms in an agreement. You should also consider creating a referral fee agreement if you have ongoing cooperation with a particular company.
There are contract templates on the internet that you can use for drafting your referral fee agreement, but make sure to create one to meet your needs as best as possible. 
DoNotPay Creates Customized Contracts Efficiently
DoNotPay can help you prepare agreements for your future ventures. You can hire a lawyer, business analyst, accountant, or engineer to create a contract for you, but it can be expensive.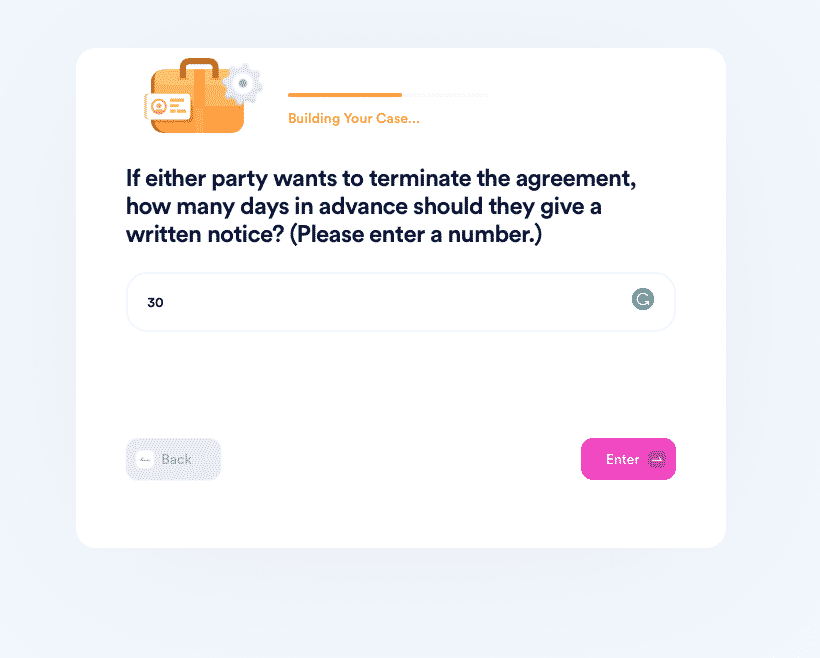 Instead of lawyers, you use our Standardized Legal Documents feature to create reliable contracts at a fraction of the cost. Here are a few documents we can customize to your particular requirements:
Choose one now and come back later for more as DoNotPay updates its database regularly.
Use DoNotPay To Protect Your Interests
DoNotPay can help you prepare various legally binding documents to safeguard your next project or deal. We will use our extensive database to generate contracts for your personal and business needs.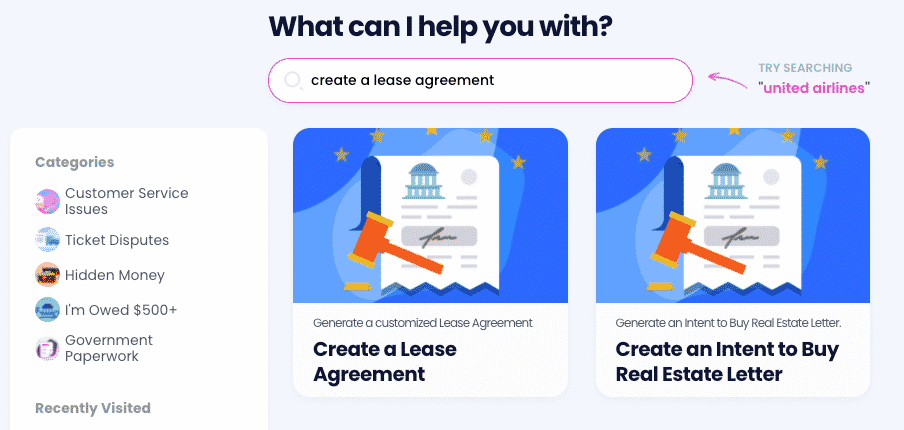 Here is what you should do:
Open DoNotPay in a

web browser

Enter the name of the document (for example, a

custody agreement

)

Give the necessary details to the chatbot (names, addresses, and other relevant info)
DoNotPay will use your data to create a contract to suit your specific situation. 
Referral Agreement Terms
You need to set the terms of a referral fee agreement. Negotiate with your business partner and agree on the fee and payment timeline. 
Some use a certain percentage of the total value of the agreed deal. The percentage can go from 5% to 35%. In some situations, your referral fee can be in the form of a gift. This is a common practice, especially if you fail to create an agreement in advance.
You should not mistake a referral fee for a service charge, which is an obligatory fee paid to a business or person when performing a service.
When To Use Referral Fee Agreements
If you attract lots of clients to a company, you should be paid for your services. To set the conditions of this business cooperation, create an agreement if you:
Have contacts and knowledge in a certain business area and want to introduce an employer and a potential employee or a buyer and a seller

Would like to buy a service or product but do not know who to turn to, so you decide to find a broker to secure that product or service for you

Have a service or product but are struggling to find clients, so you would like to pay an intermediary to connect you with customers
If you are an intermediary who refers clients and makes introductions successfully, you should create a referral fee agreement. In this case, you are the one to dictate the terms and conditions of the agreement. 
Why would you use your time, expertise, and contacts that could lead to successful deals and not get paid? In a lot of cases, these agreements are used in:
Real estate—for connecting a buyer and a seller of a property

Human resources—for introducing an employer to a potential employee or an

independent contractor

 
You need to set which party will pay for the introduction you have made. Plenty of businesses have their own agreements that they use with other intermediaries or brokers. If this is the case, you should review the agreement and add any necessary changes. 
DoNotPay Is Your Shortcut Through Bureaucracy
With our app, you don't have to spend hours figuring out how to request a refund, cancel a service, or book a DMV appointment. 
We take over all the hard work! Forget about waiting in a phone queue for hours in hopes of reaching a customer service rep. Our AI-powered app will call any company for you and ping you when a human appears on the other end of the line. 
DoNotPay also speeds up the process of filing insurance claims, claiming warranties, reducing property tax, and drafting various legal docs. 
Keep the Communication Lines Clear With DoNotPay
Do you know how powerful DoNotPay's virtual credit card is?
This super-smart feature can not only sign you up for no-risk free trials but can provide you with an alternative email address. You can test any service without giving out your real email, which will keep your inbox clean from spam!
If you have family or friends within the U.S. prison system, our app helps you get in touch with them quickly. 
We can also make sure you don't become a target of text and robocall scammers! Keep your phone number private and avoid this type of harassment by using our Burner Phone feature!
In case you need to fax a document, there is no need to search for the instruction manual on how to operate a fax machine. DoNotPay makes it simple to send online faxes anywhere!