Claim Your Rebates for Old Refrigerators With DoNotPay
Rebates are one of the best ways to get money back on appliances, especially those you're looking to replace. But did you know that hundreds of millions of dollars in rebates are left unclaimed every year? Rebates are available for so many things, including appliances, weatherization measures for your home, and cars/car procedures.
Even though getting money back with rebates seems simple, the lack of convenience tends to stop people from completing the process. Oftentimes, companies will require that you send in a letter and documentation to approve you for the rebate, and putting something in the mail requires time out of your day. There's also no guarantee that the letter will ever make it to its destination.
DoNotPay can help you claim rebates for old refrigerators very easily, without requiring you to leave the house or worry about postage for letters. Read on to discover if you're eligible for these rebates and learn how DoNotPay can help you claim them today!
What Are Rebates for Old Refrigerators?
Rebates for old refrigerators give you money back on appliances you've purchased in the past. If you have an old refrigerator you're looking to replace, checking to see if it's eligible for a rebate before you get rid of it is super important. While rebates for old and used appliances aren't usually very high, claiming them still puts money in your pocket that can be extremely useful for a rainy day.
How Do Rebates for Old Refrigerators Work?
When it comes to appliances, rebates are rather easy to come by, and rebates for old refrigerators are no exception. There are different programs that provide rebates depending on the model and brand of refrigerator you own. Even though the programs and their respective eligibility requirements are different, there are some things that stay consistent throughout the application process, including:
Providing details about the purchase through the receipt or proof of purchase.
Filling out an application to send in through the mail or submit online.
Giving out your personal information and potentially creating an account if the program requires you to do so.
How to Submit a Claim for Rebates for Old Refrigerators on Your Own
The process of submitting a claim for old refrigerator rebates is different depending on which model you own. Additionally, you can choose different companies to provide you with your rebate. Some of these companies will even come to your home and take your old refrigerator away, making the process of installing a new appliance even easier. Use this guide to help you as you apply for your old refrigerator rebates from these two popular sources:
Consumers Energy
Ensure that your appliance is eligible for the rebate. Requirements for this program include:

Energy-Star certified appliances only
Only Electric Customers are eligible.

Next, gather the information required by the application, including:

Your 12-digit Consumers Energy account number.
Your model number or retailer SKU, manufacturer, and retail name.
A digital copy of the sales receipt for the appliance, which shows proof of payment, equipment type, make, model, price, and date of purchase.

Apply for your rebate with the online application. Wait to receive your rebate following approval of your application. The maximum rebate you can receive with Consumers Energy is $25.

ComEd
Ensure that your appliance is eligible for the rebate. Requirements for this program include:

The applicant must be a current customer of ComEd residential delivery services.
The appliance must be Energy-Star certified.
The appliance must be greater than or equal to 7.75 cubic feet.

Then obtain a copy of the sales receipt for the product, which includes:

Product information.
Purchase price and purchase date.
Retailer business information.

After that, fill out the Energy Star Appliance Rebate Application, and send in your application and sales receipt copy by mail. Wait to receive your rebate following approval of your application. The maximum rebate you can receive with ComEd is $50.
Claim Rebates for Old Refrigerators Quickly and Easily with DoNotPay
Taking all the steps to ensure that you'll receive a rebate for your old refrigerator can be a hassle, and not everyone has the time to drop a letter off in the mail. DoNotPay simplifies the process of filing a claim for an old refrigerator rebate, and here's how:
1. Search rebates on DoNotPay and select the type of rebates offer you want to claim (is it for a car, electronic gadget, household appliance, etc).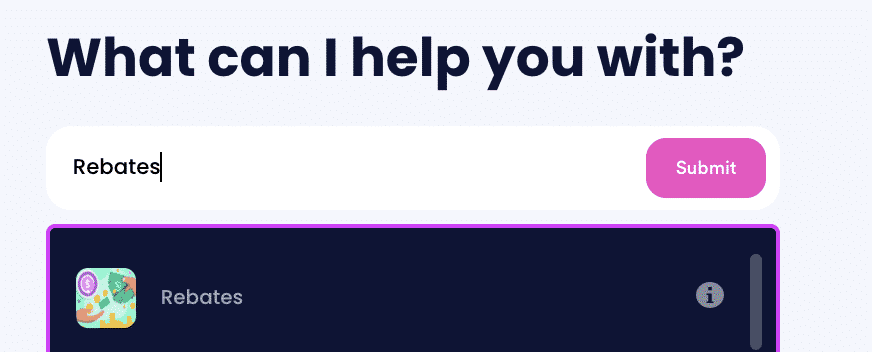 2. Tell us more about the purchase, including the product name, brand, serial number (if relevant), and whether you bought it online or in-person.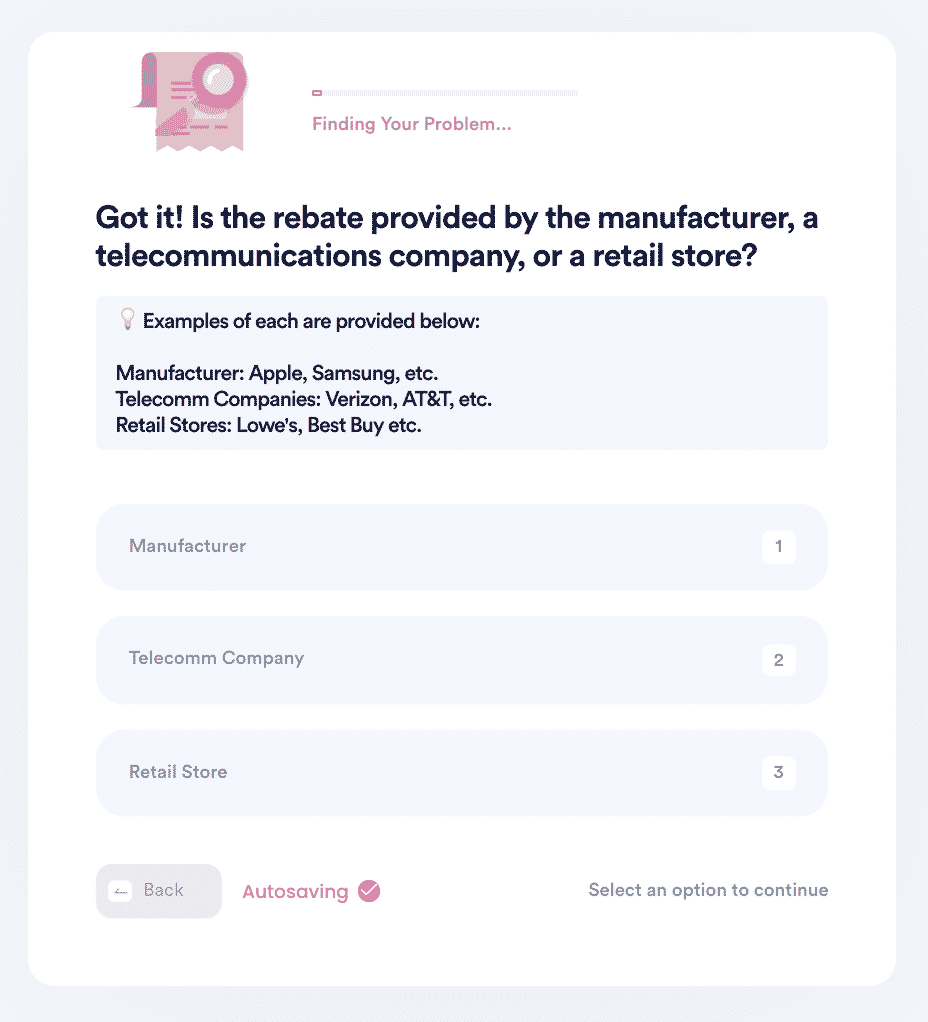 3. Select whether the rebate is online or mail-in. Upload your evidence documents, including receipts, and any necessary forms, and confirm your contact information.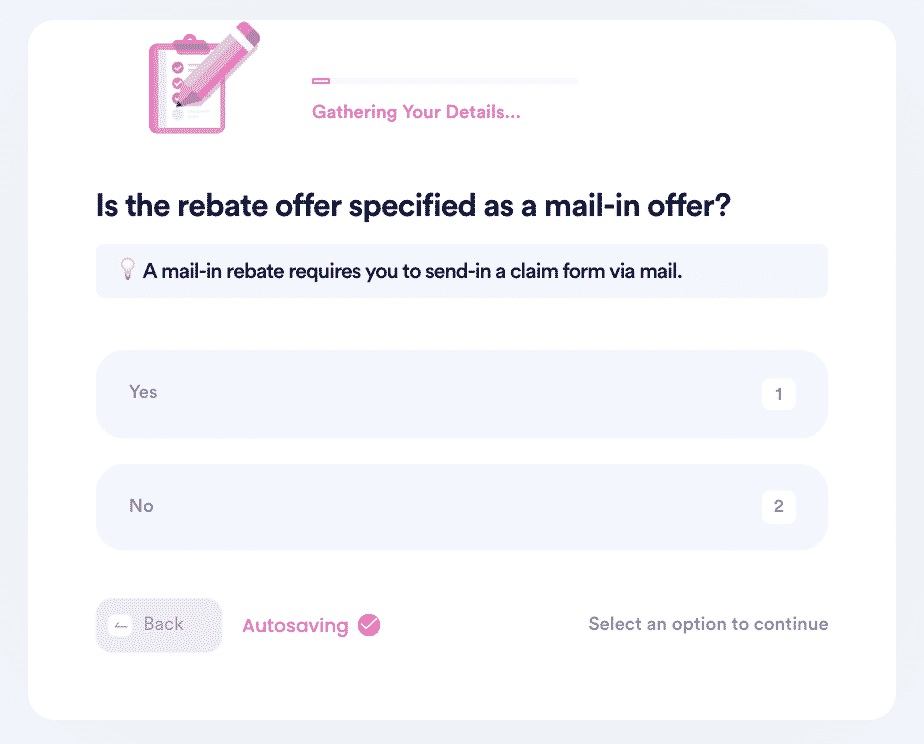 It's as simple as that! When you file your rebate claim with DoNotPay, you should receive your rebate check in the mail within 30 days.
What Else Can DoNotPay Do?
DoNotPay can help you get money back with rebates for many other products and services. Explore the links below to see how DoNotPay can help put money back in your pocket today!
Sign up for DoNotPay today to get started!