50 Ways To Leave Your Lover—Reasons To File for Divorce
However traumatic and difficult the process is, divorce is still an accident waiting to happen in any marriage.
Every state now offers no-fault divorces, so in many cases, there is no need to find a special reason to file for divorce.
DoNotPay takes a look at the top reasons to file for divorce and brings you the best tips on keeping the process easy, cheap, and as painless as possible!
Is Divorce on the Increase?
According to the Centers for Disease Control and Prevention, divorce rates across the U.S. are on the wane.
Measured as the number of divorces per 1,000 people, the national divorce rate developed as follows between 2010 and 2019:
| Year | Divorces & Annulments | Population | Divorce or Annulment Rate per 1,000 People |
| --- | --- | --- | --- |
| 2019 | 746,971 | 272,842,748 | 2.7 |
| 2018 | 782,038 | 271,791,413 | 2.9 |
| 2017 | 787,251 | 270,423,493 | 2.9 |
| 2016 | 776,288 | 257,904,548 | 3.0 |
| 2015 | 800,909 | 258,518,265 | 3.1 |
| 2014 | 813,862 | 256,483,624 | 3.2 |
| 2013 | 832,157 | 254,408,815 | 3.3 |
| 2012 | 851,000 | 248,041,986 | 3.4 |
| 2011 | 877,000 | 246,273,366 | 3.6 |
| 2010 | 872,000 | 244,122,529 | 3.6 |
No statistics are kept on the split between no-fault and at-fault divorces, but the majority of divorces are thought to be classified as no-fault.
What Grounds for Divorce Are Recognized by Law?
Most states recognize similar reasons for filing for at-fault and no-fault divorces.
The accepted grounds for divorce are generally as follows:
Divorce Type
Grounds
At-fault

Cruelty (the most common)
Infidelity or adultery
Desertion or abandonment
Conviction of a felony resulting in a jail term
Impotence or inability to perform sexually

No-fault

Irreconcilable differences
Irretrievable breakdown of the marriage
Certified insanity of one spouse

The first two reasons are interchangeable, depending on individual state legislation
What Is Behind These Reasons?
The grounds for divorce that are stated in divorce papers do not necessarily tell the full story.
In many cases, a plaintiff or a couple will choose the most convenient label for their divorce petition, while the real reason for wanting a divorce lies elsewhere.
According to a study by the Austin Institute for The Study of Family and Culture, the most common reasons for starting divorce proceedings are:
Infidelity—one or both spouses has an extra-marital affair
Financial difficulties—not having enough money causes friction
Breakdowns in communication—spouses lose the ability to solve problems by talking to each other
Perpetual arguments or incompatibility—minor or major bones of contention are constantly front and center
Physical deterioration of one spouse—long-term weight-gain or loss of attractiveness by one or both spouses
Expectations not being met by one spouse—one or both spouses fail to live up to the ideals of the other
Breakdown of intimate relations—sexual activity or intimate moments no longer play a part in the relationship
Imbalance or unequal rights—one spouse feels they are an unequal partner
Unpreparedness or immaturity—one or both spouses married too young or without adequate thought
Abuse—physical or mental abuse is part of the relationship
Whatever the reason for seeking a divorce, the best route is to end the marriage as quickly, painlessly, and inexpensively as possible so that both spouses can move on with their lives.
How Can You Keep Divorce Fallout to a Minimum?
Once you have decided that you have a valid reason for divorce, your best course of action is to get the process done and dusted as efficiently as possible.
Divorce can involve huge drains on your time, money, and mental health. The best route you should look for is the one that:
Ensures the process is finalized as soon as your local divorce laws allow
The best way to achieve this is to work with your spouse towards a no-fault, uncontested, or friendly divorce.
Some costs are inevitable, including:
Filing fees—These can range from $75 to $435, depending on where you live
Service costs—Serving divorce papers on your spouse usually costs around $50
Apart from these costs, your divorce does not need to be expensive if you and your spouse collaborate.
The most important item for you to work together on is setting up your divorce settlement agreement.
How To Set Up the Perfect Divorce Settlement Agreement
Your divorce settlement agreement is the deciding factor in your divorce being classified as uncontested.
The agreement is a legal document that sets out how your responsibilities should be divided after your divorce, including:
If you can present a comprehensive settlement agreement to the court before your case reaches trial, you should be able to finalize your divorce out of court and in the shortest possible time.
You can use the following resources to set up your divorce settlement agreement:
Lawyers
Online services
DoNotPay
Lawyers
You and your spouse can hire attorneys to negotiate and draw up your settlement agreement, but your costs may explode.
Lawyers charge up to $400 per hour and, often, a hefty upfront retainer. The total cost of letting lawyers set up your settlement agreement can easily exceed $4,000.
If you and your spouse need help ironing out minor details in your agreement, you could consider using a mediation service as an alternative. A trained mediator can help you navigate face-to-face negotiations with your spouse at a fraction of the cost of a lawyer.
If the two of you agree on everything, a lawyer could be a waste of money.
Online Services
Many companies offer online settlement agreement templates for you to fill out.
You should be wary of this solution, though—many of these templates are too generic to cover your exact needs, and some may even be inadmissible under your state's legislation.
DoNotPay
DoNotPay can solve these problems.
Using our service, you can create a watertight and comprehensive document to your exact specifications with zero lawyer fees involved!
DoNotPay Helps No Matter What Your Reason for Divorce!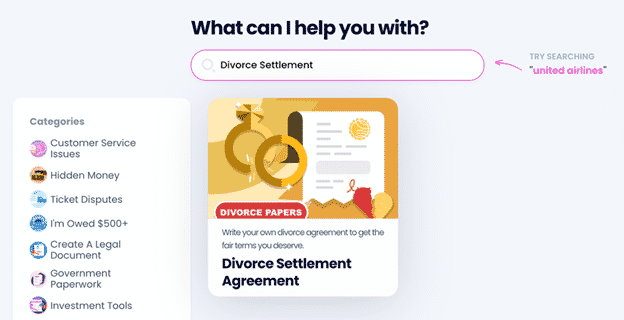 Whatever has led to you wanting a divorce, we are here to help you through it!
Our Divorce Settlement Agreement feature is designed to give you the document you need to keep your divorce quick, cheap, and hassle-free!
We can generate a settlement agreement that ticks all the boxes in a few clicks—all that you need to do is sign it together with your spouse.
To set your agreement up, here's what you need to do:
Sign up with DoNotPay in your web browser
Click on our Divorce Settlement Agreement feature
Fill out the details of your agreement with your spouse
DoNotPay will handle the rest—once we have collected all the points you want, we will create your agreement in no time. You can sign it together with your spouse and have it notarized.
Even if you don't know where to find a notary, there's no need to worry—our online notarization service can get your documents signed and sealed in a flash!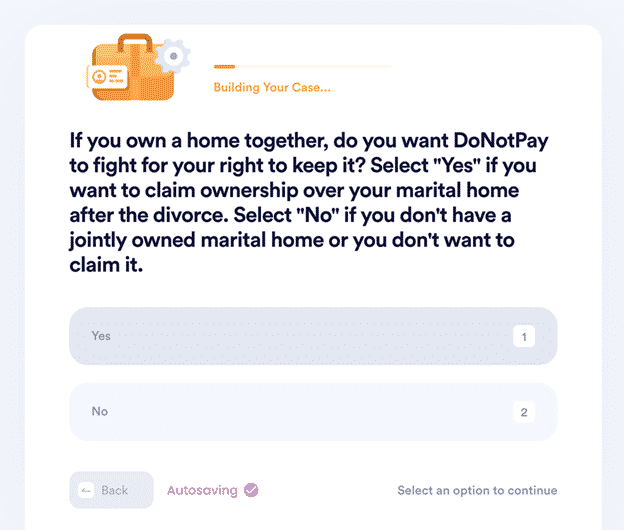 What Other Issues Can Our App Solve?
DoNotPay can support you through various burdensome procedures and turn them into a breeze! Here's a table showing a tiny part of our extensive offer:
| DoNotPay Can | Services |
| --- | --- |
| Create various documents | |
| Protect your safety and privacy | |
| Get your money back | |
DoNotPay Is Your Ticket to Simpler Life
Don't bother going through complicated tasks alone—we are here to take care of them! Seek our help if you want to get in touch with customer service instantly, fax anyone online, or get your documents notarized. Besides providing these amazing services, DoNotPay can make preparations for your travel adventures by assisting you in getting passport photos at home and obtaining tourist visas.