Follow This Simple Guide To Write Your Real Estate Sales Agreement in PA
Buying a new home, as much as it's exciting, can be stressful. The most important document you'll need is the real estate purchase agreement. DoNotPay can help you write this legal document in no time.
If you're selling your home in PA, DoNotPay can help with that too! We assist you in drawing up a well-written real estate sales agreement in PA in no time!
What Are Real Estate Sales Agreements?
A real estate purchase and sales agreement is a legally binding document entered into by two or more parties. The main parties are a buyer and a seller. This document records the transaction of real estate from one person to another.
The real estate sales agreement contains terms and conditions for the buyer and seller to follow during the property transaction. There are four types of real estate contracts:
Real Estate Assignment Contract

Power of Attorney
Real Estate Sales Agreement in PA Explained
When a buyer fills out and signs a purchase and sales agreement in Pennsylvania, they are submitting an offer. Be sure to review the terms of your offer in detail so as not to make any mistakes. You can go over the agreement with your agent.
When you submit your offer, all you need to do is wait for the seller to countersign it. This is when the agreement becomes legally binding.
What Are the Contents of a Real Estate Sales Agreement in PA?
Some of the most important contents of the real estate sales agreement in PA are listed in the table below:
| | |
| --- | --- |
| Section | Details |
| Buyer's name | Full name of the buyer |
| Seller's name | Full name of the seller |
| Brokerage and agent's names | If you're purchasing your home with the help of a broker or a real estate agent, this section must contain their names |
| Purchase prices | The predetermined price of the property that you might be able to negotiate with the seller |
| Earnest money | This section contains the amount of money the buyer gives to the seller to show good faith and honest intention of buying the house. You may not get this money back if you breach the agreement |
| Seller's assist | The seller's assist is a feature of mortgage loans, which may not be applicable to your specific case. The clause helps the buyer mortgage a part of the closing costs |
| Closing date | The exact date of closing the deal and the amount of the closing costs |
| Inspection contingency | The inspection contingency allows the buyer to check out the property before signing and closing the deal |
| Mortgage financing contingency | This contingency allows the buyer to back out of the contract if they're unable to get a loan to buy the house |
| Tenant occupied addendum | This section might not be applicable to your agreement. If this section is included in your contract, it might mean that you can't check out the property because it's occupied by a tenant |
| List of inclusions or exclusions | The furniture that stays on the property, for example, a chandelier, a couch, a fridge, etc. |
Real Estate Sales Agreement in PA—Required Disclosures
PA law requires the seller to provide the potential buyer a signed and dated copy of a property disclosure form. The property disclosure form must contain specific matters that are related to the condition of the property.
A seller isn't liable if they aren't aware of a defect or damage to the property. The specific information that must be disclosed to the buyer is listed below:
The time period during which the seller occupied the property

Roof

Basements

Termites or wood destroying insects, dry rot, or pests

Structural problems

Water and sewage systems or service

Any remodeling and structural changes to the property

Plumbing system

Heating and airconditioning

Electrical system

Appliances and furniture included in the sale

Soils, drainage, etc.

Hazardous substances

Potential legal issues that might affect the buyer's decision
DoNotPay Drafts Your Real Estate Documents in Under Five Minutes
Creating real estate documents by yourself can be complicated and difficult. You might need legal assistance, and not everyone can afford to hire a lawyer.
DoNotPay is the world's first robot lawyer, and we can help you create your real estate documents in three simple steps. All you need to do is sign up for DoNotPay! Our platform can help you create various other legal documents—here are some of them:
Business Contracts

General Business Contract

Real Estate Agreements

Intent To Purchase Real Estate

Residential Lease Agreement

Quitclaim Deed

Other Legal Documents

Promissory Note

General Affidavit

Child Care Authorization Form
If you don't find the contract you need, keep in mind that we constantly update the list. Check back in with us to see which documents we've added!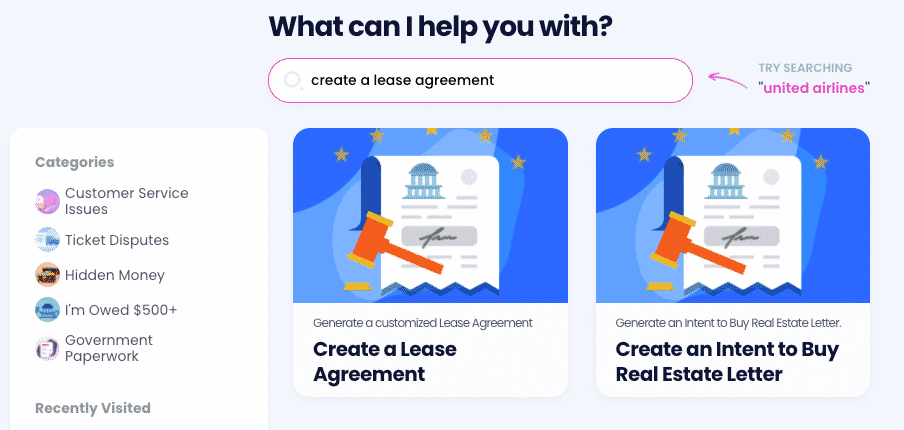 How To Use DoNotPay To Write a Real Estate Sales Agreement in PA
To create a real estate document with DoNotPay, you need to sign up for our platform and follow the steps below:
Type in the name of the document you need

into the search bar

Provide details about your agreement to our chatbot

Download your document
That's it! These three steps are all you need to do to get a perfectly written legal document in mere minutes!
If you need your document notarized, DoNotPay has the perfect product for that, too!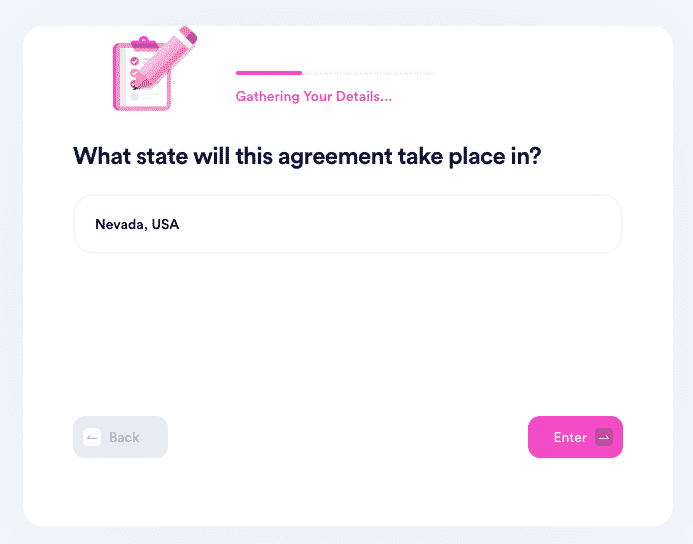 Use DoNotPay's Features to Your Advantage!
DoNotPay offers a myriad of helpful services you can use to resolve your everyday hurdles. 
Do you need help paying bills or finding and claiming missing money? Are you interested in applying for clinical trials in your area? We can help you solve these and many more issues in no time!
Here are some other problems you can handle effortlessly with our help:
Hiring a Lawyer Can Cost a Small Fortune—Rely on DoNotPay Instead
If you're on a tight budget and can't pay a lawyer to help you create legal documents, file a claim in small claims court, or handle stalking and harassment, DoNotPay has a solution for you. 
Our app will help you create various documents, including child travel consent forms and complaint letters for a problematic neighbor. 
Are you a victim of a crime and need help applying for reimbursement of your crime-related expenses? You can sign up for DoNotPay and allow us to handle your crime victims compensation on your behalf.
DoNotPay can also connect you with an online notary and enable you to get your documents notarized from the comfort of your home.