Drafting a
Real Estate Referral Fee Agreement
Without a Lawyer!
Figuring out how to create a real estate referral fee agreement becomes a thing of the past once DoNotPay steps in! You don't have to torture yourself with legal terms any longer because we break them down for you. Sign up for DoNotPay for the comprehensive guides to drafting legal documents, and let us generate various contracts for you!
The
Real Estate Referral Agreement
—How Does It Work?
A real estate referral fee agreement is a contract signed by two or more real estate agents who want to refer clients to each other in exchange for a certain fee.
The agents use a referral fee agreement when one real estate professional cannot meet their client's request. The request may be outside of the agent's domain, or the agent doesn't offer the service that the client needs.
This contract is beneficial for both the client and the agent. The agent will earn some money from the referral fee, and the client will get the service they seek from another reliable professional.
Understanding the Real Estate Referral Fee
The real estate referral fee is the amount paid to real estate agents as compensation for referring clients to other professionals from the industry. The standard referral fee is around 25% of the gross commission, but it is not set in stone.
Why Is the
Real Estate Referral Agreement
Beneficial?
Having a written and legally binding real estate referral agreement is always a good idea.
The agreement will cover all the essential aspects of the business at hand, including the duties and obligations of everyone involved. That way, nobody will be confused about what to do, and you can avoid the obstacles in closing lucrative deals.
It will also help ensure that you get paid for referring potential clients or compensate another person for sending a client your way.
In case of any claims, a valid agreement can be used as proof in court and help resolve the disputes.
What To Include in Your
Real Estate Referral Fee Agreement
Make sure your real estate referral fee agreement includes all crucial sections by following the list below. Here's what you must incorporate:
Referring source

—The details of the person who refers the client, including their name, address, contact details (phone number and email), and any other relevant info about them

Receiving agent

—Information about the receiving agent, including the name and location 

Referral fee

—Specifics regarding the referral fee, like the amount, currency, and payment date

Agreement term

—The start and end date of the agreement

Contact details of the referred client

—The name, address, phone number, email address, and other important details about the referred client
Once you finish writing all the above-mentioned items, the parties involved must sign the document.
Should You Get the
Real Estate Referral Agreement
Notarized?
Getting the real estate referral fee agreement notarized is optional. The agreement will be valid and legally binding once the parties sign it, but notarizing it can prove helpful if any disputes arise.
You can get any contract, including the real estate referral agreement, notarized online in no time! DoNotPay can help you schedule a virtual meeting with a remote notary in minutes, and you'll get your documents notarized without leaving the house!
DoNotPay Draws Up Various Agreements in Your Stead!
Why bother with creating agreements when you can have DoNotPay draw them up for you in record time? We offer a super easy contract-generating tool. Here is how it works:
Enter the

name of the agreement

you want us to draft

Provide additional info about the contract
Our app will draw up your contract instantly! Get all the parties to sign it, and you are finished.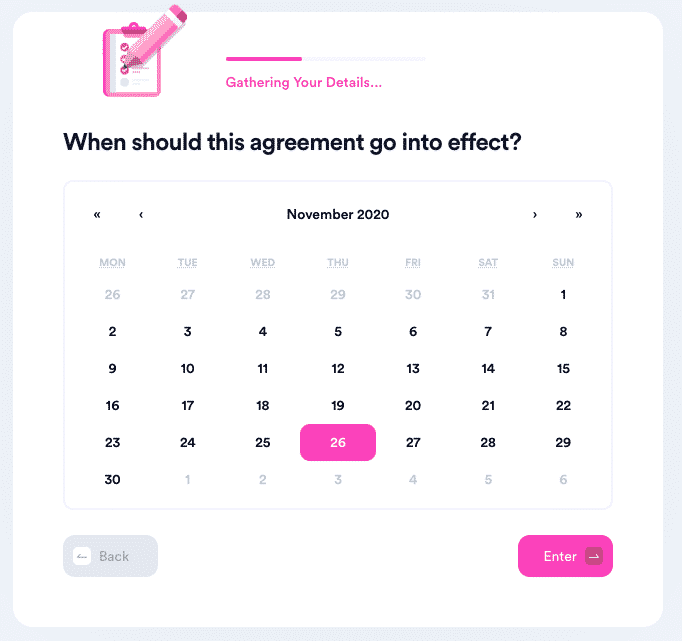 DoNotPay generates the following agreements on your behalf:
Business Agreements
Other Agreements

General Business Contract

Intent To Purchase Real Estate

Estoppel Certificate

Quitclaim Deed

General Affidavit

Promissory Note
Get DoNotPay's Practical Guides to Numerous Contracts
Drafting the agreements listed above is not all we can do for you! Forget about wasting time on unreliable contract templates found online and choose the easier option instead!
DoNotPay provides you with step-by-step guides to the most sought-after contracts, including the:
| | |
| --- | --- |
| Real Estate Agreements | Other Agreements |
| | |
Get Back at Greedy Corporations With DoNotPay
How many times have you tried reaching out to an airline regarding your canceled flight? Did you ever spend hours trying to contact customer service reps only to be refused your refund request?
Big companies tend to make certain processes complicated for their customer in hopes they would give up on pursuing their goals.
This is why your warranty claims often get denied the first time or why canceling a gym membership can be an administrative hell.
Our AI-powered app is here to help you sort these problems out.
Whether you're trying to file an insurance claim, schedule your driving test, start a free trial without disclosing your payment info or a phone number, or get access to public records, we've got you covered.
DoNotPay Is the Virtual Assistant You Need
DoNotPay is the first robot lawyer in the world created to simplify complex tasks. We can help you with anything from appealing your parking citations to filing lawsuits in small claims court.
In case you need to save up some money, our app will show you how to get an extension on your bill payments, sign up for paid clinical trials, or avoid paying your college application fees.
DoNotPay can also report robocallers, text spammers, and email phishing attempts, and real-life stalkers with a few clicks.