The Real Estate Purchase Agreement With Seller Financing Explained
Purchasing a home is a major milestone and a huge investment. Not many people can afford to cash out and buy a property without taking out loans. Among other options, you can opt for seller financing to help alleviate some of the financial strain of buying a home.
This article will break down the real estate purchase agreement with seller financing and answer any questions you have about it. We can also help you draft numerous legal documents with the help of our AI-powered app.
What Does Seller Financing Mean?
Seller financing or owner financing refers to the property owner lending money to the buyer to purchase the owner's property. The owner can finance all or part of the purchase and receive payments in installments with an interest rate or another type of agreed payment.
Check the table below for an overview of different types of owner financing:
| | |
| --- | --- |
| Seller Financing Types | Brief Explanation |
| | Land contracts don't pass the full title to the buyer but give the buyer a temporarily shared ownership. The buyer needs to make payments to the seller and receive the deed after the final payment |
| | The seller leases the property to the buyer and agrees to sell it to them in an agreed-upon time frame |
| All-inclusive mortgage or all-inclusive trust deed | The seller carries the mortgage for the entire balance of the property cost |
| Junior mortgage | A junior mortgage means a second mortgage. When the seller doesn't want to carry the entire mortgage, they can opt for a junior mortgage |
| Assumable mortgage | This type of mortgage gives the buyer a chance to buy a home by taking over the seller's mortgage. Certain loans, such as the Veterans Affairs (VA) loans, are assumable |
What To Consider Before Entering Into an Owner Finance Contract
Choosing seller financing when selling or purchasing a property is a serious endeavor that comes with risks. Before you draft and sign an agreement, consider the following details from both points of view:
Buyers

Sellers

Compare the seller-financing option with a regular mortgage

—the terms may not be that different

Consider the interest rates of a

bank loan

and payment flexibility

Prepare a pitch for the seller

—if you haven't qualified for another loan or mortgage, you may need to present your case in the best possible light to get the seller to agree to the seller-financing option

Include the seller-financing payment method as one of

the reasons why potential buyers should choose your property
Consider involving a third party if you don't want to receive seller-financing payments for a long time

—you can find a lender or an investor who can pay out the entire cost to you, and then the buyer would continue to send payments to this third party

Seek out a tax expert and/or a financial planner

to make sure you're lowering potential risks
What Should a Simple Owner Financing Contract Template Cover?
Penciling in the right clauses and terms when writing a contract is always important, especially when it comes to owner-financing contracts that carry a lot of weight due to the amount of money involved.
Here's what a real estate purchase agreement with seller financing should include:
Buyer and seller details

Financial terms:

Agreed-upon sales price

Non-refundable deposit amount

The remaining loan balance

Payment methods—interest rates, monthly fees, down payments, etc.

Payment schedule and due dates

Buyer responsibilities—financial obligations, property maintenance, and expense coverage

Loan default terms

Remedies and consequences of a breach of contract

Signatures
A seller-financing contract typically includes a promissory note, which DoNotPay can generate for you, stipulating the buyer's promise to pay the seller the agreed amount of money.
Create Legal Documents With the Help of DoNotPay
Aside from the real estate purchase agreement, you may need additional real estate or other contracts that DoNotPay can write in your stead. Check out how to use our Legal Documents feature to create an unlimited number of legal documents:
Visit DoNotPay in a

web browser

Enter the type of legal document you want the app to create

Answer a few questions to make the document as detailed as possible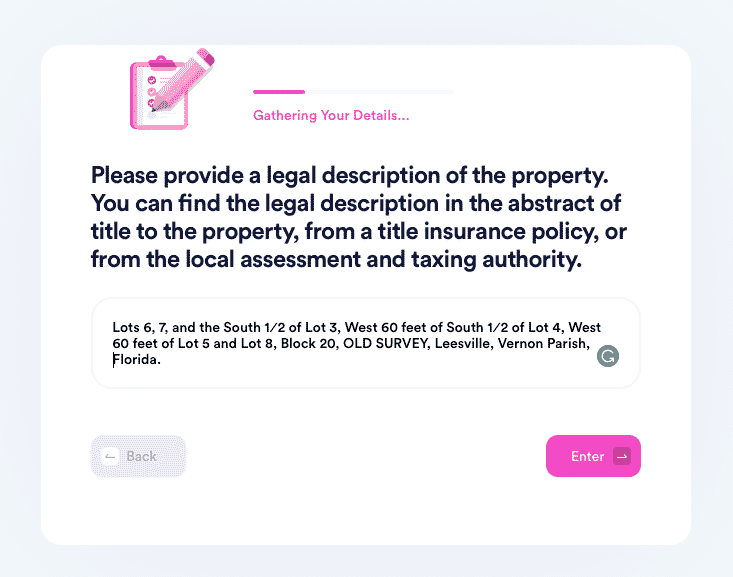 Your airtight agreement will be ready for review in under five minutes! You can easily e-sign it and send it to the other party via fax, thanks to our Online Fax feature. Check whether you also need to notarize it, and we'll also help you with that!
What Documents Can DoNotPay Generate for Me?
Why download a contract template when you have the world's first robot lawyer at your disposal? Creating documents with our app is both fast and reliable! DoNotPay can generate the legal document of your choice in a matter of minutes without compromising its quality and accuracy. We can draw up the following documents for you:
Type of Documents
Legal Documents

Real Estate

Residential

lease agreement

Estoppel certificate

Quitclaim deed

Intent to purchase real estate

Business

General business contract

Miscellaneous 

General affidavit

Promissory note
Tired of Companies Not Taking You Seriously? Use DoNotPay To Put a Stop to It
If you're sick of companies that violate your consumer rights, DoNotPay is here to help. If you're struggling with reporting robocalls, requesting a refund, claiming any type of warranty, scheduling a DMV appointment, reporting spam text messages, or anything else, our robot lawyer will help you sue any firm or individual in small claims court.
With DoNotPay, you can also sign up for any free trial, cancel any subscription, avoid getting charged after your free trials end, and much more!
Want Your Money Back? DoNotPay Is Here To Help
Are you looking for your missing money? Do you want to get a refund for a delayed or canceled flight? Are you trying to flip the script on illegal robocalls and earn money off them? DoNotPay will assist you in dealing with any of these pesky issues!
We can also help you bypass phone number verification, sign up for clinical trials stress-free, ace any government test in a jiffy, and block spam emails for good.