A
Real Estate Purchase Agreement in Michigan
—To Make or Not To Make?
Buying a house or any other property is a huge step, and you should be well-informed and confident before you take it. What is a real estate purchase agreement? What is the best way to draft this document? What should I include in my purchase agreement? We answer all of those questions and more!
to get the scoop on everything related to the real estate purchase agreement in Michigan, and learn how to draft one in no time!
Useful Info About the
Purchase Agreement in Michigan
Purchase agreements in Michigan are used as contracts between the buyers and the sellers of real estate. The agreements outline the details and specifics of the transaction. 
Notarizing the real estate agreement isn't mandatory, but notarization is a good way to strengthen your contract. Should any issues arise and the case is taken to court, a notarized agreement can be especially useful.
One of the many perks that come with using DoNotPay is that our app can help you schedule a meeting with a remote notary within minutes!
Tips for Drafting a
Michigan Real Estate Purchase Agreement
Hassle-Free
Creating a real estate purchase agreement is super stressful and difficult. It takes a lot of time, attention, effort, and research. We jump in to help with a ready-made guide for you to follow and draw up your purchase agreement stress-free! You can also skip the hassle when writing other agreements by signing up for DoNotPay that will draft your legal documents for you! We draw up numerous agreements based on the info you provide to our chatbot in only a few minutes.
Here's what you must include in your real estate purchase agreement when you're writing it on your own:
Include

What To Do

Names

State both your and the seller's full name in the first section of your agreement

Addresses

After you write down the names, ask the seller for his or her address and include it in the agreement

Legal Description

Specify the legal description of the property, meaning its precise geographical location and boundaries

Price and Payment Terms

Say what the purchase price of the property is and include the details regarding the payment, such as the payment:

Title Transfer

You should explain how the title will be transferred and state details such as:

Date of closing

The deed type used to transfer title (usually a warranty deed)

Dates

Include the date and say when you (the buyer) will take possession of the property

Personal Property

If there is any personal property included in the sale, such as furniture or appliances, list all such items in this section

Property Taxes

Decide whether and how property taxes will be prorated

Closing Costs

Who pays the closing costs—the buyer or the seller? Reach an agreement on this and state it clearly

Contingency

Discuss what the contingencies that let a party exit the agreement are and explain them

Signatures

The last step is for both you and the seller to read the agreement carefully and sign it
DoNotPay Drafts Your Agreements for You!
When research gets too overwhelming, and you wish for an easy way out, DoNotPay comes to the rescue! In only a few taps, you can have your agreement drafted and ready for signatures! It takes almost no time or effort, and all there is to do is follow three quick steps to gain access to your contract. This is how:
in any web browser

Type in the

name of the document

that you want

Supply additional details, such as names and addresses
And you're done! DoNotPay creates your agreement that you can either print or download. Don't forget to sign the agreement and get the other parties to do the same.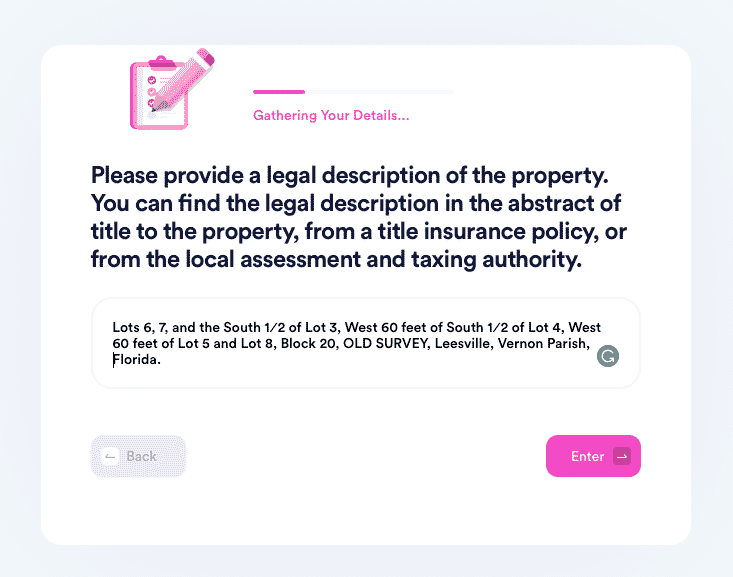 Check out the list below if you are wondering what contracts and agreements DoNotPay can draft in your stead:
General Business Contract

Estoppel Certificate

Quitclaim Deed

General Affidavit

Promissory Note
Learn How To Write Other Legal Documents on Your Own!
With DoNotPay, you can get help with more than drawing up the documents stated above! There is no shortage of agreements we can help you with by providing you with useful and accurate info and step-by-step instructions. 
If you couldn't find the contract you were looking for, you should check if we have the template or the guide you need. Some of the documents you can learn about in our learning center include:
Get Back at Greedy Corporations With DoNotPay
How many times have you tried reaching out to an airline regarding your canceled flight? Did you ever spend hours trying to contact customer service reps only to be refused your refund request?
Big companies tend to make certain processes complicated for their customer in hopes they would give up on pursuing their goals.
This is why your warranty claims often get denied the first time or why canceling a gym membership can be an administrative hell.
Our AI-powered app is here to help you sort these problems out.
Whether you're trying to file an insurance claim, schedule your driving test, start a free trial without disclosing your payment info or a phone number, or get access to public records, we've got you covered.
DoNotPay Is the Virtual Assistant You Need
DoNotPay is the first robot lawyer in the world created to simplify complex tasks. We can help you with anything from appealing your parking citations to filing lawsuits in small claims court.
In case you need to save up some money, our app will show you how to get an extension on your bill payments, sign up for paid clinical trials, or avoid paying your college application fees.
DoNotPay can also report robocallers, text spammers, and email phishing attempts, and real-life stalkers with a few clicks.