Everything You Need To Know About Composing a Real Estate Purchase Agreement in Indiana
Have you finally found a house in Indiana you would like to call home? Draw up a real estate purchase agreement and get your dream property.
Creating legal documents can be confusing unless you're a lawyer or someone who knows how the law works. Are you worried that you don't know how to write a contract? We have got you covered! DoNotPay can teach you everything you need to know about creating a real estate purchase agreement in Indiana.
What Is a Real Estate Purchase Agreement?
A real estate purchase contract regulates the terms of buying a property. It establishes the duties and responsibilities of the seller and buyer during the sale.
Real estate purchase contracts can be used to buy any type of real property provided one of the following conditions is met:
The property must have a previous owner
Construction must be finished before the contract's closing date
There are several alternative names of this agreement, such as:
A real estate sales contract
Home sale contract
Agreement to purchase real estate
Workings of a Real Estate Purchase Agreement in Indiana
There are four essential elements for a contract to be valid in Indiana:
Consideration—The seller considers exchanging their property for the buyer's assets or money
Offer—The buyer makes an official offer to buy the property
Acceptance—The seller accepts the offer. Both parties set out specific terms and conditions for the purchase
Legal capacity—Both parties must be above 18 and legally and mentally capable
Make sure that your real estate sales contract in Indiana meets the above criteria.
What Should a Real Estate Purchase Agreement in Indiana Cover?
Every real estate purchase contract is unique. If you're creating the legal document yourself, check out contract templates online to figure out how to structure your contract. Try not to copy-paste the entire document because free templates are often outdated and don't give you the option to customize the agreement. Here are a few essential provisions every real estate purchase contract should have:
Provisions
Brief explanation
Information about the buyer and the seller

Names
Addresses
Contact details
Date of birth

Purchase price

Precise price
Payment method
Payment schedule
Statement about whether the amount will be paid in full or in installments

Property details

Location and size
Condition of the property
Included appliances and fixtures
Defects, if any

Closing costs

Home inspection fees
Attorney fees
Credit reports
Escrow deposits

Earnest money
A percentage of the actual price to ensure the buyer's interest. It is held in escrow and goes to the seller even if the buyer backs out
Liabilities

What the duties of both parties are
What happens if the seller backs out
How to proceed if the buyer defaults

Signature
Signatures of both parties to show they have read and understood the terms and conditions
Are There Any Required Disclosures During Property Sale in Indiana?
Sellers in Indiana are required to fill out a real estate sales disclosure form. It is a checklist to disclose any defects or damages to the property and must be given to the buyer before signing the contract. Sellers must release the following information:
Any material defects in the house structure
Issues with major systems
Defects in the included appliances and fixtures
If the house served as a meth lab, it is the seller's responsibility to decontaminate the premises before selling it
The seller does not need to hire an external inspection team. Indiana law requires them to disclose only the defects they know about.
Are There Any Disclosure Exemptions?
The seller is not obligated to disclose anything if:
The transfer is from a husband to the joint custody of both husband and wife
A married couple transfers the property to their living trust
Parents transfer the ownership title to their children
What Happens if a Party Breaches the Contract?
If both parties sign the document, it automatically becomes legally enforceable. If you back out without notice or reason, you will violate the contract and be subject to penalties, including lawsuits.
If you want to avoid complicated court proceedings but want to terminate the contract, you can make an out-of-court deal with the other party.
DoNotPay Can Be Your Contract Generator
Creating agreements and other legal documents can be quite a hassle when you don't know the first thing about the legal system or jargon. You could always hire a lawyer to help you out, but they can be super expensive. Lucky for you, there's a better alternative! Use DoNotPay to generate your contract within minutes!
Here is how it works:
Type the name of the document you need
Answer a few questions from our chatbot
Download, print, and sign your personalized agreement
When you draft your document, check if your state laws mandate for an agreement to be notarized. If they do, let DoNotPay help you with this task as well!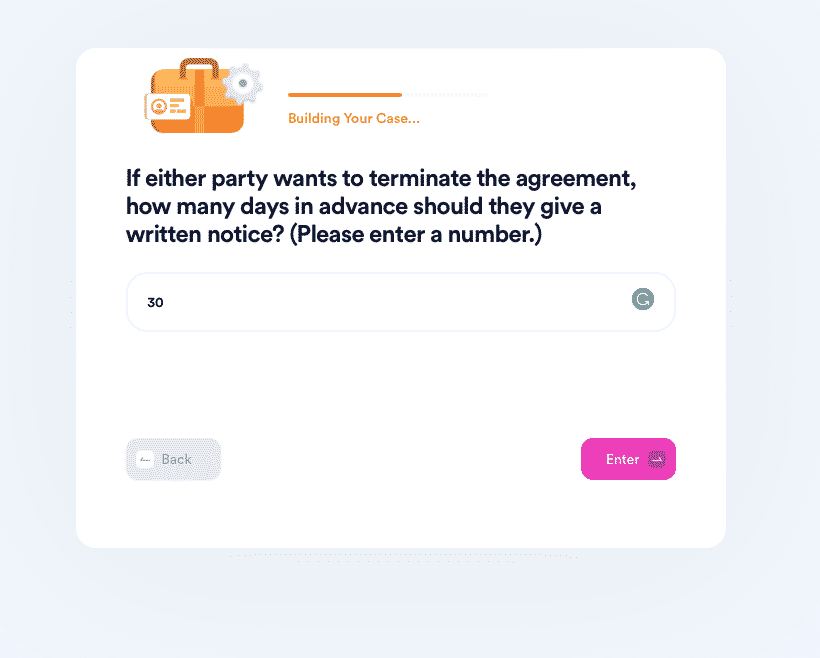 At the moment, we can generate the following documents:
General Business Contract
Intent To Purchase Real Estate
Quitclaim Deed
General Affidavit
Promissory Note
Child Care Authorization Form
DoNotPay is working diligently to add more options to the list.
What About Other Contracts?
If you want to find out more about legal documents, DoNotPay's learning center overflows with helpful articles about:
When You're In Over Your Head, DoNotPay Swoops In
With your virtual assistant extraordinaire, many tasks will be a breeze to deal with.
No fax machine? No problem! Use DoNotPay to send faxes online. If you don't want to waste time waiting in lines or on the phone, we come to the rescue with many of our products that will help you:
What Else Does DoNotPay Have in Store for You?
You can count on our assistance when you want to get rid of:
Our app has even more to offer—try out our hacks that will save you money and do the heavy lifting in numerous tasks: