Should You Use a Real Estate Partnership Agreement Template?
A real estate partnership agreement can be quite beneficial if you know what to include in the legal document. Do you want to learn how to write a contract for a real estate partnership? We've got your back! DoNotPay can help you understand how real estate partnerships work and whether a generic real estate partnership agreement template is the best option for you.
What Is a Real Estate Partnership Agreement?
A real estate partnership agreement is a contract between two or more real estate entrepreneurs to operate professionally in the industry. It defines the terms and conditions of their collaboration to ensure there is no conflict of interest, provides legal protection, and prevents disputes if things do not go as planned.
The agreement formalizes the duties and responsibilities of both parties, division of profits and losses, and distribution of assets. Although verbal real estate partnership contracts are legally binding, it is best to have them in writing to ensure mutual legal responsibility. 
Since both parties are obligated to share liabilities, the contractual agreement must be completely transparent. When drawing up the contract, all parties should consult lawyers individually to create a fair deal for all.
Why Do You Need a Real Estate Partner?
Real estate partnerships are common and advantageous because:
All parties can pool their funds to increase the amount of capital. Even if they have fewer resources individually, together, they can reap the benefits of combined assets

You can divide responsibilities, take on more projects, and expand your professional networks

Partners have the flexibility to distribute profit and losses

You get different perspectives on managing the business and closing potential deals
Although there are many advantages to a real estate partnership, you also need to consider that every person has a different way of operating, which may lead to misunderstandings and disputes. The best way to prevent these potential issues is a detailed and transparent agreement.
How To Select an Appropriate Partner?
The most important step to a real estate partnership is finding a suitable business partner. Before you decide, take your time to conduct extensive research because selecting an unreliable partner can be disastrous for your business. You should consider the following before choosing an associate:
Make sure you trust a person completely before onboarding them

Your partner should have the same level of investment. You'll be setting yourself up for failure if you and your partner disagree on fundamental decisions and strategies
Is a Real Estate Partnership Contract Legally Binding?
The short answer is yes. Ideally, the contract should have a clause for remedies if there is a breach. If it does not have such provisions, one partner can take legal action against another or nullify the contract.
The consequences of agreement violation can range from paying compensatory damage to removing the guilty partner from the partnership. 
Even if there is a breach of contract, you might have problems making investment decisions or business strategies without the consent of your partner. 
How To Create a Real Estate Partnership Agreement 
When creating a real estate partnership agreement, you should consult a lawyer to ensure a document is valid and all-encompassing. If hiring a lawyer is a major expense for you, you can also look for contract templates online. 
A real estate partnership agreement typically contains the following elements:
Names of all partners getting into the contract

A detailed list of duties and responsibilities of each partner

Capital and ownership interest

Percentage of profit and losses allocated

Expected time commitment

Division of labor

Procedure to follow in case the partnership ends due to conflict, bankruptcy, or death

Dispute and conflict resolution

Voting rights

Signature of all parties
Partnership agreements can also include terms and conditions for adding new partners or existing ones.
In some cases, the agreement needs to be notarized by a notary public to ensure all parties are signing the contract of their own free will and not being coerced into the deal. 
Create Legal Documents Using DoNotPay
Do you have legal documents you need to draft but have absolutely no idea where to start? DoNotPay can create them for you in a few simple steps:
Select the document you want to create

Answer our questions to create a personalized document

Print and sign it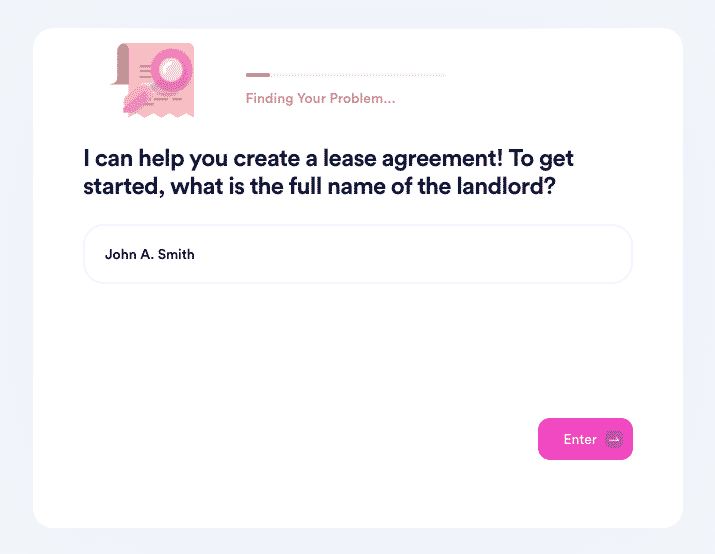 Check out the various agreements and contracts can generate for you:
Business
Real Estate
Other

General business contract

Intent to purchase real estate

Quitclaim deed

General affidavit

Promissory note
We're working on adding more documents to the list. Stay tuned and be the first to know!
Easy-Breezy Ways To Deal With Not So Breezy Issues
Administrative and similar tasks don't have to be as complicated as we've known them to be. With DoNotPay, dealing with paperwork and companies is done in a few clicks. Let the world's first robot lawyer help you:
Money Troubles? I Don't Know Her!
As our app's name says, DoNotPay's mission is to put a stop to losing money and overpaying. We will help you get your hands on free trials and snatch free raffle tickets. DoNotPay can also provide solutions for you to get help covering bills and reduce your property taxes.
If you want to get some additional funds, use our app to sign up for clinical trials. You may also take our practice tests to ace a government test and land a better-paying job.
It doesn't hurt to check whether you are owed some unclaimed money, and we can help you with the application.