How to Set Up a Real Estate Living Trust
All types of living trusts remain inactive until you fund them. Funding your living trust simply means transferring selected real estate and assets into the trust by changing the deed and title of ownership to that of the trust. 
This article will guide you with the steps to transfer your real estate to a living trust, show you how to set up your living trust, and answer a few common questions regarding real estate living trusts.
What Is a Living Trust?
A living trust is a common estate planning tool that lets you choose beneficiaries to inherit your properties and trustees to make sure everything is transferred properly. Every living trust needs:
A grantor:

A person or partner who owns the trust, sets it up, and remains in charge of funding and modifying it (if need be).

A trustee:

A person or group of persons who you appoint to manage the affairs of the trust and execute the trust according to your demands. 

A beneficiary:

A person or group of persons who have been named to receive the assets in the trust.
Living trusts differ from wills because they save you the stress of probate, are active even during your lifetime, and can give you more flexibility of control. 
Types of Living Trusts
Two types of living trusts are revocable trusts and irrevocable trusts. A revocable trust is suitable if you want a trust that remains under your control and can be modified at will. An irrevocable trust does not permit frequent changes except with the permission of all parties involved. Irrevocable trusts are treated as separate entities from the owner in the eyes of the law.
What Assets Can I Include?
There is a long list of things you can add to your living trust. Some of them are:
House and other real estates

You can transfer any building or land that you own to your living trust.

You'd only need to change the title of ownership to the name of the trust and draft a new quitclaim deed for the property. 

You may need to discuss with a lawyer concerning mortgages and ongoing housing financing.

A car, bike or boat

You can also transfer any vehicle to a living trust. To do this, you have to check the state laws for guidelines on how to reconcile a change of ownership with the DMV. You may also need to reach out to your insurance company for any changes to the terms of coverage on account of the new ownership.

Bank accounts, stocks and shares

You would also need to consult your bank and stockbroker to facilitate the process of transfer of ownership. The bank may request details of the trust and also consider the laws of the state where it is notarized, before making a decision. 

Personal belongings 

Most times, personal properties like TVs, a grand piano or pieces of jewelry do not have formal documentation of ownership. To get them into the trust, you have to make a list of them all and officially make a statement of their transfer to the trust. 
For convenience sake, most experts advise against adding your personal savings account or your retirement savings account into the trust. You can set a future date for adding them.
What Setting Up a Living Trust Looks Like
To set up your living trust, you need to:
Choose a suitable type of trust —

joint

or single

Select your beneficiaries

Choose your trustees

Fill out all necessary details in a

living trust form

or document

Notarize your living trust

Transfer your assets to a living trust
Adding Your Real Estate to a Living Trust
When adding your real estate to a living trust you would need to prepare a quitclaim deed. A quitclaim deed is a deed that helps you legally renounce ownership of an asset and transfer the same to another entity — in this case, the trust. DoNotPay can help you prepare a state-specific quitclaim deed.
After filling up your quitclaim deed, the next step is to notarize it. This is preferably done in the state where your assets are situated.
When the process is complete,  you can proceed to inform your tax officer and insurance company of the change of ownership. This is to help them update their policy regarding your asset. Using a lawyer to process your living trust can cost you anywhere from $2000 upwards depending on the state you reside in. Conversely, you can have DoNotPay, the AI-powered legal bot, prepare one for you for significantly less.
How to Create a Living Trust With DoNotPay
DoNotPay can get your living trust set up for you for incredibly less, and you would need only about 10 minutes or less to complete the process. If you have all your information ready, then  go to DoNotPay and:
Select the Revocable Living Trust product.
Choose your beneficiaries and enter the assets each will receive.

Input a list of trustees to oversee the trust

when you die

.
After you submit your request, you'll get a living trust in a downloadable PDF and DOCX file. You can review it and make changes if needed.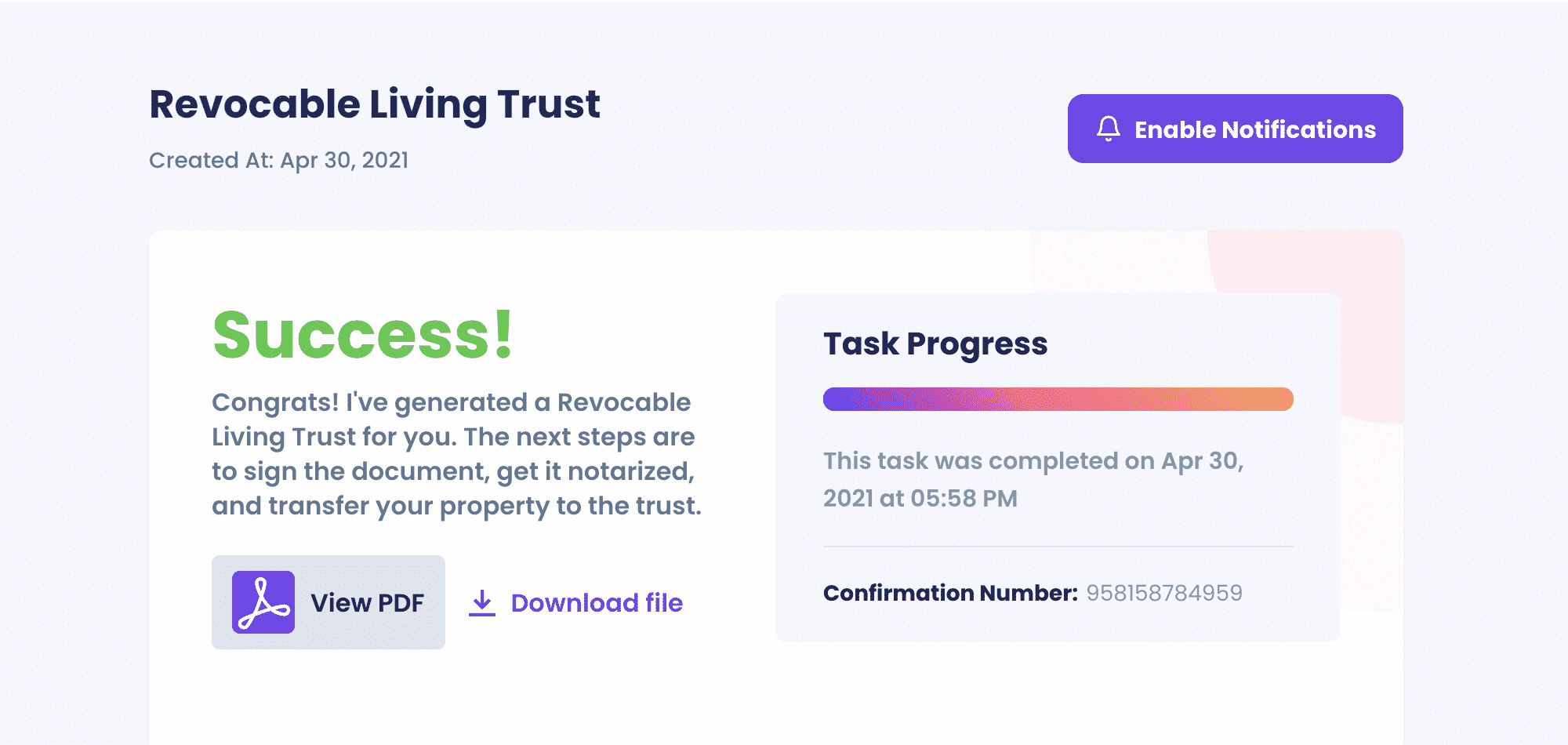 Living Trusts in Your State
If you're interested in living trust guides by state, check our guides below!
What Else Can DoNotPay Do?
If there's anything you need done, DoNotPay can probably do it for you. Here's some other services offered: