Use DoNotPay To Create a
Real Estate Independent Contractor Agreement
in a Flash
If you don't have the proper legal knowledge to create legal documents on your own, you shouldn't worry. DoNotPay is here to help you with this task. Our app can draw up a real estate independent contractor agreement for you in a matter of minutes.
What Is a Real Estate Independent Contractor Agreement?
A real estate independent contractor agreement is a legal document made between a real estate agent (salesman) and a real estate company or broker. It is important to understand that a real estate salesman is an independent contractor and not the real estate company's employee.
The real estate company usually provides the equipment and office space in exchange for a portion of the agent's commission. According to the law, assistants and agents-in-training cannot have the status of an independent contractor. The agent needs to be a licensed real estate salesperson.
Real estate agent's income must come from sales-related activities and not based on the hours worked. A real estate independent contractor agreement must state that the agent needs to be treated as an independent contractor for federal tax purposes.
How Are an Independent Contractor and an Employee Different?
In case you are unsure whether you fall under the employee or an independent contractor category, you should check out the table below for more details:
Employee
Independent Contractor

Works for an employer

Must sign an

employment agreement

Signs up for long term cooperation

Has work and health insurance covered by a company

Enjoys the protection of several state and federal labor and employment laws

Is self-employed 

Signs up for short term cooperation

Is in control of what will be done and how

Needs to purchase the work and health insurance

Should sign an

independent contractor agreement

Not covered by employment and labor laws
What Should a Real Estate Independent Contractor Agreement Include?
To make a proper real estate independent contractor agreement, you need to know what information this document should contain. Make sure to include the following:
Personal information of the parties

—The names, phone numbers, and addresses of the salesperson and the real estate company

Duration of the agreement

—The starting and ending date of the agreement

Independent contractor's rights and obligations
Restrictive covenants

—Forbidden actions (employing sub-agents or giving the impression that they are not affiliated)

Real estate company's or broker's obligations

—A clear set of rules the real estate company or the broker must follow (must split the commission with the independent contractor in accordance with the agreed-upon percentage, for example)

Terms of termination

—The consequences that ensue if the contract is breached

Signatures of both parties

—Names of the independent contractor and the broker or the company representative
If creating a real estate independent contractor agreement on your own seems too complicated, you can always turn to DoNotPay for help. The entire process will take a few minutes!
Use DoNotPay To Create a Real Estate Independent Contractor Agreement
You don't need to hire pricey lawyers if you wish to create a real estate independent contractor agreement. DoNotPay can take care of the same task much faster. You only need to follow a few simple steps:
in a web browser you prefer

Type in

Independent Contractor Agreement

in the search field

Answer a few questions about yourself and your business
One of the greatest benefits of using DoNotPay to make legal documents is that they are tailored for your specific needs. You should avoid using free online contract templates because they are generic and take too much time to complete.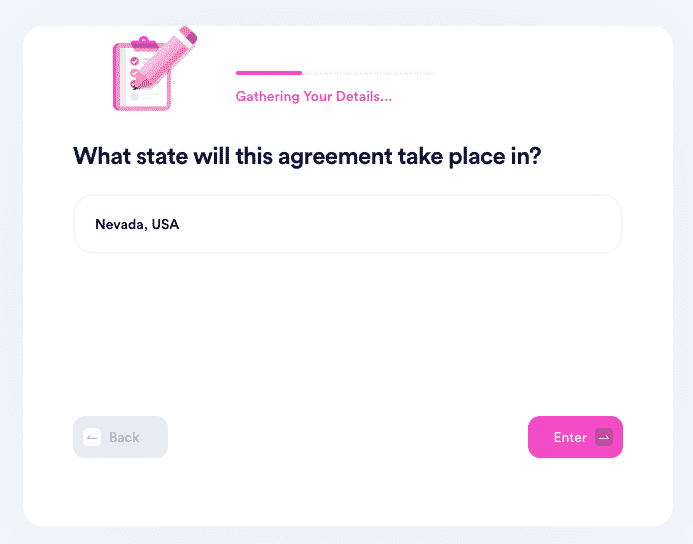 What Agreements and Contracts Can You Make With DoNotPay's Help?
has an abundance of legal documents you can draw up in a matter of minutes. We keep adding more options to the list, but for now, you can choose any of the agreements mentioned in the table below:
Real Estate Contracts

Quitclaim Deed

Intent To Purchase Real Estate

Business Agreements

General Business Contract

Independent Contractor Agreement

Other Documents

Promissory Note

General Affidavit
You can also visit our Learning Center if you want to learn more about other legal documents and ways of creating them. Some of them are the:
Wedding photography contract

Maintenance agreement
DoNotPay Can Help You Get a Document Notarized in a Heartbeat
Once you create the document you need with our help, check if you need to take it to the notary. If you do, open DoNotPay and use our Notarize any Document product! We can match you with an online notary in no time. The notaries we collaborate with are available 24/7, every day of the year. Kill two birds with one stone using DoNotPay!
Use DoNotPay's Features to Your Advantage!
DoNotPay offers a myriad of helpful services you can use to resolve your everyday hurdles. 
Do you need help paying bills or finding and claiming missing money? Are you interested in applying for clinical trials in your area? We can help you solve these and many more issues in no time!
Here are some other problems you can handle effortlessly with our help:
Hiring a Lawyer Can Cost a Small Fortune—Rely on DoNotPay Instead
If you're on a tight budget and can't pay a lawyer to help you create legal documents, file a claim in small claims court, or handle stalking and harassment, DoNotPay has a solution for you. 
Our app will help you create various documents, including child travel consent forms and complaint letters for a problematic neighbor. 
Are you a victim of a crime and need help applying for reimbursement of your crime-related expenses? You can sign up for DoNotPay and allow us to handle your crime victims compensation on your behalf.
DoNotPay can also connect you with an online notary and enable you to get your documents notarized from the comfort of your home.