Real Estate Contingency Contract
From A to Z
If you need to create a real estate contingency contract but are unsure how to approach the task properly, you should turn to DoNotPay for help. We can tell you what information to include in this legal document and help you create other agreements in no time!
What You Should Know About a
Real Estate Contingency Contract
A real estate contingency contract is a conditional purchase agreement that includes obligatory stipulations important for a successful sale. Contingencies in real estate are parts of the contract that make it legally binding and have the purpose of protecting the investors.
Contingency clauses are often included in real estate purchase agreements. Not handling the contingencies properly can negatively affect the negotiation process. This happens in cases when contingencies are extensively used, which can make the seller drop out of the deal.
Investors need to find a perfect combination of the number of contingencies, and this decision depends on the specific deal and property in question.
What Types of Contingency Clauses Should Be a Part of Real Estate Purchase Agreements?
If you want to create a rock-solid real estate purchase agreement, you need to know what contingency clauses to include. You can write these clauses for nearly any possible concern. Take a look at the table below to see some of the most used types:
| | |
| --- | --- |
| Contingency Clause Type | It Is Used When: |
| Appraisal contingency | The buyer wants to ensure that the property is valued at the minimum specified amount |
| Financing contingency | The buyer wishes to have more time and gather the funds to buy the property |
| Home insurance contingency | The seller requires the buyer to buy a home insurance policy for the property |
| Home sale contingency | The buyer needs more time to complete the sale of their current property |
| Inspection contingency | The buyer wants to have the property inspected. This allows them to negotiate the purchase price or repairs based on the findings |
| Kick-out clause | The seller needs protection in case the buyer uses a house sale contingency. This allows them to back out of the deal if a more qualified buyer shows up |
| Title contingency | There are any issues with the title (an ownership dispute or lien). It gives the buyers a free pass to walk away in case the problem can't be resolved before closing |
| Right-to-assign contingency | Wholesale real estate investors want to ensure they have the option to back out if they can't manage to assign the contract to another buyer in time |
What Else Should a Real Estate Purchase Agreement Include?
In addition to the contingencies that make the document airtight, there are other elements a real estate purchase agreement must contain. Here is what this agreement normally includes:
The exact sale price of the house

The amount of deposit needed

House address and description

Terms of sale

Duration of the agreement

Signatures of the parties involved
If you want to create a real estate-related document without issues, you can use DoNotPay.
Use DoNotPay To Create a Legal Document in a Jiffy
DoNotPay is the perfect option for anyone who doesn't want to spend a fortune on lawyers for drawing up legal documents. You also won't be left dealing with free online contract templates that aren't tailored to your specific needs. 
To make an agreement with DoNotPay's help, you only need to complete these steps:
Sign up for DoNotPay

in a web browser you prefer

Type in the name of the document you need in the search field

Provide us with the details specific to your case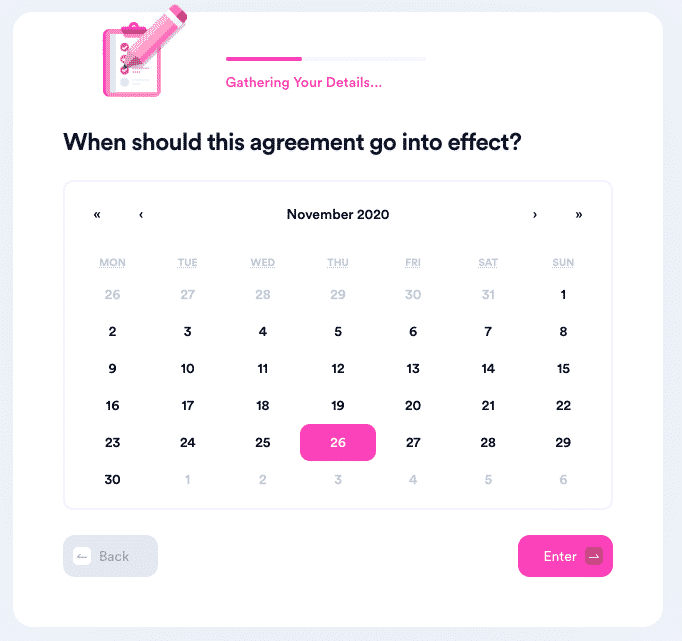 DoNotPay Is the Fastest Way of Creating Legal Documents
DoNotPay is here if you need to make a legal document fast and without trouble. We can also help you find the information you need about the contracts we don't draft at the moment. Take a look at the table below to see our portfolio of customizable templates and examples of our guides to creating all kinds of legal documents on your own:
Documents You Can Create With DoNotPay
Documents You Can Learn About in the Learning Center

General Business Contract

Quitclaim Deed

Intent To Purchase Real Estate

General Affidavit

Promissory Note
Need To Take the Document to a Notary? DoNotPay Has You Covered!
Once you use DoNotPay to draw up a legal document, you don't need to leave the app to find an online notary! Tackle two issues in a matter of minutes. DoNotPay collaborates with notaries who are at your service 24/7, every day of the year! You only need to open our Notarize Any Document product and schedule your appointment!
Use DoNotPay's Features to Your Advantage!
DoNotPay offers a myriad of helpful services you can use to resolve your everyday hurdles. 
Do you need help paying bills or finding and claiming missing money? Are you interested in applying for clinical trials in your area? We can help you solve these and many more issues in no time!
Here are some other problems you can handle effortlessly with our help:
Hiring a Lawyer Can Cost a Small Fortune—Rely on DoNotPay Instead
If you're on a tight budget and can't pay a lawyer to help you create legal documents, file a claim in small claims court, or handle stalking and harassment, DoNotPay has a solution for you. 
Our app will help you create various documents, including child travel consent forms and complaint letters for a problematic neighbor. 
Are you a victim of a crime and need help applying for reimbursement of your crime-related expenses? You can sign up for DoNotPay and allow us to handle your crime victims compensation on your behalf.
DoNotPay can also connect you with an online notary and enable you to get your documents notarized from the comfort of your home.