How To Cover Real Estate Brokerage Startup Costs
Real estate brokerage is one of the most lucrative industries, currently being worth $155 billion. If you want to start your own real estate brokerage business, you will need to meet some requirements and get a decent budget.
Don't know where to start? Consult our article to find out everything you need to know! We will break down real estate brokerage startup costs and help you get a small business loan to cover all the expenses stress-free. Create a compelling loan request letter in a matter of minutes with DoNotPay's help.
Real Estate Startup Costs
Some of the expenses you will need to cover at the beginning of your brokerage journey are:
Pre-licensing real estate classes and training—You need to find an accredited real estate school where you will prepare for your licensing exam. The amount you will have to pay depends on the state you live in and the school you enroll in. Note that online courses are usually much cheaper than in-person classes
Real estate examination and licensing fees—When you prepare for your licensing exam, you will have to pay for:

License application fee ($25)
Fingerprinting and background check ($100)
State exam fee ($50)
The license itself ($150)

Real estate membership dues—To become a real estate agent, you need to be a member of the National Association of REALTORS or your state and local real estate boards. The membership usually costs $200 or more per year
Continuing education—To meet the ongoing licensing requirements, you will have to take continuing education classes. Continuing education can also earn you a special designation, which can help define your niche in the vast market
More Real Estate Startup Costs That You Have To Keep in Mind
Once you start your business, you will have to keep in mind the recurring expenses. For more information, consult the table below:
| Expense | Amount |
| --- | --- |
| Better Business Bureau fee | $399 |
| Stationery | $2,000 |
| Brochures | $1,000 |
| Mailings | $1,000 |
| Advertising | $2,500 |
| Company yard signs | $1,300 |
| Insurance | $225 |
| Answering service | $200 |
| Website design | $440 |
| Utilities | $250 |
| Rent | $3,000 |
| Computer/copier | $3,000 |
| Office furnishing | $4,000 |
| Office supplies | $1,000 |
| Business software | $1,000 |
Small Business Loans Can Help You Cover Real Estate Startup Costs
If you do not have enough money to cover real estate startup costs, you should consider getting a small business loan. A loan can help your startup by giving you capital that you can spend on equipment or cover any other costs, such as marketing or insurance licenses.
Best Loan Types for Covering Real Estate Agent Startup Costs
Here are some of the best loans you can get for your real estate brokerage startup:
The United States Small Business Administration (SBA) loans—These are government-backed loans that can help you secure anywhere from $50,000 to $5,000,000, but they are also the most difficult ones to get. They also have the lowest

interest rate

and favorable loan terms. To take out an SBA loan, you must meet certain requirements, such as having a high credit score
Microloans—These loans enable you to borrow up to $50,000, but you cannot use the money to pay existing debts or purchase real estate (microloans are perfect for purchasing inventory, supplies, fixtures, machinery, etc.). You will also have to provide collateral
Lines of credit—Also known as LOC, this type of loan is offered by banks and credit unions. With a LOC, you can borrow money up to a specified limit but pay interest only on the amount you spend
How To Apply for a Business Loan
To apply for a business loan, you usually need to turn in some of the following documents:
Business plan
Bank statements
Leases
Licenses
Credit reports
Loan request letter
The paperwork you file needs to show the lenders that your business is profitable, and you need to demonstrate that you can afford the repayment.
If you want to turn the application process into a breeze, . We can help you check whether you have gathered the correct documentation by providing you with a checklist and assist you in generating a compelling loan request letter for your application.
Get an Error-Free Loan Request Letter With DoNotPay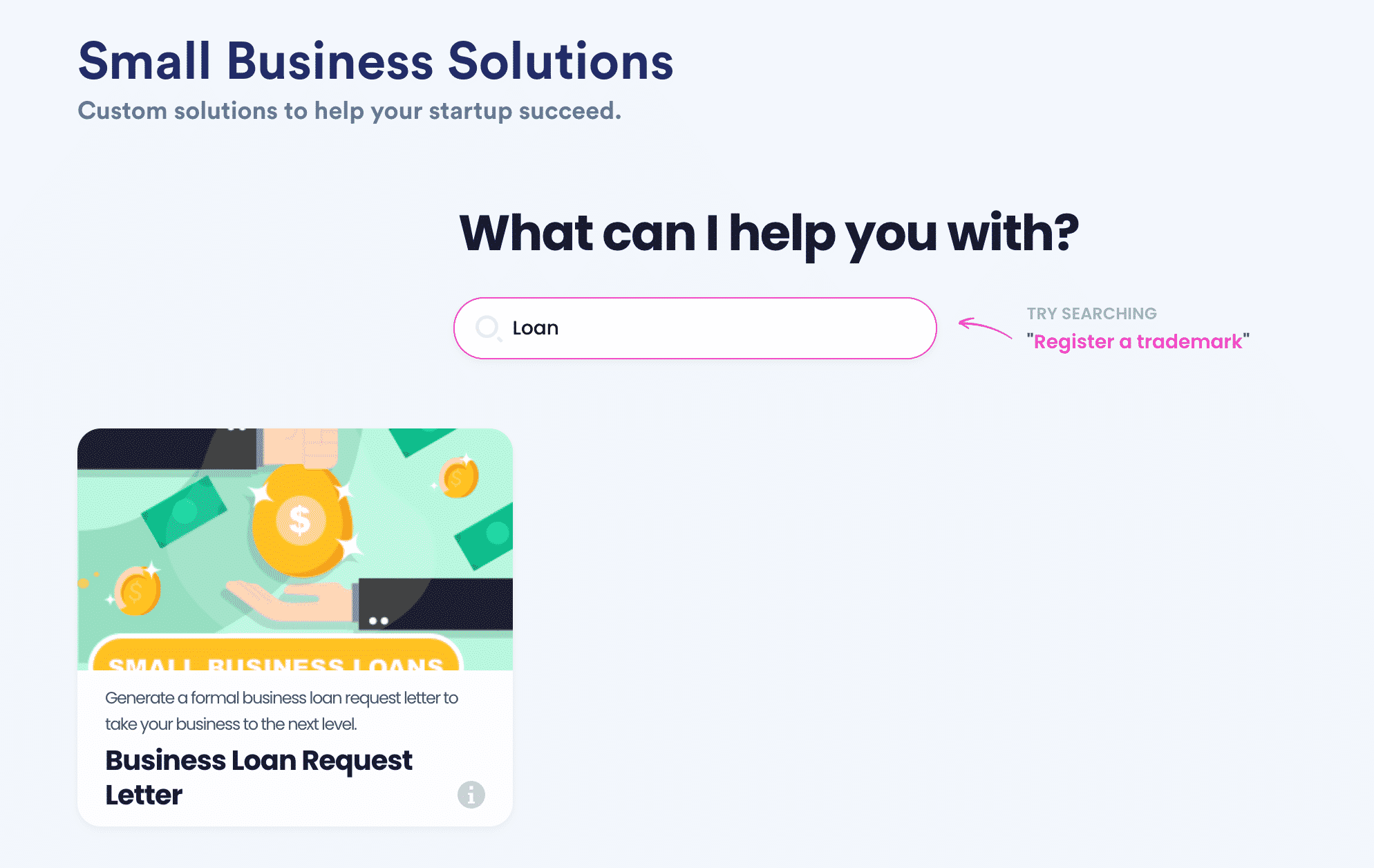 Filing a loan application is a tricky task as it requires you to file the correct paperwork and convince the lender that you are creditworthy. If you want to maximize your chances of getting a small business loan, you will need to write a perfect business loan request letter. That is where we come in! If you , our AI-powered app will help you generate a professional letter with all the required information. All you have to do is:
Select our Business Loan Request Letter tool
Gather your personal and business credit scores
Prepare required business financial statements (e.g., profit and loss statement)
Tell us about your desired loan
Upload the documents
Cannot find an adequate lender? If you opt for our Find Online Business Loan Lender tool, you can get a list of three lenders most suitable for your business.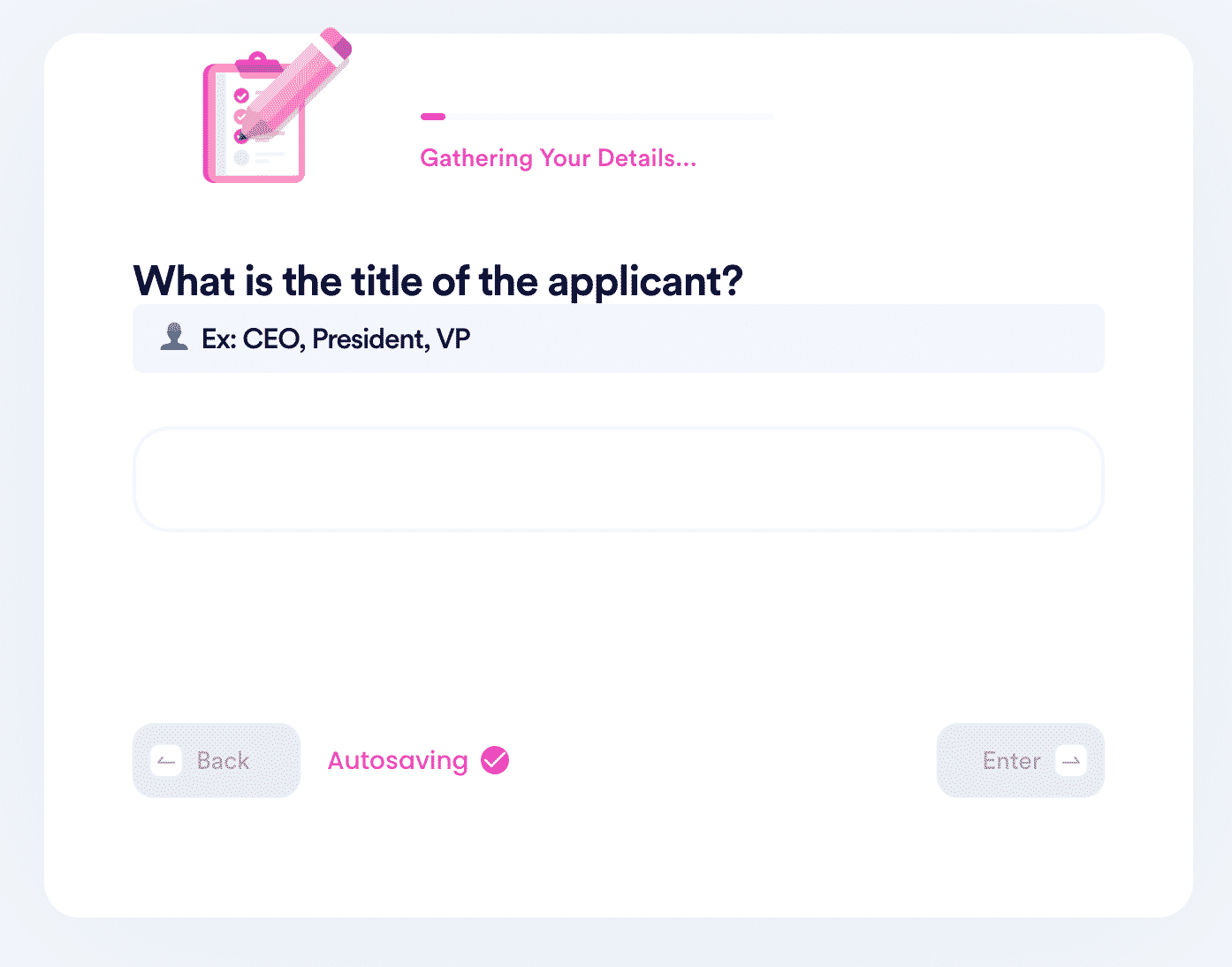 Thinking about starting various other businesses? Consult our useful guides to familiarize yourself with the costs of each business venture:
Don't Let the Complex Procedures Stress You Out! Rely on DoNotPay and Run Your Business Like a Pro!
DoNotPay has created a plethora of simple-to-use features that will help you run your business the best way possible. Here are some aspects we can help you take care of:
Registrations
Legal Documents

Get an Employer Identification Number (EIN)
Register a DMCA agent to avoid copyright violations

Send a cease and desist demand if someone is using your trademark
Draw up a watertight letter requesting a loan for your business
Draft a demand letter to send to a client who refuses to pay you
Get a customized chargeback rebuttal letter and fight unfair chargeback requests hassle-free
What Else Does DoNotPay Have in Store for Your Business?
You can use our app to resolve many other business-related issues. DoNotPay can help you deal with fake reviews that are ruining the reputation of your business by analyzing the harmful review and figuring out the best way to go about it.
Do you wish to protect the privacy of your clients and prevent their data from being collected while they are on your website? Use our app to file a self-certification request with the Privacy Shield program.
If you need help automating the filing of 83(b) election forms, DoNotPay has the right solution for you and your employees or shareholders! With our app, you will be able to finish the entire process with a few clicks.
Another perk of using our app is that we can help you fax and mail any documents or letters without having to leave your home or office.
DoNotPay will help you handle all your business tasks in the blink of an eye!