Everything You Need To Know About Rape Victim Abortion Funding
Being a victim of rape can leave severe consequences on one's mental health. Victims who get pregnant as a result of rape usually consider having an abortion, but not everyone has enough money to cover the expenses of the procedure.
If you can't pay for the abortion, you might be wondering whether you qualify for any type of compensation as a rape victim. Abortion funding for low-income women in America is a controversial topic nowadays for multiple reasons, including the Hyde Amendment.
DoNotPay's guide will give insight into the common issues that rape victims face when it comes to abortions. We will also tell you more about the easiest way to apply for the crime victims compensation program in your state. and rely on us if you need help covering your crime-related costs stress-free!
What Is the Hyde Amendment?
Congress passed the Hyde Amendment in 1976, blocking federal Medicaid—a joint state and federal program that provides health care services to low-income Americans—funding for abortion procedures. This meant that women with modest earnings couldn't get a free abortion through Medicaid except in cases of rape, incest, or life endangerment.
In theory, victims of rape can get compensation for abortions, but many states still reject their claims. To pay for the procedures, many women need to avoid covering basic necessities—such as electricity—to save enough money for abortions.
There have been numerous petitions dedicated to repealing the Hyde Amendment, but for now, nothing has changed.
Do Medicaid Programs in All States Follow the Federal Model?
While the Hyde Amendment prevents using federal Medicaid funds to cover abortions, it doesn't ban states from issuing their own funds to meet the costs of abortions.
According to the Kaiser Family Foundation's research:
34 states and the District of Columbia

follow the Hyde Amendment restrictions, covering abortions only in certain situations

16 states

cover medically necessary abortions under Medicaid using their own funds

One state—South Dakota—

has more restrictive rules than the Hyde Amendment
To find out which states follow the federal model and which ones don't, you can consult the Kaiser Family Foundation website.
What Other Options Do Rape Victims Have?
If you can't get the abortion costs covered through Medicaid, you can contact the National Network of Abortion Funds and ask them to help you.
The National Network of Abortion Funds has over 80 member organizations that work hard to cover abortion costs for anyone, including rape victims. Some organizations pay for the procedure, others bear other equally important expenses, such as:
Transportation

Translation

Child care

Doula services

Lodging for rape victims who need to travel to get abortions
Need Help Covering Other Crime-Related Costs? Find Out if You Qualify for Crime Victims Compensation!
As a victim of rape, you're probably dealing with many other issues other than getting an abortion. If you—like most rape victims—suffered physical and emotional injuries, loss of income, and similar, you should check if you qualify for your state's crime victims compensation (CVC) program.
The purpose of CVC programs is to meet most crime-related expenses that can't be covered by other collateral sources, including Medicaid, insurance, restitution, and similar. Some of the expenses that most programs consider compensable are:
Medical exams, treatments, and prescriptions

Mental health counseling

Loss of wages and support

Travel to get medical assistance or attend court proceedings

Relocation costs
Besides sexual abuse, crime victims compensation programs also cover costs that are a result of other violent crimes, including:
Homicide

Child abuse

Drunk driving

Kidnapping
The maximum compensable amounts for crime-related costs vary from one state to another, but most programs grant around $25,000 per claim. The programs get funding for violent crime victims by:
Crime Victims Compensation Programs—Eligibility Requirements
CVC programs usually have the same basic eligibility requirements. To determine whether or not you qualify for the CVC program in your state, consult the following table:
Eligible
Not Eligible

You will get compensation for your crime-related expenses if you:

Have filed a police report

Fully cooperate with law enforcement

Apply for the compensation program in a timely manner (check your program's website to find out time limitation)

Cooperate with the program staff and provide all required documents related to the crime and your expenses

The program in your state will reject your claim if you:

Haven't filed a police report

Refuse to cooperate with law enforcement authorities

Caused your own injuries

Were an accomplice in the crime that resulted in injuries
Violent crime victims aren't the only eligible claimants. The programs also approve requests of:
Dependents and family members of victims

People who are responsible for funeral costs of homicide victims

Individuals who got injured while trying to help victims or the police
Sign Up for DoNotPay and Apply for Crime Victims Compensation in Five Minutes!
While victims can benefit a lot from applying for the CVC program in their states, the application procedure is usually dreadful and too complicated for most people. That's why many victims choose not to apply, which is wrong.
DoNotPay has developed a product that can help violent crime victims apply for compensation in less than five minutes.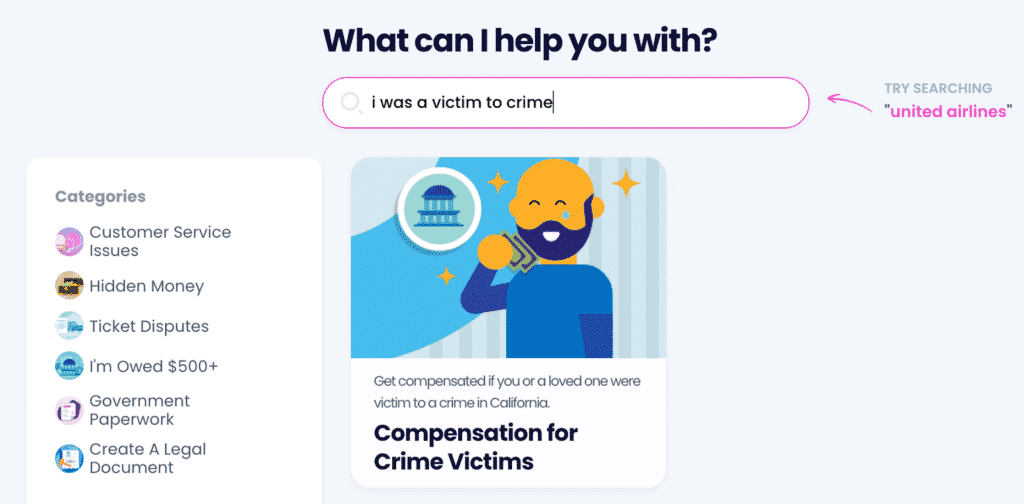 After you , follow these steps to file your application:
Open our

Compensation for Crime Victims

feature

Tell us whether you're the victim or another claimant

Respond to our questions

Verify your signature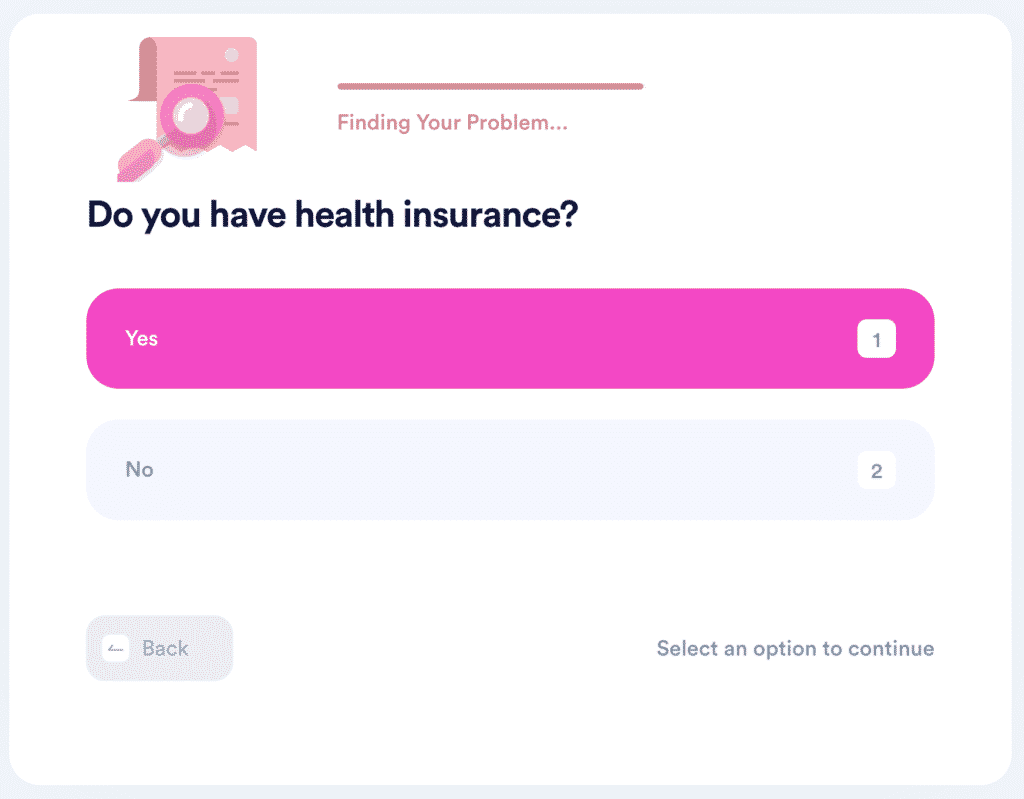 DoNotPay will complete your application and send it to the right office on your behalf. With us, you can even learn how to apply for the 9/11 Victims Compensation Fund or find out more about emergency and relocation funds for domestic violence victims.
Some of the states you can use our app in are:
What Else Can Our Award-Winning App Do for You?
If you think that's impressive, wait until you've heard about other features we boast!
Our powerful app can draft paperwork for you, locate unclaimed funds under your name, cancel subscriptions, sue robocallers, and protect you from stalkers and harassers—all in one nifty browser app!
Our services have been recognized by the esteemed ABA Brown award, serving as a testament to our abilities to assist you with your small claims issues, college fee waivers, public records, copyright protection, and much more!
More Benefits of DoNotPay
DoNotPay is a useful tool for handling many otherwise annoying life's trifles, including: