Inflation Pay Request: How to Submit Raise Proposals That Work
If it feels like your money isn't going as far as it used to, you're right. Prices are constantly going up--referred to as inflation. If your income doesn't increase at a comparable level, you'll have a difficult time paying for the things you need and want. When your cost of living increases, it 's important that your income follows suit to avoid financial difficulties and shortages. A cost-of-living raise from your employer would surely help.
In some companies, raises are granted based on performance and tenure, but cost-of-living raises are also common. You may need to specifically request a raise from your employer. But, writing and submitting raise proposals is risky, especially if you don't know how to do it properly. You could miss out on a raise if you 're not careful. With DoNotPay, you can rest easy knowing you've created a raise proposal your boss can't deny.
What Is a Cost of Living or Inflation Pay Raise?
Basically, a cost of living raise is an increase in benefits, salary, or wages meant to offset the rise in prices workers must pay for goods and services. People who receive government assistance like Social Security benefits receive annual cost-of-living increases automatically. Likewise, some private employers also provide cost of living raises for their employees.
How Do I Get a Cost of Living Salary Increase?
If your employer doesn't automatically adjust your salary or wages to meet the current level of inflation, you may be able to convince them to by submitting a raise proposal. You'll need to be creative with your approach and thoughtful about your raise request. Remember that employers don't have to give employees an inflation raise. By law, they are only obligated to pay you at least minimum wage unless your contract states otherwise, nothing else. Still, you can request a raise by:
Notifying your employer in writing that you want to discuss an inflation raise. Scheduling an appointment to meet with your employer. Presenting your reasons for requesting a cost-of-living raise. Detailing the specific amount of a raise you need. Waiting for your employer to decide whether you 'll be granted a raise.
How Can I Calculate an Appropriate Cost-of-Living Raise?
Perhaps the most universally accepted way of calculating a price of living increase is by using the figure listed by the Consumer Price Index (CPI) for the previous year. The CPI is determined by the Bureau of Labor Statistics based on the changes in cost for certain goods and services.
Cost of living indexes are available for the U.S. as well as various geographic areas. Each index is meant to compare the costs the average person is likely to incur for basic necessities. A cost of living index is also used to track how much the cost of basic expenses rise over a given period of time. Costs indexes considered include:
Food and Beverages Shelter Transportation Energy Costs Clothing Education Childcare Healthcare Entertainment
When there is a significant increase in the price of goods and services you pay for, inflation rises and your income may not cover everything. By calculating the amount of increase for these basic necessities, you'll have a starting point to discuss your cost of living raise with your employer.
How Does COVID-19 Affect Our Cost-of-Living?
The COVID-19 pandemic has had a dramatic effect on prices for all kinds of consumer goods and services. As prices go up, it's increasingly difficult for families to maintain the same standard of living they had before the pandemic began. In addition, many businesses have been forced to downsize, limiting the earning potential of employees and further exacerbating the problem of rising inflation.
When Should I Request an Inflation Pay Raise?
The best time to ask for an inflation pay raise is right now. You work hard for your money and you do everything you can to provide a good life for your family. Getting a cost-of-living raise sooner rather than later will give you peace of mind, knowing that the bills will be paid and food will be on the table. But, your boss may not be receptive and if you're not fully prepared, you may miss your shot.
You know you deserve a raise for being a hard worker and a team player. But, you also realize that unless your wages increase, you won't be able to maintain your family's lifestyle. Get the money you deserve by submitting an inflation pay raise request using DoNotPay:
If you want to but don't know where to start, DoNotPay has you covered in 5 easy steps:
Enter the name of your company and supervisor as well as how long you have worked at the company.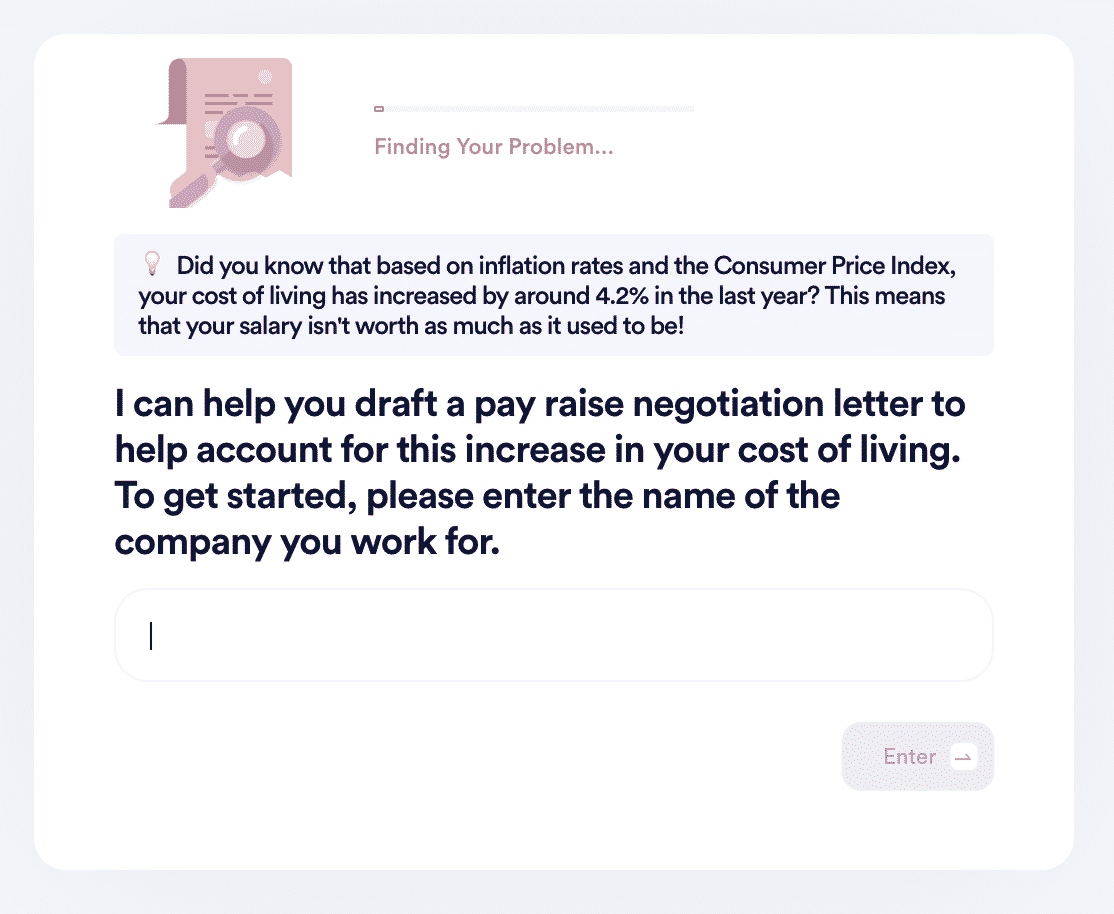 Select which industry your job position falls under so we can find the right year-over-year wage growth.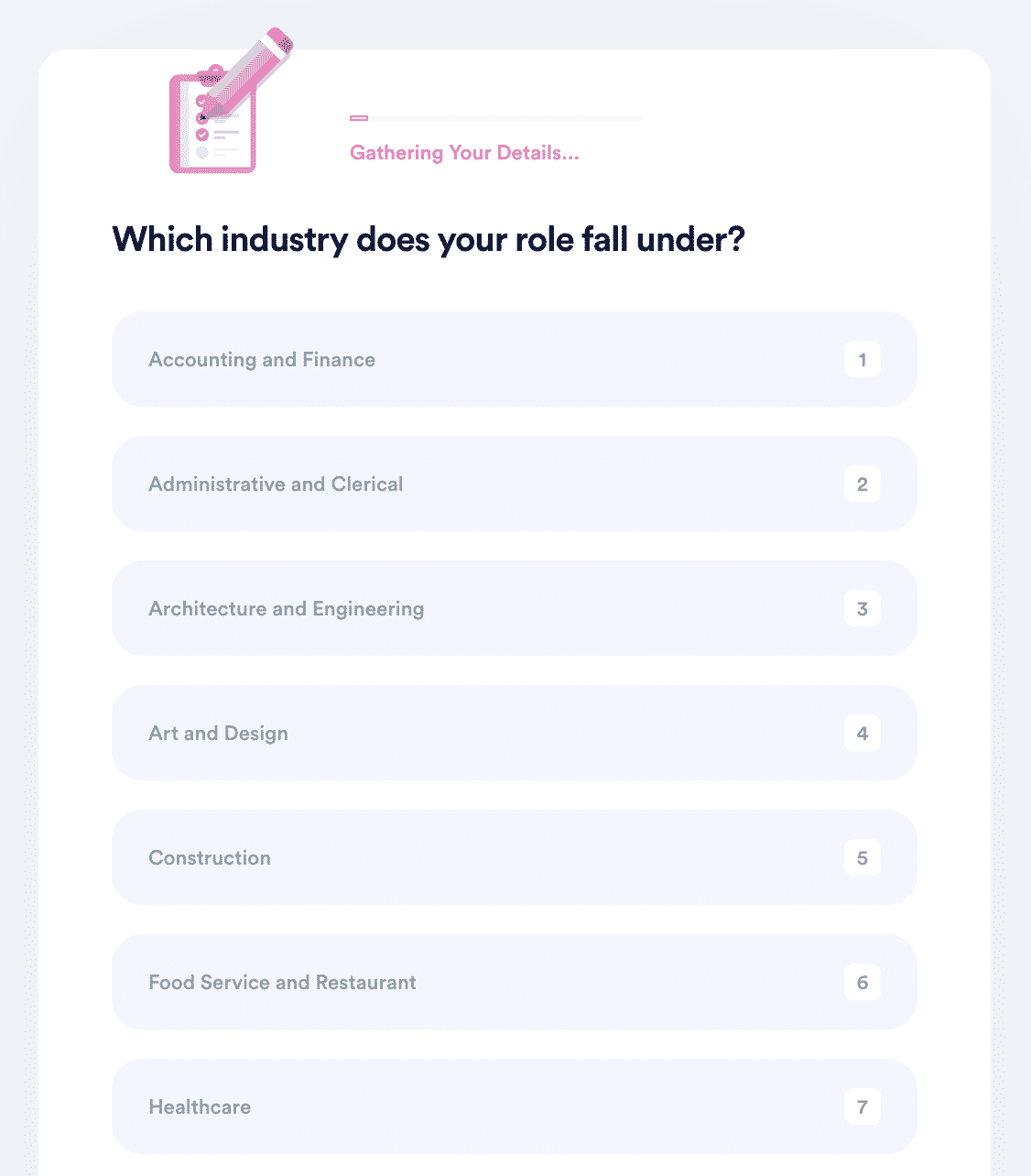 Enter the salary increase (as a percentage) you would like to ask for. The recommended number is ~6%.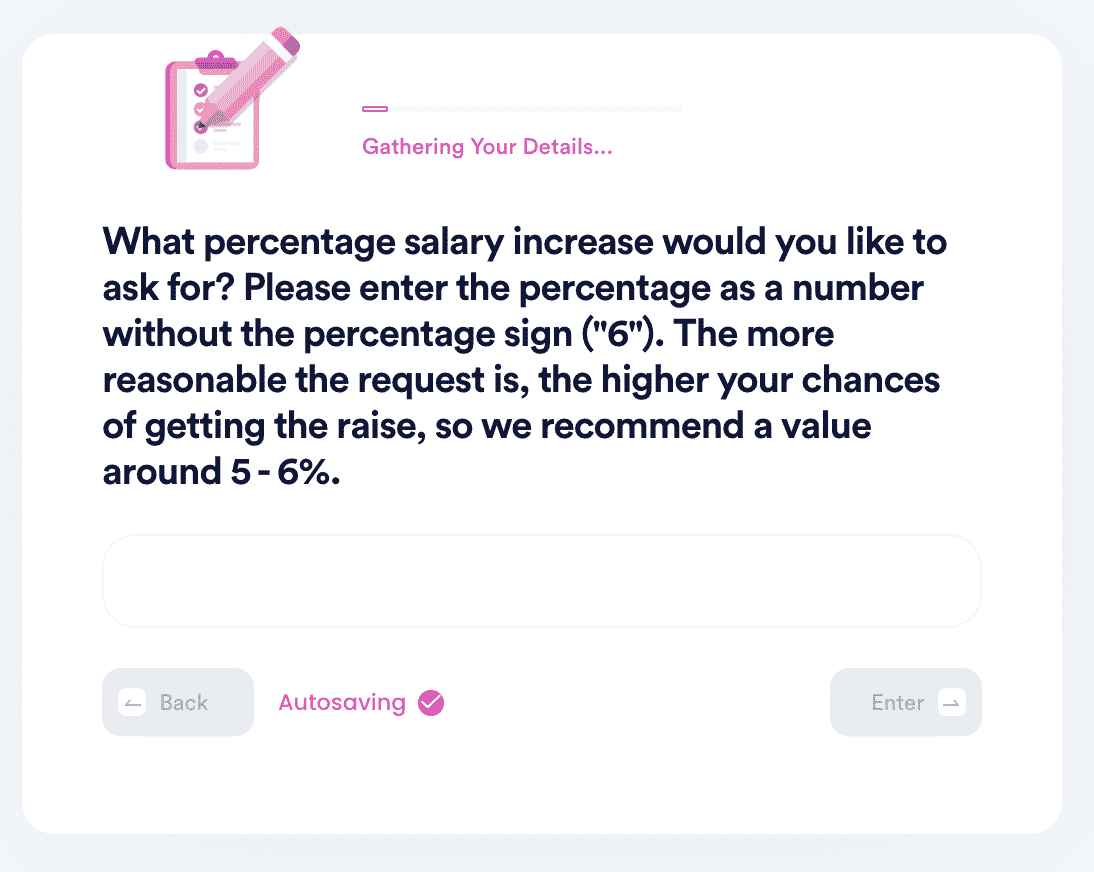 List your recent goals and accomplishments to make a more convincing argument for your raise.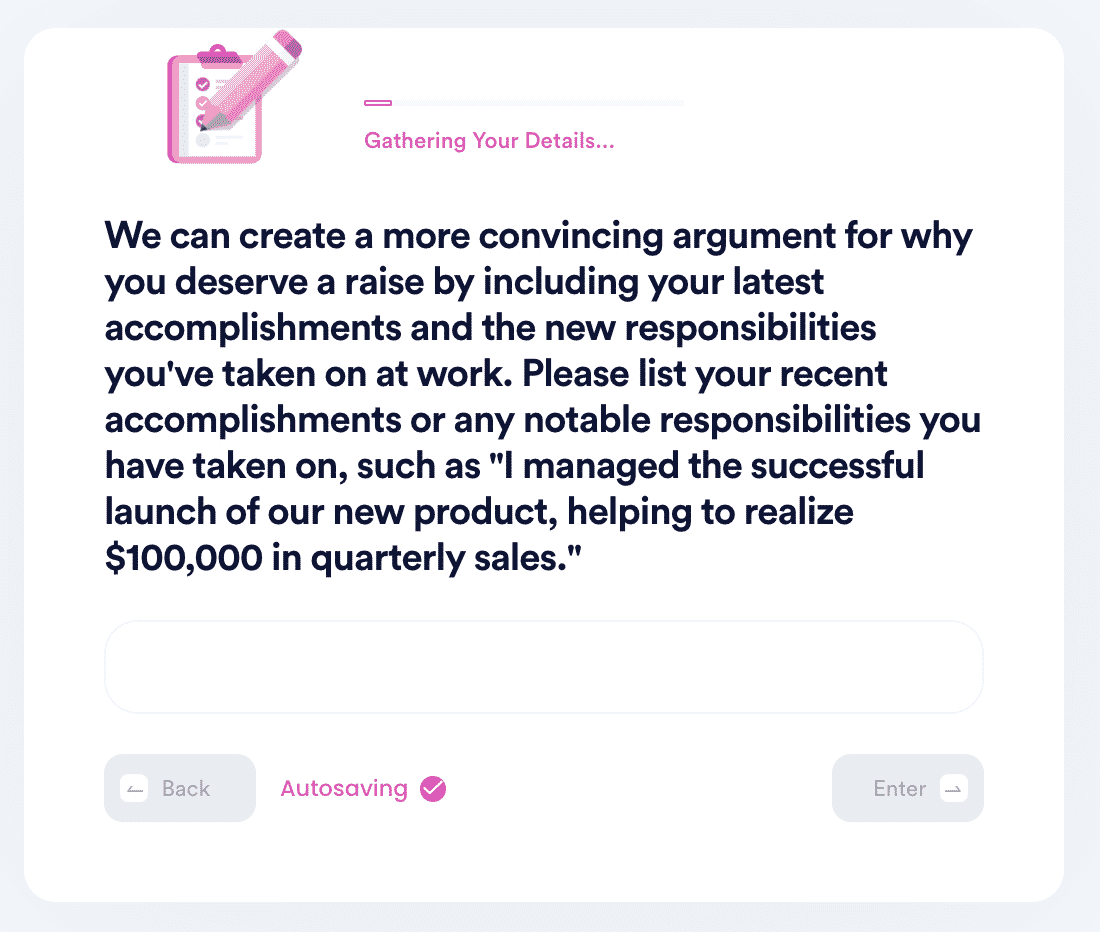 Choose whether you would like us to email this request to your manager/supervisor on your behalf. If not, we 'll generate the request as a PDF that you can deliver to them yourself.
Why Use DoNotPay to Request an Inflation Pay Raise
Talking to your employer about a raise is a nerve-wracking experience, even though you need and deserve higher pay. When you use DoNotPay to prepare and submit a cost-of-living pay increase request, you can relax knowing your request will be:
| | |
| --- | --- |
| Professional | Your personalized inflation pay raise request will be professionally written to impress your supervisors and win them over. |
| Easy | Creating a request for a pay raise from your employer is easy with DoNotPay. Just answer a few questions, click the button and it's done. |
| Successful | Your chances of convincing your employer to give you a cost-of-living raise have gone up dramatically, so start planning for your raise. |
What Else Can DoNotPay Do for Me?
The world's first robot lawyer can do much more than just prepare a request for a cost of living raise with your employer. In fact, this innovative new product is capable of helping you manage every aspect of your career and life. Just a few of the things DoNotPay can do include:
Visit DoNotPay today to learn more about how you can get help producing a cost of living pay raise request. While you're there, browse the extensive list of services DoNotPay provides.