How to Report Racial Discrimination In the Workplace Anonymously
Of all the forms of bias that you may find in the workplace, racial discrimination is one of the most common types.
Although laws to tackle discrimination based on race have been in place for decades, it is still widespread, making up 32.7% of all the claims filed with the Equal Employment Opportunities Commission (EEOC) each year.
If you feel you are a victim of racial discrimination at work, DoNotPay is here to help—we can show you how to address it and help you lodge a complaint as your first step to tackling the problem.
Racial Discrimination Explained
Title VII of the Civil Rights Act of 1964 makes it illegal to discriminate against anyone based on their race or color. In the workplace, this affects a company's policies and practices for:
Hiring and firing

Starting pay and pay increases

Job assignments and responsibilities

Promotions and career pathing

Training, benefits, and all other terms and conditions of employment
It also means that companies need to promote a culture of intolerance to racism in the workplace that eliminates racial slurs, jokes, comments, or behavior that could create a hostile environment.
The law is clear, but racial discrimination is still a problem in many workplaces. You may have encountered it if you have experienced any of the following:
Inappropriate comments or jokes with a racial slant

Using slang terms to describe races

Delegation of certain tasks to certain racial groups

Questioning an employee's racial identity in an interview

Applying disciplinary standards more rigorously to one racial group over others
If any of these practices are noticeable in your workplace, your company has to take steps to eradicate them. Failing that, you are entitled to escalate the matter by reporting it to federal authorities.
Who Enforces Racial Workplace Discrimination Laws?
Enforcement of the Civil Rights Act in the workplace is the responsibility of the Equal Employment Opportunities Commission (EEOC)—a federal agency that has the power to investigate allegations of racial discrimination in companies and take legal action if necessary.
If you want to file a private lawsuit against a company for racial discrimination, you can usually only approach a discrimination lawyer once you have filed a complaint with the EEOC.
How Can You Address Racial Discrimination?
If you are experiencing racial discrimination in the workplace, your first course of action is to address it internally in an attempt to resolve it. The process you should follow is:
Action

Explanation

Review company policy

Check your company's published

policies on racial discrimination

. If a written policy exists, it is an admission that the company is against racial discrimination. This adds strength to any case you may have

Keep a diary

You should make written notes of any incidents of racial discrimination, including:

What happened

When the incident occurred

Who was involved

Who witnessed the incident

Raise the issue

You need to

report racial discrimination

to your supervisor or HR department. If your company is serious about tackling racial discrimination, it needs to be allowed to resolve the matter internally before you take further steps

Insist on formal procedures

You should insist on your complaints and reports being written down and logged formally, rather than being dismissed and forgotten
If your company is committed to eliminating racial discrimination, it should address and solve your problem as a result of these actions.
Retaliation
You should be aware that you may experience repercussions if your company is not willing to fight racial discrimination. Retaliation against you can take various forms, all of which you should look out for:
Your job responsibilities or duties change

You are moved to another location

Others are promoted ahead of you despite your better qualifications or experience

You do not receive a

pay raise

Management and co-workers freeze you out (you are uninvited from meetings, removed from workgroups, or similar)
Retaliation can be subtle, but it is also illegal under the Civil Rights Act and can be further grounds for action against your company.
What Can You Do if Internal Resolution Fails?
If you have tried everything available to you in your company without any result, your next step is to file a complaint—known as a charge of discrimination—with the EEOC.
Filing a complaint on your own can be a long process, though. DoNotPay understands this, so we have created a way for you to .
How Can DoNotPay Help Me Stop Racial Discrimination at Work?
DoNotPay can help you get your charge of discrimination lodged with the EEOC in a flash—all you have to do is: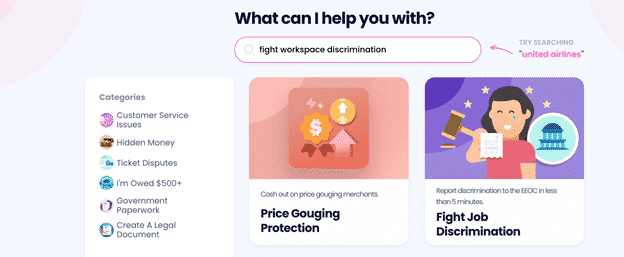 in your web browser

Click on our

Fight Workplace Discrimination

product

Give us the details of your case as prompted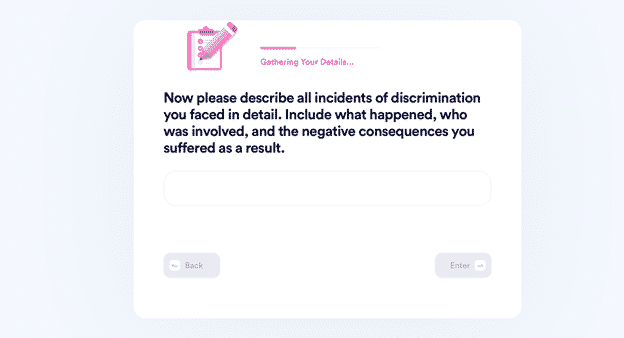 We will take over from there and file your complaint with the nearest EEOC office.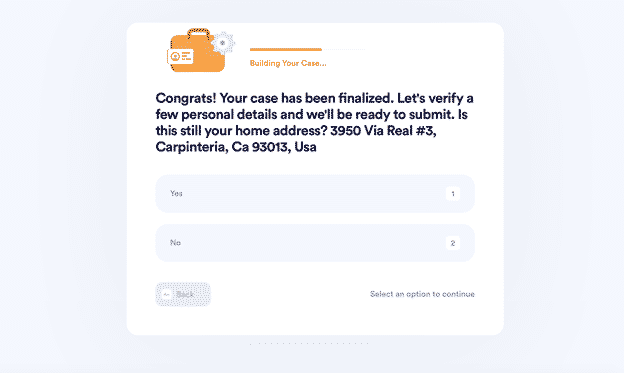 What About Other Kinds of Discrimination?
Racial discrimination is unfortunately not the only form of discrimination you may see in the workplace. Other commonly reported kinds of discrimination are based on:
All of them are illegal, and DoNotPay is your go-to resource to get them eradicated.
DoNotPay Is on Your Side
Is the discrimination you're facing at work turning into proper harassment or even stalking? Are you considering suing your manager or colleague in small claims court? These unpleasant situations usually require lawyers, but they come with hefty fees.
DoNotPay is a powerful AI-powered app that can lead you through a small claims court case against anyone or serve them with a cease-and-desist letter. If discrimination turns into a hate crime, we can help you file for crime victims compensation or make a claim on your insurance.
Whenever you need to draft, fax, or mail legal paperwork, you can open our platform and use our fast and reliable tools for that. With our help, you can even have your documents notarized by an online notary!
The Multi-Purpose Platform That Makes Your Life Easier
If you've had enough of that toxic atmosphere at work and want to escape somewhere for a week or two, DoNotPay might turn out to be the perfect travel buddy. Our app won't do much when you're drinking cocktails at a beach, but it will do wonders if you run into problems.
We can help you generate a child travel consent form, get airline compensation for canceled or delayed flights, jump the queue when you must contact customer service as soon as possible, or get a refund for all kinds of unsatisfactory purchases.
Do you prefer road trips? No problem! DoNotPay can help you prepare for your driving test or schedule a DMV appointment without sweat!
From fighting discrimination to solving travel woes—that's how diverse DoNotPay's portfolio is!