Fight
Racial Discrimination in Hiring
and Get the Job You Deserve
Anti-discrimination laws are explicit in stating that racial discrimination is illegal in a company's hiring processes.
Despite this, many companies still think they can get away with hiring or rejecting candidates based on their race.
If you have been rejected in spite of superior experience and qualifications, you may be a victim of racial discrimination in hiring—DoNotPay's guide will show you how companies do it, how you can spot it, and what you can do to fight back.
How Does Racial Discrimination in Hiring Work?
Two types of employment discrimination can occur in the hiring processes:
Type of Discrimination

Explanation

De jure discrimination

The employer has specific policies designed to encourage hiring based on racial characteristics. These policies could include:

A statement that the company aims to hire from socially disadvantaged areas

A policy of matching staff hired to customer profiles—a predominantly white customer base requiring white sales reps, for example

De facto discrimination

While the employer has

anti-discrimination policies

in place, recruitment staff employs racial bias in screening, interviewing, and selecting candidates. Examples of this could be:

Rejecting resumes from candidates with "ethnic-sounding" names

Using biased interview techniques based on the race of the applicant

Running more stringent background checks for Black candidates
De jure discrimination in hiring practices is less frequent—it is easy to spot, and employers are aware of the dangers of overtly racist policies.
De facto discrimination is less clear-cut and can occur both deliberately or unconsciously.
It is also difficult to prove, as you would need to compare your screening, interview, and selection processes with those used for the other applicants for the position—information you are not privy to as an applicant.
The only way to spot racial discrimination in employment is to be aware of the kind of techniques used.
How To Spot Racial Discrimination in Hiring
Companies send out subtle signals that they screen candidates based on racial stereotypes. Here are the most common actions to look out for:
Advertising for strong language skills

Posting on specific job boards

Asking intrusive background questions

Demanding higher qualifications than the job requires

Insisting on excessive background checks and references
Advertising for Strong Language Skills
Any advertisement that requires strong English language skills may be an indication that the employer favors a certain racial stereotype.
Posting on Specific Job Boards
If the employer posts the job ad on job boards tailored to specific racial groups—such as alumni boards, professional association forums, or community sites—this could indicate that they are looking for a specific demographic to the exclusion of others.
Asking Intrusive Background Questions
Questions about your family background, schools attended, or educational history may be an indication of a covert racial screening process.
Demanding Higher Qualifications Than the Job Requires
If an employer deliberately looks for a bachelor's degree for a position that requires no more than a high school diploma, they may be filtering out certain candidates who couldn't afford a higher level of education due to their racial background.
Insisting on Excessive Background Checks and References
While background checks are expected, demanding more than the usual number of references or asking for character attestations may be an indication of racial filtering.
What Can You Do About Racial Discrimination in Hiring?
What you can do depends on your position, namely whether you are:
An employee already in the company

A candidate applying for a job
An Employee Already in the Company
If you are suspicious that your company practices racial discrimination in hiring new employees, you can:
Check your company anti-discrimination policy

Involve yourself in the hiring process

Ask for workshops on racial diversity

Raise the issue with your supervisor or HR
A Candidate Applying for a Job
If you feel you may have been discriminated against in your screening or interview process, you are free to make inquiries with the company's hiring manager—this will seldom generate any meaningful response, though.
If you have tangible evidence of bias in the hiring process, you should escalate the matter by involving the Equal Employment Opportunities Commission (EEOC).
The EEOC is tasked with investigating any breaches of federal anti-discrimination law and will investigate your case to get to the truth.
How Do I Involve the EEOC?
Before you can contact a discrimination lawyer and launch legal action against the employer, you need to lodge a complaint with the EEOC.
Your complaint—called a charge of discrimination—should provide as much evidence as possible of your allegations.
Once the EEOC has received your charge, it will:
Inform the employer that a charge has been filed

Ask for written responses from you and the employer

Investigate the evidence
If the investigation determines that your allegations have merit, the EEOC will:
Recommend conciliation between you and your employer

Launch legal action against the employer

Give you written permission to sue privately
Filing your charge of discrimination can be complex and time-consuming, but DoNotPay has a way to get the job done in a few clicks!
How Can DoNotPay Help With the EEOC?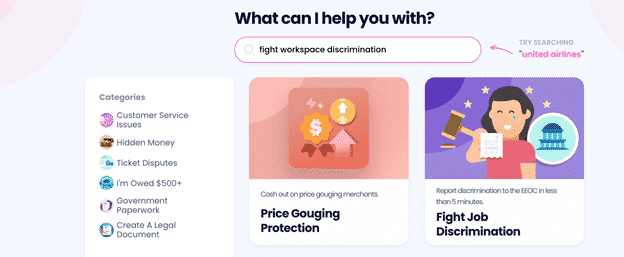 DoNotPay has a product that files your charge of discrimination with the EEOC in a flash. To use it, follow these steps:
Sign up with DoNotPay

in your preferred web browser 

Search for our

Fight Workplace Discrimination

product

Fill in the details the chatbot asks you for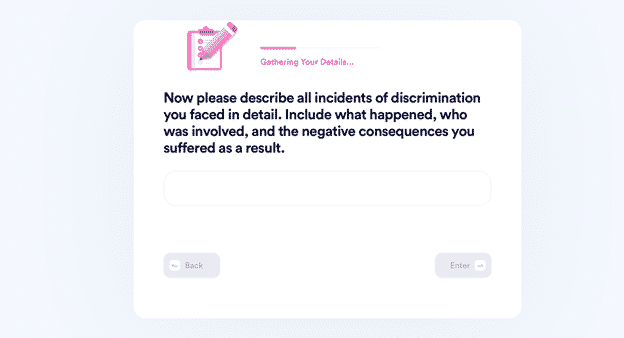 Your job is done! We file the charge with the nearest EEOC office, and they will contact you to talk you through your options.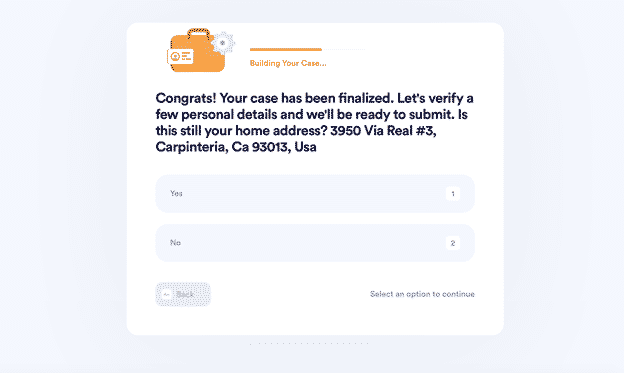 What Other Kinds of Discrimination Should I Be Aware Of?
Racial discrimination in the hiring process may be one symptom of a more widespread discrimination issue in the company. Other examples of workplace discrimination could be apparent, based on:
You may also find examples of wage discrimination, harassment (sexual, verbal, cyber, or email harassment), or retaliation.
Any case of discrimination needs to be called out and eradicated.
DoNotPay—The Virtual Lawyer You Can Rely On
Discrimination at a workplace is a serious issue. Unfortunately, the problems sometimes escalate into full-blown hate crimes. 
DoNotPay recognizes the importance of easy and affordable access to legal help, especially for population groups that are particularly vulnerable. For that reason, our platform keeps adding various useful tools and products that ease the burden of bureaucracy for the victims. 
With your DoNotPay subscription, you can:
Our app can even help you draft various legal documents, have them notarized, and fax them to the right person—all from one place.
Concerned About Your Online Safety?
We teach our children to be careful about using the internet, but how much do we pay attention to our online safety? Scammers are getting more and more creative and flourish thanks to new technologies. 
DoNotPay is a great resource for fighting irritating spam emails, dangerous texts, and annoying robocalls. If you use our virtual credit card, you won't have to worry about subscribing to free trials—even if they turn out to be a scam! Our AI bots will jump in to secure you a refund, whenever an online purchase goes wrong!