Plus Ça Change—The Extent of Workplace Racial Discrimination in America
Despite decades of progress and anti-discrimination legislation, racial discrimination in the workplace remains widespread in the U.S.
If you are experiencing or witnessing work-related racial discrimination in America, DoNotPay can help you with facts, trends, and advice to fight your case!
What Is the History of Racial Discrimination in America's Workplaces?
Workplace discrimination based on race has been around since the first European settlers arrived on the continent.
It continued after the Emancipation Proclamation and reached its peak in the public consciousness in the early 1960s.
The civil rights movement of that decade resulted in the passing of several landmark anti-discrimination laws that attempted to make racial employment discrimination in the United States a thing of the past. The most important of these was Title VII of the Civil Rights Act of 1963, which made it illegal to discriminate against anybody at work based on:
Race
Color
Nation of origin
What Does Title VII of the Civil Rights Act Say?
Title VII aims to combat the most common forms of employment discrimination, including:
How Widespread Is Racism and Discrimination in America's Workplaces Today?
The Equal Employment Opportunities Commission (EEOC) is the federal body enforcing anti-discrimination laws in the U.S.
As the first port of call for victims of racial discrimination at work, it is the best source for statistics to determine the current extent of the problem.
Between 2017 and 2020, the EEOC received the following charges of discrimination, ranked in order of reason:
| | | | | |
| --- | --- | --- | --- | --- |
| Discrimination Type | 2017 | 2018 | 2019 | 2020 |
| Race | 28528 | 24600 | 23976 | 22064 |
| Disability | 26838 | 24605 | 24238 | 24324 |
| Sex | 25605 | 24655 | 23532 | 21398 |
| Age | 18376 | 16911 | 15573 | 14183 |
| National Origin | 8299 | 7106 | 7009 | 6377 |
| Religion | 3436 | 2859 | 2725 | 2404 |
| Color | 3240 | 3166 | 3415 | 3562 |
| Equal Pay Act | 996 | 1066 | 1117 | 980 |
| Total Charges Received | 84,254 | 76,418 | 72,675 | 67,448 |
Workplace racial discrimination was the most widespread basis for discrimination in 2017, only being overtaken by disability cases from 2019 onwards.
A study in 2019 by the Center for American Progress revealed the following points about the Black working population:
Higher Black unemployment
Worse access to jobs
Fewer well-paying jobs
Growing wealth gap
Higher Black Unemployment
The study revealed that unemployment rates in the Black population are considerably higher than among white workers.
Worse Access to Jobs
The employment rate for Black workers lay at 75.7% up to October 2019, compared to 80.8% for white workers, suggesting that Black workers faced lower job accessibility than their white counterparts.
Fewer Well-Paying Jobs
Median earnings for Black workers in 2019 stood at $727 a week, compared to $943 for white workers. Lower average wages were compounded by worse benefits packages.
Growing Wealth Gap
Wealth among white workers is climbing at double the rate of that of Black workers, meaning that an already-wide wealth gap is growing every year.
What Can You Do if You Are a Victim of Racial Discrimination at Work?
The problem is widespread, and you may find yourself—like many others—a victim of racial discrimination at work.
If this is the case, you have several options to combat the discrimination.
Your employer is your first port of call. You should raise the issue with your supervisor and your HR department—making sure that your grievances are logged officially and not swept under the carpet.
If this fails to yield results, you need to escalate your case by lodging a complaint with the EEOC.
Your complaint, or charge of discrimination, is the start of a process during which the EEOC may:
Inform your employer of the charge
Investigate your allegations
Suggest a mediated settlement
Launch a lawsuit against your employer
Give you permission to use a discrimination lawyer to start private legal action
The more detail and hard evidence you can bring to bear, the better your chances of a satisfactory outcome. If you win a settlement or a court case against your employer, your compensation could include:
Reimbursement of lost pay and benefits
Damages for emotional trauma
Compensation for your legal costs
Punitive damages against your employer
The EEOC is the expert in fighting racial discrimination cases, but filing your charge of discrimination can be a complex process. Your local EEOC office may want you to attend an interview before they accept your complaint. DoNotPay has the answer—we can help you get your charge filed in three easy steps!
Fight Racial Discrimination With DoNotPay's Help
DoNotPay can help you initiate your fight for fair treatment quickly and easily!
All you need to do to file your charge of discrimination with the EEOC is:
Sign up with DoNotPay in your web browser
Go to our Fight Workplace Discrimination product
Fill out the details of your case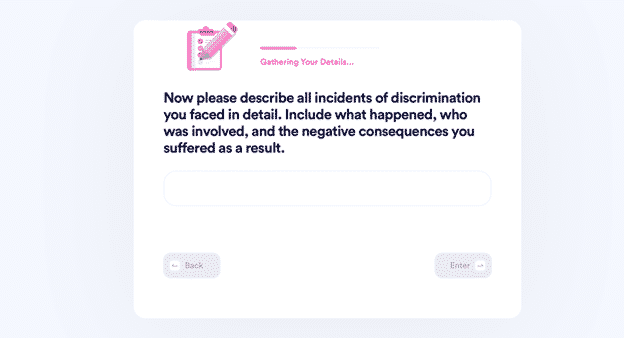 DoNotPay can handle the rest. Your charge will be filed, and the EEOC will contact you to discuss your next steps.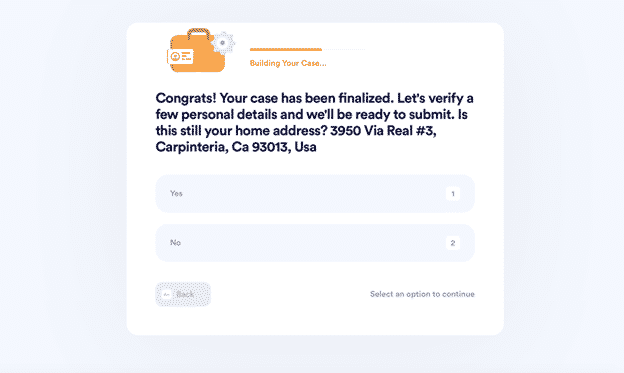 Thinking About Hiring a Lawyer? Think Again!
After you report discrimination in the workplace, you can only hope everything will turn out great. We sure hope so too, but having a backup plan doesn't hurt. If the report with the EEOC backfires, getting a lawyer will be the next logical step.
While you may understand the importance of professional legal help, you might be surprised by how much our virtual lawyer can do for you. Thanks to advanced AI technology, our app can assist you with:
By subscribing to DoNotPay, you won't have to waste hundreds of dollars on lawyers for the help you can get for a few bucks!
DoNotPay Provides Shortcuts Through Bureaucracy
Have you ever thought that corporations and government administration make everything more complicated than it should be? We feel you. That thought is the cornerstone of what DoNotPay is all about!
Our developers keep coming up with products that win against complicated bureaucracy left, right, and center. Some of the tools and services we're most proud of help our subscribers with:
And we're just getting started!