Workplace Racial Discrimination Cases That Can Affect Your Chances of a Successful Lawsuit
Of all the forms of workplace discrimination, cases involving race have been the most headline-grabbing in recent years.
Racial discrimination at work is the most common reason for a complaint to the Equal Employment Opportunities Commission (EEOC), accounting for nearly 33% of all charges filed in 2020. Despite media and public outcry over every case of racial discrimination at work, it still seems rife across the U.S.
If you feel you are a victim of workplace racial discrimination, you need to know how the law works and how recent racial discrimination cases may affect your situation. DoNotPay has everything you need to make sure your racial discrimination case is watertight!
The Most Significant Recent
Racial Discrimination Court Cases
in the Workplace
The following employment discrimination cases have influenced how the law against racial discrimination is applied:
Abdallah v. Coca-Cola (2000)

EEOC v. Falcon Foundry, Ohio (2020)

EEOC v. Jackson National Life Insurance (2020)

EEOC v. JL Schwieters, Minnesota (2017)

EEOC v. BMW Manufacturing Company (2015)

EEOC v. Patterson-UTI Drilling Co. (2015)

EEOC v. Dart Energy Corporation (2014)
Abdallah v. Coca-Cola (2000)
The Coca-Cola Company agreed to a $192 million settlement after a class action claimed that the company had systematically discriminated against Black employees in its hiring, advancement, and remuneration procedures.
While Coca-Cola did not admit liability, it agreed to make wide-ranging changes to its policies. The changes included installing an independent panel to oversee the company's compliance with race discrimination laws for five years.
EEOC v. Falcon Foundry, Ohio (2020)
The EEOC and the National Association for the Advancement of Colored People (NAACP) won a case against Falcon Foundry after management was found to have allowed systemic racial discrimination to take place.
EEOC v. Jackson National Life Insurance (2020)
The Jackson National Life Insurance Company agreed to pay $20.5 million in settlements after it was found guilty of discriminating against Black and female employees in its hiring and promotion practices.
EEOC v. JL Schwieters, Minnesota (2017)
The JL Schwieters construction company settled for $125,000 for creating a hostile work environment for two Black carpenters. The plaintiffs asserted that a white supervisor had used repeated racial slurs and harassment against them and that management had done nothing to rectify the situation.
EEOC v. BMW Manufacturing Company (2015)
BMW offered a settlement of $1.6 million to Black workers discriminated against at its Spartanburg, SC, facility after BMW insisted on criminal background checks for its logistics workers, resulting in 56 Black workers being fired.
EEOC v. Patterson-UTI Drilling Co. (2015)
Patterson UTI agreed to pay a total of $14.5 million in a settlement after it allegedly:
EEOC v. Dart Energy Corporation (2014)
The EEOC successfully reached a settlement of $1.2 million from Dart Energy after allegations of racial slurs against Black, Hispanic, and Native American employees were filed. While the company did not admit its guilt, it offered the settlement to avoid the potentially higher cost of fighting the case.
What Are the Implications of These Cases?
The above discrimination examples demonstrate that companies flouting anti-discrimination laws are in danger of being caught and punished heavily.
These cases highlight that anti-discrimination policies need to be enforced to cover:
The case against JL Schwieters also made it clear that management can be held responsible for how its supervisors behave, regardless of whether the supervisors acted within company policy.
What Does This Mean for You?
If you feel that racial discrimination is being perpetrated at work, you need to take action to quash it as soon as possible.
Before doing anything else, you should attempt a resolution internally. Here are the steps you should take:
Action Step

Explanation

Check company policy

Make sure your company has a written policy document that explicitly condemns racial discrimination

Keep a diary

You should keep a written record of every incident of racial discrimination, including:

Dates and times

Protagonists

Details of the incident

Names of witnesses

Approach HR or your supervisor

You need to insist on a written record of your complaint being made, even if your company is unwilling to do so
If this fails to resolve the issue, you need to take the matter to the next level—
Take the Next Step With DoNotPay
If your attempts to solve the problem internally don't work, you need to involve the EEOC.
The EEOC enforces federal anti-discrimination laws and is mandated to:
Your first step—before you contact a discrimination lawyer—is to file a charge of discrimination with the EEOC, in which you list the incidents of racial discrimination you have experienced.
Filing your complaint can be complicated, but DoNotPay can simplify the process down to a few clicks—this is what you need to do:
in your web browser

Look for our

Fight Workplace Discrimination

feature

Fill out the details of your case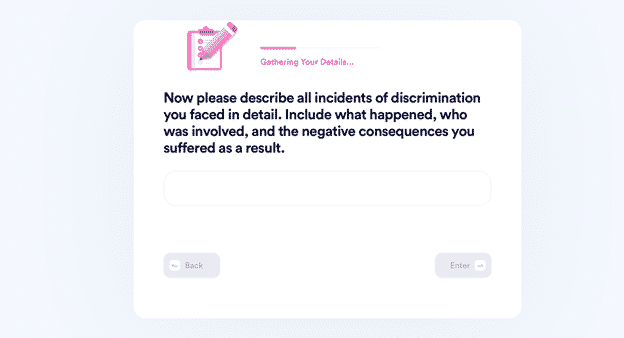 DoNotPay will file your charge with your local EEOC field office, and they will let you know what you need to do next.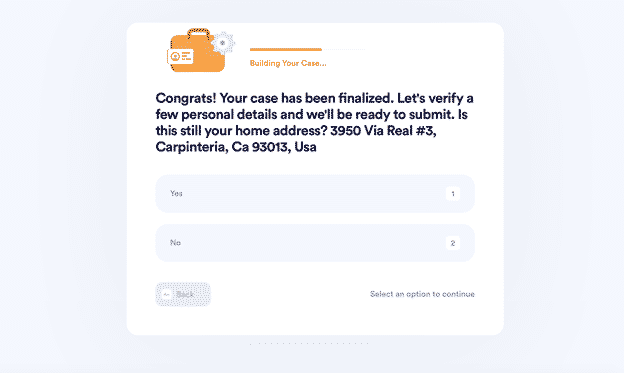 Is Racism the Only Kind of Discrimination the EEOC Deals With?
The EEOC deals with all types of discrimination in the workplace, including cases based on:
Money Doesn't Grow on Trees, but DoNotPay Is a Close Second
Experiencing workplace discrimination can affect the victim in more ways than one. Filing a report with the EEOC should help, but in reality, people sometimes lose jobs if they stand up to bullies.
If that happens to you, there are several ways how DoNotPay can help. Our app is a great resource for fighting injustice and administration, but it can also help you save and earn money if you lose your regular income:
We Can Help You Fight for Your Rights
DoNotPay was created to support anyone who feels small and helpless in front of big corporations, confusing administration, or downright criminals.
We can help you get a refund even when companies won't budge, stop email and text message scams, protect your work from copyright infringement, save yourself from stalking and harassment, or even take individuals or companies to small claims court!