How Much Is Discrimination Worth? DoNotPay's Guide to Race Discrimination Lawsuit Settlements
Racial discrimination is as much a hot topic today as it was at the height of the civil rights movement in the 1960s.
If you are a victim of race discrimination in the workplace, you are faced with the choice of whether to accept it or fight back.
In case you decide to fight back, DoNotPay is here to help you understand how much you could win in compensation based on recent race discrimination lawsuit settlements.
What Constitutes Racial Discrimination at Work?
The first question a discrimination lawyer will want to answer is whether your case is a watertight example of workplace discrimination.
The burden of proof is on you to demonstrate that your employer has discriminated against you, meaning you have to provide evidence of:
De jure or de facto discrimination—Your employer has deliberately enforced discriminatory practices or allowed them to take place
Wage discrimination—You are being paid less for the same work due to your race
Harassment—You suffer verbal, email, sexual, or cyber abuse at work
Retaliation—Employees are victimized for having complained about discriminatory behavior
If you have enough evidence to support your allegation of racial discrimination, you can proceed with your complaint against your employer.
What Kinds of Compensation Are There?
In proven race discrimination cases, you could be entitled to the following types of compensation:
Lost earnings compensation
Reimbursement of costs
Mental trauma damages
Punitive damages
Lost Earnings Compensation
You may receive compensation for earnings lost as a result of your employer's discrimination against you. The compensation could include:
Back pay or payment of earnings lost before the case was launched
Front pay, meaning earnings you will lose in the future if you have lost your job due to discrimination
Benefits or any shortfalls in your expected benefits status due to the discrimination
Reimbursement of Costs
Your court costs, lawyers' fees, and other related expenses may be reimbursed if you win a settlement from your employer.
Many lawyers work on a fee calculated as a percentage of whatever compensation they secure for you, so it is in their interest to fight for as much compensation as possible.
Mental Trauma Damages
If you can prove you have suffered mental trauma or anguish as a result of racial discrimination, you may be eligible for compensation to cover the costs of counseling or therapy.
A statement from a doctor, psychiatrist, or counselor would be necessary to prove you have experienced trauma.
Punitive Damages
In serious racial discrimination court cases, the employer may be forced to pay damages to you as a punishment for their actions.
The amounts involved can be significant, so many employers choose to avoid punitive damages by offering racial discrimination settlements before cases reach court.
What Are the Average Compensation Amounts You Can Expect?
Federal anti-discrimination law governs the amounts a court may award in compensation per employee as follows:
| | |
| --- | --- |
| Company Size | Amount |
| 15–100 employees | $50,000 |
| 101–200 employees | $100,000 |
| 201–500 employees | $200,000 |
| 501 employees or more | $300,000 |
The big cases that make headlines due to their million-dollar settlement amounts usually involve multiple plaintiffs.
The average amount a plaintiff receives in compensation for racial discrimination is $40,000. Factors that can influence the amount of compensation awarded can include:
Case type—settlement or court case
Size of the defending company
Jurisdiction
Settlement or Court Case
In many cases, an employer accused of racial discrimination will choose to offer a settlement before the case goes to court. In many instances, the settlement amount will be lower than what a court may award.
Size of the Defending Company
The larger and more famous the company, the more it will be expected to pay in compensation. In court cases involving high-profile companies, a court may award higher punitive damages as an example to other employers.
Jurisdiction
Some states, such as California, are known to favor plaintiffs in discrimination cases. If a racial discrimination case is tried under state law, some states may award higher compensation amounts than others.
How To Launch Your Claim for Compensation for Racial Discrimination at Work
If you are convinced you are a victim of racial discrimination at work, your first step is to attempt to solve the problem with your employer.
If this approach bears no fruit, you need to file a complaint with the Equal Employment Opportunities Commission (EEOC)—the body that enforces federal anti-discrimination laws.
Your complaint—called a charge of discrimination—must detail all the evidence of discrimination you have collected.
Once it has received your charge, the EEOC will investigate your case and advise you on the best way forward. The suggestions may include:
Dropping the charge due to lack of evidence
Mediating a pre-court settlement between you and your employer
Commencing legal action against your employer
Giving you written permission to launch a private race discrimination lawsuit
Submitting your charge of discrimination can be complicated, as the EEOC often requires you to attend an in-person interview to talk through the details of your complaint. DoNotPay has the answer, though—with our help, you can !
Lodge Your Charge of Discrimination With DoNotPay's Help
DoNotPay is the expert at making your life simpler, and dealing with the EEOC is no exception.
You can use DoNotPay to file your EEOC charge of discrimination in these three steps:
in your web browser
Go to our Fight Workplace Discrimination product
Fill out the details of your case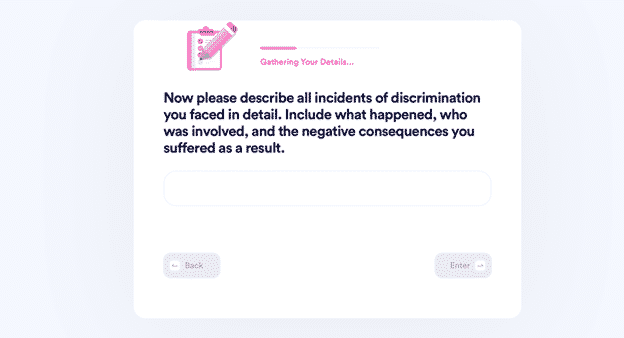 DoNotPay will handle the rest. We will file your charge with the nearest EEOC field office, and they will contact you to walk you through the next steps.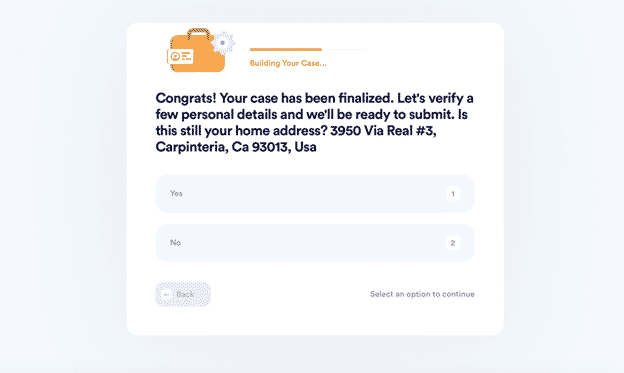 Tackle All Kinds of Discrimination With the EEOC and DoNotPay
The EEOC deals with all forms of discrimination, not just racially motivated cases.
DoNotPay can help you work with the EEOC if you believe you are a victim of workplace discrimination based on:
Gender

LGBTQ+ status

Color
Nation of origin
Whatever your experience, DoNotPay is your go-to resource for fighting workplace discrimination.
DoNotPay—The Virtual Lawyer You Can Rely On
Discrimination at a workplace is a serious issue. Unfortunately, the problems sometimes escalate into full-blown hate crimes.
DoNotPay recognizes the importance of easy and affordable access to legal help, especially for population groups that are particularly vulnerable. For that reason, our platform keeps adding various useful tools and products that ease the burden of bureaucracy for the victims.
With your DoNotPay subscription, you can:
Our app can even help you draft various legal documents, have them notarized, and fax them to the right person—all from one place.
Concerned About Your Online Safety?
We teach our children to be careful about using the internet, but how much do we pay attention to our online safety? Scammers are getting more and more creative and flourish thanks to new technologies.
DoNotPay is a great resource for fighting irritating spam emails, dangerous texts, and annoying robocalls. If you use our virtual credit card, you won't have to worry about subscribing to free trials—even if they turn out to be a scam! Our AI bots will jump in to secure you a refund, whenever an online purchase goes wrong!