How to Report Animal Abuse
Have you ever been in a situation in which you wanted to report animal abuse? It's awful to witness an animal in distress, especially if we think there's nothing we can do about it or that nothing could be done, even if we stepped up.
But animal abuse is, indeed, a crime on local, state, and federal levels, and when you report a violation of these laws, you're speaking up for creatures that don't have voices of their own.  Let's take a look at how you can report animal abuse through traditional channels and how you can do it in just a few minutes through DoNotPay. 
Raising the Alarm on Animal Abuse on Your Own
When you've encountered an animal abuse situation, you might feel afraid to say something directly to the suspected abuser, or you might even feel like they might find out if you call the authorities. If it's the latter, imagine how many other people have suspected the abuse but didn't speak up? It's unlikely that the abuser will find out you were the one who reported them, and you can't count on someone else doing it for you. 
There is always a way to report animal abuse, no matter where it occurred. Whether you live in a big city or a rural, unincorporated area, there are resources that help rescue neglected, abused, or abandoned animals. 
Document Everything 
The first step in reporting animal abuse is gathering information about the incident or the ongoing situation. This will help animal abuse investigators be better prepared for building a case. 
If you are reporting a single incident, for example: 
Note the date, time, and location of the event
Describe, in detail, what occurred
Where did it happen? 
What kind of animal(s) were involved? 
Were the authorities notified or called to the scene? 
Do you know the name of the person or people responsible for the abuse? 
Get the names and contact information of any witnesses, if possible. 
If you were able to take photographs of the event or its aftermath, make paper copies. 
Sometimes the abuse is an ongoing problem, such as animal hoarding or neglect, in which case you might want to gather further information: 
The address where the animals are kept
Do the animals look sick? 
Do they appear to be malnourished? 
A description of the conditions where they are kept
Do they appear to be lacking food, water, or shelter from the elements? 
Are there signs that the animals aren't cleaned up after? 
Are the animals kept in cages or pens too small to turn around or comfortably lie down?
Have you witnessed any violence towards the animal(s)?
Find the appropriate authorities.
You can find county and municipal animal control organizations on your own if you: 
Use the search terms "animal control + (your town or your county)
Call the non-emergency lines at your sheriff's or police department, and ask for the contact information for your local animal control unit; often, these are operated by local law enforcement agencies.
It's also a good idea to locate non-governmental animal aid organizations, such as your local humane societies. Note, the Humane Society of the United States (HSUS) does not operate local chapters or shelters; "humane society" is often a generic term for animal welfare organizations.
The best way to find reputable local animal advocacy groups and shelters is through local veterinarians or pet shops or your local animal control department. 
Put Together and Submit Your Report
If you call law enforcement, including government-run animal control services, they'll likely ask you to fill out a standardized form, or they'll take your report down for you. Still, we recommend that you submit your own statement and documentation to file with official reports if you're reporting animal abuse on your own. 
In any case, it's wise to write out your statement in your own words, attaching it to the "evidence" you gathered. Keep copies for yourself in case you're asked to testify at a later date. 
Mail your statement and evidence to the municipal or county animal control division via USPS mail with delivery confirmation, and keep the postal receipts for your records. You can also ask to hand-deliver your report to an officer if you make an appointment at the agency or appear in person during business hours.
Follow Up
Let's face it: Law enforcement agencies, including animal control units, are often overburdened. In some areas, animal welfare investigations are such a low priority that they're put on the backburner indefinitely. Don't give up.
Within ten business days of filing your report, contact the agency and ask if: 
They've received your report
Actions have been taken, or investigations are ongoing
There are any associated case numbers assigned to the abuse situation
If no action has been taken, you might want to with local or national animal welfare non-profits. 
Who to Contact if the Abuse Isn't Stopped?
| | |
| --- | --- |
| Take It to the State Level | If your report appears to fall on deaf ears, contact your state's Attorney General's office. Include with your report a timeline of your attempts to contact local officials and why you feel they have failed. |
| Alert the Media | It never hurts to drop an anonymous tip to your local newspaper or television station whenever crimes against animals are ignored by local law enforcement |
| What About the National Animal Welfare Organizations? | The most reputable animal welfare organizations like Humane Society of the United States (HSUS) and the American Society for the Prevention of Cruelty to Animals (ASPCA) don't field animal abuse reports, instead referring reporters to local and state authorities.  |
Report Animal Abuse With DoNotPay
What if you wanted to be sure the animal abuse was reported the right way, without you getting yourself directly involved in the process? Wouldn't it be a relief to have a virtual advocate on your side as you do your best to protect animals that can't advocate for themselves?
Here's how you can use DoNotPay to report animal cruelty:
1. Search "Report Animal Abuse" on DoNotPay, and select the associated tool.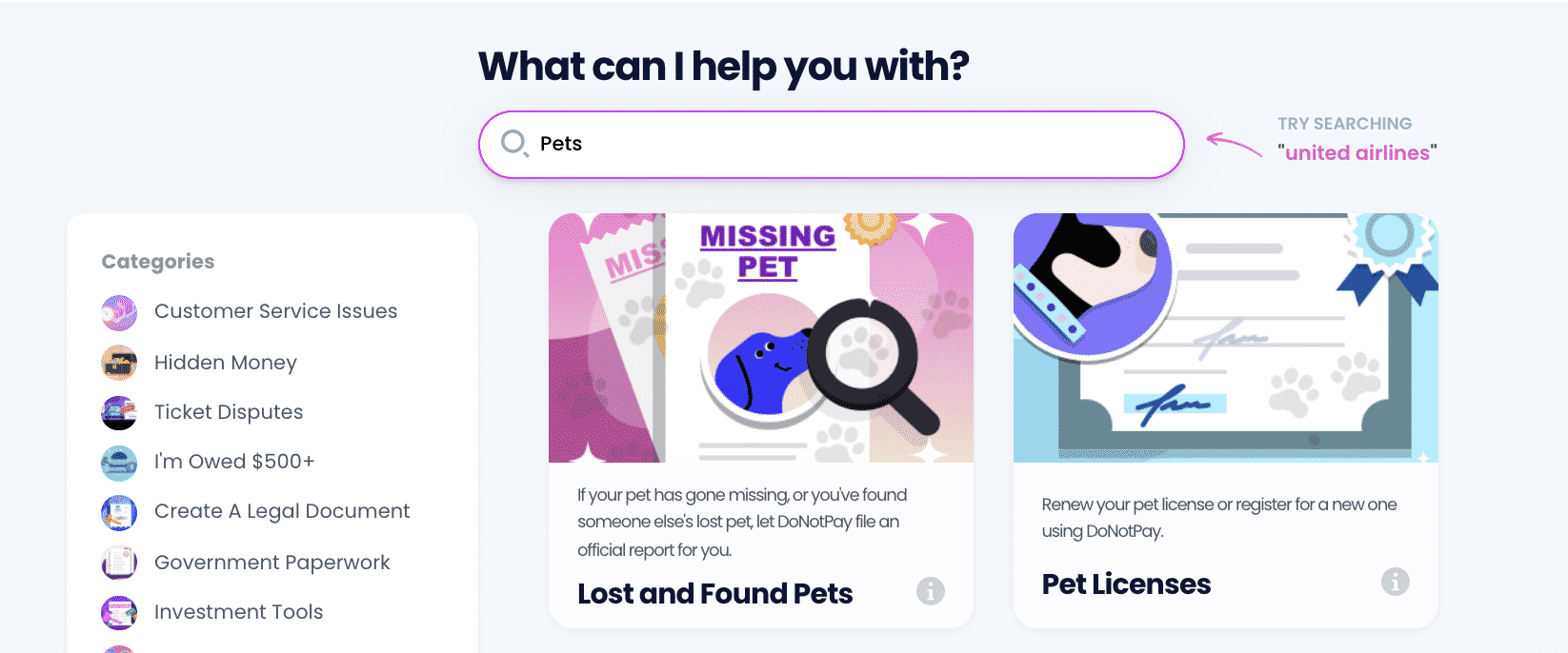 2. Then following the prompts, report the time, location, and exact detail to the best of your knowledge of the situation that has led you to believe there is animal cruelty afoot.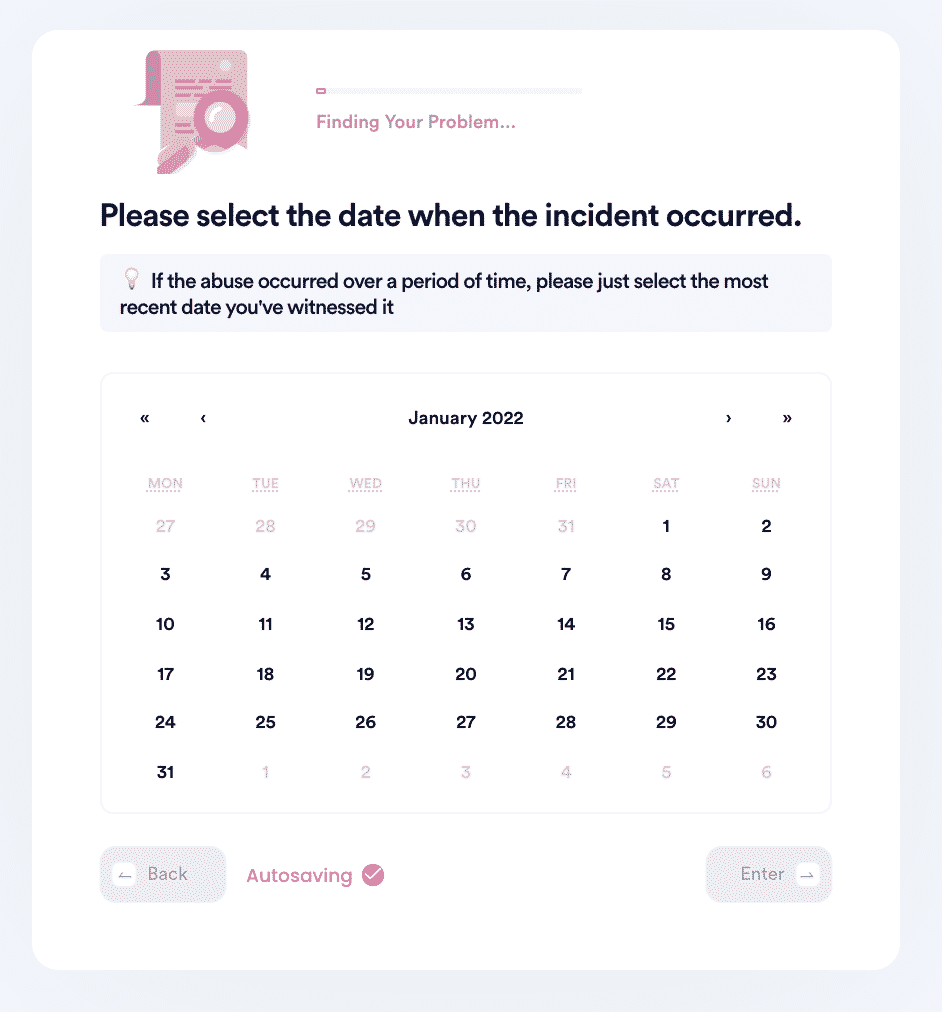 3. Upload an image to build your case and include your contact information for the authorities to get back to you about your report.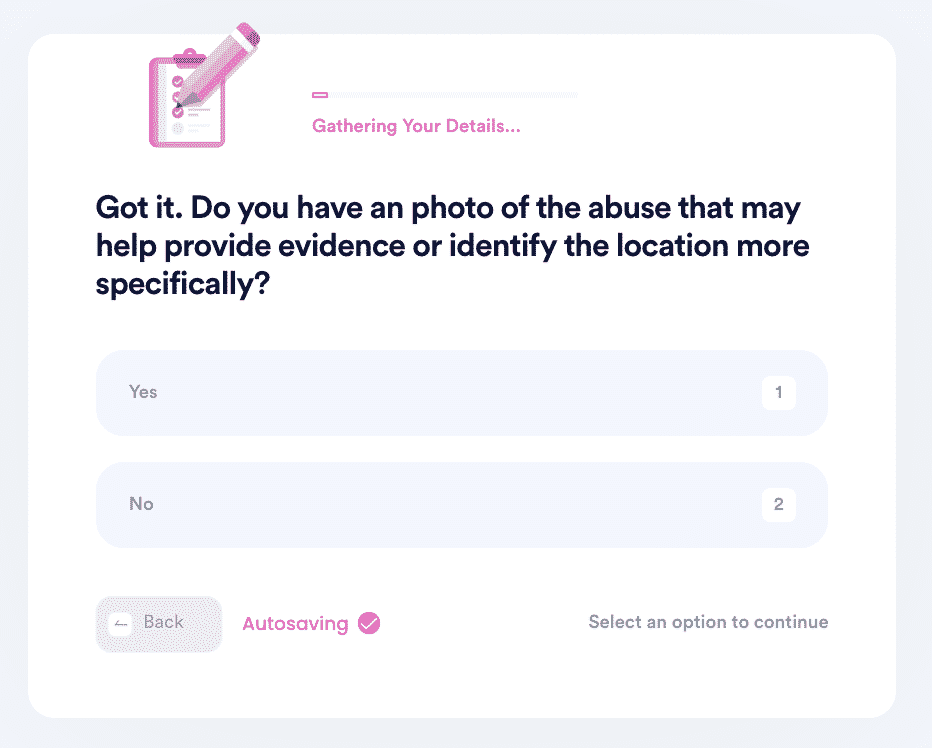 And that's it. DoNotPay will file the report on your behalf, getting animals out of harm's way.
How Else Can DoNotPay Help Animals and Animal Lovers? 
Among the hundreds of services, DoNotPay offers are several that make life as a pet—or pet owner—easier. Here are just a few:
Let DoNotPay Help You Be a Hero to an Animal In Need
Are you ready to stand up to animal abuse? Here's why you should count on DoNotPay to help you file an animal cruelty report: 
We're fast—We can get your report filed in minutes, and the sooner your report's filed, the sooner abused animals will find relief.
It's simple to do—We can file a report in just a few easy steps!
We get it done right—You can rest assured knowing we'll make the best case for you and the animals you're trying to help.
Don't wait another minute. Let DoNotPay help you advocate for abused animals today.