A Fast Way To a Quickie Divorce in Florida
Most couples prefer to get divorced at a low cost and with as little stress as possible. If you live in Florida, you can complete the procedure in record time, provided you meet specific state requirements.
If you need inside info on getting a quickie divorce in Florida, you are in the right place. DoNotPay will teach you all about the necessary divorce papers and steps you need to take to end your marriage amicably. Learn the importance of creating a comprehensive divorce settlement agreement and the most practical way to do it!
General Requirements for a Divorce in Florida
Before filing for divorce in Florida, you have to be familiar with basic state law criteria. The crucial factors you have to consider are:
Meeting the residential requirements—You or your spouse have to be Florida residents for at least six months before filing for divorce there
Having grounds (reasons) for a divorce—Florida is a no-fault state, meaning neither of you has to prove that one spouse is responsible for the marriage ending. You can file for divorce by claiming that:

Marriage is irretrievably broken (the rift in your marriage is too great to be fixed)
One spouse is mentally incapacitated (they have to be legally diagnosed at least three years before filing)
What Is a Simple Divorce in Florida?
An uncontested divorce can help you end your marriage without complications and unnecessary expenses. You can file for an uncontested divorce in Florida if you and your spouse have reached an understanding about issues such as:
Child support
Spousal support
Alimony
Property division
Life and health insurance
Any other items you consider important
The state offers two types of uncontested divorce, depending on how complex your situation is.
The fastest and most pocket-friendly way to get divorced in Florida is to apply for a so-called simplified dissolution of marriage. It allows you to complete the divorce within 30 days of filing the paperwork. Bear in mind that you have to fulfill specific requirements for a simplified dissolution of marriage.
Do I Qualify for an Easy Florida Divorce?
Filing for a simplified dissolution of marriage requires meeting the following conditions:
Both spouses must agree to this method of divorce
The couple mustn't have children that are:

Under 18
Dependent on them in any way

The wife shouldn't be pregnant
The couple must meet the residential requirements and agree the marriage is irretrievably broken
Spouses need to agree on dividing their assets and debts
Neither spouse should seek alimony
If you don't qualify for a simplified dissolution of marriage in Florida, you can file for regular divorce. It is considered uncontested as long as you and your spouse have agreed on all terms. While it may be a bit more time-consuming than a simplified dissolution of marriage, you will still waste a lot less time and money than on a contested divorce.
How To File for a Quick Divorce in Florida
To file for an uncontested divorce in Florida, you have to follow a pre-established procedure. If you plan to go through the divorce without a lawyer's guidance, make sure to study the steps thoroughly. Take a look at the table below for a detailed description of the process:
Steps for an Uncontested Divorce in Florida
Details
Fill out the divorce paperwork
Find the petition for the dissolution of marriage, along with other necessary forms, on the Florida courts website. Make sure to choose the divorce forms that fit your specific circumstances
File the documents
Submit the petition with the circuit court clerk in the county where you and your spouse last resided or are currently living in
Serve your spouse
Serve a copy of the petition, along with the summons, to your spouse. You can do it with the help of the sheriff's office or by hiring a private process server. If your spouse doesn't file an answer to the petition within 20 days, the divorce will continue without their participation
Attend the divorce hearing
The judge will:

Make sure you've met all requirements
Revise your paperwork, along with the marital settlement agreement (register for DoNotPay to get one fast)
Give you a Final Judgment of Dissolution of Marriage
A marital settlement agreement should contain all the terms you and your spouse have agreed upon in writing. If you can't reach an understanding on your own, you can seek the assistance of a professional mediator.
Let DoNotPay Assist You With Your Marital Settlement Agreement
A quickie divorce in Florida wouldn't be as effective without a proper marital settlement agreement. While downloading a template from the Florida courts website is one option, you risk making a mistake that can cause significant future consequences.
DoNotPay knows all about your state-specific laws and can help you create a personalized, enforceable marital settlement agreement in no time.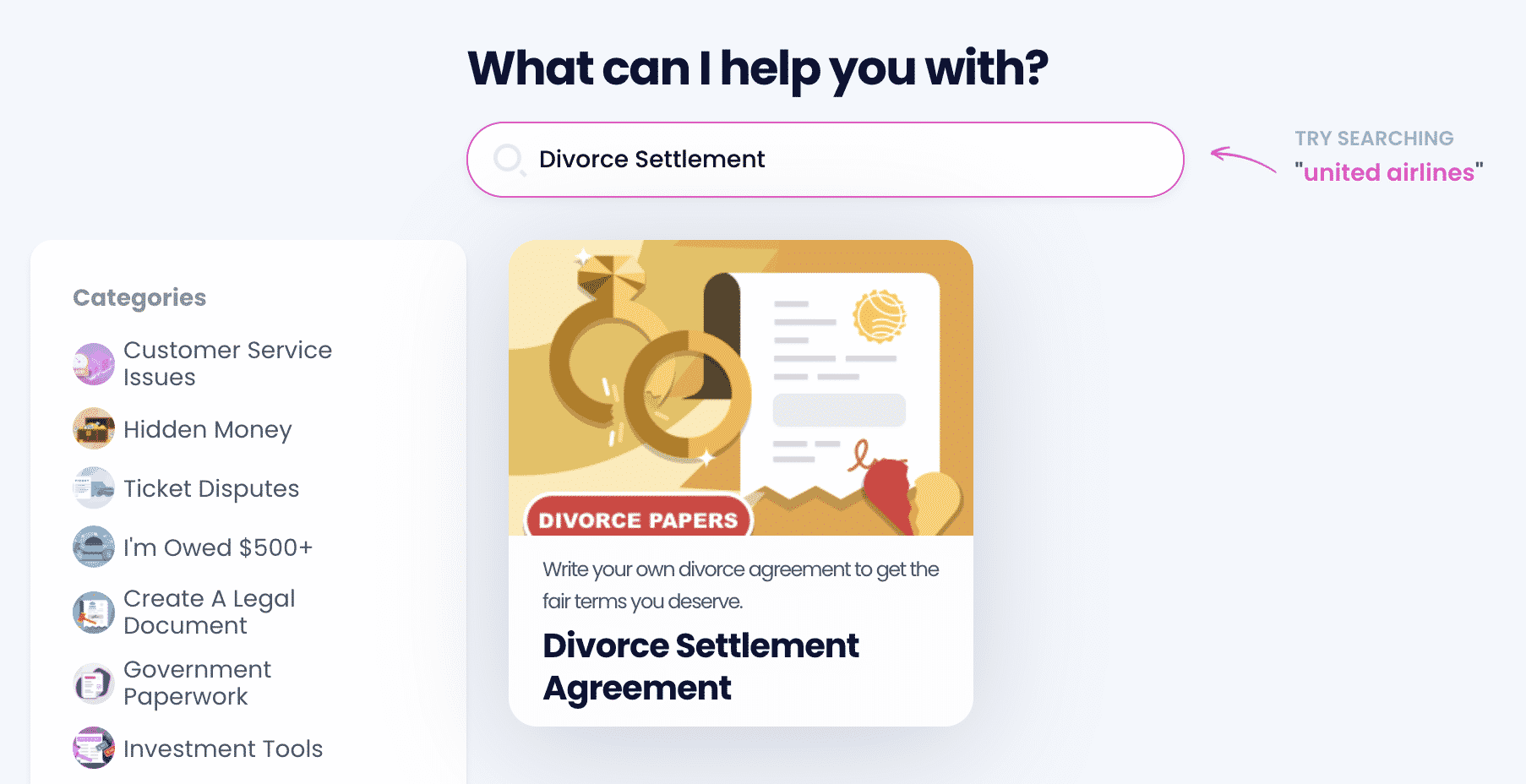 Sign up for DoNotPay and take these steps:
Type in Divorce Settlement Agreement in the search box
Answer questions about your situation to help us customize the document
Opt to have the marital settlement agreement notarized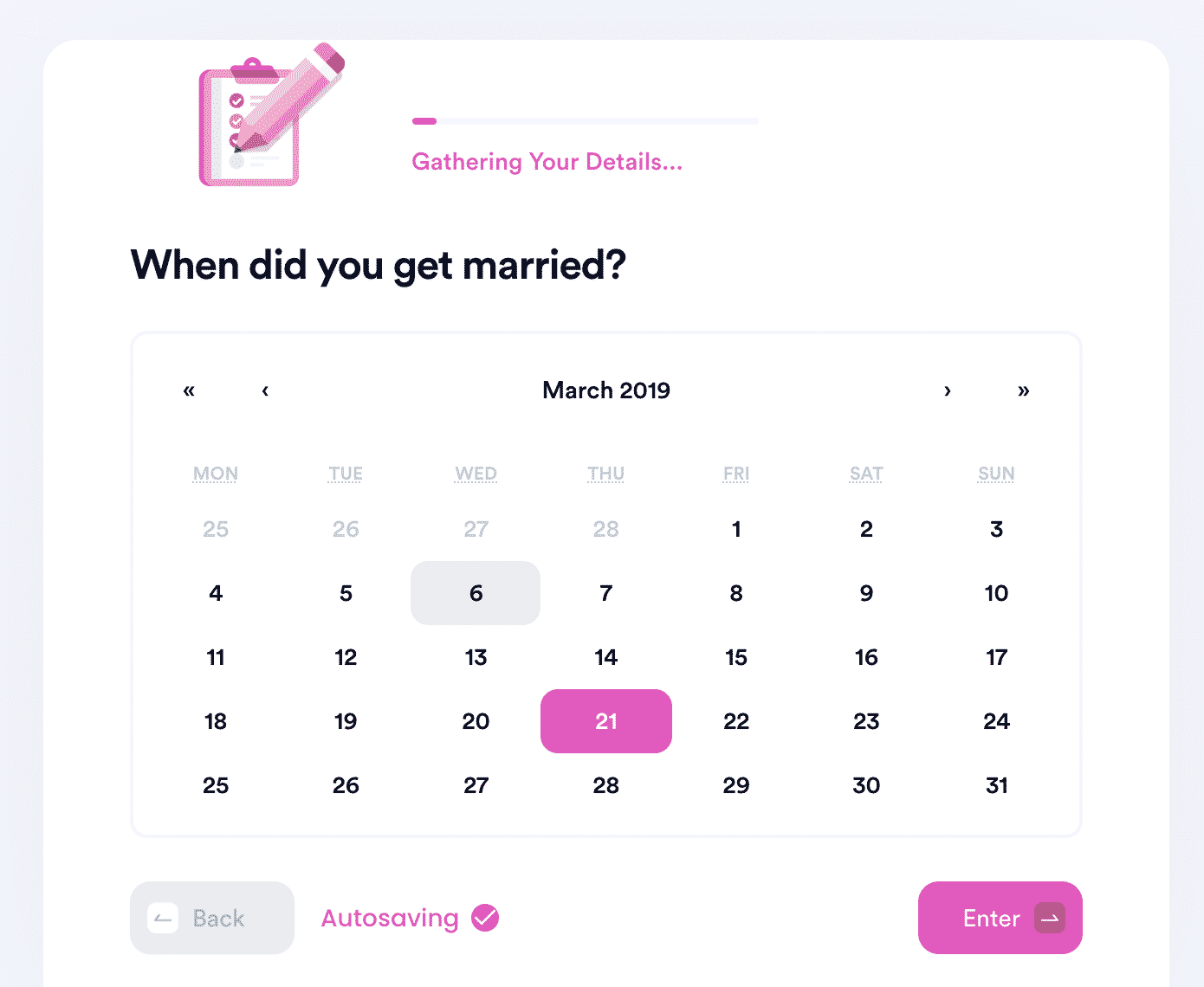 It will take us minutes to incorporate the details you provided into the document and send it to you. Getting the marital settlement agreement notarized with our help is just as simple. We'll connect you with an online notary, and you can schedule an appointment 24/7!
We can offer you so much more in terms of divorce-related information. The table below contains some general and Florida-specific articles from our knowledge base:
DoNotPay Covers All the Bases
From getting you ready for various government tests to helping you reduce your property taxes, DoNotPay offers valuable assistance with the tasks that make most people at least roll their eyes. Dealing with bureaucracy isn't fun, but it also doesn't have to be as difficult as it is.
Every product in DoNotPay's portfolio is designed to efficiently deal with a specific issue within a few minutes and without sacrificing your comfort. Take a look at the tasks our app can make much more simple:
A Little More Money Never Hurt Anybody
Hardly anyone would turn down a chance to earn some more cash. That's why DoNotPay not only protects your rights and interests but also offers great opportunities to improve your financial situation.
With our help, you can find paid clinical trials, locate your missing money in any state, get your cash back from used gift cards, or enter various raffles and win great prizes.