Time for a Quick Divorce? PA Law Explained by DoNotPay
When you file for divorce, you want the process to be over quickly, cheaply, and without fuss.
Pennsylvania legislation can't make your divorce happen overnight, but there are some ways you can avoid lengthy court proceedings, stop lawyers wrangling for weeks, and speed the process up considerably.
DoNotPay points the way to a quick divorce, PA-style!
How Does Divorce Work in Pennsylvania?
Pennsylvania accepts both at-fault and no-fault divorces, but the no-fault option is by far the quicker choice.
If any of the spouses has lived in the state for at least the last six months, the divorce request can be processed under Pennsylvania jurisdiction.
The steps to file for divorce are:
Filing divorce papers
Agreeing on a settlement
Filing Divorce Papers
You—as the plaintiff—need to fill out the correct forms and file them with the clerk of your county court.
The requirements are different from county to county, but the necessary papers will usually include a:
Complaint or petition for divorce
Summons for your spouse
The petitioner is obliged to pay the filing fee of around $200–$250 and will receive stamped copies to deliver to the other spouse.
Serving Your Spouse
Your divorce can only proceed after you have delivered your papers to your spouse and filed confirmation that they have been received.
You can use registered mail, a sheriff, or a professional process server to deliver the papers. Once you have filed the confirmation of service, your divorce process will be subject to a mandatory 90-day waiting period before your case can be heard in court.
If the goal is a friendly divorce with an out-of-court settlement, you can avoid having to serve the papers by filing a waiver of service.
Agreeing on a Settlement
During the prescribed 90-day waiting period, you and your spouse can work on your settlement agreement.
If you can finalize and file it before your case comes to trial, your divorce will be classed as uncontested and can be wrapped up quickly.
If no settlement is in place, your case will proceed to court hearings and will end with the judge imposing a settlement on you.
How Can You Speed Up Your PA Divorce?
It's impossible to get around the 90-day waiting period in a no-fault, uncontested divorce in Pennsylvania.
All the other routes to divorce—including at-fault and contested divorces—have to be tried in court and can take over a year to be finalized.
The only options you have to get your divorce decree as quickly as possible are to cooperate with your spouse to speed up:
Filing and serving the divorce papers
Reaching a settlement agreement
The quicker you can get these steps done, the faster the 90-day waiting period will be over, but an uncontested divorce in Pennsylvania will usually take at least four months.
How To Reach a Settlement Agreement
Your settlement agreement is the most important legal document in your divorce proceedings since it covers what will happen to your:
Negotiating your settlement agreement depends on how much you and your spouse are willing to cooperate. Your options for the negotiations are:
| Settlement Negotiation Resources | Explanation |
| --- | --- |
| Lawyers | Lawyers are the traditional choice for negotiating settlement agreements, but they come at a hefty price. PA divorce attorneys typically charge around $250 per hour, and using lawyers to get your settlement agreement done and dusted can easily land you with costs of $5,000 per spouse. |
| Mediation services | Mediation is an option if you and your spouse can negotiate face to face, and using a PA mediator could be considerably more cost-effective than engaging attorneys |
| DIY | If both sides agree on the terms of the settlement, you can work out the details without third-party intervention. This is the cheapest route |
Once you have agreed on your settlement terms, you can go ahead and have the agreement drafted.
How To Get Your Settlement Agreement Drawn Up
Your settlement agreement is a binding contract between you and your spouse and needs to be legally watertight to avoid it being rejected by the judge in your case.
Your options for drawing up your agreement are:
Lawyer—This is the most expensive option, and you may find lawyers unwilling to draw up an agreement unless they have been involved in negotiating it
Online divorce service—Various online providers offer downloadable templates for you to fill out, but these can be woefully inadequate and may be rejected by a judge
DoNotPay is your savior—we can create a divorce settlement agreement to your exact specifications in a few clicks, with not a cent to pay in lawyers' fees!
Get Your Quick PA Divorce on Track With DoNotPay!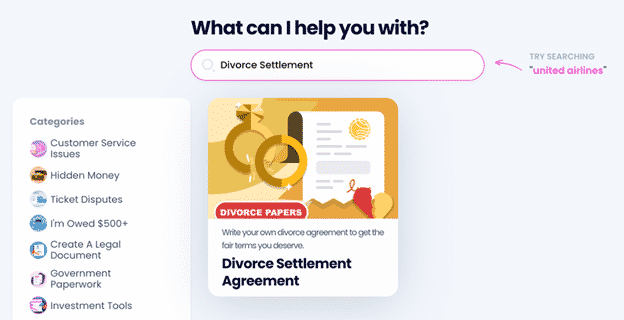 DoNotPay believes that your divorce should be as efficient as possible, so you can start getting on with your life!
Our Divorce Settlement Agreement product can deliver a comprehensive, tailor-made document that:
Doesn't require involving lawyers
Helps you reach a settlement acceptable to both you and your spouse
Your settlement agreement can be ready in a few steps—here's what you need to do:
Sign up with DoNotPay in your web browser
Locate our Divorce Settlement Agreement product and click on it
Follow the prompts and give us the details you have agreed on with your spouse
Once everything is filled in, you will have your document in an instant. You can sign it together with your spouse and have it notarized.
If finding a notary in your area is not so easy, you can rely on our online notarization service that can get your documents signed and sealed without you leaving the comfort of your home!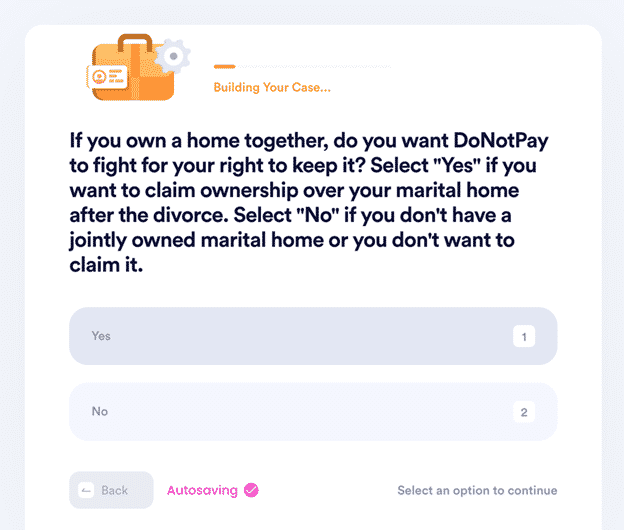 PA County Info From DoNotPay
DoNotPay can help if you're looking for specific info about the county you or your spouse live in—here are some examples of areas we can help with:
Use DoNotPay To Complete a Variety of Tasks at Any Time
Why waste time and money completing mundane tasks on your own when you can let DoNotPay assist you? Take a look at the table below to find out what our AI-powered app can do for you:
| DoNotPay Can | Services |
| --- | --- |
| Protect your safety and privacy | |
| Draft legal documents | |
| Help you get your money back | |
DoNotPay Has More in Store for You!
Since communication is key, you'll appreciate our feature that helps you get in touch with customer service reps quickly! We'll also show you how to send faxes online and have your documents notarized by an online notary with ease!
Going on vacation? Use DoNotPay to take a valid passport photo at home or get a tourist visa!