Quick Divorce in Virginia Deciphered by DoNotPay
If you've gotten so tired of your marriage that you want to put an end to it as fast as possible, this article will show you how to do that! DoNotPay presents a way to get a quick divorce in Virginia that won't break the bank!
We'll explain what type of divorce is the best for ending your marriage swiftly, which forms you need to file, and how to get divorced amicably. The key to a successful quickie divorce is a settlement agreement, and we'll help you create one in no time!
What You Need To Know Before Getting a Quick and Cheap Divorce in VA
Getting a quick and cheap divorce in Virginia means that you will have to meet the residency requirements and opt for a certain type of divorce.
You have to live in the State of Virginia for at least six months before filing for a divorce. Your divorce papers must be filed in the county where both you and your spouse reside or where your spouse lives.
In Virginia, you can file for a contested or uncontested divorce. If you want to complete the process quickly, you will want to go for the latter.
Quick and Cheap Uncontested Divorce in VA
Filing for an uncontested divorce in VA requires you to agree on the following issues with your spouse:
Division of real estate, assets, and debts
Child custody and support
Parenting time
By agreeing on these aspects, the court will recognize your divorce as a no-fault, uncontested divorce, which means that you won't have to go to court. The cost of the divorce will also be significantly lower as there won't be any need for you to hire a lawyer.
Couples who can't reach a middle ground on some of the issues listed above can try divorce mediation. The mediator will help them come up with solutions to any unresolved problems and make them eligible for a quick uncontested divorce.
How To File for a Quick and Cheap Divorce in Virginia
To file for a cheap divorce in Virginia, you will have to follow these steps:
Complete the essential divorce papers
File the required forms
Get a divorce settlement agreement
How To Find the Cheap Virginia Divorce Papers
To get the essential divorce paperwork, you can go to the local courthouse and ask for physical copies. The papers you'll need to get are different from county to county, but the first form you'll need to file is the Complaint for Divorce. This document states your grounds for divorce and basic information about you and your spouse.
Fast Divorce in VA Filing Costs
Filing the divorce papers is the step that has the biggest impact on the cost of divorce in VA. To see how much you'll have to pay, you can use the State's filing calculator.
If you can't afford to pay the fee, you might qualify for a fee waiver. For more information, check with the circuit court in Fairfax County, Virginia Beach, or whichever county you're located in.
Serve Your Spouse With the Papers for a Fast Divorce in Virginia
In uncontested divorces, serving papers is a formality, meaning that you can give them to your spouse yourself. If you were to get a contested divorce, you'd have to waste time on this step and even spend money on it.
How To Get a Divorce Settlement Agreement
A properly written divorce settlement agreement is crucial for your divorce as it will outline the terms on which you're ending your marriage. It states how you'll handle all the divorce-related issues. This is why it needs to be drafted with care. You can either:
Waste money on a lawyer and have them create it for you
and get a professional agreement that is budget-friendly
Use DoNotPay and Get a Divorce Settlement Agreement Drafted in Minutes!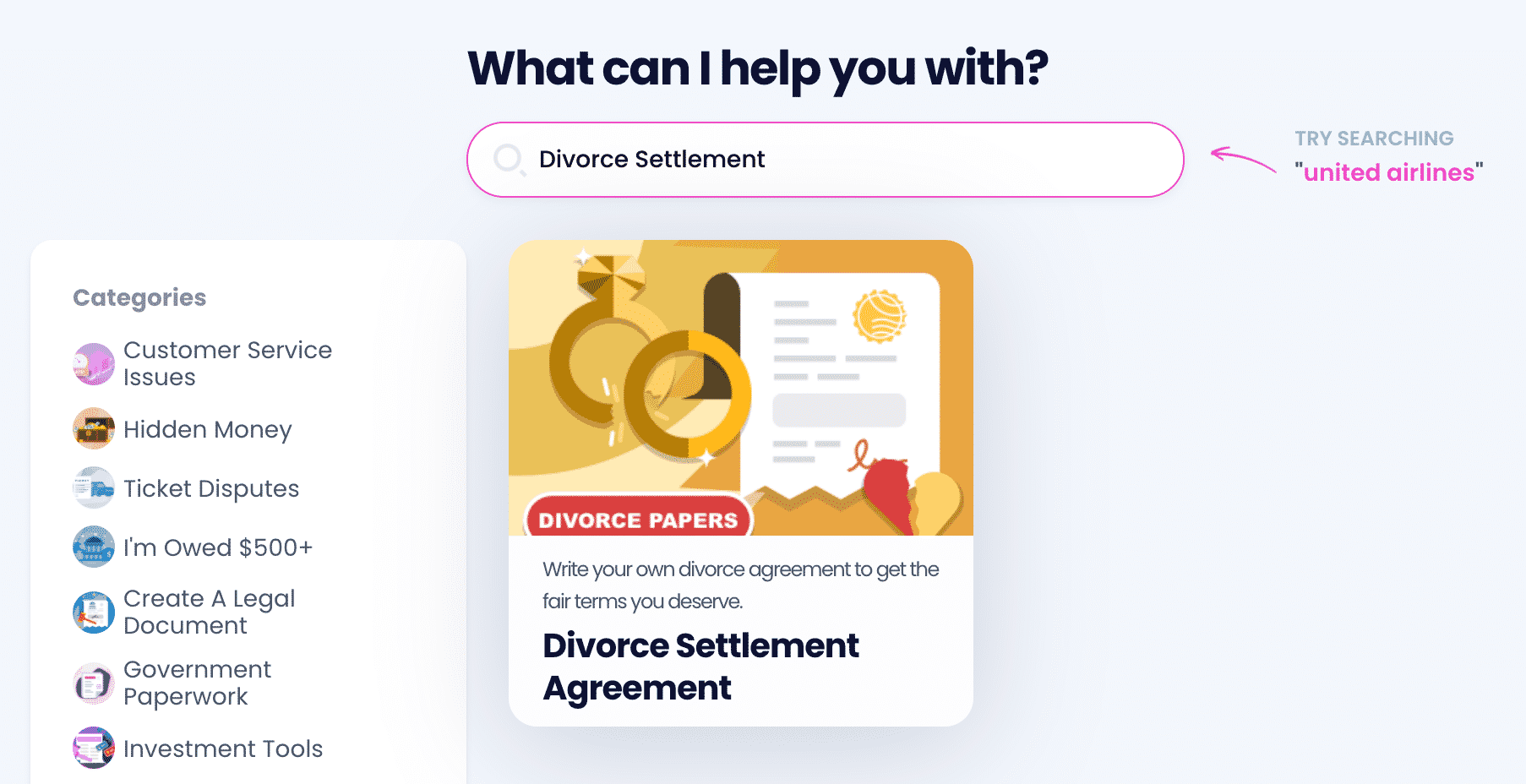 To get through the divorce process in VA as quickly as possible, use DoNotPay to generate a divorce settlement agreement fast and easily. To get the agreement:
Select the Divorce Settlement Agreement option
Give us details about your:

Assets
Income
Spouse
Children (if any)

Opt for online notarization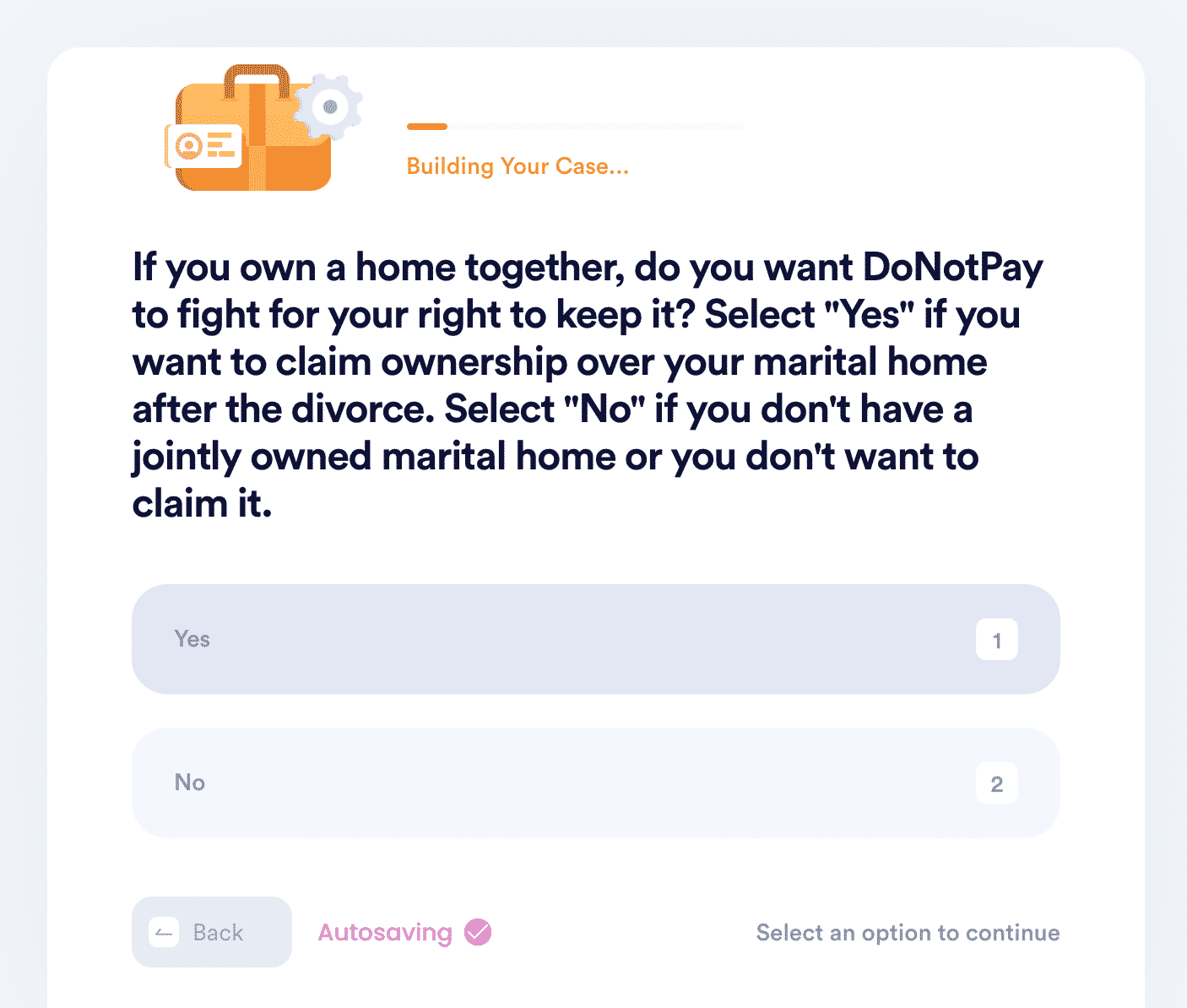 Once you submit your request, we'll send you a tailor-made settlement agreement right away! DoNotPay can then connect you with an online notary.
Need more assistance? Check out DoNotPay's library of divorce-related articles:
To Sue or Not To Sue?
Hiring a lawyer to help you sue a company can be helpful, but it can also cost you an arm and a leg. Luckily, you can avoid wasting hundreds of dollars and use our robot lawyer to sue any company in small claims court instead!
DoNotPay offers you a variety of other features you will find quite useful when dealing with bureaucratic issues. Check out the list below to see what else our app can help you with:
Shopping Without Dropping
Whoever said you should shop until you drop didn't have access to DoNotPay's various features. With our app, you can make your shopping experience smooth sailing and stress-free!
Here's a fragment of what you can accomplish by using our neat features: