Move on With Your Life Faster—Get a Quick Divorce in San Diego
One of the most annoying aspects of a divorce is how prolonged it can get. When you're ending a marriage, you probably want to get over with it fast so you can focus on other parts of your life. If you're getting a divorce in California, you might be eligible for a faster dissolution.
In this article, DoNotPay gives you the deets on getting a quick divorce in San Diego. Want to expedite the process? Subscribe to DoNotPay to obtain a marital settlement agreement and finalize the process smoothly.
How Long Does It Take To Get Divorced in California?
In California, there's a mandatory waiting period to get divorced. Even if you and your spouse agree on everything, the fastest you can terminate your marriage is six months after filing all the required divorce papers.
That is the state-defined minimum, but your divorce can take even longer, depending on various factors. To end your marriage as swiftly as possible and make the process run smoothly, you should consider an uncontested California divorce.
Uncontested Divorce in San Diego Explained
There are two types of marriage dissolution in San Diego, California:
Regular dissolution—This is a more common type of divorce, and it's used when the divorcing parties cannot cooperate. The six-months waiting period starts after the respondent is served with divorce papers
Summary dissolution—It is a quicker, simpler, and cheaper way to terminate a marriage. The waiting period starts six months after filing the uncontested forms with the court
A summary dissolution is a divorce method suitable for couples who agree on everything, including the dissolution itself. Not everyone can get divorced this way, and this is why regular dissolutions are more common in California (75% of dissolutions are regular). To qualify for an uncontested divorce in San Diego, you and your spouse have to agree on the following issues:
Shared debts
Division of property
Spousal support
Custody
Parenting plan
Child support
If there's an argument over any part of a divorce, you will have to go with the regular method. You can rely on mediation to help you iron out certain matters, but ultimately, you can do it all on your own. You don't even need lawyers if you agree on everything.
San Diego Residency Requirements
Before petitioning for divorce, you should ensure you're eligible to do so. To file for divorce in San Diego, either you or your spouse has to meet the following residency requirements:
At least one of you has been a California resident for a minimum of six months before filing a petition
Either one of you has lived in the County of San Diego for at least three months before starting the process
Grounds for a Divorce in San Diego
Sometimes, to file for divorce, you need to provide evidence of the spouse's wrongdoings. That's not the case in San Diego because California is a no-fault divorce state. There are two legal reasons for getting a dissolution of marriage:
Irreconcilable differences which have caused the irretrievable breakdown of the marriage
One of the spouse's permanent legal incapacity to make decisions
What Are the Steps to Filing for a Quick San Diego Divorce?
Once you've made sure you're eligible for a fast divorce in San Diego, here's what you'll have to do next:
Prepare the paperwork—You can find the petition and other necessary divorce papers at the Superior Court of California County of San Diego website. Fill them out following the given instructions
Make copies of the documents—The original document is filed with the court, so you'll need to make at least two copies of each form for you and your spouse
File the forms with the court clerk—Gather all the original forms and file them with the San Diego county clerk's office. Keep in mind that you're required to pay a certain filing fee
Serve your spouse with divorce papers—You can serve divorce papers in California by sending them via mail or by having a person older than 18 deliver them to your spouse
One of the crucial parts of an uncontested divorce is having a divorce settlement agreement. This document is important because it outlines the divorce terms you've agreed upon and legally binds both you and your spouse to respect those terms. To avoid spending too much time drafting it, use DoNotPay's handy feature that specializes in creating this particular document!
Want To Make a Divorce Quicker—Use DoNotPay To Draft a Settlement Agreement in a Flash
There's no rule that prohibits you from making a divorce settlement agreement on your own, but it's not the best choice. This document needs to cover matters that are specific to your divorce and has to include clauses important to you and your spouse. Making any kind of mistake could set you back and prolong the process.
With our app, you won't have to worry about any of that! To ensure your settlement agreement is reliable and properly crafted, you should access DoNotPay and follow these steps:
Locate the Divorce Settlement Agreement feature
Provide information regarding your assets, spouse, and children
Specify if you'd want us to connect you with a notary public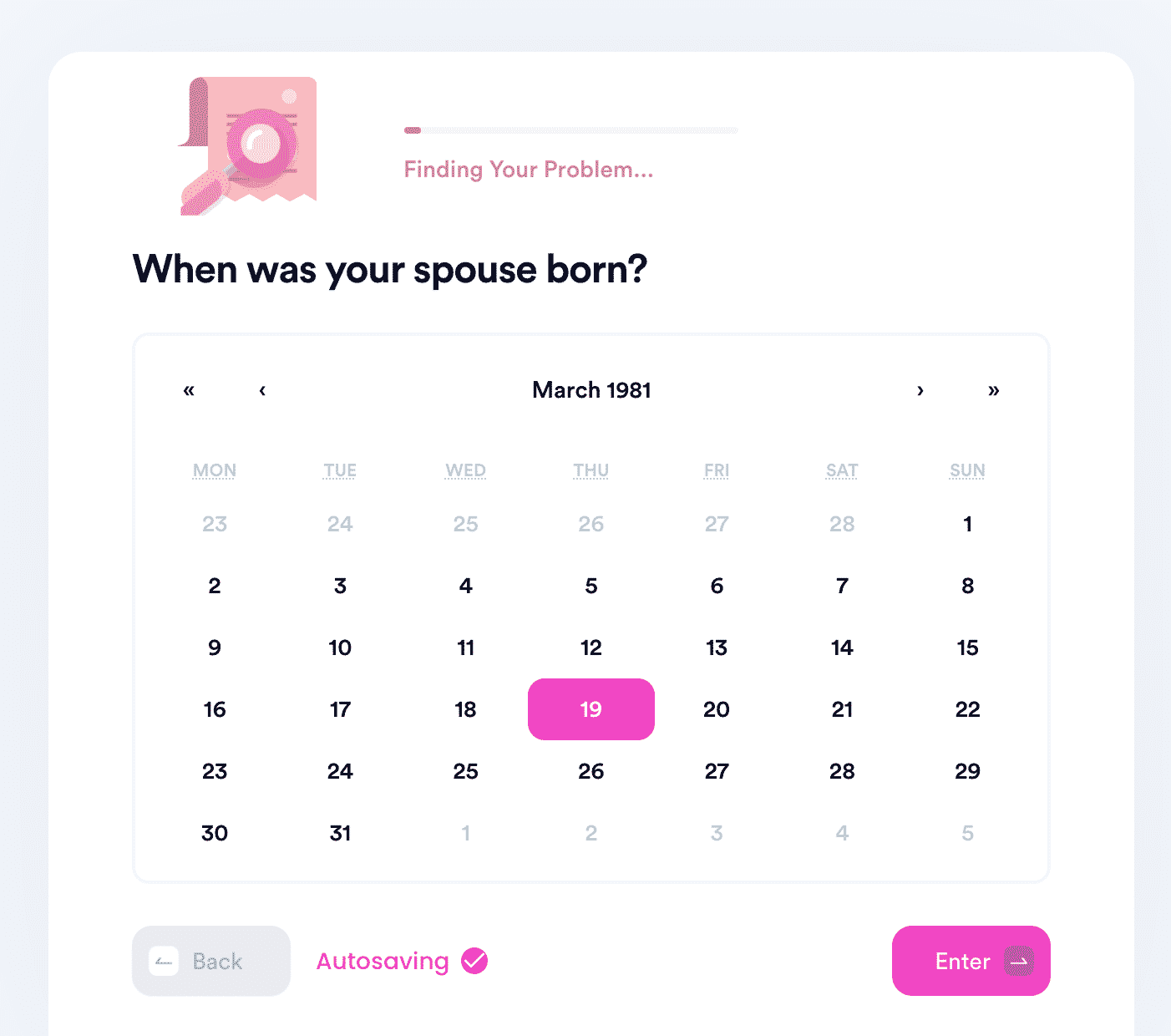 By using our divorce laws database and the information you provided, we'll customize the divorce settlement agreement that meets your needs!
Check the following table to find more information regarding divorces:
| | |
| --- | --- |
| General | California-Specific |
| | |
Deal With Your Problems Like a Pro With DoNotPay
Looking for an app that's got enough features to solve any issue you're facing? Look no further—DoNotPay has got your back! Whether you can't sleep from your noisy neighbors or you want to connect with your locked-up relatives, we'll be able to help. We'll bring justice to any person or company that has wronged you and take them to small claims court for you.
The robot-lawyer app can generate numerous legal documents in your name, including:
Once you receive the documents, we can set you up with an online notary so you can get your agreements notarized from the comfort of your home.
Possibilities With DoNotPay Are Endless
DoNotPay stands out not only by the quality of products it offers but by the sheer amount of features it boasts. Check the table below out to see only some issues we can help you resolve: